Every time you book a flight, you're normally given the choice of several flight classes, but what does each offer? We've taken the hard work out of booking your ticket with our flight class comparison. Discover what each has to offer before you secure your next international flight!
What are the most common flight classes available?
In general, there are four main flight classes offered by international airlines. While some do offer exclusives suites and other travel options, the most common flight classes are economy, premium economy, business and first class. Learn about what each class entails, as well as some of the inclusions offered on international services by three popular airlines, Qantas, Singapore Airlines and Emirates, below.
Economy
Offering the best value for money, economy is often the most popular flight class for both domestic and international travel. As domestic flights only take a few hours at most to reach their destination, and international travel can be quite expensive, it's most people's go-to choice. Generally, there may be fewer amenities available and less legroom when compared to other flight classes.
Why choose economy?
As one of the biggest expenses involved in travelling abroad, economy is the best option if you're looking to stretch your holiday budget as far as possible. Coming a long way since the early days of air travel, economy tickets often include all the basic amenities you'll need for a reasonably comfortable flight. Most airlines serve meals and snacks in the air, offer inflight entertainment and provide blankets for your use, but these can vary depending on the airline you choose and the length of your flight. As a general rule of thumb, budget airlines tend to offer fewer amenities compared to full service carriers.
What can you expect on an international flight?
Qantas
Over 1,000 hours of entertainment, including films, TV shows, music and interactive games
An amenity kit with toothbrush, toothpaste, eye mask and earplugs (selected routes only)
Welcome drinks, snacks, refreshments and an assortment of meal choices
Standard seat selection on Saver and Flex fares
Singapore Airlines
Access to the KrisWorld inflight entertainment collection, including 1,000 films, TV shows, music, games and apps
A variety of meals to suit most special requirements, including kosher, halal, vegetarian and kids options
Access to a power outlet and USB port (selected routes only)
Emirates
In seat power and in flight Wi-Fi (all A380 and most Boeing 777 planes)
A dining menu with popular dishes, new creations and international flavours, and complimentary beers, spirits, and hot and cold beverages
Up to 3,500 entertainment channels, including films, TV shows, music and games
Amenity kits with toothpaste, eye mask, socks and ear plugs (selected flights)
Premium Economy
It may be known by several different names, but premium economy is a flight class that falls somewhere between the standard economy and business flight classes. While the perks offered by this class do vary from airline to airline, you can often expect wider seats, faster check-in and additional amenities not found in economy.
Why choose premium economy?
An option for travellers looking for a little more comfort without the pricetag, premium economy offers a happy medium between the budget friendly economy class and the creature comforts of business class. If you prefer a little more legroom, priority check-in and premium amenities such as noise cancelling headphones, or are set to take a long flight to somewhere like Europe, it's a great choice for you.
What can you expect
 on an international flight
?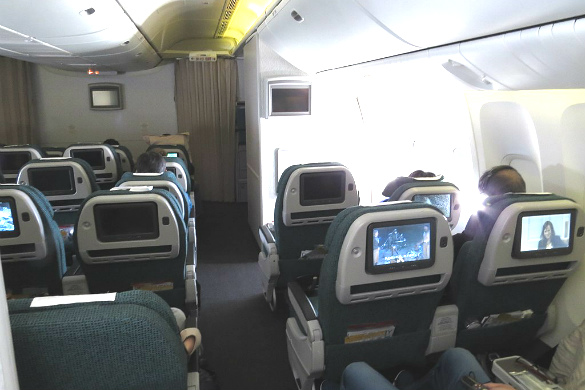 Qantas
A dedicated cabin crew and a private cabin of up to 40 seats
Meals from a contemporary menu designed by Neil Perry, as well as self-serve snacks and beverages on selected flights
Noise cancelling headphones, inflight entertainment, and power access and USB ports (select aircraft)
Ergonomic seats with specially designed head and foot rests
An amenity kit with an eye mask, dental kit and socks, with access to large cotton pillows and a wool blanket
Singapore Airlines
Spacious cabins with inbuilt calf and foot rests, and wider seats
Built in USB ports, reading lamp and power supply, as well as dedicated stowage spaces
Priority check-in and treatment throughout your journey
Access to Singapore Airlines' Book the Cook meal service
Emirates
Does not offer a premium economy option
Business
The next step up from premium economy, business class tends to provide travellers with more comfortable seats, better service and additional amenities that are not offered by lower tier flight options. Designed to allow business people to work on the go and to arrive at their destination well rested, business class has also become a popular choice for travellers looking for greater comfort and extra perks as they travel the globe.
Why choose business?
If you're wanting to feel well rested on arrival, are needing to continue working in the air or are looking to fly in style, business class is a great option. Pricier than both economy and premium economy, it is the upgraded amenities and service that give business class its higher price tag. If your budget allows it, a seat in business class is great way to start your holiday with a touch of luxury or to conquer a longhaul flight in style.
What can you expect 
on an international flight
?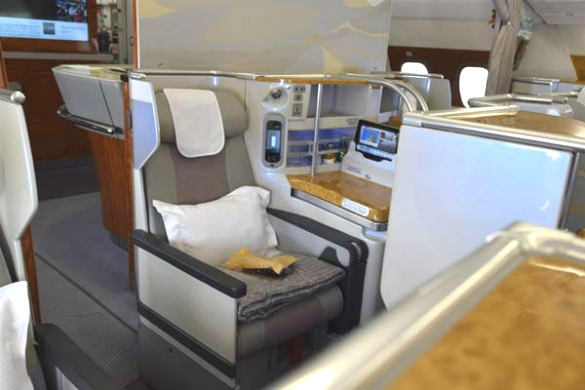 Qantas
Priority check-in, and access to Qantas Business and partner airline lounges
Private Business Suites and Skybeds with flatbed functionality, cotton duvets and a European style pillow
Rockpool designed meals and full formal dining
An amenity kit with hand cream, moisturiser, lip balm, an eye mask, travel socks, a dental kit and ear plugs, with unisex pyjamas available on select overnight services
Singapore Airlines
Wide leather seats with a flatbed functionality
Access to Singapore Airlines' Book the Cook meal service
Toiletries, slippers and an eye mask on longer flights
Access to KrisWorld inflight entertainment
Plenty of stowage space, power supply, HDMI and USB ports
Emirates
Wide leather seats with a flatbed functionality (all A380 planes)
Access to the A380 Onboard Lounge inflight
A personal minibar, personal entertainment screen, Bulgari amenity kits and in-seat power
Access to Ice inflight entertainment
Airport lounge access and chauffeur service
First Class
The Rolls Royce of flight classes, first class is typically the cabin of choice for the rich and famous, with seats costing several times as much as the standard economy ticket. Many airlines now offer seats that can convert to a fully flat bed, while the food, drinks and other perks, such as lounge access chauffeur services, really set it apart from the other classes.
Why choose first class?
Although many of us may not be able to afford a seat in first class, for some, the extra comfort and convenience offered is well worth the price tag. For prominent business people and celebrities who travel the globe, but don't have the luxury of downtime once they reach their destination, the opportunity to rest on a flatbed is invaluable. Of course, the prospect of having almost all of your needs catered for is also just as attractive.
What can you expect
 on an international flight
?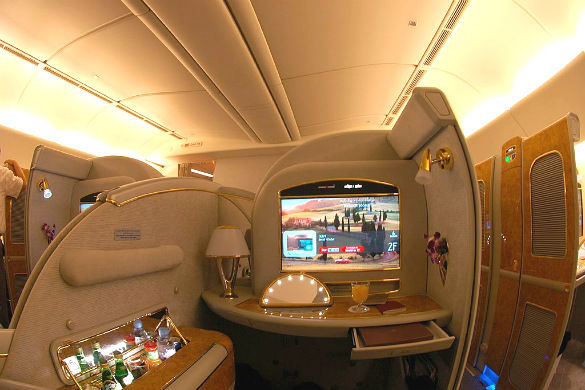 Qantas
Complimentary airport transfers, dedicated check-in area and access to Qantas' first class lounges
Wide leather armchair seats with a flatbed functionality and bedding down service with Sheridan bedding, a pillow menu, cotton throw, duvet and memory foam mattress
Meals designed by Neil Perry, snacks, light meals, prestige wines, spirits and beers, loose leaf tea and espresso coffee
Touch screen inflight entertainment, noise cancelling headphone, power supply and USB port
Amenity kit and unisex pyjamas designed by Martin Grant
Singapore Airlines
Wide leather armchair seats with a flatbed functionality and complete linen, duvet and pillow set
An amenity kit by Ferragamo
Access to Singapore Airlines' Book the Cook meal service
Access to KrisWorld inflight entertainment, a personal LCD screen and noise cancelling headphones
Emirates
Private suites with personal mini bar, flatbed, vanity table and privacy doors
Onboard shower spa, Bulgari toiletries, VOYA skincare and Timeless Spa products, as well as Bulgari amenity kits and moisturising sleepwear
Gourmet meals at any time, served on Royal Doulton bone china and with Robert Welch cutlery, and complimentary cocktails, champagne, beers, spirits, hot drinks and cold drinks
Access to Ice inflight entertainment
Which flight class should you choose?
With so many different flight classes, it can be difficult to decide which best suits your needs. If you're finding it difficult to decide which to choose, you may want to consider the following:
Your travel budget and what it will allow
How long your flight is
If you'll need to be well rested by the time you land
Whether you're looking to travel from A to B with just the essentials or are wanting an experience along the way
If you are set to have stopovers or one long, continuous flight
Whether you'll need to work when you're in the air
Ready to book your perfect flight? Find and compare a fantastic range of flights from some of the world's leading airlines with Webjet today!
*Information correct as of 8th of October, 2018.