Sydney is home to some of the most beautiful waterfront parks in Australia. Even though Sydney can be a busy and crowded city, it is not difficult to find green hideaways where you can relax and take in the nature around you. Many of these parks are also wonderful vantage points to witness the most splendid views Sydney has to offer — including, of course, the world-famous Sydney Harbour Bridge and Sydney Opera House.
7 Best Parks with Views of the Sydney Harbour Bridge
1. Royal Botanic Gardens, Sydney
Address: Mrs Macquaries Rd, Sydney NSW 2000
Opening times: Open every day from 7 am, with seasonal closing hours
Founded in 1816, the Royal Botanical Gardens is the oldest botanical garden in Australia and it is home to one of the most iconic viewing points of the Harbour Bridge: Mrs Macquarie's Chair.
Back in the 1800s, the sandstone rock chair was built so Governor Macquarie's wife could look out for ships arriving at the harbour. It became her favourite spot to admire the spectacular views and today, it remains a popular attraction among Sydneysiders and visitors alike, providing excellent photo opportunities not only of the bridge but also the famous Sydney Opera House.
To get to Mrs Macquarie's Chair, you can follow Mrs Macquarie's Bushland Walk to the eastern side of the botanical garden. Alternatively, you can drive there, but keep in mind that you'll have to find a near on-street parking spot, as there is no parking lot available.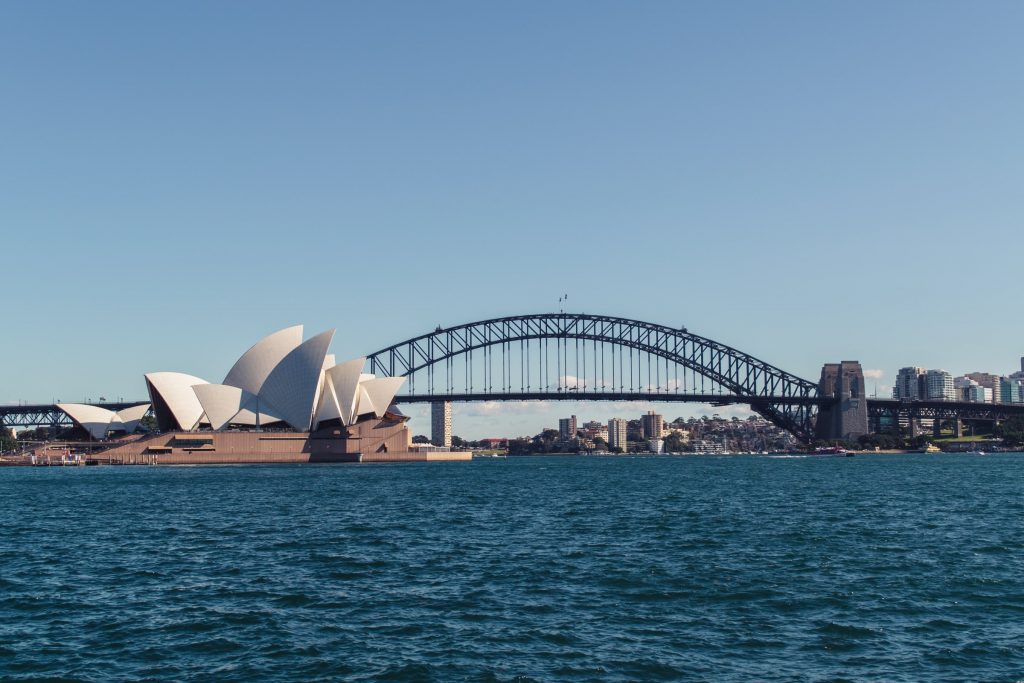 What to do at The Royal Botanic Gardens, Sydney
Visit The Calyx. Look up to the majestic Floral Wall, a living piece of art made with more than 18,000 different plants, and check out the program to discover what exhibition and workshops are on at the time of your visit. Recharge batteries at the Calyx Cafe and get all your eco-friendly must-haves at the Calyx shop.
Learn about the Garden's Aboriginal heritage at the Cadi Jam Ora: First Encounters display. Here you can walk the 50-metre Galigal storyline. There are also several guided tours you can book, including the Aboriginal Bush Tucker Tour and the Aboriginal Harbour Heritage Tour.
Stroll amongst the most spectacular native and exotic plants. At the Royal Botanic Garden, plant lovers are spoiled for choice with 15 different themed gardens to wander through. Cool down at the intimate Fernery, immerse yourself in the beautifully fragrant Herb Garden and get an insight into the fantastic East Asian flora at the HSBC Oriental Garden.
2. McKell Park, Darling Point
Address: 159 Darling Point Rd, Darling Point NSW 2027
Opening times: Every day from 7 am to 7.30 pm
Located at the end of Darling Point Road, McKell Park is one of Sydney's most charming treasures, providing picture-perfect views of the Harbour Bridge to the west and the Sydney Heads to the east. Although it has gained popularity over the years, the park is quite hidden, making it the ideal location for a relaxing picnic.
Showcasing neatly manicured lawns and waterside access, McKell Park hosts a variety of activities and events throughout the year. Join one of the fitness programs, including Tai Chi and senior workouts, go for a swim in the harbour, or get a dose of vitamin D while laying down on the grass.
The park is also home to the Canonbury Cottage, a heritage-listed building that is available for weddings and social gatherings on the weekends, as well as community events and recreational activities during the week.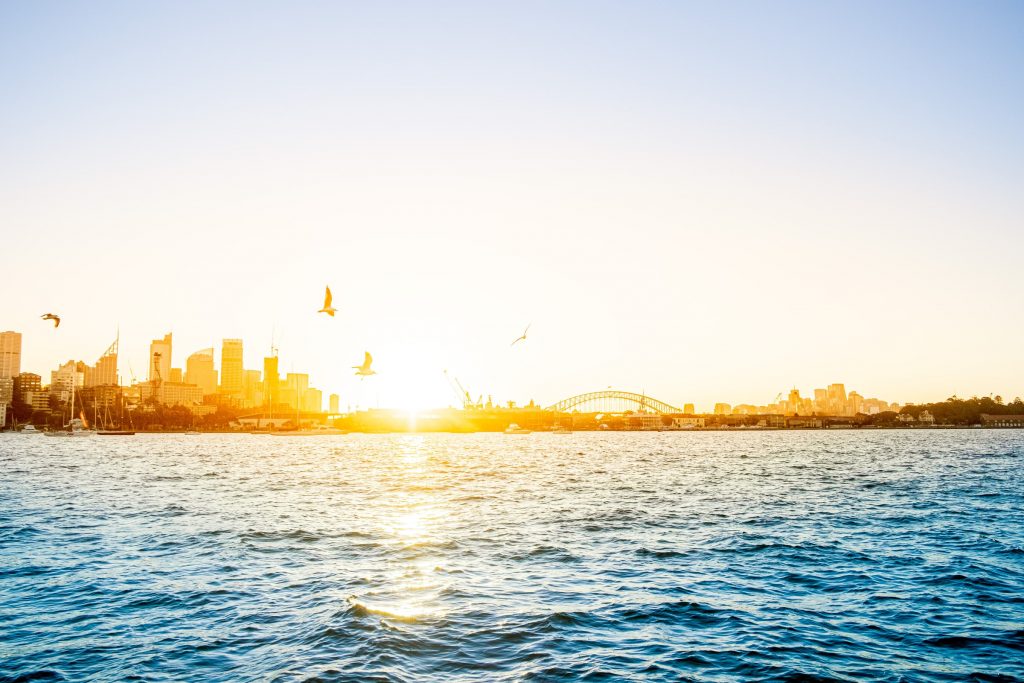 What to do in Darling Point
Sunbathe at Seven Shillings Beach. At only a 5-minute drive from Darling Point, this strip of sand provides equally amazing views of Sydney and it is typically not crowded. Seven Shillings Beach is the perfect Sydney beach to visit with kids or if you simply want to get away from the hustle and bustle of the city.
Enjoy a glass of wine at Big Poppa. The award-winning restaurant serves modern Italian dishes and has a selection of curated wine, from reds to skin contact, rosés and more, to satisfy any wine connoisseur's desires. If wine isn't your thing, take a look at the cocktail list!
3. Wendy's Secret Garden, Lavender Bay
Address: Lavender St, Lavender Bay NSW 2060
Opening times: Open daily, 24 hours a day
Created in the mid-1900s by Wendy Whiteley, a renowned Australian culture figure, Wendy's Secret Garden is a tranquil hideaway nestled in North Sydney's Lavender Bay Parklands. What started out as a grief outlet for Wendy after her husband's passing became a magical slice of nature. Decades later, the garden is a not-so-well-kept secret among nature lovers in Sydney, with an Instagram-worthy view of the Harbour Bridge and landscapes around it.
While strolling through the park, you'll find a wide range of plants harmoniously cohabiting to create a tropical paradise: from grevilleas and Japanese maples to Bangalow palms, evergreens and a jacaranda tree. Art lovers can also get their fix at Wendy's Secret Garden: among all the greenery, Wendy has placed astonishing artefacts created by Australian and international artists.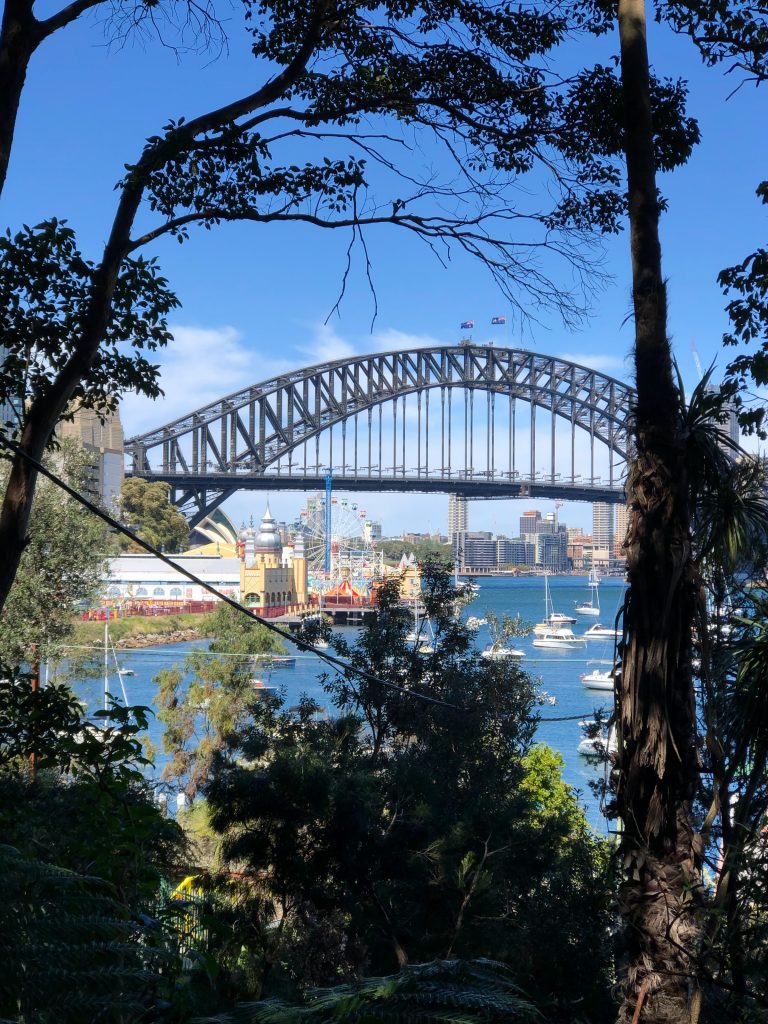 What to do in Lavender Bay
Head over to the Kirribilli Club. This venue is just a stone's throw away from the garden — perfect for when you want to dine by the harbourside or freshen up with an ice-cold beer. The club has a restaurant, cafe and bar, as well as a sports lounge with a pool table and darts boards.
Explore the rest of the Lavender Bay Parklands. Besides Wendy's Secret Garden, these parklands include many other areas worth visiting, like Watt Park (another great spot for breathtaking Harbour Bridge views), Quibaree Park and The Lavender Bay Foreshore.
Visit Luna Park. The iconic smiling entry is one of Sydney Harbours defining landmarks and is easily spotted from across the harbour. Opened in 1935, the Luna Park is one of the best places to visit in Sydney with kids, with rides, amusement attractions, carnival food and sideshows to entertain them.
4. Illoura Reserve, Balmain East
Address: Weston St, Balmain East NSW 2041
Opening times: Open 24 hours
Exploring Sydney on a family holiday with kids? Then you need to spend an afternoon at Illoura Reserve, in Balmain. With a first-class view of the Darling Harbour for you, a fun playground for the kids, and picnic tables for the whole family, Illoura Reserve is one of Sydney's best parks and will have everyone entertained while enjoying the great outdoors.
Dog owners can let their four-legged friends run around freely in the off-leash areas of the park and hiking enthusiasts can make their way along the waterside path. There is also a half-court, so make sure to grab your basketball and shoot some hoops at the park!
Illoura Reserve is only a 15-minute drive from the CBD, but for a more picturesque route, you can also catch the ferry from Circular Quay and glide your way to Balmain East in about 20 minutes.
What to do in Balmain
Swim at Dawn Fraser Baths. This is one of the oldest swimming pools in Sydney and is an iconic Sydney landmark. Open from 6.45 am to 7 pm every day except Christmas and Good Friday, you can take a dip at the tidal saltwater pool for a small fee of $6 for adults and $4.20 for children from 5 to 16 years old. Entrance for kids under 5 is free.
Sink a few schooners with your mates. If there's one thing you won't have trouble finding in Balmain, it's pubs and beer gardens — from The Balmain Hotel to The Cottage Bar & Kitchen, Cat and Fiddle to the London Hotel — you won't regret spending an afternoon at any of these iconic spots.
Go shopping at the Rozelle Collector Markets. The open-air antique market takes place every Saturday and antique collectors can browse through stalls of second-hand clothing, jewellery and more, with tunes performed by local artists in the background.
5. Cremorne Point Reserve, Cremorne
Address: Milson Rd, Cremorne Point NSW 2090
Opening times: Open 24 hours
In the 1800s, Cremorne Point Reserve was home to the Cremorne Gardens amusement park, where Sydneysiders could ride the carousel during the day and dance the night away on the outdoor stage.
Today, the reserve is a prime spot for lounging and escaping the city without having to leave Sydney. The Cremorne Point Walk is an easy, 3.3-kilometre path, worth taking if you're hoping to snap the best photos of the Harbour Bridge. Starting on the small lighthouse at Roberston's Point, the walk takes you to the hidden gem that is the Lex and Ruby Graham Gardens and the Maccallum Pool, a harbourside pool where you'll get to witness the best harbour views.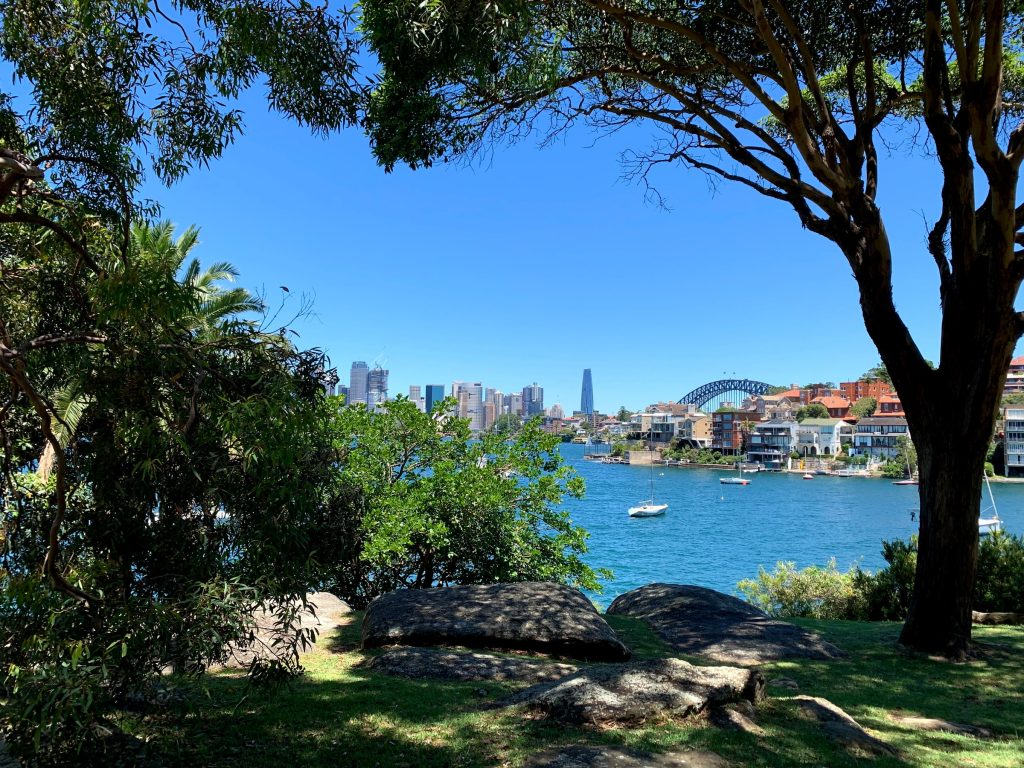 What to do in Cremorne Point
Swim at the Maccallum Pool. Besides being a superb lookout point, the seawater pool is actually open to the public for free. What's so special about it? Its 1920 architectural style creates a unique, old-timey ambience that, paired with the huge trees around it and the golden sunrays, will make you forget all your worries.
Get lunch or dinner at the Mosman Rowers. This is an institution and one of Sydney's oldest sports clubs. The menu has something for every taste (including vegetarian and gluten-free options) and the waterfront panorama will make your meal even more pleasant. Even if all you're after is a refreshing drink, the sports club is worth a visit.
6. Cockatoo Island, Sydney Harbour
Address: Cockatoo Island, Sydney Harbour, NSW
Opening times: Open 24 hours
Located between Parramatta and Lane Cove Rivers, Cockatoo Island used to be a convict penal establishment and industrial area. Nowadays, it is a UNESCO World Heritage Site and a popular destination for anyone looking to relax with the best harbour views, dive deep into the history of the island or both.
Cockatoo Island has plenty of shaded areas for a serene picnic and you can use the free barbecue facilities to do all your cooking. Fans of the paranormal can join the spooky Dark Past and Ghost Tours, and history buffs can book a day tour through the historic site.
For a Sydney staycation, you can book a night or two at one of the heritage houses overlooking the Harbour Bridge, or at the waterfront campground, offering five camping options and comfortable tents for two to four guests.
What to do on Cockatoo Island
Stop by Kids Corner and grab some activity sheets. If you're visiting with kids, these are a great way to make a visit to Cockatoo Island even more fun for the little ones. Check out the project ideas as well, for a family DIY afternoon.
Check the events calendar. There is always something on at Cockatoo Island, from art exhibitions to live performances, activities for kids and more. Some of these events require registration and/or a fee, so make sure to make your booking beforehand.
7. Barangaroo Reserve, Barangaroo
Address: Hickson Rd, Barangaroo NSW 2000
Opening times: Open 24 hours
Barangaroo Reserve is a fairly new park in Sydney, having only been open to the public since 2005. However, the reserve quickly became a favourite, thanks to its spectacular views of the harbour, native flora and picnic areas.
This Harbour foreshore park hosts Aboriginal cultural tours with a focus on the native history of Sydney Harbour, school excursions and private group tours through the emblematic harbourside enclave. Picnickers can bring their own snacks and drinks (including alcohol) or pre-order a hamper from Pop Up Picnic, perfect to celebrate a special occasion.
Home to more than 75,000 native trees and shrubs, Barangaroo Reserve is an award-winning park, so you know the landscape will not disappoint. Keep an eye out and you might spot some native bees flying around the flowers!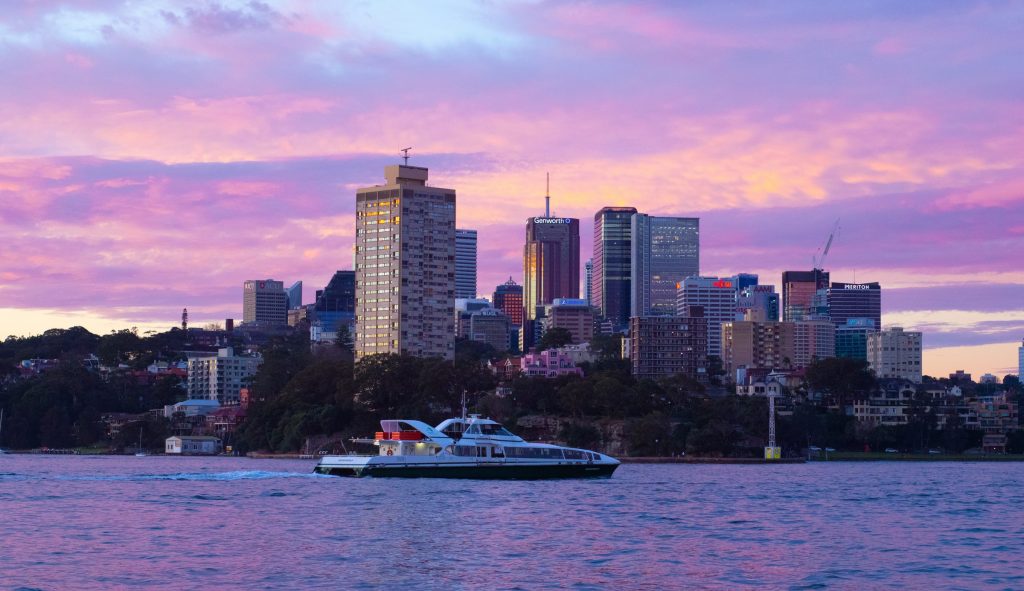 What to do in Barangaroo
Brunch, lunch or dine at The Streets. Offering an incredible lineup of restaurants, cafes and bars, this area is any foodie's dream. The seafood options are like no other and the rooftops are the perfect spot for a boozy dessert. In a rush? Stop by The Canteen for a quick, delicious meal from renowned spots like Holy Basil, Silverbeet, and Sushi Hon.
Get dressed up and dine out. The newly-completed Crown may not be completely open to the public, but the building features a number of high-end restaurants you can visit now. From traditional Chinese teahouses to modern Australian steakhouses, from buffets to omakase — there's something to suit all kinds of tastes.
Explore the nearby Miller's Point. Often confused with the North-side Milson's Point, Miller's Point sits between Barangaroo and the tourist trap of The Rocks. Have a pint of Three Sheets at the Lord Nelson Brewery Hotel, experience fantastic Italian hospitality at BarCycle, or pick up one of Sydney's best-rated sandwiches from a hole-in-the-wall takeaway spot.
Visit Observatory Hill. Another popular spot with great Harbour views, Observatory Hill in Miller's Point is one large set of stairs (or one short elevator trip) up from Barangaroo Reserve. Sit in the shade under 100-year-old trees, read the commemorative plaques, and get a photo under the gazebo.
No matter how many times you've seen it, the view of the Harbour Bridge is one of the most emblematic vistas in Sydney. These great Sydney parks are some of the best vantage points to admire this iconic landmark in all its glory and snap some postcard-worthy photos. So grab your camera, pack your picnic basket and start planning your trip to Sydney with Webjet!