One of the best parts of travelling is getting to experience a culture completely different to your own. One of the best ways to do this is by getting involved in local events that are happening while you're around.
Here are just a few international events to consider during your travels in May.
Cooper's Hill Cheese Rolling
When? 29 May, 2017
Where? Cooper's Hill, England
You might think that cheese is best kept on a platter along with bread and olives, but this quirky festival held near Gloucestershire aims to challenge that assumption. Once a year, on the last Monday in May, dozens of brave contestants charge down the steep face of Cooper's Hill in pursuit of a 3.5kg wheel of cheese. Although its origins are unclear, this event's entertainment value certainly isn't. While injuries are common, with paramedics usually treating more than a few sprained ankles, reaching the bottom first entitles the victor to a very worthy prize: the cheese itself. To the disdain of local police, this event only seems to get more popular each year, so make sure you catch it while you can!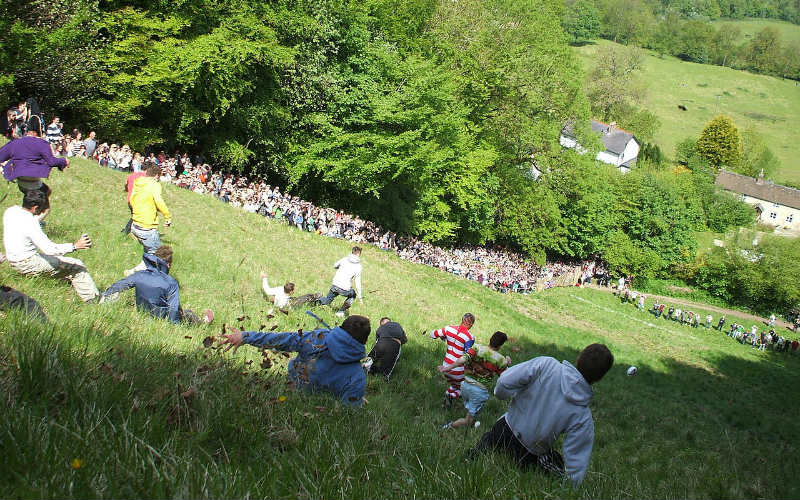 Cannes Film Festival
When? 17 – 28 May 2017
Where? Cannes, France
This famous film festival is a must-visit for aspiring cinematographers, actors and directors, and film buffs alike. The first Cannes Film Festival was held in 1946, and it has been celebrated in May every year since 1952. The world's most prestigious film festival, Cannes is regularly graced by many of the biggest names in cinema, with past attendees including Audrey Hepburn, Francis Ford Coppola, Grace Kelly, and Alfred Hitchcock. Visit Cannes and discover short films and historic classics, relax at an open-air screening and bask in the rich history of filmmaking, before applauding the award-winners for 2017.
Jerez Horse Fair
When? 13 – 20 May, 2017
Where? Jerez de la Frontera, Spain
Lasting for one week in May, this annual festival in Jerez de la Frontera is a celebration of all things equine. Dating all the way back to the Middle Ages, Feria del Caballo was originally a week-long gathering for farmers to buy and sell horses, often drinking sherry to celebrate successful transactions. Today, it's one of the largest festivals in the Andalusian region, drawing over one million domestic and international visitors. Come for the horse-based competitions and performances, such as dressage, polo and carriage driving, and stay for the barrage of miscellaneous entertainment, including parades, bullfights, flamenco music and dancing, and—of course—the free-flowing food and wine.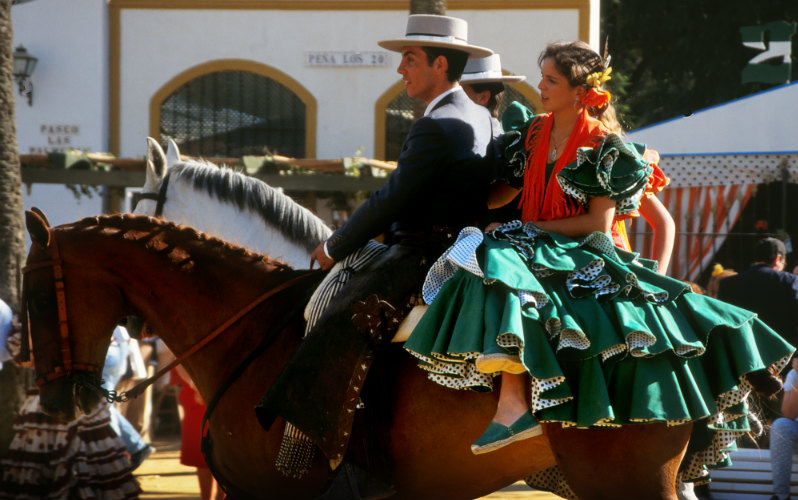 Stars of the White Nights Festival
When? 26 May – 23 July 2017
Where? St Petersburg, Russia
The Stars of the White Nights Festival sees St Petersburg come to life from late-May onwards. It's during this period that the sun rises before 4am and stays high in the sky until 10pm, leaving endless opportunities to soak up the magical Russian summer. The festival is first and foremost an arts extravaganza, bringing over 190 concerts and performances to St Petersburg's famous Mariinsky Theatre. Throughout the festival, international stars will feature in ballets, operas and classical concerts, alongside a program of film screenings and other shows. Stroll along the banks of the Neva River to encounter jugglers, mimes, sword swallowers, fire eaters and roving gypsy bands, before watching the massive drawbridges open around 2am. At least once during the festival, you should make like the locals and stay for the sunrise.
Land diving (Naghol)
When? Weekends in April, May and June, 2017
Where? Pentecost Island, Vanuatu
Native to Pentecost Island in Vanuatu, this ancient tradition is said to have inspired the modern practice of bungee jumping. On weekends between April and June, local men and boys leap from towering wooden structures with only a vine wrapped around their ankles. Land diving is highly risky, with divers aiming to brush the ground with their shoulders despite reaching speeds of around 70km/h. While legend has it that the original land-diver was a woman attempting to escape her abusive husband, the ritual is now performed exclusively by males to ensure a plentiful harvest of yams for the coming year. Despite huge interest from tourists, tribal chiefs continue to limit the number of spectators allowed at each event.
Festival of Snake-Catchers
When? 1 May, 2017
Where? Cocullo, Italy
Ophidiophobes beware—one of Europe's oldest festivals is a celebration of the slithery! This unique festival is held in the town of Cocullo, about 90 minutes east of Rome, and occurs on the first day of May. Celebrations are said to date back to pre-Roman times, when live snakes were presented as offerings to the goddess Angizia. Today, townspeople carry a statue of Saint Domenico, protector and healer of snakebites, in a procession down the streets. However, this is no normal procession—the statue is covered with snakes that have been caught by hand in the weeks leading up to the festival. A sight to behold, this festival sees Cocullo's population of 250 swell to an incredible 30,000 visitors.
Haeundae Sand Festival
When? 27 – 28 May 2017
Where? Busan, South Korea
While South Korea might not be known internationally for its sandy beaches, that's exactly what one of its largest festivals is all about. This festival takes place on picturesque Haeundae Beach, one of South Korea's most popular summer vacation spots. Activities and attractions at Haeundae Sand Festival include sand sledding, beach volleyball, mammoth sand sculptures, a marathon, and hot sand baths, where participants are buried from head to toe for the purported health and beauty benefits. After sunset, the festival kicks on with live music and performances, as well as a spectacular fireworks display to finish off the evening.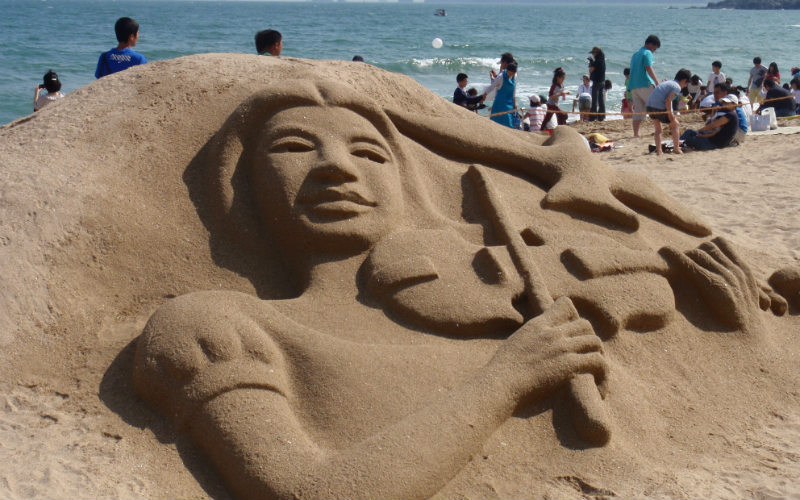 Ready to take on the world this May? Book cheap flights to destinations across the globe with Webjet today!
Feature Image Credit: Dominic Alves / CC by 2.0.