We love hearing about the adventures of some of our favourite travel bloggers, so we reached out and asked a handful about their most interesting travel experiences. From spectacular views and cross-cultural interactions through to intriguing local delicacies, they delivered some amazing responses. Check them out below!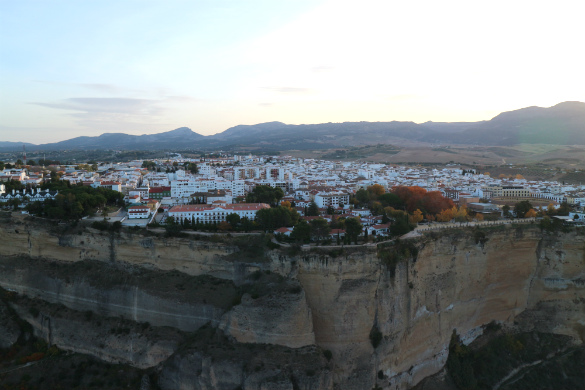 One of my most interesting travel experiences was visiting Ronda in Spain. I'd seen a picture of it in a travel brochure a few years ago and without knowing anything about the place, I knew I had to visit it one day; last year I finally had the opportunity to go. It's a beautiful, old city with a rich history, and some of the most gorgeous landscapes I've ever seen.
One of the best experiences we had while we were there was a hot air balloon ride that started with an early morning drive to the bottom of the gorge, hit a high note as we floated up over the medieval town for the most stunning view I've ever witnessed, and ended with a traditional breakfast of coffee and thick cut toast with a variety of cured meat spreads that we shared with the other balloon riders and the crew in a provincial restaurant.
Over the past five years we have been travelling continuously around the world and have had many travel experiences, which could fill a 1,000-page novel. One of the most interesting has been our first hot air balloon ride in one of the most eerie landscapes in the world. So eerie that parts of the movie Star Wars was filmed here – Cappadocia in Turkey.
Volcanic eruptions from centuries ago have created what we could only describe as 'a lunar landscape' or what we believe it would look like if we visited the moon. As your hot air balloon rises, you soar over hundreds of 'fairy chimneys', thin spire rock formations that are dotted all over the landscape. Some say they remind them of mushrooms, thin spires and thicker shaped caps on top, but for us they resemble 'fairy' chimneys. When you float closer to these unique formations, you will notice small holes dotted around the top which are dovecotes – or pigeonholes. As the sun rises you share this magnificent view with over a hundred colourful hot air balloons making the morning a once in a lifetime surreal experience. If you have the chance, this is one travel experience we recommend that you add to your 'travel experience to do list'. Don't forget to enjoy your glass of champagne at the end of the flight!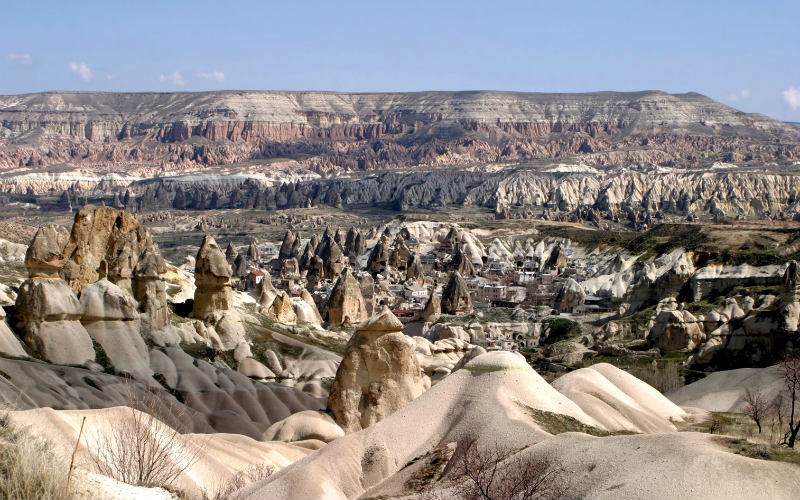 Find cheap flights with Webjet >>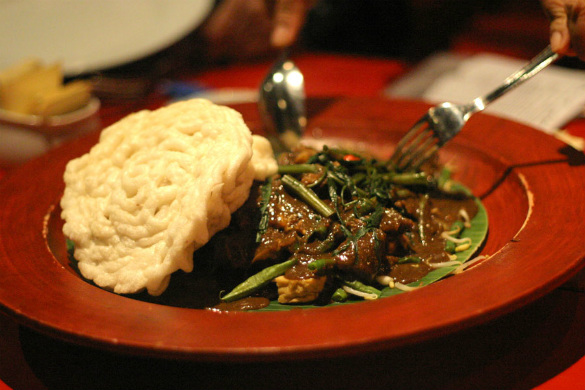 One of the best things about travelling to different places around the world is trying new cuisine and dishes that you've never tried before. I'm really adventurous with food and will try almost anything – that is, food that won't leave me sitting on the toilet for a week. If it's unusual, I'm there!
I've eaten all sorts of weird stuff like cow's nose in satay sauce (Rujak Cingur), tea with egg (Teh Telur), and shaved ice with red beans (Kacang Mehmet). And sometimes, the things that sound unusual actually taste great – think tea and coffee mixed together from Singapore, or bunny chow which is a quarter or half loaf of bread stuffed silly with a tasty curry. However, I haven't been game to try balut from the Philippines (think duck foetus dipped in vinegar) or a Samoan speciality which involves sea cucumber innards marinated in lime juice.
Regardless, I advise everyone to try different or unusual food overseas. You never know, you might just like it, otherwise you'll have an interesting dinner party conversation!
One of my most interesting travel experiences was a visit to Christmas Island with Google and Parks Australia last December where we were tasked with the brief of capturing both the annual red crab migration and the Google Street View Trekker as it mapped the island's naturally beautiful and mostly untouched terrain.
The red crab migration is unique and in December each year the 50 million resident red crabs make their way out of the rainforest and down to the 80 km of coastline that surround the island to breed and spawn. The island practically comes to a standstill as roads are closed to allow the crabs safe passage to the shore, and the migration itself was labelled as 'most astonishing and wonderful sights' by Sir David Attenborough.
The second part of the assignment was to document the Google Street View Trekker (a version of priceless piece of kit that normally sits on top of a Google car but has been secured to a backpack) as a member of Parks Australia staff walked the length and breadth of the island to provide the street view imagery you can see online today.
Together, they are one of the most astonishing things I have ever witnessed and it remains one of my most treasured travel memories.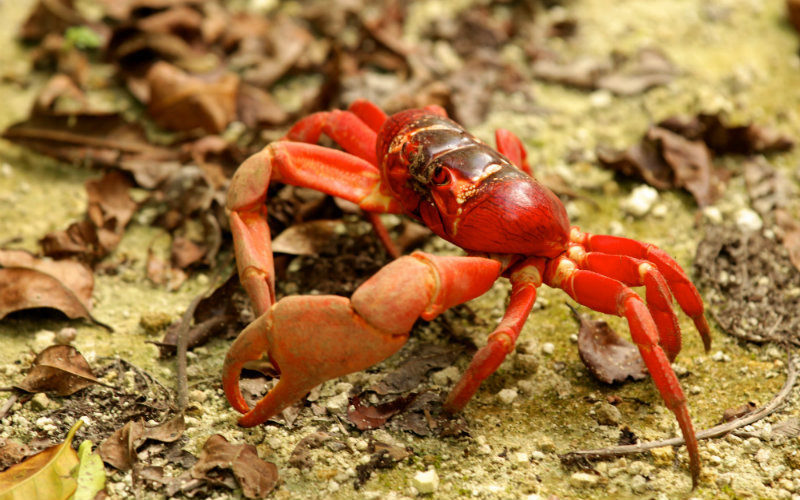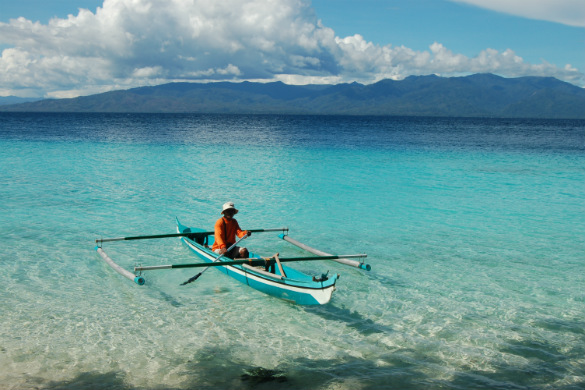 As a travel blogger, I get to visit some incredible destinations. One of the most amazing and unforgettable moments was when I was on a press trip to Indonesia. We visited a remote island called Ambon which is located in Sulawesi. We were there to see a beach called Liang Beach. From the moment we stepped off the bus we knew we had hit a goldmine. It was literally the most beautiful beach I had seen before. And the best thing? This place doesn't get visited by tourists ever, so you can imagine the looks we were getting from the locals.
We struck up a conversation with a few young girls who knew really good English. We asked them how they learned the language because they were speaking extremely good for being so secluded from the rest of the world. They answered 'YouTube'. It was so incredible that these girls who lived on this little unknown island had learnt English from YouTube. This made me realise how incredible the internet is and how it can connect people from all over the world. We had grown up in completely different worlds but yet we were so alike. For me, that was one of the best travel experiences, one that I will never forget.
Sailing the Caribbean from Colombia to Panama has become the predictable pathway between Central and South America. Our departure on a 42 ft catamaran from Cartagena was delayed due to rough seas. We were itching to board, sights only set on the three days gallivanting through the pristine and untouched islands of the San Blas archipelago. No one had considered the two-day open ocean prerequisite.
Rough seas welcomed us. Our excitement deflated, the sound of silence left our laughter back in the protected bays of Cartagena. Our eyes fixated on the horizon, trying hard to keep our composure.
I watched my friend, green in the face disappear below. She was lying in our claustrophobic cabin staring at the ceiling. As I entered, she said to me through gritted teeth; "This better be worth it".
And it was.
32 hours later we spotted the San Blas archipelago – speckles of palm trees on the horizon. As they came further into sight, the rough seas surrendered to calm turquoise waters which slowly transitioned to a golden hue as they reflected the rays of the setting sun. Dolphins greeted us; swimming and jumping around the bow of the catamaran. We anchored at our own private island for the evening and jumped into the warm waters. This was heaven.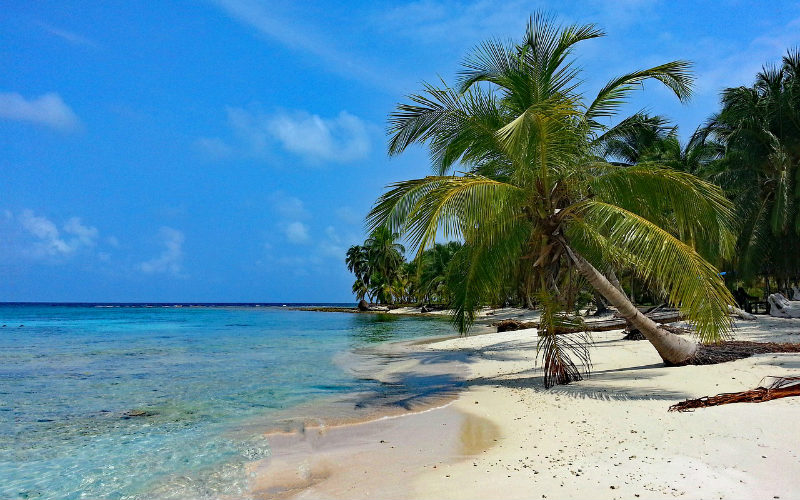 Ready to find your own unforgettable travel experiences? Compare and book flights, hotels and more, with Webjet today!