Why settle for drinks without a view when Melbourne's bar scene carries some of it's heavy-weight champions up on the shoulders of its city skyline? Whether you're looking for an after work tipple or want to share a couple of summery cocktail jugs on a Sunday afternoon, there are plenty of rooftop spots which make the most of Melbourne's attractive cityscape.
Here are our picks for the best rooftop bars in Melbourne, from Fitzroy and Carlton to Melbourne's bustling CBD:
Seven floors above Swanston Street on top of Curtis House, Rooftop Bar really lives up to it's name. Climb the seven floors and be rewarded with an array of staple food and drink favourites at this high-rise drinking institution in Melbourne. From December through to the end of March, The Rooftop Cinema takes over from 8pm with a roster of new releases, cult classics and thought-provoking docos put up across a big screen.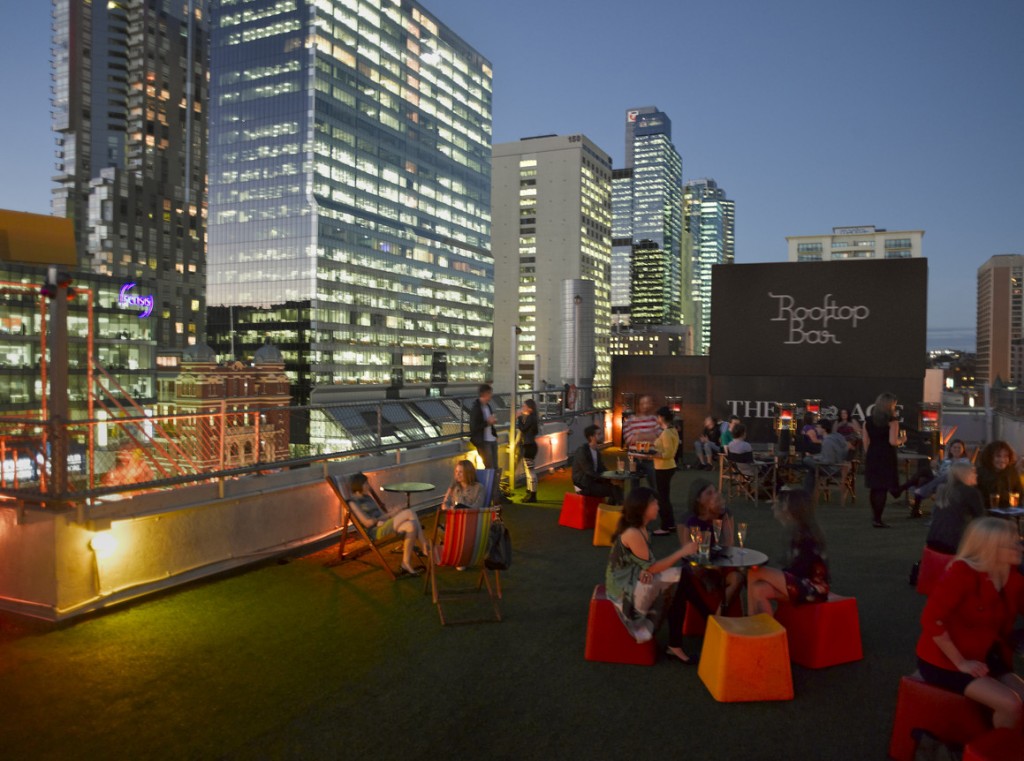 Although more crowds visit for the huge international and locals bands which take the stage downstairs, Melbourne's Corner Hotel also boasts simple but effective open-air rooftop seating. With a huge selection of tap and bottled beers to choose from, plus a few imported favourites, it's one of Richmond's biggest crowd-pleasers.
The Corner also hosts rooftop trivia every Wednesday night – making it one of the few places you can grab a few friends and answer questions spanning from film, TV, music, and even cheese, with a complimentary top-level view.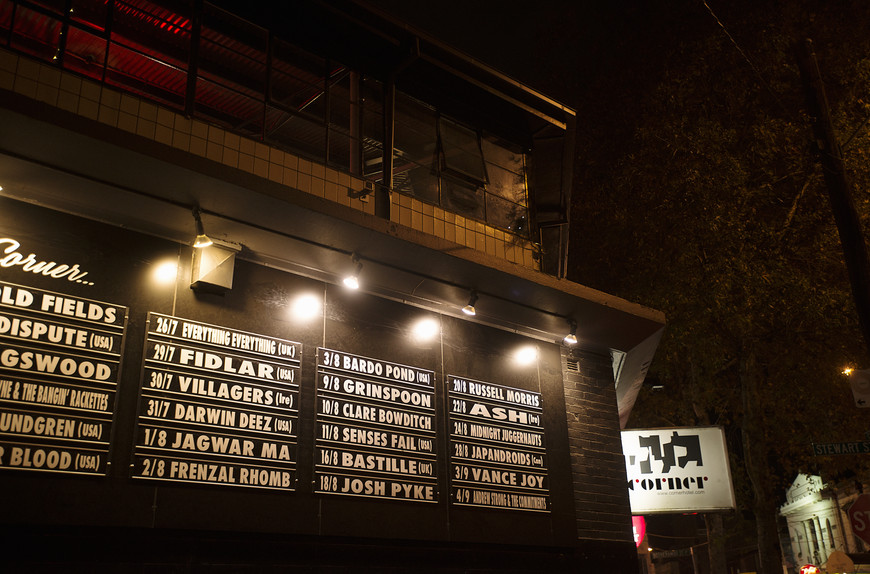 Looking for a rooftop bar with a tiki twist? This tropical, island-themed spot lets you enjoy your alcohol at altitude among palm trees and plenty of bamboo decor. Located on top of the Carlton Hotel, this Bourke Street pick will make you feel like you're miles away from the city streets of Melbourne. With a summery drink menu to match, sipping ice-cold cocktails and chilled beers just makes sense when you're seated under a palm tree, right?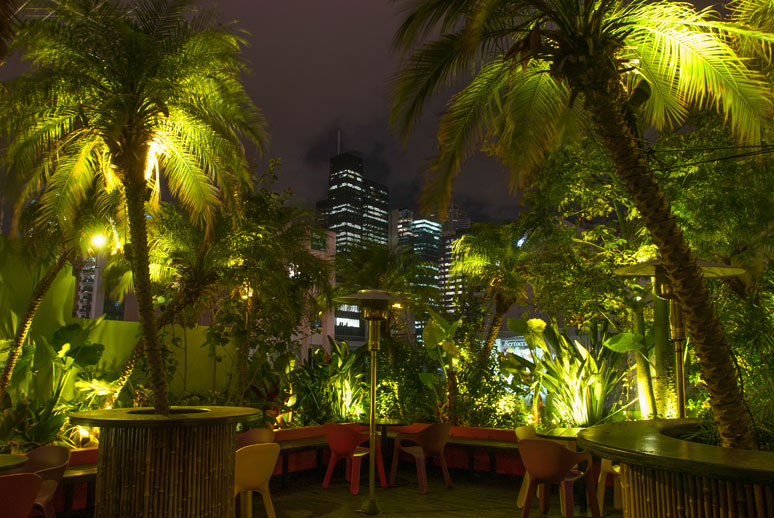 Located in South Yarra, this classy venue's club and cocktail lounge may pack out during the weekends, though it's rooftop is certainly worth climbing stairs for. With a sprawling deck packed with light and beachy decor, The Emerson's rooftop will make you feel like you're aboard a of a cruise ship. Fitted out with daybeds and white-and-blue striped deco, The Emerson dazzles on warm summer days in particular, making this a prime Sunday sessions spot.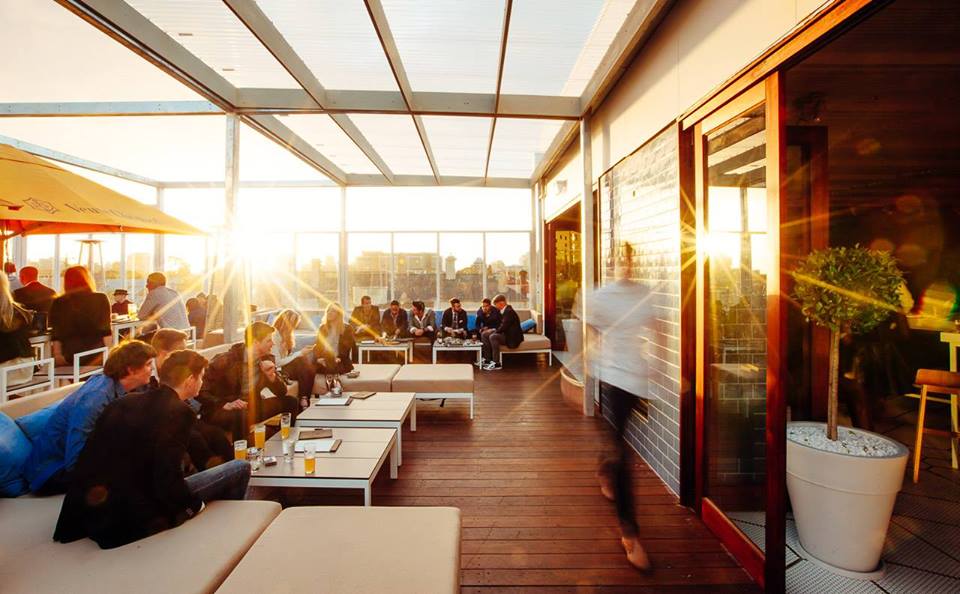 Uncle, St. Kilda
Although it's technically a restaurant, this Viet eatery boasts a more extensive beer, wine and cocktail list than most of the bars you'll find in St. Kilda. Nestled on the vibrant Carlisle Street, Uncle is is one rooftop spot where you won't want to skip out on the food. From delicious banh mi to creative sides and share plates, the eatery adds a welcome twist to plenty of traditional Vietnamese dishes. Best of all, The Local Taphouse next door boasts a rooftop garden on its second floor, should you want to keep the open-air drinks flowing late into the night.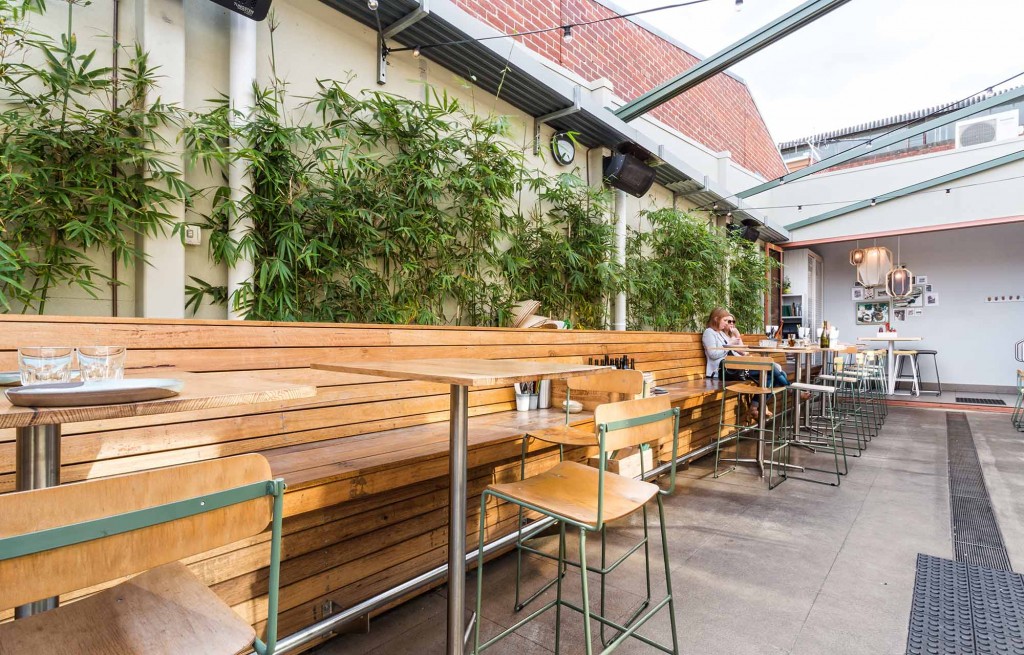 As sister to the arts-focused Loop Project Space, the Loop Roof is a bar / cafe-restaurant which rests in Meyers Place and takes full advantage of its dramatic views of Melbourne's city skyline.
Set in an open air, exotic garden setting, with colourful lighting and moody interiors, the Loop Roof makes for a great after hours spot. Enjoy panoramic views to compliment the mouth-watering cocktails and hard ice teas that the bartenders have come up with, or try one of the Loop Roof's flowery drinks which come served in watering cans.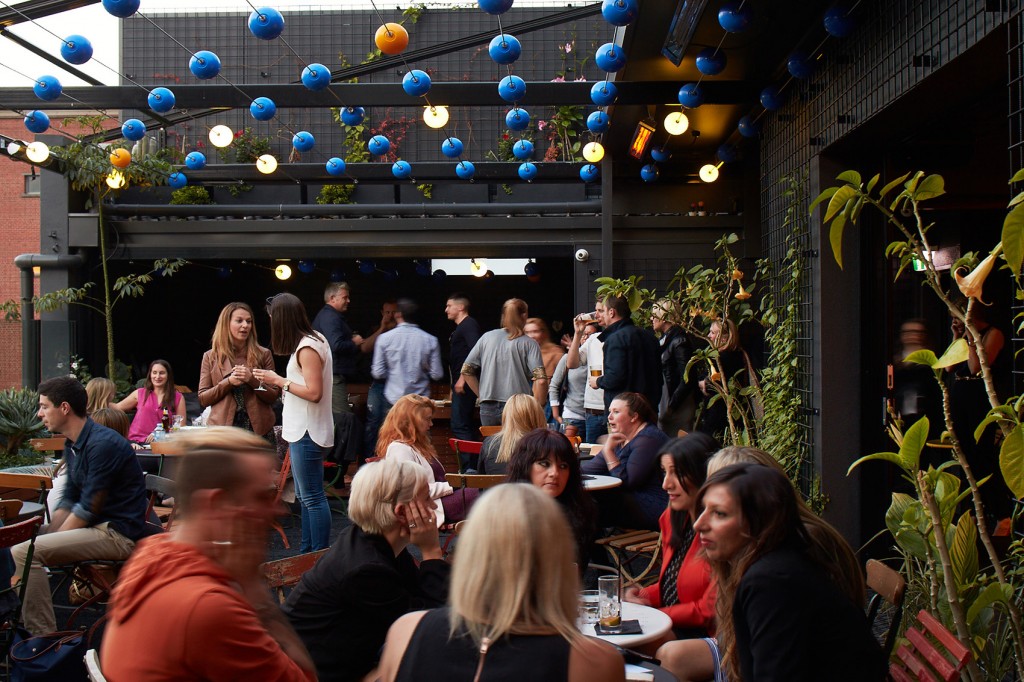 Located on the rooftop of favourite watering hole Jimmy Watson's, the Wolf's Lair boasts a selection of craft beers, fine wines and unusual cocktails all served in a unique open-air small bar setting. Enjoy the Wolf's Lair's unique and lofty decor that will make you feel like you're sitting in a treehouse made for adults. Have a tipple at this quirky Melbourne hideaway which is open until late.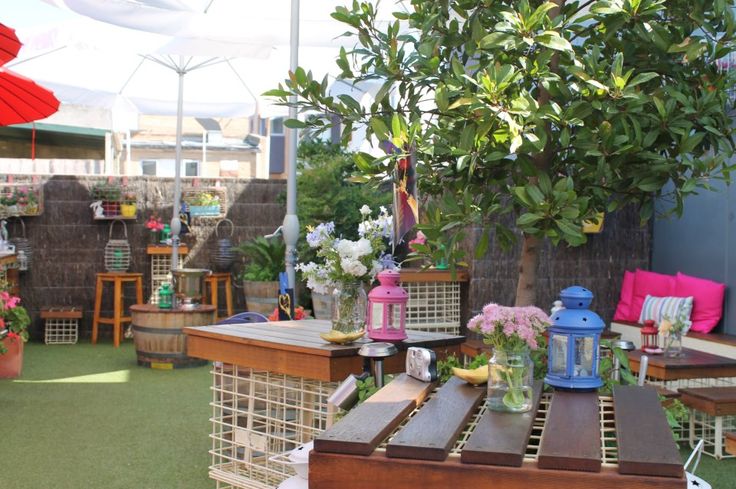 Fantasy-themed and truly elegant, the third floor of Madame Brussels' city terrace setting is a few parts Alice in Wonderland and a few parts high tea English garden party, set among Melbourne's dazzling city skyline. Be sure to make the most of the snack menu filled with acclaimed bar food favourites, from Madame Brussels' famous poached chicken, tasty toasted sandwiches and rich chocolate fondue.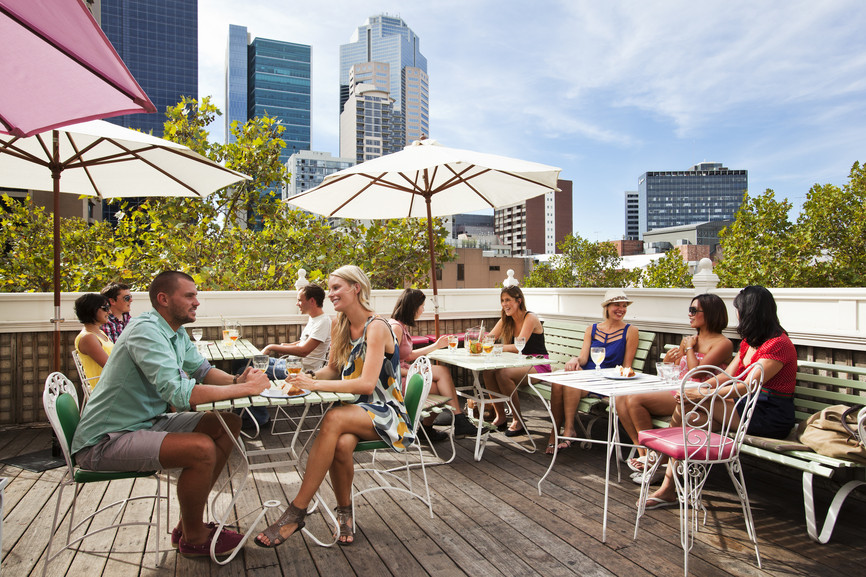 An absolute staple for afterwork drinks, Melbourne's Red Hummingbird is a bustling rooftop spot with a beer, wine and cocktail list cater to casual and serious drinkers alike. Only on level one, this one is less of a climb than Melbourne's other rooftop picks. Enter via the red birdcage hanging above the stairs, and come in the colder months to take advantage of the venue's beautiful fireplace.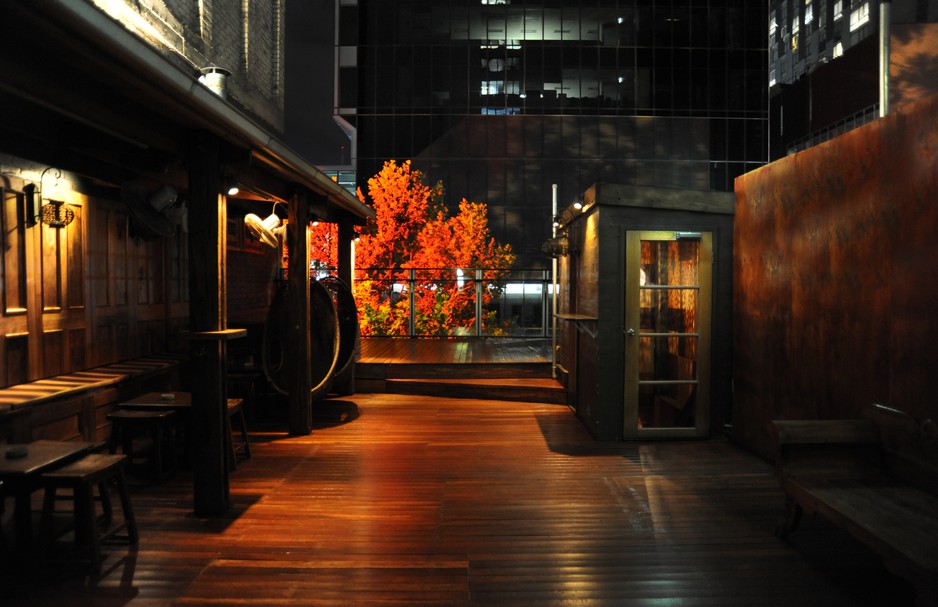 As you can tell by the name, Naked For Satan is one of the most eclectic picks on the Melbourne bar scene, nestled on Brunswick Street in Fitzroy. Having opened a rooftop offering, suitably named Naked in the Sky, the bar's celebrated drink menu and northern-Spain influenced food choices have now spread to the rooftop's open terrace. Try one of the venue's signature Naked infused vodkas as you enjoy sweeping views of Fitzroy from above.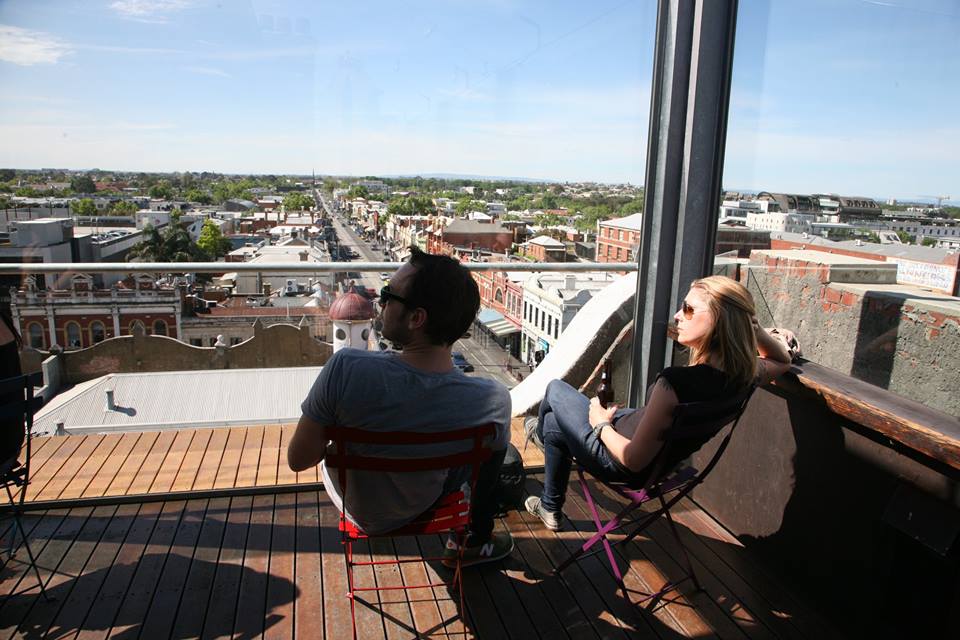 Undoubtedly one of Melbourne's most diverse rooftop offerings, Campari caters to functions and intimate groups alike with its relaxed feel and quirky street-art covered walls. The umbrellas and heater make this a year-round favourite with locals and a great spot to sink a slice of pizza down with an affordable happy hour drink in hand.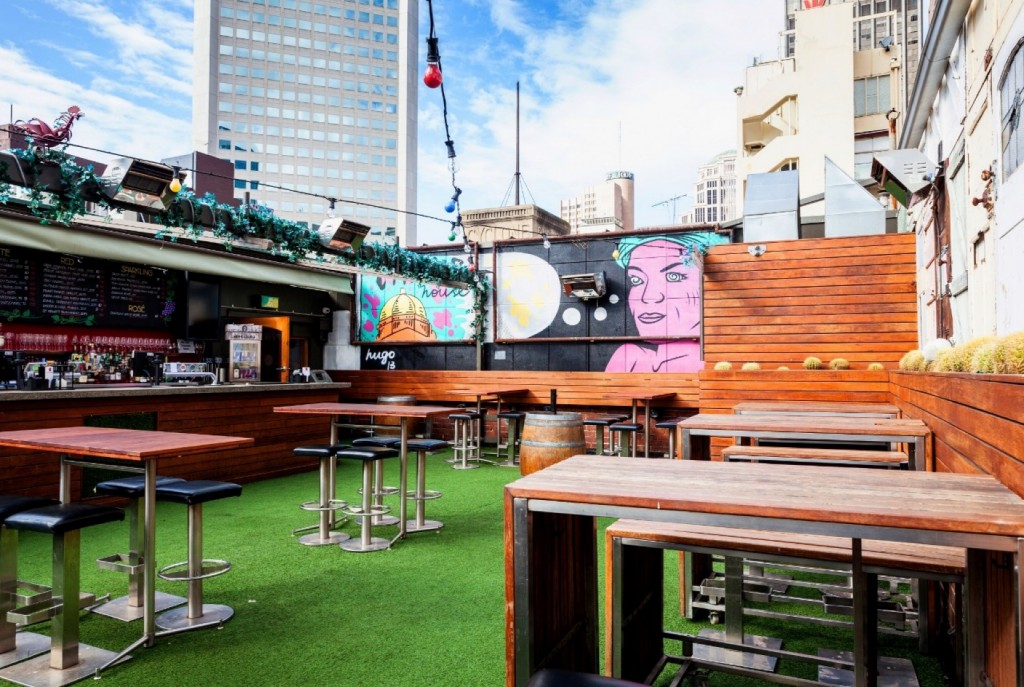 Next time you're looking for a weekend drinking spot, why not take it to the sky? With so many prime rooftop bars in Melbourne and its surrounds, why would you settle for a ground floor watering hole?
Travelling to Melbourne? Webjet.com.au also has a great range of flights to Melbourne, hotels and car hire options to make your trip to Melbourne a memorable one.