Melbourne is lucky enough to be spoilt with an impressive array of walking trails that weave through some of the most scenic parts of the city. But what are some of the best Melbourne walks? We did our stretches, popped on our runners and hit the pavement to find out.
Bayside Coastal Trail, Brighton to Beaumaris
Stretching 17 kilometres along Melbourne's glorious southside coastline, the Bayside Coastal Trail is more than just a picturesque walking track – it also celebrates the region's indigenous, artistic, historical and environmental heritage. More than 90 informative signs mark the path, highlighting sites of significance, sharing stories from the Boon Wurrung culture (the traditional owners of the land) and educating passers-by on the local flora and fauna. There are even displays of art from prominent Australian artists. If we had to recommend a few must-see trail highlights though, it would have to be the crumbling Beaumaris cliffs, the colourful bathing boxes at Middle Brighton Beach and Half Moon Bay, which also makes for a great swim spot.
Difficulty level: Easy.
Best for: Art lovers, history buffs and active families.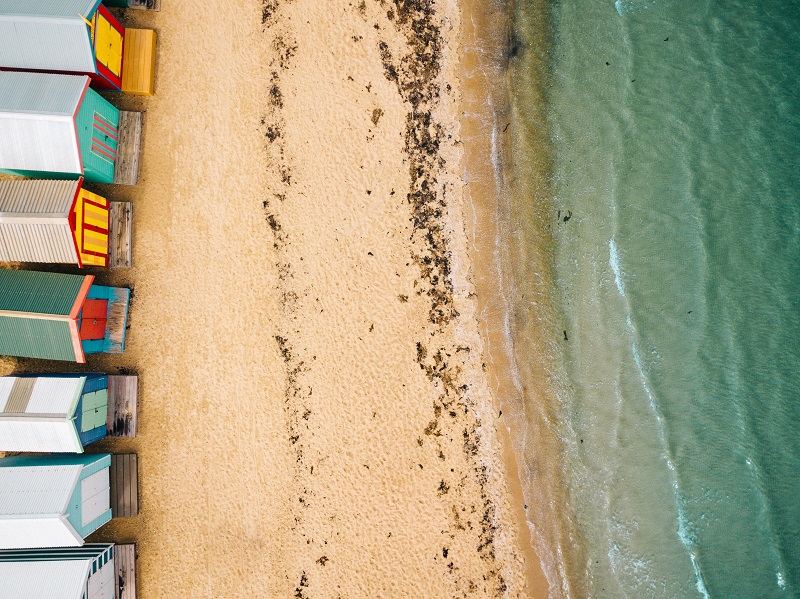 Capital City Trail, Melbourne
Looking for a walking track that showcases the very best of Melbourne's top attractions? Then head straight for the Capital City Trail. Starting on the banks of the Yarra River at Southbank, this 29-kilometre route bypasses the Melbourne Cricket Ground, Victorian Arts Centre and the Royal Botanic Gardens. It then reaches leafy Yarra Bend Park, which feels a world away from the hustle and bustle of the inner city. The second half of the Capital City Trail snakes through Royal Park and past Melbourne Zoo, alongside Moonee Ponds Creek towards Docklands, and then onto South Wharf and the Exhibition Centre. While it's an entirely flat path, it's a tough one to complete in a day – so you may want to divide the circuit up into more manageable sections. For a comprehensive tour of Melbourne's leading landmarks though, this is one walking trail that's hard to beat.
Difficulty level: Easy.
Best for: Seeing the sights of Melbourne.
Kokoda Track Memorial Walk (1000 Steps), Dandenong Ranges
You're not considered a true Melbourne health enthusiast if you haven't completed the famous Kokoda Track Memorial Walk, otherwise known as the 1000 Steps, at least once. Tucked away on the outskirts of Melbourne's suburban fringe, the 1000 Steps is not for the faint-hearted – or the unfit. At just over 1.8 kilometres to reach the finish point of the track, you'd be forgiven for thinking you could knock it out in 15 to 20 minutes. Think again. Entirely uphill, and with a steep incline that never lets up, it's best to leave a good 30 to 40 minutes to tackle this monster. Our tip? Once you reach the top, follow Lyrebird Track back down to the start; it zigzags through a lush, fern-filled valley. After all, we don't imagine you'll get much of a chance to admire the scenery going up, so you may as well take your time to appreciate it on the way back down!
Difficulty level: Hard.
Best for: Fitness fanatics.
The Tan, Melbourne
Long considered a city institution, no list of best Melbourne walks would be complete without mentioning the iconic track that loops around the Royal Botanic Gardens: The Tan. A 3.8-kilometre round trip, The Tan is one of Melbourne's most popular walking trails, and for good reason. The mostly gravel path (a stretch of bitumen along Anderson Street being the only exception) suits walkers of all abilities, and it's not unusual to spot elite athletes sharing the track with mums and bubs in prams, sprightly seniors, fitness groups or seasoned power walkers. A slight incline up Anderson Street, also known as Heartbreak Hill, may get the legs burning, but otherwise it's a lovely route right in the heart of the city.
Difficulty level: Easy to moderate.
Best for: Everyone!

Merri Creek Trail, Melbourne's inner north
A quiet, charming walking track that the people of Melbourne's inner north would rather keep on the down-low, Merri Creek Trail is one of the city's hidden gems. Beginning at Dight Falls, where the Yarra River and Merri Creek meet, the 21-kilometre track is best known for its thriving vegetation, surprising abundance of wildlife (keep an eye out for turtles, frogs and ducks) and plenty of quirky places to stop along the way. These pitstops include the uber-cool shops and cafes of North Fitzroy, CERES Community Environment Park in East Brunswick, Coburg Velodrome and Coburg Lake Reserve. Merri Creek Trail also joins up with the Capital City Trail, should you want to combine the two tracks. A shared path that caters for both walkers and cyclists, Merri Creek Trail is a Melbourne walk for those looking to escape the city and get back to nature.
Difficulty level: Easy.
Best for: A sunny Sunday arvo stroll.