Most visitors wanting to head to the likes of the Daintree, Port Douglas or further north will likely travel to Cairns — a launching pad for discovering Tropical North Queensland. However, this city shouldn't just be one that you use as a pitstop. There are lots of things to do in Cairns and explore its incredible natural beauty, outdoor adventures and its fair share of cultural experiences. 
Cairns is a destination with something for everyone, from strolls along its gorgeous beaches to adventures into the lush rainforest of the surrounding tropical rainforest. Whether you're holidaying with family and friends, staying for a day or enjoying an extended stay, you'll find no shortage of great things to see and do across Cairns.
Check out our picks of these top 9 places to visit and things to do in Cairns, and start planning your own Tropical North Queensland escape!
9 Things to Do in Cairns
1. Discover the Great Barrier Reef
Cairns is famed for being one of the gateways to the wonders of the Great Barrier Reef, and a great range of snorkelling and diving tours are available to join no matter the time of year. There are lots of things to do at the Great Barrier reed, with excursions spanning from leisurely paddles along the sea surface, through to deep-sea diving for more experienced aquatic explorers. 
There are also plenty of things to do for non-swimmers. Some tour companies offer underwater observation decks and glass-bottomed boats, so you can admire the Great Barrier Reef in comfort — and without having to get in the water. Those wanting to enjoy the crystal clear waters from up above are also spoilt for choice. Go hot air ballooning from Cairns to Port Douglas, join a scenic helicopter flight, or — for the ultimate adrenaline-filled experience — go skydiving over the breathtaking tropical rainforest.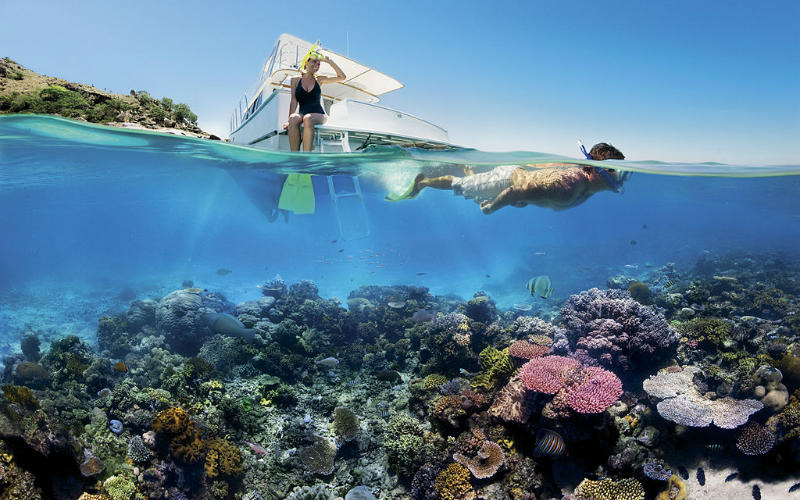 2. Visit the Cairns Botanic Gardens
The Cairns Botanic Gardens is known for its collections that house a wide range of tropical plants for you to explore, as you stroll around the grounds and learn about some of Australia's most native and tropical flora. 
The gardens are divided into five areas: the Flecker Gardens, showcasing tropical plants from around the world; Gondwana Heritage Garden, where you can learn all about the different stages of plant evolution; Watkins Munro Martin Conservatory, home to local butterflies and some of the garden's most valuable plants; Freshwater and Saltwater Lakes, both habitats for different species of flora and fauna; and the Zhanjiang Friendship Gardens, where Cairns' contemporary style meets the traditional features of Zhanjiang, China.
The gardens are also home to Mount Whitfield Conservation Park, which has three linked walking trails that navigate the slopes of Mount Whitfield. The Gardens are open from 8.30 am to 4 pm on weekdays, and from 9.30 to 2 pm on weekends and public holidays (except on Christmas, when it is closed), and entry is free.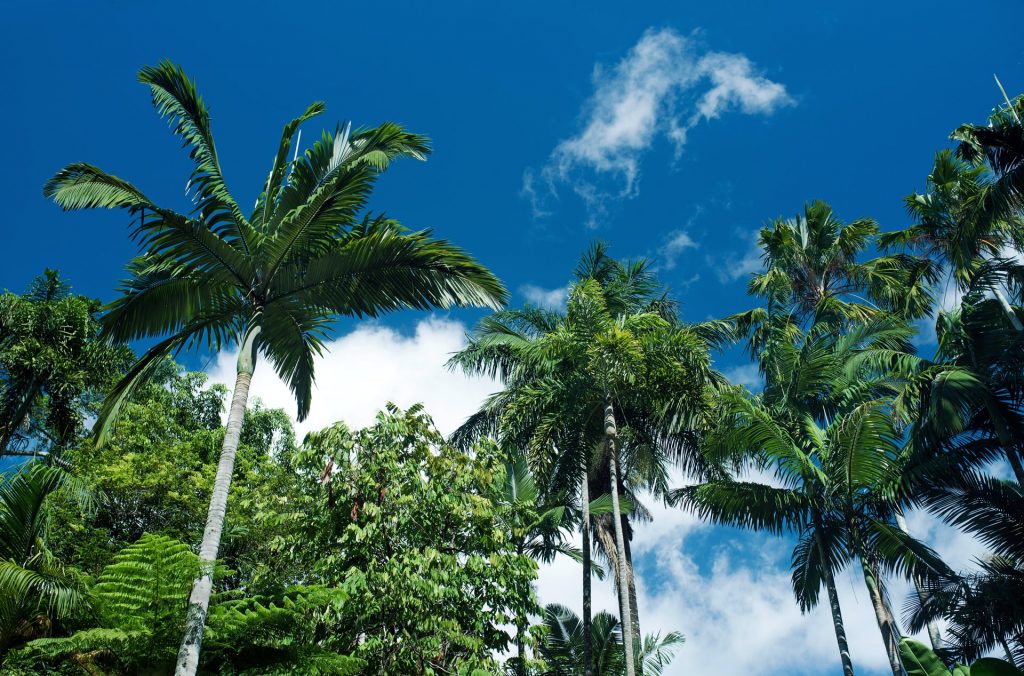 3. Discover Cairns' art scene at Cairns Art Gallery
If you're looking for something relaxing or artistic to do in Cairns, you're in luck. Cairns is home to an eclectic arts scene and it is peppered with galleries that show the works of artists from across the region, Australia and the world. From large galleries, to smaller and more intimate ones — you'll be spoilt for choice.
One of the city's most popular art destinations is Cairns Art Gallery, which has been open to the public since 1995. It now spans three floors of gallery space and aims to create conversations about the history and cultures of Far North Queensland, through exhibitions that combine Australian and international art. The gallery is open from 9 am to 5 pm on weekdays, 10 am to 5 pm on Saturdays and 10 am to 2 pm on Sundays, and entry is free. 
If contemporary art is more your thing, try NorthSite Contemporary Arts, which offers edgy visual arts from Queensland and overseas. Open from 10 am to 5 pm on weekdays and from 10 am to 1 pm on Saturdays, the art institution hosts regular events and workshops for kids and adults, and it also has the Art & Design Store, an artspace and mini retail emporium where you can purchase some of the best art from Cairns, from paintings and sculptures to books, jewellery and more.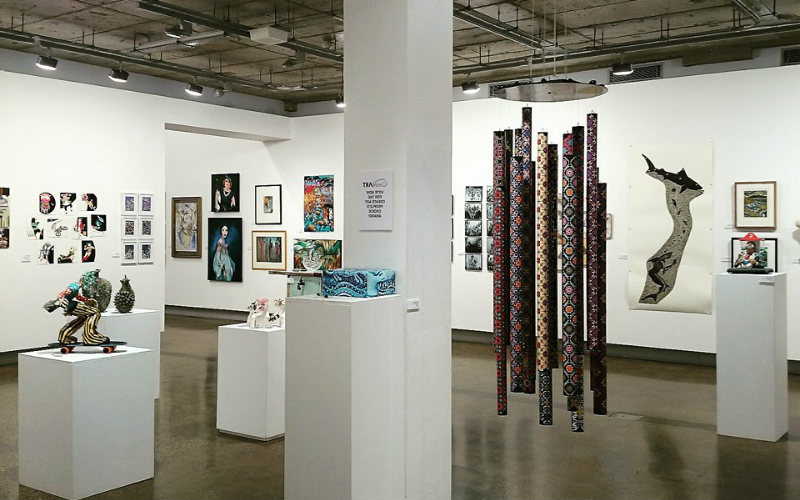 4. Get up close with wildlife at Cairns ZOOM and Wildlife Dome
Located on top of the Reef Hotel Casino, Cairns ZOOM and Wildlife Dome is one of the most popular places for tourists to visit in Cairns. The Wildlife Dome is a sanctuary for reptiles, amphibians, birds, marsupials and tropical fish, and offers visitors the chance to get up close and personal with all manner of furry, feathered and scaled creatures. Book an afternoon feeding tour and spoil the park's carnivorous birds with their favourite snacks, enjoy a 20-minute exclusive experience with the koalas, or go on a Private Wildlife Experience to tour the park with a wildlife keeper and hold three animals of your choice.
Up for an adventure? At Cairns ZOOM and Wildlife Dome, you'll find several courses for thrill-seekers, with different levels of intensity suited to everyone, from beginners to the well-versed in adventure. Choose the Hi-Zoom course of crossings and ziplines (including one that takes you directly over Goliath, the park's resident crocodile), try Power Jump for an exhilarating 13-metre free-fall adventure, or learn about the history of Cairns in the Dome Climb tour. Can't choose just one activity? With the park's 2-hour Extreme Package, you won't have to!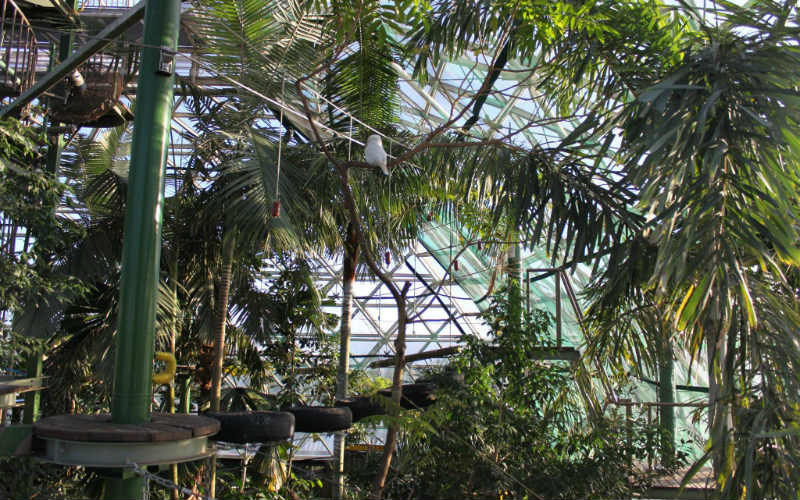 5. Bungee jump at Skypark by AJ Hackett
Adrenaline junkies look no further! Skypark by AJ Hackett's bungy tower, the first purpose-built bungy jumping structure of its kind, is certainly well-worth adding to your Cairns must-do list. Although this leap of faith definitely isn't for the faint-hearted, AJ Hackett offers 16 different kinds of bungy jumping activities that cater to anyone keen on testing their nerve.
The Skypark offers afew different experiences to try. The most popular one, the Giant Swing, allows for one to three people to jump at a time. There's also 'Walk the Plank': a path 140 meters above the sea with the most amazing views of the Great Barrier Reef and surrounding rainforest. 
After your jump, head to the Skypark Cafe for a much-deserved meal and cold beverage. If you can't face the plunge, don't worry: there are also viewing platforms, sun chairs and a licensed bar located on-site that make the visit to the Skypark worthwhile.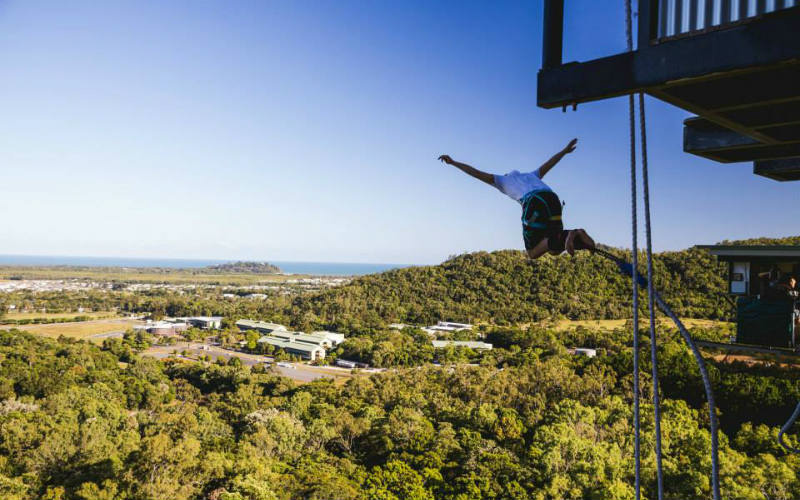 6. See the Daintree Rainforest from the Skyrail Rainforest Cableway
Get a birds-eye look at the world's oldest rainforest and Australia's UNESCO World Heritage listed tropical rainforest: the Daintree. Looking out over the vast treescape from above, the  Skyrail Rainforest Cableway is one of the world's best rainforest experiences.
Glide above the ancient rainforest canopy before descending to the rainforest stations at Red Peak and Barron Falls, where you can learn about one of the most botanically fascinating and diverse areas on earth from a ranger or by yourself. Open days at the Skyrail Rainforest Cableway vary, so make sure to check the Visitor Information on the official website before you make your way there.
Don't leave without visiting the world-famous Kuranda, a village with over 100 years of history where you can stroll through the most eclectic markets and boutiques, grab a bite to eat at one of the local food stalls or quirky cafes, and go on the Kuranda Wildlife Experience through three animal parks.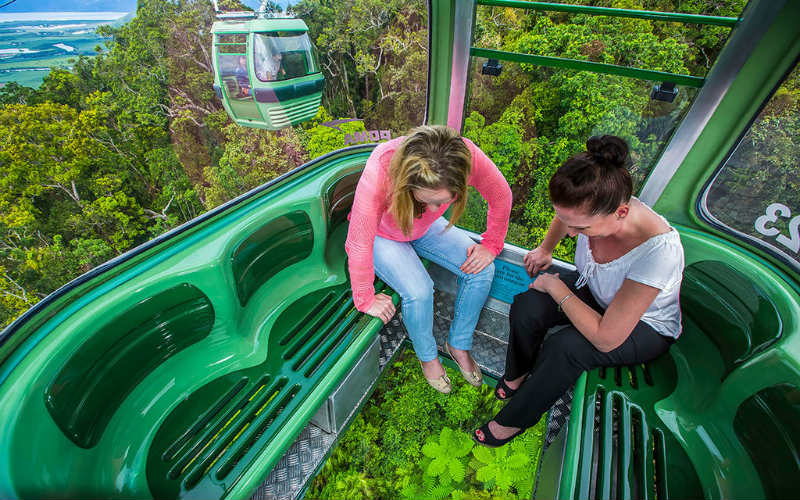 7. Relax and have a waterfront BBQ at Cairns Esplanade
Spend a day on the water's edge with a visit to the popular Cairns Esplanade. As well as providing great views of the sea and sand, the Esplanade is home to a saltwater lagoon where visitors can safely swim year-round. Those looking to break a sweat can join one of the many fitness classes held at the Esplanade, ranging from Aqua Zumba to Bouldering, Pilates and more.
To keep the kids entertained, there are three playgrounds available: Muddy's splash playground, the unique Fun Ship Playground and the peaceful Healing Gardens Playground. There are also 12 barbecue areas along the esplanade, all of which are available every day from 6 am to 9 pm, and free for casual use. Be sure to keep an eye out for the art installations that pepper the waterfront, including The Woven Fish by Brian Robinson, the Telescopus by Dominic Johns, and the Horizon Line by Kevin Mayo.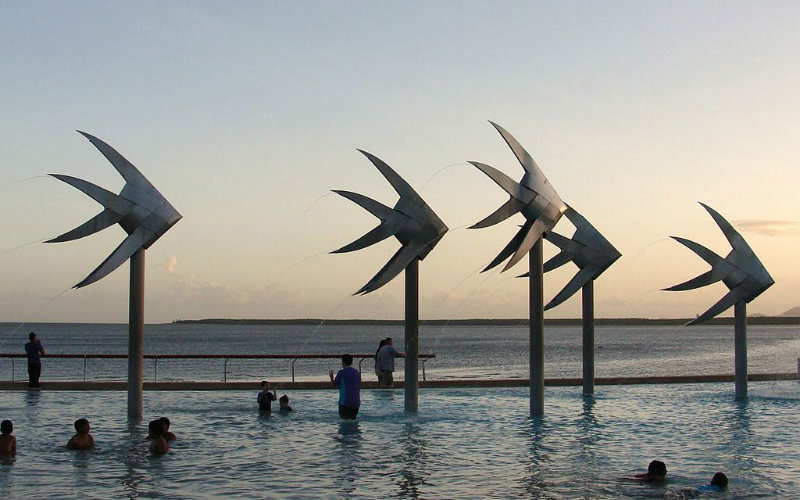 8. Bushwalk on the Kauri Creek Rainforest Walk
Head out of the city centre and experience more of the area around Cairns with a bushwalk through its spectacular surrounding rainforests. Set out on foot along the Kauri Creek Rainforest Walk, a 5.1 kilometre, grade 4 track, and enjoy the sights of Kauri Creek. Ideal for intermediate and experienced hikers, the track starts in a riverine area and, after a steep hill, takes you to a road in the forest. You can stop at a picnic area to recharge your batteries and, of course, take breaks along the way to admire the natural beauty around you.
If you're looking for an easier walk, the Josephine Falls Walking Track is a great alternative, leading adventurers to Josephine Falls, a tropical waterfall that overlooks Josephine Creek. There are platforms for you to soak in those gorgeous views, plus you can cool off from the Queensland heat or humidity by wading into the pool located at the top of the falls.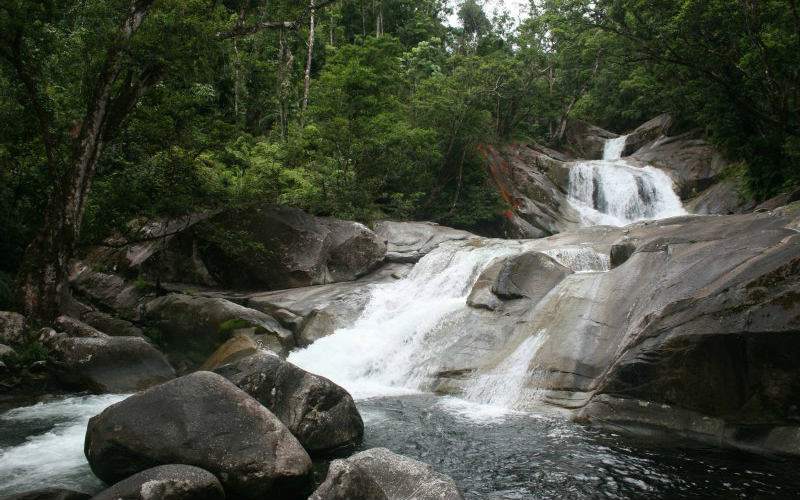 9. Shop for handmade products at Palm Cove Markets
Palm Cove Markets is an excellent place to head for a stroll on a lazy Sunday. The market opens on the first Sunday of every month, with a focus on handmade products, such as jewellery, leather and pottery, vintage clothes, plants and food. There, you will also find health and wellness-focused stalls, where you can buy moisturisers, healing balms, crystals and other feel-good items. When your stomach starts growling, head to any of the good and beverage stalls, and choose between a nutritious juice, a decadent vegan doughnut, delicious German sausages and more.
You'll find a great selection of markets across Cairns, which promise everything from fresh food to handmade crafts.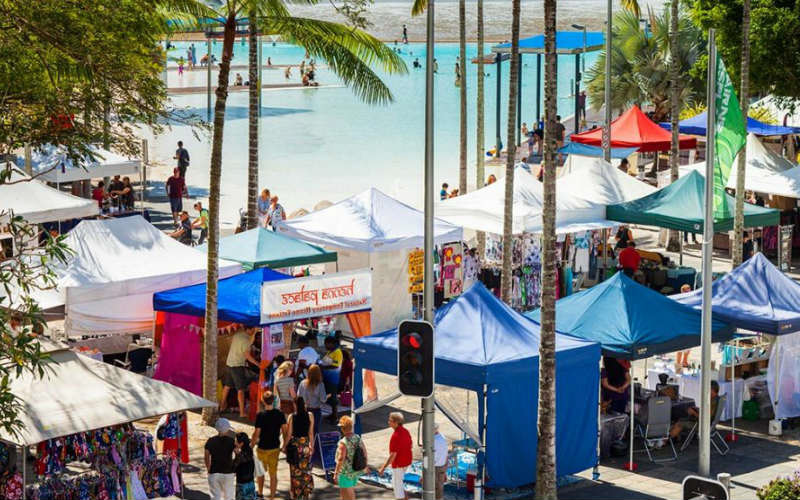 Excited to experience Cairns for yourself? The city is bustling with places to see and things to do, and now you know about 9 spots that need to go on your Cairns bucket list. Find great hotels across the city and book your flights to Cairns North Queensland with Webjet.
Hero image credit: Cairns. Photo: the magnetic west | CC BY SA 2.0