The sun may have gone down and taken the city's sunny harbour views with it, but the harbour city of Sydney still retains much of its charm after dark. With diverse dining districts, plenty of entertainment options and a cluster of beloved watering-holes, Sydney certainly doesn't slow down after hours.
Check out our picks for the 10 best things to do in Sydney at night:
10 Things to Do in Sydney at Night
1. Discover the Sydney Opera House at Night
When most people think of Sydney, it's likely that the Sydney Opera House comes to mind, and for good reason – it's one of the city's world-renowned icons. While the Opera House offers some great photo opportunities during the day, there's more to see and do around this spectacular building after dark. 
Throughout the year, the building hosts an incredible variety of live performances, from contemporary music and theatre to comedy, ballet and classical music. Check out the current calendar of events and pick up tickets to a show that piques your interest, or if you're not in the mood for a show, head down to the edge of the harbour and enjoy a drink or bite to eat at Opera Bar. Nestled beneath the Opera House, the outdoor area of the bar and restaurant offer fantastic views of Circular Quay, the Sydney Harbour Bridge and, of course, some great libations.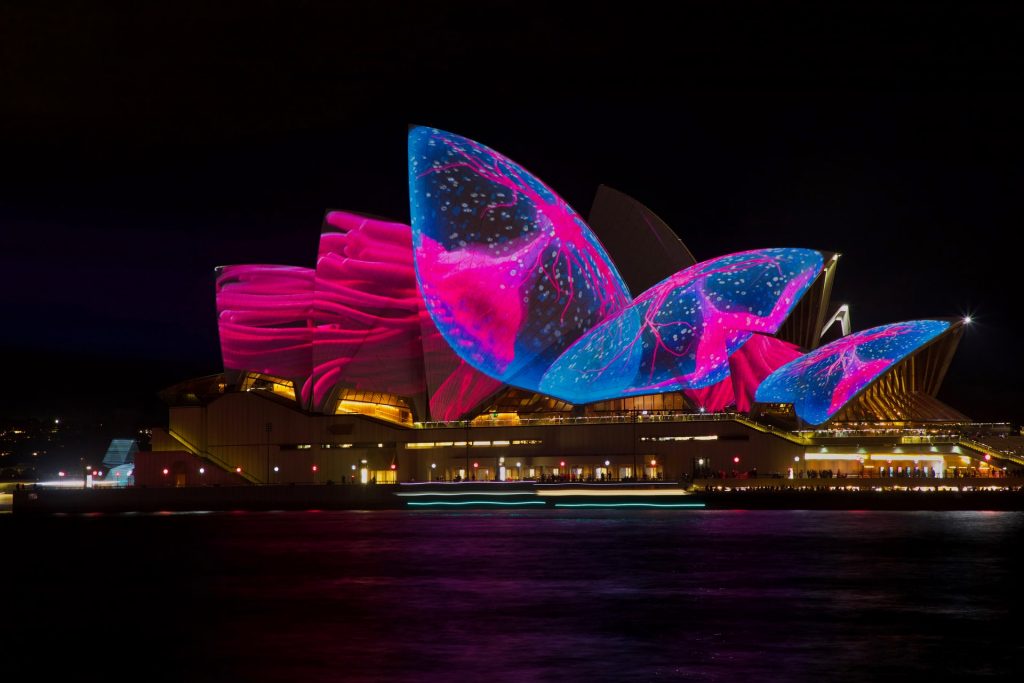 2. Go Stargazing at Sydney Observatory
There's nothing quite as awe-inspiring as the night sky and, with a visit to the Sydney Observatory after dark, you'll have the opportunity to learn about our incredible universe and gaze up at the star-filled heavens. For just under $30, you can join a night tour of the historic site, where you'll see the Planetarium and dome, and perhaps even have the chance to enjoy a telescope viewing (weather permitting). 
This activity is great for a night out with the special person in your life, families with older kids, or travellers in town with a few friends. You'll find plenty of opportunities to talk to astronomy educators and learn more about the astronomical objects on display. The stargazing sessions run every day from 8.30 pm. Night tours at the Sydney Observatory should be booked in advance, either online or on the phone.
3. Visit an Art Gallery After Dark
If you happen to find yourself without something to do on a Wednesday night, two of Sydney's biggest art galleries offer extended mid-week hours, allowing you to see more of their fantastic works on the show after dark. The Art Gallery of New South Wales, located next to the Royal Botanic Gardens, runs its Art After Hours program weekly, with a host of lectures, talks and tours until 10 pm. If you visit on a Wednesday, you can also grab a bite to eat at Crafted by Matt Moran, the on-site restaurant open until 8 pm.
If modern art is more your thing, the Museum of Contemporary Art, overlooking Circular Quay, also leaves its doors open until 9 pm on Fridays. The cafe and gift store stay open too. This trip makes the perfect mid-week evening adventure and is your chance to see incredible works from local and international artists without typical weekend crowds.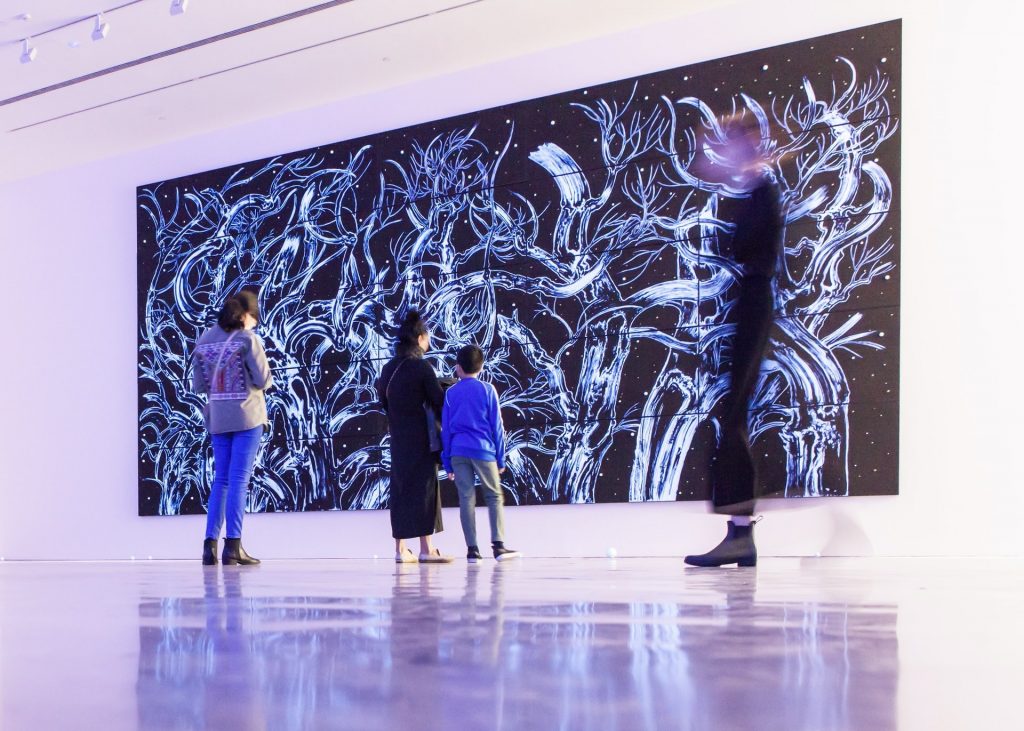 4. Challenge Your Mates to Fun and Games
Step things up a notch and challenge the gang to a game of mini-golf, a round of bowling, or a mind-boggling escape room. Newtown's Holey Moley is the perfect place to head for a few drinks and a game of good old mini-golf. The space comes decked out with its signature pop-culture-themed decor, and holes range from Game of Thrones' Iron Throne, The Simpsons' lounge room, and all manner of crazy contraptions; making your way through the course is a great way to spend a few hours. 
Just a few minutes' walk from Wynyard Station, Strike Bowling King Street Wharf is perfect for some late-night fun, open until 10 pm from Sunday to Thursday and until midnight on Friday and Saturday nights. With bowling lanes and karaoke booths available, it's the perfect spot to party the night away. 
If you're looking to give your brain a workout, give one of the city's escape rooms a go. Your lateral thinking and observation skills are put to the test as you tackle any number of puzzles, problems and brain teasers. Check out Escape Hunt Sydney on George Street (open until 8.30 pm every day) or The Cipher Room on King Street in Newtown (open until 10 pm every day).
5. Bust Out Your Favourite Karaoke Tunes
The thrill of belting out your favourite ballads is something that brings revellers back to karaoke bars again and again. If you love a little sing-song or are looking to see what all the fuss is about, Sydney has you covered. 
Across the city, you'll find plenty of venues perfect for unleashing your best renditions of Britney, Bowie and every musical superstar in between. Head to Dixon Street in Chinatown for local favourites such as K1 Karaoke Lounge and CEO Karaoke Sydney, both of which remain open until 4 am during the weekends, or pair your session with delicious Japanese food and drinks at Goros in Surry Hills.
6. Catch a Film at a Unique Theatre
A night out at the movies is a timeless evening activity for a reason, so why not step out in style and check out one of Sydney's grand old cinemas? Some of Sydney's classic picture houses were built at a time when a trip to the cinema was an occasion in itself, and designs feature beautiful architecture and furnishings. 
A trip to these theatres is perfect for when you want to be immersed in the bygone style of old. From new releases to cult favourites and indie flicks, there are plenty of interesting films on offer at Surry Hills' Golden Age Cinema and Bar, Randwick's Ritz Cinema, or the CBD's own State Theatre for art film and theatre. If you find yourself close to Circular Quay, United Opera Quays is another great option.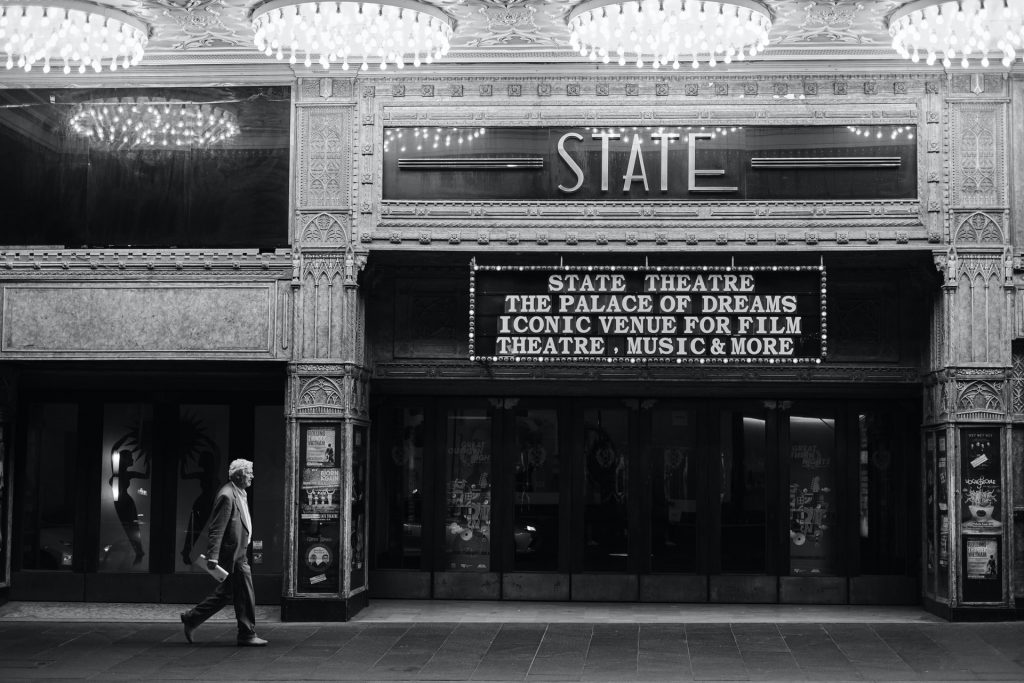 7. Enjoy a Thrilling Ghost Tour of The Rocks
The Rocks was the site of Sydney's first permanent European settlement and as such is an area of the city that is incredibly rich with history. While The Rocks is delightful to visit during the day, the cobblestone laneways and sandstone buildings act as the perfect backdrop for the Rocks Ghost Tour after nightfall. 
Whether you believe in ghosts or not, the tour reveals some interesting tales from the city's early days, chronicling eerie crimes to the colourful characters who once called the area home, and retelling some recently-reported sightings and strange phenomena that have occurred. The two-hour-long tours run every day and will set you back $45 per person. Eager for more chilling thrills while you're in Sydney? Look into the Q Station Ghost Tours, which take you into what is said to be one of Australia's most haunted sites at Quarantine Station on North Head.
8. Explore Sydney's Dining Scene
With a population originating from all corners of the globe, it comes as no surprise that Sydney is home to an incredible range of culinary choices – and dinnertime is no exception. Whatever cuisine you may be craving, you're sure to find it being served up somewhere in the city, with many restaurants offering outdoor seating for your comfort, as well as delivery and takeaway for those who'd prefer staying in. Head to Chinatown for your fix of delicious Asian fare, or stop by the nearby Steam Mill Lane in Haymarket to find local favourites, including The Sandwich Shop and FISHBOWL, in one convenient spot.
For more cheap eats, you can't go wrong with Mary's Newtown and Bar Luca for great burgers; Chat Thai and Newtown's Thai Pothong for delicious South-East Asian flavours, or Rosso Antico Pizza Bar and Gigi's Pizzeria in Newtown for a slice or two of moreish pizza. If fine dining is more your style, book a table at one of the city's oft-lauded restaurants, including Tetsuya's, Quay, Aria, or Bennelong, and delight your taste buds with their carefully crafted menus. 
And if you're out until the wee hours and hunger hits? Make for one of Sydney's best late-night eats, such as bite-sized tapas from Bar Topa; classic French brasserie fare at Restaurant Hubert (open until 12 to 12.30 am, except on Sundays); or heaping plates of pasta from Big Poppa's (open every day, from 5 pm to 3 am).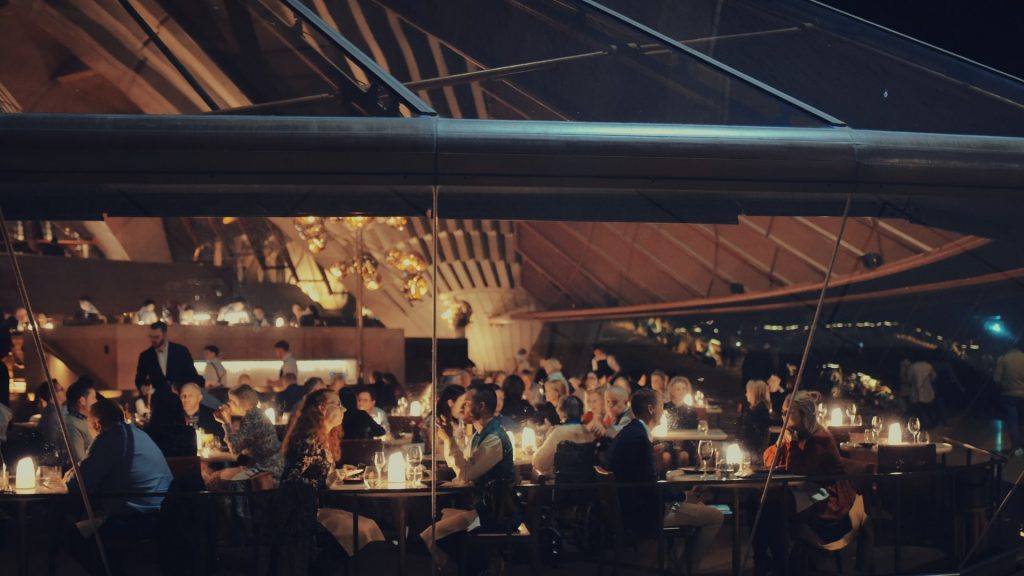 9. Indulge Your Sweet-tooth with Diverse Deserts
After you've finished dinner, the next logical step is to find the perfect dessert, and, in Sydney, you're certainly not going to struggle to find your fix for the sweet stuff. No matter if you're fond of a scoop (or three) of ice cream or gelato, or your tastes lean to something a little more special; there are so many delicious sweet treats to sample across Sydney. 
A visit to Gelato Messina is almost a rite of passage (there are 11 stores across the city), with its ever-changing menu of flavours delivering the goods time and time again. Located in Enmore, Cow & the Moon is another local favourite, serving up gelato so good that it scooped the gong as one of the world's best. Pop past the gelateria and grab a cup or cone of flavours including mandorla affogato, passionfruit cream, or strawberry balsamic pannacotta to enjoy while you walk around Enmore and Newtown.
For something a little different, Chippendale's Koi Dessert Bar, run by Masterchef Australia alumni Reynold Poernomo and his brothers, serves up exquisite pastries and intriguing sweet treats. Dessert devotees can pick a cake or two from the display cases to eat in or takeaway, as well as order online for Click & Collect in Sydney CBD. 
Track down the boys at Knafeh Sydney to feast on a slice of this traditional Middle Eastern dessert; the Hungarian chimney cake from Kurtosh (which you can Click & Collect from four locations in Sydney); or the syrup-topped stacks at Pancakes on the Rocks. If you find yourself in Newtown, don't miss your chance to try The Gaytime Bao at Belly Bao – a unique fusion of a classic Australian dessert and a light and fluffy Asian bun.
10. Settle in for a Drink — or a Few
Head to Newtown in the city's inner west to take your pick from a fantastic selection of small bars, including The Midnight Special and Earl's Juke Joint, or if you'd rather add a touch of extra fun to your night, check out one of the CBD's hidden drinking dens, including Stitch Bar on York Street and Clarence Street's The Baxter Inn. 
From classic pubs to wine bars, rooftops and more, Surry Hills houses plenty of great spots for an evening tipple. Sip on Japanese whisky at Tokyo Bird on Commonwealth Street, or soak up the atmosphere at Campbell Street's Wild Rover. Enjoy great views of Sydney Harbour from The Glenmore Hotel's rooftop in The Rocks or make your way to Darling Harbour to find more great waterside venues, such as Bungalow 8, Cafe del Mar and Helm Bar. 
For those who aren't comfortable with visiting bars and pubs, there is a great alternative: takeaway cocktails. Grab a margarita from Sonora Mexican, a Earl's Juke Joint negroni at P&V or a gin from Poor Toms Gin Hall, all ready to enjoy from the comfort of your own accommodation.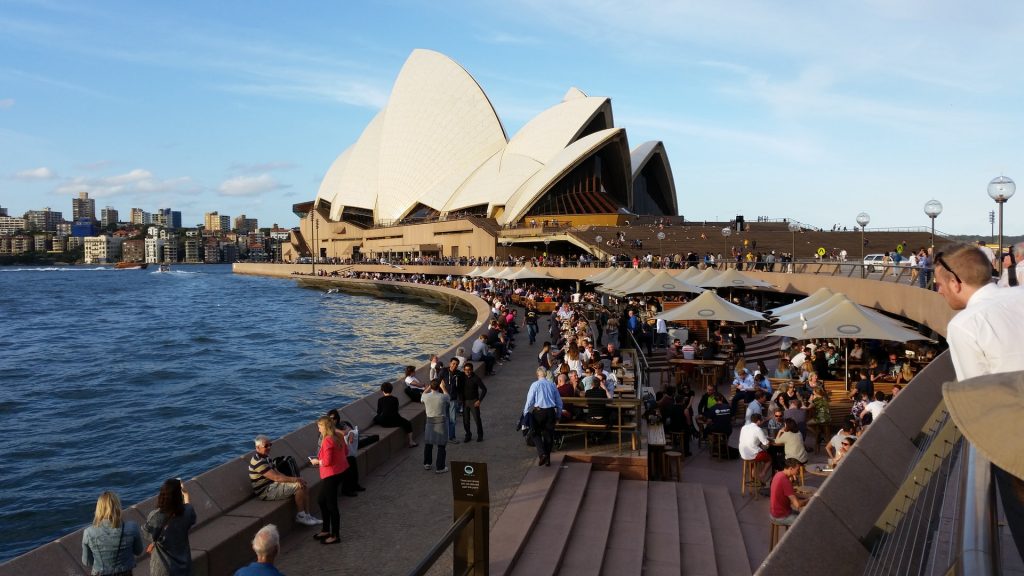 Ready to explore Sydney? With something to do and explore around every corner, the city is certain to keep you entertained from day to night. Book flights to Sydney and Sydney hotels with Webjet and discover the best that Sydney's cheap nightlife has to offer.
Hero image: Sydney. Credit: Paul Carmona | CC BY-NC-ND 2.0