Koalas are synonymous with Australia. These cute natives survive by making their way from tree to tree in search of eucalyptus leaves and sleeping for up to 22 hours a day. Some Australian states, including New South Wales, Victoria and the Northern Territory, don't allow visitors to cuddle our little koala friends, so if you want to get up close and personal with these famous marsupials, be sure to plan your trip accordingly.
A visit to any of these spots is the perfect activity for those travelling with kids, but it's also a unique date idea or simply something different to do during a getaway with your mates. Discover our top picks for places to cuddle a koala in Australia:
11 Best Places to Cuddle a Koala in Australia
1. Australia Zoo, Beerwah, Queensland
Address: Steve Irwin Way, Beerwah QLD 4519
Opening hours: Every day from 9 am to 5 pm
Entry fee: From $59 for adults and $35 for children (ages 3 to 14)
Instagram: @australiazoo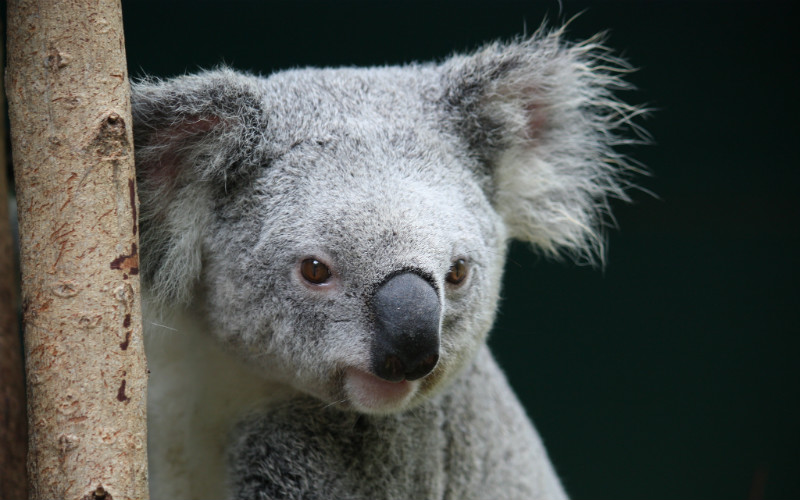 Located on the Sunshine Coast, Australia Zoo is world-renowned for its conservation efforts and its ownership by the famous Irwin family. The zoo offers koala cuddles twice a day and for a fee of $49 per person. The encounters are run by a professional zookeeper, who will teach you all about the fascinating lives of koalas and the amazing qualities of eucalyptus.
After your cuddly koala encounter, take some time to explore more of the amazing nature Beerwah has to offer. Take the bus to Glass House Mountains and walk through the open forests (making sure to stop at the several lookouts to absorb the incredible views of the mountains) or make your way to Beerwah State Forest to discover the exotic pine plantations and open eucalypt forest.
2. Dreamworld, Coomera, Queensland
Address: Dreamworld Pkwy, Coomera QLD 4209
Opening hours: Every day except ANZAC Day and Christmas, with seasonal opening hours
Entry fee: From $99 for adults and $89 for children (ages 3 to 13)
Instagram: @dreamworldau
In 2013, Dreamworld, one of Australia's most popular theme parks, launched its newest wildlife experiences within Corroboree, an Indigenous tourist experience. Alongside crocodiles, snakes and birds of prey encounters, visitors are able to enjoy their very own koala cuddles for $24.95 per person. The park also offers professional souvenir photos to help you remember your visit.
There are enough rides and attractions in Dreamworld to keep you entertained for hours, but if you're looking for more things to do in Coomera, head to Yaun Creek Park for a game of cricket or continue your adventure-filled day at Tuff Nutterz, the largest inflatable obstacle course in Australia. Feeling hungry? Try The Park's signature metre pizzas while bowling or playing arcade games.
3. Lone Pine Koala Sanctuary, Fig Tree Pocket, Queensland
Address: 708 Jesmond Road, Fig Tree Pocket QLD 4069
Opening hours: Every day from 9 am to 5 pm (except ANZAC day, when it is open from 1.30 pm to 5 pm)
Entry fee: $49 for adults, $39 for students (ages 14 to 17) and $35 for children (ages 3 to 13)
Instagram: @lonepinekoala
Opening in 1927, the Lone Pine Koala Sanctuary became the world's first koala park. Now, the park is the world's largest sanctuary and with over 130 koalas, it is one of the best places to hold a koala in Queensland. The experience is a bit pricey – to book the Koala Discovery, you'll have to pay $150 per person. However, during the 60-minute tour, you'll get to watch a health check at the koala veterinarian, go behind the scenes at the leaf sorting area, receive a 5×8 printed professional photo with an adorable koala and more. It's the dream experience for any animal lover!
After visiting the animals at the sanctuary, hike your way to the Cubbera Creek or keep it chill with a coffee or cocktail at Hunter & Scout Cafe, on the other side of the Brisbane River. Travelling with little ones? They will love the large playground at Biami Yumba Park, located just a 3-minute drive from the Lone Pine Koala Sanctuary.
4. Cleland Wildlife Park, Crafers, South Australia
Address: 365 Mount Lofty Summit Road, Crafers SA 5152
Opening hours: Every day except Christmas, from 9.30 am to 5 pm
Entry fee: $30 for adults and $15.50 for children (ages 4 to 15)
Instagram: @clelandwildlifepark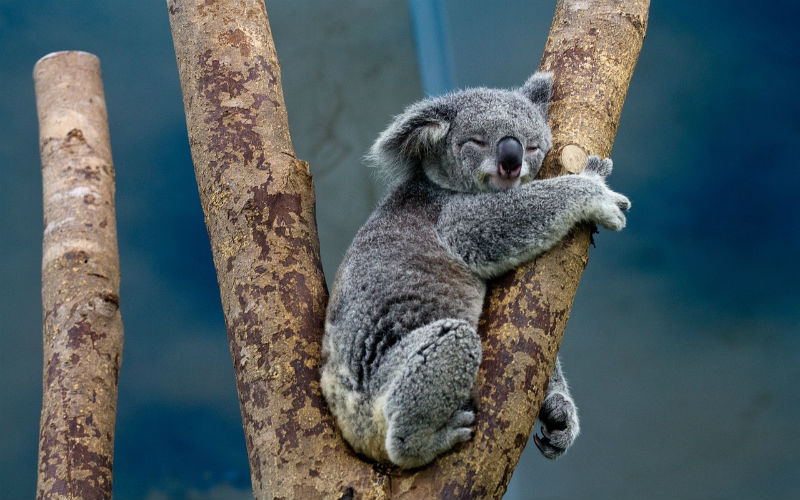 Located in South Australia's Adelaide Hills, Cleland Wildlife Park provides many options for the koala lover. Entry to the park includes the opportunity to get up close to a koala, while an extra fee of $33 will allow you to hold one. Private sessions providing you with the chance to cuddle a koala outside of public waiting times and have a professional photograph taken to mark the occasion are also available.
Crafers is home to Adelaide's highest peak, so those looking for things to do after their koala encounter can head to Mount Lofty Summit, before visiting the Mount Lofty Botanic Garden and its glorious floral diversity. For an elevated pub meal (and a craft beer to go with it), stop by The Crafers Hotel, located only an 8-minute drive from the wildlife park and open every day for lunch and dinner.
5. Billabong Sanctuary, Nome, Queensland
Address: 11 Country Rd, Nome QLD 4816
Opening hours: Every day from 9 am to 4 pm
Entry fee: $40 for adults and $27 for children (ages 4 to 16)
Instagram: @billabongsanctuary
Billabong Sanctuary, near Townsville, is a popular wildlife park home to more than 100 different species. Scattered throughout various enclosures, you'll find a healthy population of koalas within the park and have the opportunity to hold a koala and take home a souvenir photo for an extra fee.
Those searching for more activities to do near Nome can drive 30 minutes to Townsville and discover the cultural and natural heritage of tropical Queensland at the Museum of Tropical Queensland or go on a whale watching tour for another incredible wildlife encounter. Visiting Queensland during the summer? Get your fix of vitamin sea at the heavenly Magnetic Island and keep your eyes peeled for adorable rock wallabies bouncing around.
6. Gorge Wildlife Park, Cudlee Creek, South Australia
Address: 30 Redden Drive, Cudlee Creek SA 5232
Opening hours: Every day except Christmas, from 9 am to 5 pm
Entry fee: $19 for adults, $16 for students and $12 for children
Instagram: @gorgewildlifepark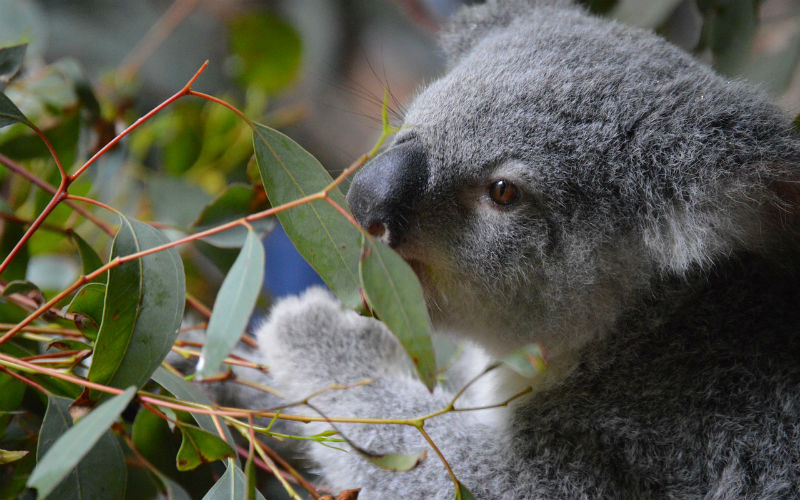 One of the few places where you can cuddle a koala in South Australia, Gorge Wildlife Park is located around 40 minutes from the Adelaide CBD and offers three koala encounters per day, which you can book for $30 per person. Friendly zookeepers will teach you some fun facts about koalas before allowing you to get close to the animals.
While in Cudlee Creek, be sure to stop by Rundle Mall for a one-of-a-kind shopping experience – with over 700 stores located in heritage-listed buildings, activities and guided tours you can join, and even a few iconic landmarks spread across the precinct, Rundle Mall is definitely not your typical shopping centre. If all you want to do is relax with the sound of waves crashing in the background, choose between West Beach, Brighton Beach or Glenelg Beach.
7. Cohunu Koala Park, Byford, Western Australia
Address: 68 Nettleton Road, Byford WA 6122
Opening hours: Every day except Christmas, from 10 am to 4 pm
Entry fee: $15 for adults and $5 for children (ages 3 to 13)
Instagram: @cohunu_koala_park
Situated on 14 hectares of natural bushland, Cohunu Koala Park has been home to native Australian wildlife since 1982. Boasting a colony of over 25 koalas, the park is the only place where you can cuddle a koala in Western Australia. The park offers photo sessions with the cuddly koalas daily from 10 am to 4 pm, for $35 per person.
Your trip to Byford is the perfect opportunity to spend some quiet time in nature, whether it is during a picnic at The Ridge Park & Playground, a stroll by Lake Allambee or a walk to the spectacular Serpentine Falls. To quench your thirst after a full day of exploring, head to King Road Brewing Co and sample over ten handcrafted beers on tap, with some fries, nachos or chicken wings on the side.
8. Rainforestation Nature Park, Kuranda, Queensland
Address: 1030 Kennedy Hwy, Kuranda QLD 4881
Opening hours: Tuesday to Saturday, from 9 am to 3 pm
Entry fee: From $18 for adults and $9 for children
Instagram: @rainsforestation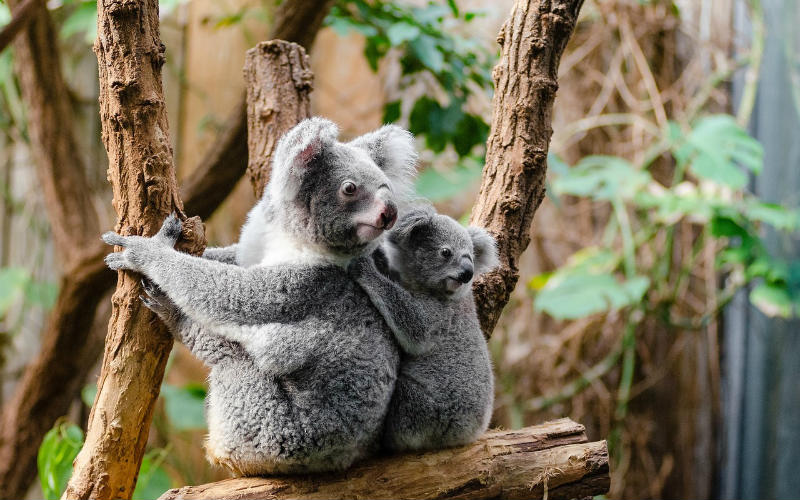 Rainforestation Nature Park has been a popular spot for koala encounters in Queensland for over 40 years. Join a guided tour or explore the park's beautiful wildlife at your own pace. Get your photograph taken with one of the park's koala residents for an extra fee, with sessions running throughout the day from 11.30 am to 1.30 pm.
Also known as Village in the Rainforest, Kuranda is home to a range of walking trails through landscapes that won't disappoint. There are a number of Kuranda Village Walks that last for 40 to 60 minutes and are perfect for those travelling with kids. Keen for a bigger challenge? Hike 6 hours to the Kahlpahlim Rock, the highest point of the Lamb Range and observe the most amazing views of Cairns and the Atherton Tableland.
9. Kangaroo Island Wildlife Park, Duncan, South Australia
Address: 4068 Playford Hwy, Duncan SA 5223
Opening hours: Every day except Christmas, from 9 am to 5 pm
Entry fee: From $28 for adults and $16 for children
Instagram: @kiwildlifepark
Kangaroo Island can be found south of Adelaide, just off mainland Australia. The island is filled with nature reserves and amazing native wildlife, including around 15,000 koalas. Head to Kangaroo Island Wildlife Park to learn more about the local koala population and to enjoy the opportunity to cuddle one of the iconic marsupials for $35 per person.
While in Kangaroo Island, be sure to visit Stokes Bay, one of the region's most stunning hidden gems, as well as Little Sahara, a 2-km stretch of sand with more than 7000 years of existence. If you find yourself in the area on a Sunday, you might get a chance to browse through local artisan stalls at the Kingscote Farmers & Artisan Market.
10. Taronga Zoo, Mosman, New South Wales
Address: Bradleys Head Road, Mosman NSW 2088
Opening hours: Every day from 9.30 am to 5 pm
Entry fee: $44.10 for adults and $26.10 for children (ages 4 to 15)
Instagram: @tarongazoo
Located just a 20-minute walk from Sydney CBD, Taronga Zoo is home to more than 5000 animals from over 350 species, one of which is, of course, the koala. Although visitors are not allowed to touch or hold koalas at this zoo, it's possible to take a photo next to the cute animals for $29.95 per session (for up to 4 people).
Once you have your photo and visit the rest of the animals at the zoo, make your way to any of the lookouts nearby for stunning views of Sydney Harbour (and a few more Instagram-worthy snaps). Georges Head Lookout and Bradleys Head are two popular vantage points, but there is also Rocky Point Lookout and Cremorne Lookout.
11. WILD LIFE Sydney Zoo, Sydney, New South Wales
Address: 1-5 Wheat Rd, Sydney NSW 2000
Opening hours: Thursday to Monday, from 10 am to 4 pm
Entry fee: From $36.8 for adults and $26.40 for children (ages 3 to 15)
Instagram: @wildlifesydneyzoo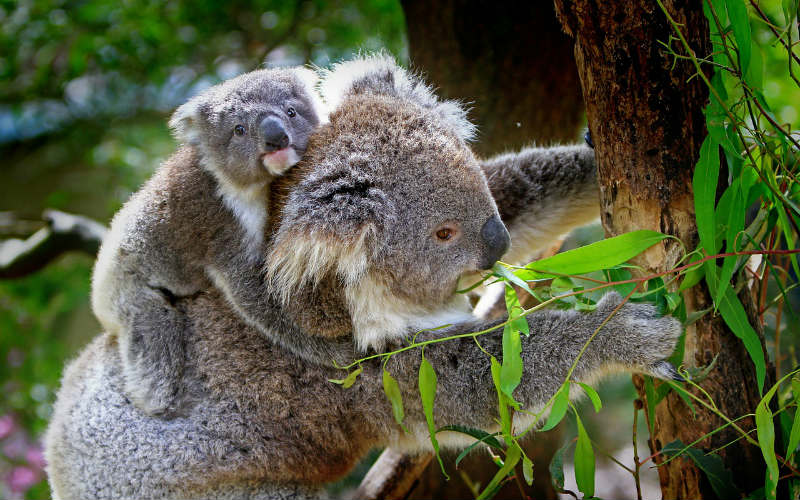 WILD LIFE Sydney Zoo is situated in the Darling Harbour precinct and it's the perfect spot to visit a koala in NSW without leaving the city. Similarly to Taronga Zoo, WILD LIFE doesn't let you hold koalas, but you'll get the chance to take a picture and get a snack with your new furry friends on the zoo's open-air rooftop area, for a fee of $25 for up to two people.
If you want to continue discovering Australia's wildlife, you can get a combo ticket for just $57, which grants you access to the zoo and SEA LIFE Sydney Aquarium. Otherwise, why not walk by some of the most emblematic landmarks in Sydney, like the Opera House, Sydney Harbour and the Royal Botanic Garden?
Who wouldn't love to get a cuddle from an adorable koala? There are plenty of zoos, wildlife parks and sanctuaries where you can get up close with these furry creatures, so book your koala encounter today and get ready for a wildlife experience you will never forget. Find cheap flights in Australia and great hotels at the best price with Webjet.