Though beautiful and unique, Australia's landscape largely consists of evergreen trees. That said, you don't have to travel to Europe or the USA to experience the magic of autumn. In fact, there are a number of places in Australia where the kaleidoscope of warm colours and the falling leaves of autumn are everything they're cracked up to be.
With plenty of activities to do as the temperatures start to cool down and the days start getting shorter, these spots are ideal for a quick getaway from the city and the best part is, since autumn is not peak travelling season, you can unwind without having to worry about any crowds. If you want to book domestic flights in Autumn around Australia, these are the 6 places we recommend visiting.
The 6 Best Places in Australia to Travel in Autumn
1. Orange, New South Wales
If there was ever a city known for its colours, it would be Orange, roughly 3.5 hours drive from Sydney Airport. This city is filled with greenery, with the local council adding around 300 trees to the streetscape each year. Nicknamed 'Australia's Colour City' due to its vibrant autumn tones, Orange is one of the best places in Australia to experience autumn. There are few better places to enjoy the full spectrum of seasonal colours.
There is typically a top-notch lineup of events happening in Orange during autumn and plenty of fresh seasonal produce for you to indulge in. When packing for your autumn trip to Orange, be sure to pack some warm clothes, as, during this time of the year, temperatures start to noticeably cool down.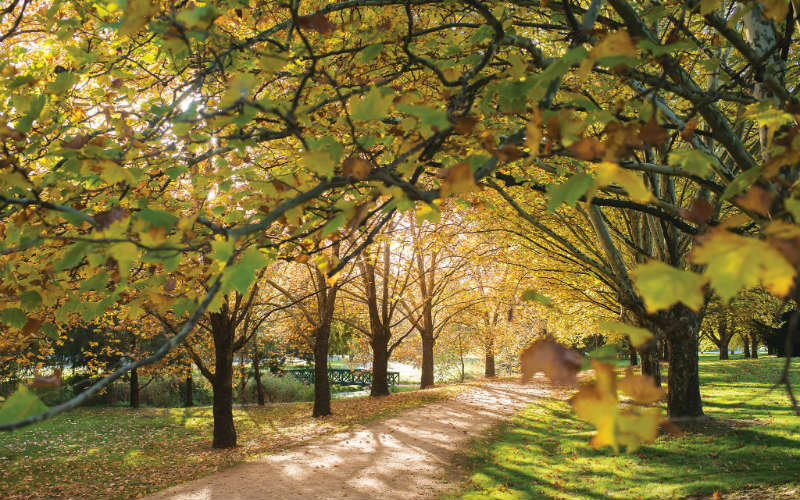 What to Do in Autumn in Orange, NSW
Explore 17 hectares of native and exotic flora at the Orange Botanic Gardens. The gardens are magnificent in autumn, particularly their fiery maple trees (Acer saccharum) and the orchard's rows of red and gold apple trees. Looking for other scenic spots to stop by? Between Robertson Park, Cook Park, Summer Street, Coronation Drive, Sampson Street and Mount Lindsay Park, there is no shortage of options.
Go wine tasting. Orange is a popular wine region in Australia, so if you can't resist a glass of fine wine, you need to spend an afternoon at (at least) one of the vineyards in town, including Colmar Estate, Rowlee Wines and Swinging Bridge Wines. Oh, and make sure to leave some room in your luggage for a bottle or two to take home.
Go apple picking at Hillside Harvest. Autumn is peak apple season, so why not visit an orchard and get a bag full of delicious, crisp apples? Trust us, they taste even better when you pick them yourself
2. High Country, Victoria
Victoria's High Country is dominated by the rugged mountains of the Great Dividing Range and characterised by the quaint, gold rush-era towns that nestle around them. This alpine landscape puts on a stunning show during autumn, with many of its villages (such as Beechworth, Harrietville, Yackandandah, Myrtleford, Mount Beauty, Wandiligong and Bright, to name a few) undergoing incredible transformations each year.
The village of Bright is particularly popular in autumn and even hosts a 10-day festival celebrating the colours and flavours of this season. If you're travelling to Melbourne and want to escape the city, this is a great time of year tp get back in touch with nature. Bright Autumn Festival is the perfect time to wander its gardens and streets, hone your photography skills, and soak up the food, music and excitement of the Gala Weekend.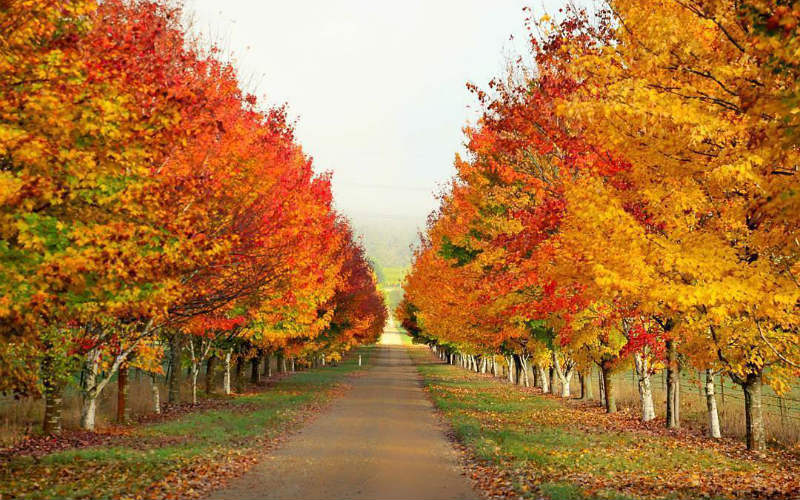 Things to Do in Autumn in the Victorian High Country
Explore Falls Creek on two wheels. In the High Country, you'll find trails that take you through the mountains and valleys, with spectacular Victorian landscapes that make the workout 100% worth it. You can pedal to Falls Creek on a bike, but if you're looking for something a bit more adventurous, why not choose mountain biking instead?
Tour High Country's best craft breweries. Find your new favourite beer! Between King River Brewing, Black Dog Brewery, Crank Handle Brewery and more, there is a surprising number of spots to choose from, each with its own unique style and one-of-a-kind brews.
Uncover the stories of Australia's alpine regions and communities. The country's first and largest alpine museum, NAMA, features more than 25000 historical items. Some of these relics dating back over 150 years, as well as interactive experiences that bring the exhibition to life.
3. Blackwood River Valley, Western Australia
Roughly 3 hours south of Perth, Blackwood River Valley is an area of the lush hinterland and historic towns. Many of these towns are home to incredible wildflower species and award-winning gardens, making them popular springtime destinations. If you're on a holiday in Perth, this region is well worth exploring on a 1–2 day trip.
Blackwood River Valley is also one of the best places to see Australia's landscape turn to gold in autumn and a true hidden gem in Western Australia. Travelling to the Blackwood River Valley in autumn is the perfect holiday for those looking to escape the hustle and bustle of the city. The landscape is fantastic all sound, but for a particularly scenic road trip, follow the road to Nannup and watch as the leaves change colour along the way.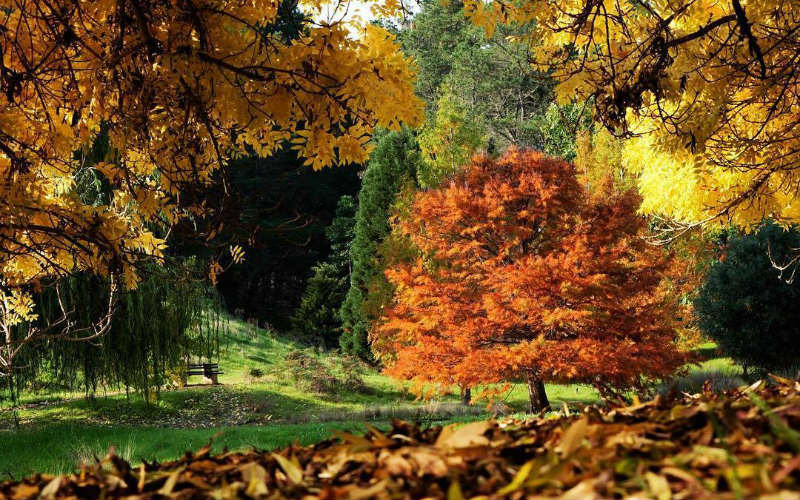 What to Do in Autumn in Blackwood River Valley, Western Australia
Go for a stroll at Golden Valley Tree Park, near Balingup. Spanning 60 hectares, the park contains more than 3,000 native and exotic trees from over 1,000 different species, and it is perhaps the best place in Western Australia to see autumn foliage. In addition to the spectacular leaves, some native trees also shed their grey bark in autumn to reveal orange and pink colours beneath.
Put your cowboy boots on and spend an afternoon at Harvey Dickson's Country Music Centre. Discover a unique collection of memorabilia, explore the Record Room (also known as Elvis Room) and make sure to stop by the rodeo yards bunkhouse as well. Time your visit right and you might luck out with a live country performance!
Have a picnic with the Blackwood River as the backdrop. The Blackwood River National Park is open every day for campers and visitors, and it has all the amenities you need for a fun family day, including barbecues, a playground for the little ones and several walk trails. If you find yourself there on a Sunday morning, you might also be able to check out the fortnightly markets.
4. Bowral, New South Wales
Bowral is the largest town in one of NSW's most scenic regions: the Southern Highlands. Although most famous for its tulips (which bloom dramatically in spring), there's no denying the beauty of Bowral in autumn. Arguably, autumn may even be the best time of year to visit Bowral. We recommend trying out exploring the township on two wheels — Bowral is one of Greater Sydney's best places to explore on a bike after all.
In the late 19th century, Bowral became favoured among Sydney's elite as a fashionable spot for a summer retreat. As a result, the town's residents started planting deciduous trees to make the scenery look more British. Be sure to check the Autumn Open Gardens program for a chance to wander through some of the region's most beautiful private gardens. Gardens open for inspection this autumn include Retford Park and Bellagio, an Italian-style garden surrounding a beautiful country estate.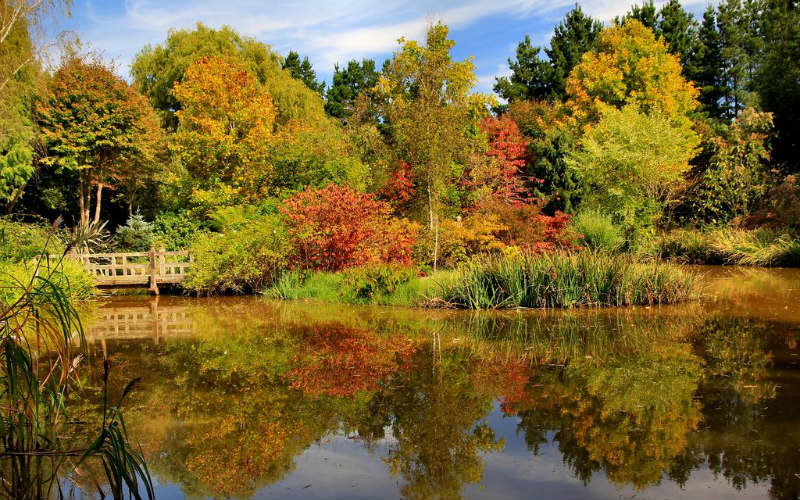 Best Things to Do in Bowral, New South Wales in Autumn
Warm up with a cup of tea. In Bowral you'll be spoilt for choice for cafes. At Dirty Janes, a vintage high-tea salon open every day from 10 am to 4 pm. Pair your chosen blend with a tasty scone or, if you have a sweet tooth, opt for a sugary slice of cake or tart. Or, if you're feeling like some light retail therapy, Bespoke Letterpress Cafe serves up great brews and incredible handmade paper stationery and printed goods. Either way, you'll be spoilt and left feeling cozy inside.
Get your foodie on and venture out on the Pie Trail. You've heard of pub crawls, now get ready for a bakery crawl. Bowral is the perfect place to satisfy craving and try delicious, warm pies from nearly 30 local pie outlets in the Southern Highlands, including Bradman Cafe, Gumnut Patisserie, Cherry Tree Hill Wines and more.
Explore the nearby village of Berrima. Only a 10-minute drive from Bowral, Berrima is a picturesque and incredibly charming Australian treasure. In this little country town, you'll find a lot on offer, from antique shops to natural wonders, local produce and wine, and hospitality like nowhere else.
5. Derwent Valley, Tasmania
Berries, trees, vineyards, and rugged wilderness dominate the landscape of Australia's coldest state. Although other states experience autumn through their introduced European trees, there's only one native tree that sheds its leaves in anticipation of the cold: Nothofagus gunnii. Commonly called the Fagus, this tree only grows in Tasmania and is responsible for much of the state's autumn colours.
Derwent Valley is a popular spot to see autumn foliage, but while you're in Tasmania (and if time permits), we also suggest witnessing the annual eruption of reds, oranges and yellows in other places too. Some of Australia's best national parks, Cradle Mountain-Lake St Clair National Park and Mount Field National Park are also stunning in autumn. Every April and May, this phenomenon known as Turning of the Fagus draws hikers, amateur and professional photographers, and tourists from all around to Tasmania's remote highland regions, so you know it won't disappoint.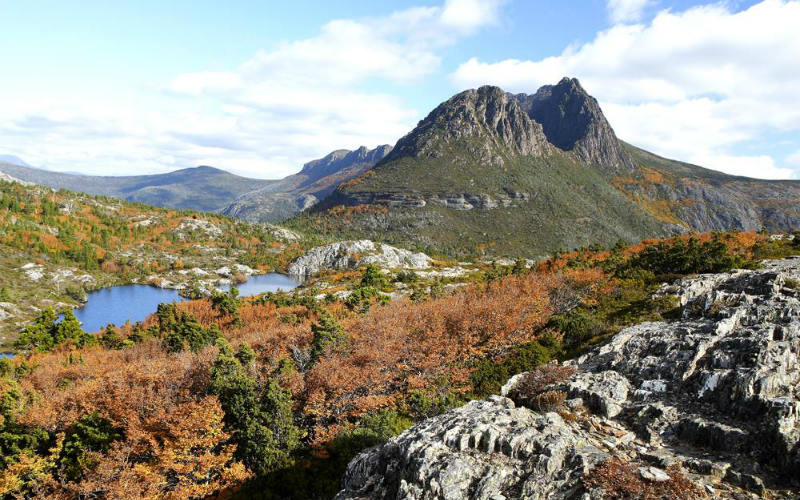 Best Things to Do in Autumn in the Derwent Valley, Tasmania
Take a stroll through the Salmon Ponds garden. Known for its exotic plants and evergreens, this stunning garden is not to be missed. Be sure to keep an eye out for an adorable wild platypus roaming around and visit the six different species of salmon living in the ponds. Want to learn more about the hatching process? Stop by the Hatchery before you leave!
Drive to the small town of Hamilton and visit the heritage-listed Glen Clyde House. At this historic house, you'll discover jewellery, ceramics, paintings, toiletries and more — all created by more than 30 Australian artisans. Get a hot cup of coffee at the cafe once you're done browsing and head to the shop if you want to take some impressive art pieces home.
Go back in time with a trip to New Norfolk. New Norfolk is home to some of Australia's oldest buildings, including Bush Inn — one of the oldest pubs in the country — and the Anglican Church of St Mathews, Australia's oldest Anglican church. It's historic nature gives New Norfolk a unique atmosphere that will make you feel like you have travelled back in time. It comes as no surprise that the town is an antique collector's paradise, so if that's you, get ready to do some shopping.
6. Barossa Valley, South Australia
The Barossa Valley is one of the best wine regions in Australia and one that you definitely want to visit during autumn. Why? In two words: vineyard views. The already beautiful fields go from green to yellow and orange, creating a picture-perfect backdrop that screams autumn. Plus, who doesn't enjoy a glass of red wine when the temperatures start to drop?
Even if wine isn't your thing, the Barossa is still worth visiting. From gorgeous sunsets to witness, to annual festivals to attend, local produce to taste and more, there is a lot to keep you busy during your autumn trip to the area. One quick tip: although the days may not be that cold, don't underestimate how chilly it gets once the sun sets. Like most trips to Adelaide, it's wise to pack some warm clothes!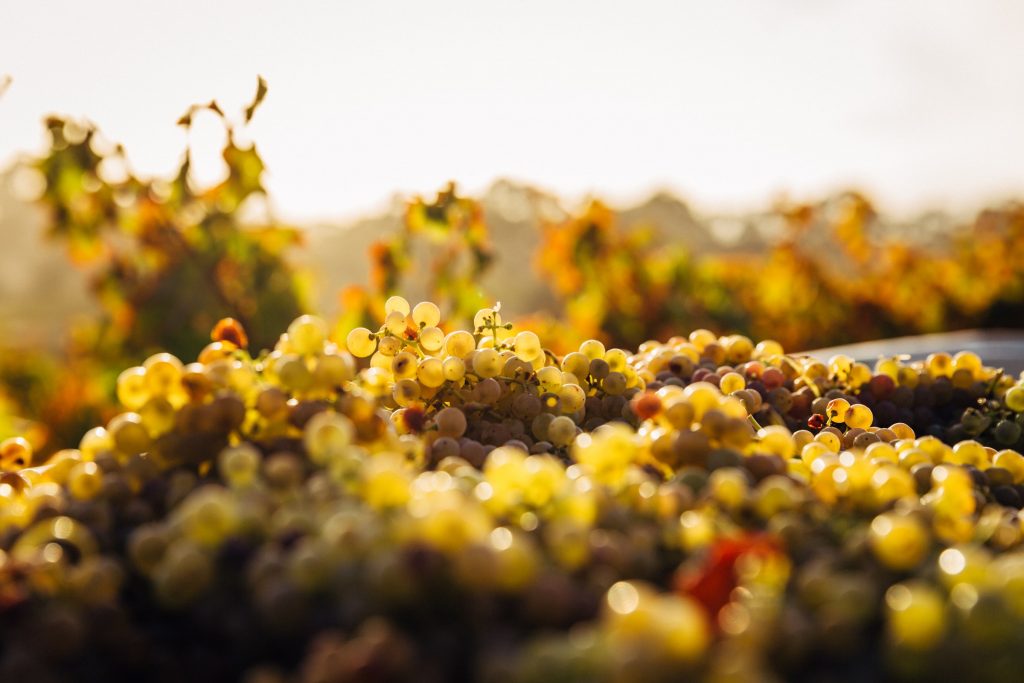 What to Do in the Barossa Valley, Victoria, in Autumn
Sip on some fine wine. It may go without saying at this point, but the Barossa Valley is an internationally-known wine region, after all. There are dozens of wineries you can choose from, but a few highlights are the Curator Wine Co., Peter Lehmann Wines and Penfolds Barossa Valley Cellar Door. Can't pick just one? Book a half or full-day wine tour instead!
Get fresh, seasonal goods at the Barossa Farmers' Market. These fantastic markets are held every Saturday from 7.30 am to 11.30 am. Browse the stalls to find the best meats, cheeses, fruit, vegetables, drinks, sweet treats and more – everything you need to go for a picnic at lunchtime!
Explore the bushland in the Barossa's national parks. Catch a glimpse at South Australia's flora and fauna, at any of three national parks in The Barossa: Hale Conservation Park, Sandy Creek Conservation Park or Kaiserstuhl Conservation Park.
No matter what your favourite season is, there is no denying that autumn is a magical time of the year, especially if you find yourself at any of the Australian spots listed in today's article. Start planning your autumn trip in Australia today and book cheap flights to these destinations and more with Webjet!
Hero Image: Sunrise through the autumn leaves in the village of Bright, Victoria, Australia. Photo by Mitchell Luo on Unsplash.