Yes, Noosa in Queensland is renowned for its busy, boutique-filled shopping strip, cafe culture and beautiful beaches, but if those are the only reasons you're coming to this coastal oasis, then you're really not making the most of the endless sunshine and spectacular scenery.
And while a trip to Noosa can certainly see you while away your days with a good book by the pool and a solid dose of R&R, there is plenty of opportunity for you to make the most of the ocean air and Noosa's natural bounty too. Here's your definitive guide to the best outdoor activities and things to do – we're talking everything from horse riding, hiking and yoga on the beach – in Noosa, Queensland, Australia. Explore the list below for the next time you're in this Sunshine Coast haven, be it for a weekend, a week or longer.
For Water Lovers
Cruise Through the Everglades
Take to the water in a kayak for a truly special Noosa Everglades tour that will leave you in awe of this ancient and pristine wilderness. As one of only two everglades in the world (the other is in Florida, USA), the Noosa Everglades are a diverse ecosystem that is home to 40 per cent of Australia's bird species. Exploring it all by kayak is one of the best ways to experience the unique beauty up close, and whether it's a guided or self-guided voyage, half day or overnight trip, there's something to suit travellers of all ages and fitness levels. Our advice? Start paddling at sunrise to catch the early-morning reflections and discover why this intricate network of waterways is called the 'river of mirrors'.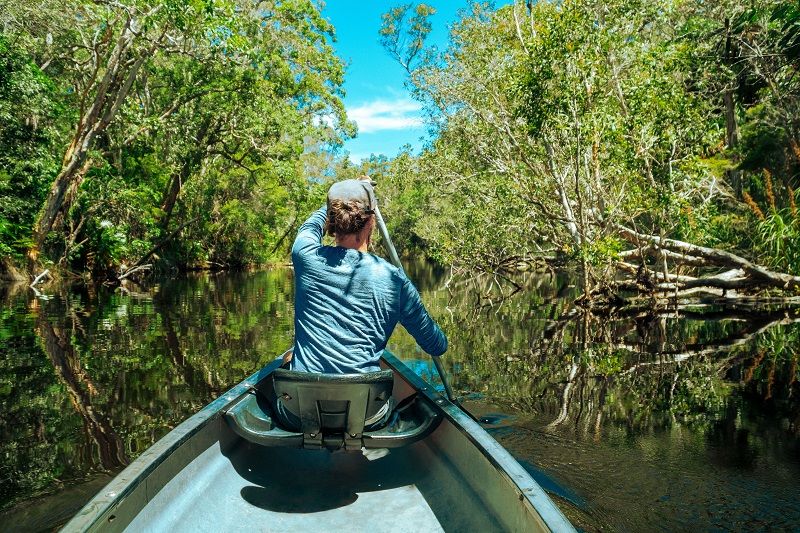 Test Your Balance Paddleboarding
Always wanted to try stand-up paddleboarding? The calm, protected waters of Noosa could just be some of the loveliest spots to do so. Booking yourself in for a SUP lesson is a great place to start if you think you might be a bit wobbly, as you'll learn everything from the perfect paddling technique to controlling your board's direction. Or you may just want to hire the gear and figure it out on your own – really, the worst thing that can happen is that you end up in the drink. For something a bit more advanced, combine sightseeing with SUPing on a guided tour that will take you deep into Noosa's beautiful waterways.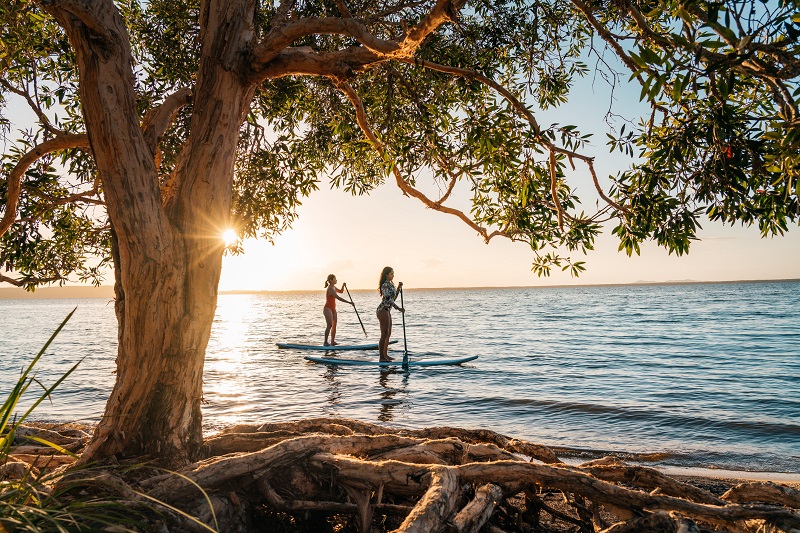 For Early Risers
Yoga by the Beach
If maintaining your inner zen while on holiday is something that's important to you, a yoga class should be high on your Noosa travel itinerary. But rather than twisting yourself into a sweaty mess in a tiny, white-walled studio, why not take your mat outside for a session in the great outdoors. And there's really no better setting than right on the water's edge at Noosa Woods, away from the hustle and bustle of Hastings Street. Here, Noosa Beach Yoga offer affordable morning classes that can be easily adapted to cater for newbies, advanced practitioners and everyone in between. Children and babies are welcome to attend.
A Sunrise Hike
Surrounded by such unspoiled landscapes, it's near impossible to pick just one hike to tackle while you're in Noosa. So here are a couple of the good ones. First up is Mount Tinbeerwah, situated just 15 minutes from the centre of town. We recommend visiting at sunrise or sunset, as the lookout offers 360-degree views across the entire north Sunshine Coast. Best of all, the main path is full paved, so it's both wheelchair- and pram-friendly. Another must-do is the Noosa Trail Network, a series of eight tracks that weave through state forest, council parks and the picturesque hinterland. Otherwise, you can't go wrong with one of the many pretty routes in Noosa National Park, all of which hug the sparkling shoreline. Another great walk in Noosa is the Cooloola Sandpatch, a sandblow in Cooloola Recreation Area between Noosa Heads and Rainbow Beach.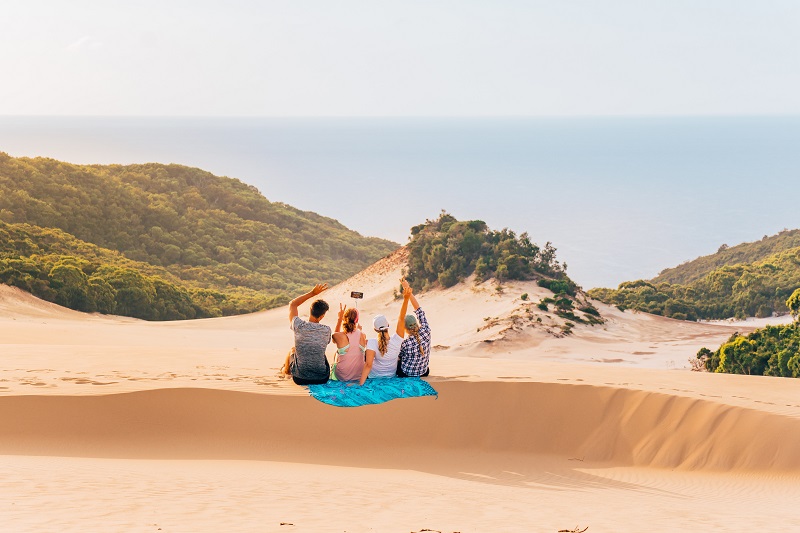 For Green Thumbs
Explore the Noosa Botanic Garden
Perched on the shore of Lake Macdonald, the Noosa Botanic Gardens boast eight hectares of lush, natural wonders in the form of both native and exotic plants. Winding paths will lead you past the fern house, a lily pond, large lawn areas that are perfect for picnics and letting the kids run free, and a Grecian-style amphitheatre with gorgeous views over the lake. There's even an open-air bush chapel, if you're in the mood for a wedding. More than 94 species of birds also reside within the gardens, so keep your eyes peeled for brush turkeys, black swans, tawny frogmouths and spotted bowerbirds.
Pick Fresh Strawberries
We dare you to resist the lure of fresh-picked strawberries. Impossible, right? That's why you absolutely need to make time in your Noosa itinerary to venture around 40 minutes out of town to Cooloola Berries, a family-run boutique berry farm. Here you can wander along row upon row of strawberry plants, gathering the sweetest and ripest ones for your very own bounty. Tours of the property are also available, and no visit is complete without a cheeky stop in at the cafe, where you can sample homemade ice cream (strawberry flavoured, of course), delicious desserts and the farm's famous strawberry cider. If you happen to stop by in December and January, you can also harvest blueberries.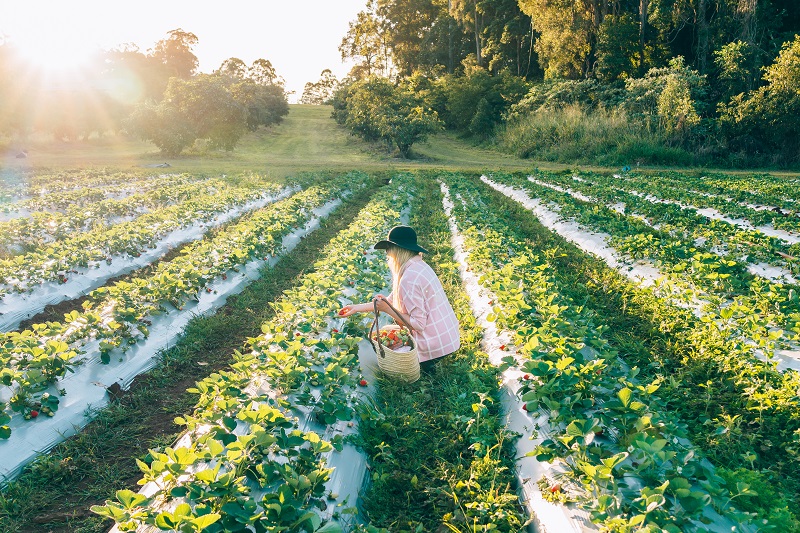 For Animal Encounters
Saddle Up On a Trail Ride
See the bushland and beaches of Noosa from a totally new perspective when you giddy-up for a horse riding adventure. There are a couple of local trail ride operators to choose from, and – most importantly – you don't need to be an equestrian pro to take the reins. You'll be matched up with your horse according to your prior experience and how confident you feel in the saddle. On the back of one of these mighty steeds you'll canter across creeks, trot along gravelly tracks and scale sandy dunes, all the while admiring the rugged terrain. And if it's a hot day, you might even get the chance to take a frolic in the ocean.
Join A Bird-Watching Tour
Noosa is a hive of birdlife, and it's possible to see more than 300 species of feathered creatures in the region's wetlands, everglades, mangroves and eucalypt forest. But that doesn't mean much if you can't tell the difference between a red-backed buttonquail and a spiny-cheeked honeyeater. Which is why an expert-led bird watching tour is such a fantastic way to discover not only more about the incredible avian world, but also the flora, fauna and history of the region. Alternatively, you can grab a copy of the Noosa Bird Trail brochure, which provides a rich run-down of the best bird-spotting sites, and head off on your very own exploration.
Now you know the best outdoor things to do in Noosa, all that is left is to book your flights to the Sunshine Coast with Webjet. Explore a wide range of Sunshine Coast accommodation and holiday packages, as well as car hire and even more things to do in Noosa.
Hero image: Kayaking in Noosa National Park. Credit: Tourism and Events Queensland.