Hands up if you were one of those people who immediately began searching for flights to New Zealand as soon as the trans-Tasman travel bubble was announced? Us too, and we couldn't be more excited about the prospect of heading across the ditch this winter for the ultimate ski trip. 
But there's a lot more to a good snow sojourn than just landing at Queenstown airport and hoping for the best. Whether it's deciding which mountains to visit, organising lift passes, gear and ski lessons or booking accommodation, there's plenty to consider. To help you be on your way to hitting the slopes, we have created a go-to guide that covers everything you need to know about planning a snow holiday to New Zealand.
Where Can You Ski in New Zealand?
You may be surprised to learn that there are 39 ski resorts in New Zealand, scattered across both islands. Let us introduce you to the main ones, which are wonderful starting points – especially if you're a first-timer, have the kids in tow or just want easy access to some top-notch mountain facilities.
The North Island may not be the first place you think of when it comes to the best ski resorts in New Zealand, but there are actually two cracking options: Whakapapa and Turoa. Located on opposite sides of Mount Ruapehu (an active volcano), you can expect steep gullies, off-piste trails and, thanks to the high altitude, plenty of dry winter snow.
On the South Island, the Christchurch and Canterbury areas have some epic ski fields, but it's hard to top Mount Hutt. Nestled at the foot of the Southern Alps, and with the longest ski season in the country, it's a winter playground for snow bunnies of all skill levels. It also boasts one of the longest vertical drops on the South Island, leg-burning runs and (best of all) kids under seven ski free.? 
Then there's the Queenstown region, a true mecca for skiers and boarders alike. The four big Queenstown ski resorts are Coronet Peak, Cardrona, Treble Cone and The Remarkables, and each has its own perks. Treble Cone caters for those at an intermediate or advanced level, while the gentle slopes of Cardrona make it perfect for families and beginners. You can experience night skiing (plus a lively après ski scene) at Coronet Peak, and with unbeatable views and dedicated freestyle areas, The Remarkables really lives up to its name. 
Where Are The Best NZ Ski Resorts?
One of the most important things to decide when planning your getaway is where you want to stay. Unlike the ski fields of Europe and North America, there's actually not a lot of on-mountain accommodation in New Zealand, so be prepared to book early if that's a priority for you.?
For a true alpine experience, Cardrona is home to 15 ski-in/ski-out apartments situated just minutes from the lifts, and there are also basic dorm-style rooms at the Otago Ski Club on Coronet Peak. At Whakapapa on the North Island you can sleep in one of the lodges set just below the slopes. However, if you do choose to stay near the summit it can limit your ability to explore off the mountain, and there's also very little opportunity to have a proper break from the cold.
That's why many people prefer to stay in charming resort towns like Wanaka, Queenstown and Methven. All are popular, busy hubs that are chock-full of accommodation options ranging from five-star digs to cheap-and-cheerful hostels. You'll find the overall prices are far more reasonable, too, and there's a much wider variety of restaurants, bars and attractions. 
How Do You Get Around On A NZ Ski Trip?
Getting around is something you're going to have to factor into your holiday plans if you opt to stay off the mountain. For total independence, we suggest hiring your own car, adding chains and driving to and from the slopes as you please. A word of warning, though: the roads in New Zealand are notoriously windy, narrow and often in a state of neglect, so you'll want to feel pretty confident about getting behind the wheel – especially in potentially wet, icy conditions. Parking once you reach the ski fields can be limited and expensive as well. 
Another option is to make use of the shuttle buses, which depart from most of the major townships near the mountains. For example, if you're staying in Queenstown or Wanaka there are regular services during the winter season that depart from multiple pick-up points and head up to the lifts of Cardrona, Coronet Peak, Treble Cone and The Remarkables. You can book your tickets in advance, which can also help save a few dollars.
If you're travelling with a big group of family or friends, a great alternative is to hire private transport that will pick you up directly from your accommodation. It's a bit pricier, but there's no waiting around or collecting other passengers, and you can even arrange to stop for coffee or a cheeky après drink on your way home.?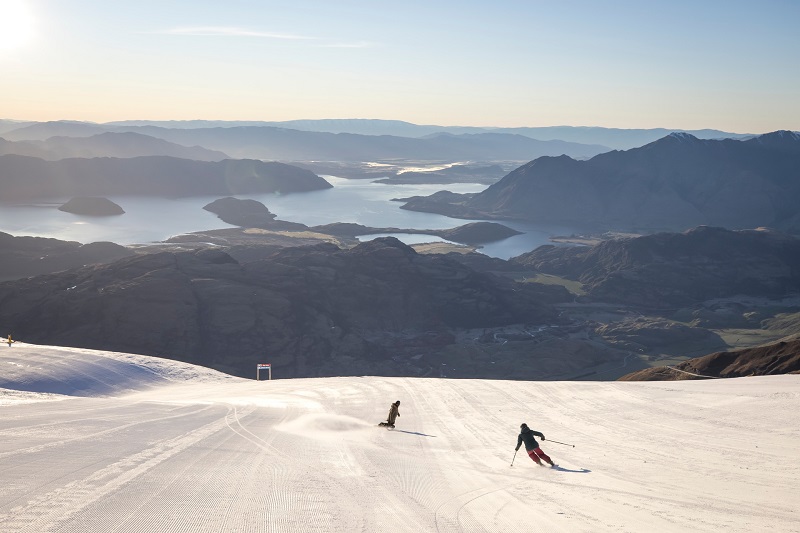 What Equipment Will You Need?
Serious snow-goers will see no issue with paying extra luggage fees if it means they'll get to use their own gear. But for those who aren't willing to lug skies, helmets, boots and jackets on an international flight, or don't own all the right bits and pieces, hiring is your best bet.
Luckily, there's no shortage of rental shops across the North and South Islands. The only thing you need to decide is whether you want everything sorted before heading up to the slopes, or are happy to organise upon arrival. There are pros and cons to both; renting off-mountain means you're not wasting valuable time trying things on when you could be shredding the runs, but on the other hand you'll also have to carry everything around and make sure there's enough room in your transport vehicle. Electing to hire on-mountain is ideal because you can rent the same gear for a few days and swap things over at any time, but getting that initial fitting will cut into vital snow time.
Do You Need Lift Passes and Lessons?
Do yourself a favour and buy your lift passes in advance, as that's the way you'll score the best and cheapest deals. All the ski fields offer a range of passes – think multi-day or beginner options – and there's even some that give you access to multiple mountains. The Queenstown Superpass is an excellent example, and can be used at Coronet Peak and The Remarkables, plus Mount Hutt. It even allows you to exchange a day on the slopes for a selection of off-mountain activities, should you feel like a day away from the snow.
If you need ski or snowboard lessons, it's also a good idea to book early, both to avoid the classes filling up and to save money. You may only need a couple of hours in the class to find your groove, but trust us when we say it's better (and less painful!) than spending hours face-planting on the beginner runs. Depending on the mountain, some of the ski resorts also offer affordable packages that combine lift passes, lessons and even equipment hire and shuttle bus tickets. It's a one-stop shop ticket that's well worth getting if the price is right. 
Ready to hit the slopes? Jump onto great airfare deals to New Zealand with Webjet and make the most of the new trans-Tasman travel bubble! Webjet also has you covered for ski accommodation in New Zealand, as well as car hire, holiday packages and even things to do like lessons, lift passes and more.