With a four-day weekend just around the corner, it's time to start planning your Easter escapades. If a getaway isn't on the cards this year, that doesn't mean you should feel confined by the city limits. There are so many mini road trips you can go on that will allow you to explore some beautiful destinations in your own home state. So, this Easter weekend, jump in the car and head out on one of these fuss-free day trips. Just don't forget to pack some Easter eggs for the road!
The Best Day Trips For The Easter Long Weekend
Easter Road Trips from Sydney
Ranging from coastal destinations to country towns and everything in between, there is a huge list of road trips from Sydney to choose from in New South Wales. Whether you're a local or are flying to Sydney for a longer holiday, there are many fantastic destinations for a one-day getaway.
1. The Blue Mountains
Distance: 1 hours' drive from Sydney
Located within the glorious Great Dividing Range, the Blue Mountains are the ultimate weekend destination in NSW. One of the most famous attractions in the region is the Three Sisters rock formation, which is a hop, skip and jump from the adorable town of Katoomba. 
Just down the road, you'll find Leura, which offers some incredible restaurants and the indulgent Josophan's Fine Chocolate shop, while nearby you can find Wentworth Falls, the Lawson Waterfall Circuit and countless scenic lookouts, including Echo Point, Govetts Leap and the Honeymoon Bridge.
2. Kangaroo Valley
Distance: 2 hours' drive from Sydney
If you're craving some fresh country air, high tail it to Kangaroo Valley this Easter. Nestled among lush rainforest, the township boasts a charming tearoom, an old-school country pub and a number of other boutique shops and eateries. Nearby, you have the spectacular Fitzroy Falls, which offers an 80-metre water drop. All in all, it's a picturesque day out.
Kangaroo Valley is also home to the Yarrawa Estate Vineyard, a producer of award-winning wines you can try during a wine tasting afternoon for a small fee of $10, and the Village Green Nursery, an independent boutique garden not many know about.
3. Port Stephens
Distance: 2 hours 30 minutes' drive from Sydney
Get your fill of sandy shores, ocean breeze and fresh seafood in Port Stephens, one of the NSW North Coast's most popular holiday destinations. Though the drive is longer, it can be broken up with pit stops anywhere along the Central Coast or in Newcastle. 
Once you arrive in Port Stephens, you can hire a kayak or stand up paddleboard to explore the region's coastline and sheltered bays or use pedal or foot power to hit a track in Tomaree National Park. Tuck into a serving of fish and chips by the water in the afternoon before making your way back to Sydney.
Easter Road Trips from Melbourne
Boasting some of the most spectacular views in the country, Victoria is an amazing state to discover by car and the road trips options are limitless, no matter what type of escapade you're planning. If you're travelling to Melbourne around Easter, be sure to dedicate at least one day to exploring any of these destinations.
4. Bendigo
Distance: 2 hours' drive from Melbourne
There are so many reasons to visit this gorgeous old gold mining town this Easter. First of all, there's the Easter Fair, which runs Friday through Monday and features a whole range of activities and events for all ages, including amusement rides, light shows and plenty of live music.
Then there's the Bendigo Art Gallery, featuring an impressive Australian art collection that dates back to the 1850s. And if that's not enough, Bendigo is also bursting at the seams with incredible cafes and restaurants that are in and of themselves worthy of the drive. Time permitting, Castlemaine makes a great stop en route.
5. Macedon Ranges
Distance: 1 hours' drive from Melbourne
The Macedon Ranges is one of Victoria's many regional treasures. To get your nature fix, visit the mysterious Hanging Rock, stop by the darling gardens of Tieve Tara and go for a walk through the lush Macedon Regional Park. Don't forget to have your camera at the ready as there is no shortage of Instagrammable spots in the area.
Be sure to visit an art gallery or two, ranging from Bromley & Co to the Convent Gallery and Stockroom Kyneton, or have an educational day at one of many museums, and grab lunch in one of the quaint townships in the area, such as Woodend or Kyneton.
6. Healesville
Distance: 1 hour 20 minutes' drive from Melbourne
Healesville sits smack-bang in the Yarra Valley and, as such, is fringed by grape-strewn vines, verdant pasture and orchards, and gentle hills. Meander along the shop- and café-lined section of Maroondah Highway to get your bearings with a takeaway coffee in hand, or stock up on supplies to fuel you through one of the walks in Maroondah Reservoir Park. 
Ring ahead to see if you can catch a demonstration at Healesville Glass Blowing Studio, check out an exhibition at the nearby TarraWarra Museum of Art or jump onto a scenic joyride aboard the heritage Yarra Valley Tourist Railway.
7. Bellarine Peninsula
Distance: 1 hour 30 minutes' drive from Melbourne
Continue past Geelong (even though Victoria's second-largest city more than warrants its own day trip) to the wider Bellarine Peninsula. Paddle through the shallows or walk along the Barwon Heads jetty; take a tour of the Point Lonsdale Lighthouse and learn about the history of Fort Queenscliff, dating back to 1860. 
Sit down to a meal at the elegant Terindah Estate, the quintessentially Australian Jack Rabbit or the unique Merne at Lighthouse. Craving a refreshing drink instead? Order a tasting paddle at Flying Brick Cider Co, Queenscliff Brewhouse or any of the other tempting stops along the Bellarine Taste Trail.
Easter Road Trips from Hobart
Tasmania is known for its stunning scenery, so make sure you get amongst it over the Easter long weekend. Whether it is superb nature, magnificent wildlife, mouthwatering cuisine or delicious local drinks you're after, you'll find it all and more on these road trip itineraries from Hobart.
8. Mount Field National Park
Distance: 90 minutes' drive from Hobart
Mount Field National Park offers a number of quick and easy – but incredibly beautiful – walking trails, including those to Russell Falls and Horseshoe Falls. The Waterfalls Cafe and Gallery is a great place to stop for a feed, or else you can simply pack a picnic and then claim your own quiet pocket of the Derwent Valley for lunch.
Keep an eye out for Tasmania's native animals, like the eastern barred bandicoot and the eastern quoll and if you're into birdwatching, make sure to bring your binoculars. As if that's not enough to convince any animal lover, you may also spot a platypus strolling around the park.
9. Bruny Island
Distance: 2 hours' drive from Hobart
If you haven't yet made the voyage to Bruny Island, make it a priority these Easter holidays. Accessed via a short car-ferry ride, this island is a foodie's haven, with must-visit stops including the Bruny Island Cheese Company, Get Shucked oyster farm and the Bruny Island Raspberry Farm.
For a nice beverage, head to Bruny Island Premium Wines to sample some exquisite handcrafted wine and cider while snacking on a cheese platter or opt for the Tasmanian House of Whisky and try a range of unique Tasmanian Single Malts.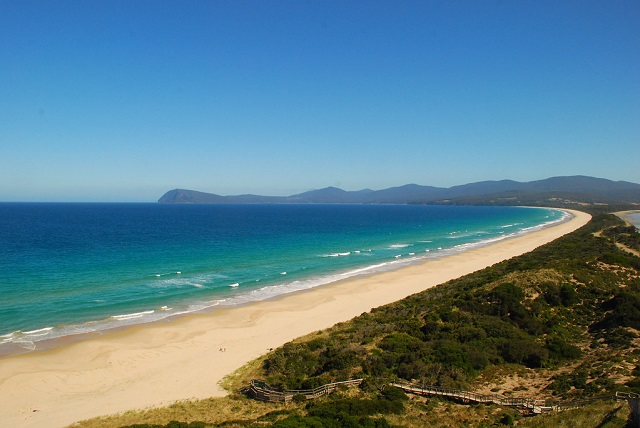 Easter Road Trips from Adelaide
Known for its historical richness, vibrant cultural scene and awe-inspiring natural wonders, South Australia is home to a number of destinations that anyone from or flying to Adelaide would be remiss not to visit. There is something for everyone, but hikers and thrill-seekers will be particularly pleased.
10. Clare Valley
Distance: 2 hours' drive from Adelaide
If you'd rather leave the car behind and let someone else do the driving, a tour out to the Clare Valley is an incredible way to spend a day. As one of South Australia's premier wine regions, the Clare Valley offers a range of delicious vintages to swill and sip, and organising a tour means no one has to miss out on the fun. 
If wine doesn't do it for you though, the Clare Valley is also a huge foodie destination, so be sure to make a booking for lunch at one of the region's excellent restaurants, such as Terroir Auburn, Seed Clare Valley or Slate Restaurant.
11. Mannum
Distance: 1 hours' drive from Adelaide
Make for the banks of the Murray River and one of the most historic towns located along this legendary waterway, Mannum. A popular destination for watersports and holiday-makers, a trip to Mannum may start by taking one of three historic walks around town (pick up maps from the Visitors Information Centre), clambering into a canoe to see Mannum's sights from the water, or heading to Mannum Falls or Big Bend Lookout. 
Monarto Zoo, the world's largest open-range zoo, is also nearby and is home to more than 500 animals. Offering unforgettable experiences like animal encounters, a visit to the heart of the lion's den and Meet the Keeper sessions, it's the perfect place to visit for kids and adults alike.
12. Victor Harbor
Distance: 1 hour 10 minutes' drive from Adelaide
A drive to Victor Harbor on the Fleurieu Peninsula sees you arrive at a truly charming coastal destination. One must-do here is walking the length of the bridge that connects the mainland with Granite Island, a small recreational park. 
You could also travel on a scenic joyride along the coast aboard a heritage StreamRanger train, visit a local gallery, or rent a bicycle to explore a section of the Encounter Bikeway, a stretch of path between Victor Harbor and Goolwa. Should you choose, your route from Adelaide to Victor Harbor may cut through McLaren Vale; an equally tempting Easter day trip.
Easter Road Trips from Perth
If all you want is to escape the fast-paced urban life for just one day, a road trip from Perth is in order. Known for its laidback atmosphere, the city is surrounded by several towns where anyone will be able to unwind and recharge batteries in the midst of the most beautiful greenery.
13. Serpentine Falls
Distance: 1 hours' from Perth
If the weather is wonderful this Easter (and let's be honest, when isn't it in Perth?), then bundle the gang into the car and head out to Serpentine Falls. Located in a picturesque valley, this park features a couple of walking trails, including the Falls Walk Trail and the Kitty's Gorge Walk Track, which will take you 15 minutes and five hours to complete, respectively. 
If you'd rather take it easy, pack a picnic and claim your spot on the lawn. Just don't be surprised if you're greeted by some friendly grey kangaroos. Be sure to get there early as it is an incredibly popular destination!
14. Araluen Botanic Park
Distance: 45 minutes' drive from Perth
This gorgeous hidden gem just 35 kilometres from Perth is great to visit any time of year, but there's an added bonus to making the drive during the Easter break: a kid-friendly scavenger hunt through a 3-km guided hiking experience.
Araluen Botanic Park features 59 hectares of developed gardens comprised of both native and exotic plants. It's the ideal place to get away from the hustle and bustle of the city and just spend a day lazing around in nature. Pack a picnic, and your day is set.
Easter Road Trips from Brisbane
With 280 days of sun a year, it comes as no surprise that tourists flock to Brisbane spot all year round, but why not discover some of the smaller, yet equally charming towns around it? Whether you have 45 minutes or a couple of hours to drive from Brisbane, you'll find just the perfect place for a day trip.
15. Sunshine Coast
Distance: 90 minutes' drive from Brisbane
There are few day trips more enticing than the Sunshine Coast, with this sun-kissed destination offering both salty beaches and lush forests. If Easter happens to be a warm one this year, you won't want to venture far from the water, but the Kondalilla Falls Circuit is a lovely 4.7-kilometre walking trail for those who are feeling a little more adventurous. 
If you left your walking shoes at home, Gardners Falls is another easily accessible waterway that's perfect for a swim. Find amazing locally made artisan treasures at the Original Eumundi Markets, held every Wednesday and Saturday, and spend a family day at Aussie World.
16. Mount Warning
Distance: 2 hours' drive from Brisbane
Don't let the name of this peak put you off, Mount Warning is a worthy destination for keen hikers and outdoor enthusiasts. This trip does mean crossing state borders from Queensland into New South Wales, and eager explorers may be tempted to turn this pilgrimage into an overnight camping trip so they can summit the mountain in time for sunrise. 
The peak is located within Mt Warning Rainforest Park and the trek to the summit comes in at about a five-hour return journey, including a few steep sections. The park also has shorter walks for hiking newbies, with equally stunning views.
17. Ipswich
Distance: 45 minutes' drive from Brisbane
Move away from the coast by heading west towards Ipswich, the oldest provincial city in Queensland. With a healthy helping of heritage facades, good cafes and quirky antique shops, Ipswich is a day trip destination that has something for everyone. Duck into local provedores to pick up fare for a picnic in Queens Park, the city's foremost green space that is also home to a Japanese garden and mini zoo. 
Learn about Ipswich's history at the Workshops Rail Museum, or see one of Queensland's best regional galleries at Ipswich Art Gallery. Be sure to climb the five-storey water tower on Denmark Hill for a sweeping outlook across the townscape before heading back to Brisbane.
If you're looking for things to do on Easter, one of these day trips is just the ticket. You might even be inclined to get cracking on more than one. And if one of these interstate outings does catch your eye, you can easily get to all departure points thanks to flights to Webjet. Keen to make a holiday out of the Easter long weekend? Check out this guide for the top destinations in Australia!