The Greater Sydney region is lucky to be home to a number of great national parks, a few of which have fantastic natural swimming pools and waterfalls. One of my absolute favourite spots is an area known as Carrington Falls, located in Budderoo National Park in the Southern Highlands region.
Summer 2021/22 was a La Niña summer, with widespread rain and flooding across Australia's east coast. It's actually not a great idea to go swimming right after storms due to the danger of flash flooding, chemical runoff, and rubbish. However, now that things have calmed down a bit and the water has had some time to settle, the waterfalls and swimming pools are full and clean.
While there are only a few warm days left before winter settles in, Carrington Falls is always a great place to visit all year round. With that in mind, I've put together this guide to the Falls themselves, great swimming spots nearby, and where else to visit in the Southern Highlands on your adventure.
Your Guide to Waterfalls and Swimming in Carrington Falls, Southern Highlands NSW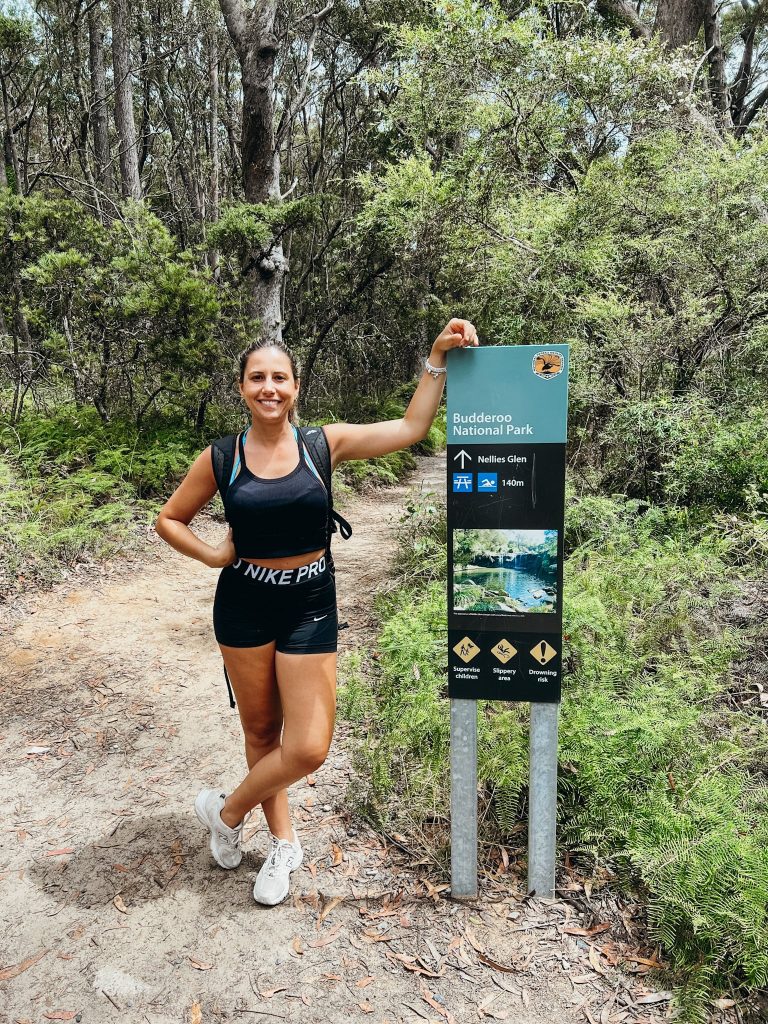 Where is Carrington Falls?
Carrington Falls is located in the Budderoo National Park, in the Southern Highlands region of New South Wales. The falls are around 2 hours drive from Sydney city and are relatively easy to get to along the Hume Motorway. Public transport is technically possible with a train to Wollongong Station, then a bus to the nearby town of Robertson — but travel will be a lot easier in a car.
As mentioned, Carrington Falls is right near the small town of Robertson. This small town is a standout for a few things: its famous pie shop, the Big Potato (yes, it's real and one of Australia's 'big things'), and for being a filming location for the movie, Babe. It's worth spending some time exploring the town while you're nearby, but more on that soon.
Visiting the Lookouts at Carrington Falls
Carrington Falls is in the State Government-run Budderoo National Park, which means it's free to access the falls, lookouts, and walking tracks all year long. While a swim is tempting in the heat of summer, the Falls are arguably best viewed from a great lookout spot at any time of year.
There are three lookout spots that are easy to access with a quick walk right from the car park. If you don't want to spend the entire day at the National Park, then I recommend you visit the lookouts to get the most out of your time there!
The three lookouts each grant you a great vantage point over the falls from above. The views are spectacular — especially after rainy days when the water is really flowing. The main lookout, Falls View Lookout, has a great view right over the Falls and is a nice easy walk that can be accessed by wheelchair.
The second lookout, Valley View Lookout, has more great views of the Falls and involves a little bit more of a hike up some stairs. Then, the third lookout is where the water plunges into the Kangaroo River. Here, a natural pool forms which is absolutely incredible for a swim on a warm day. Enjoy it safely!
While easy tracks means you can make this a quick visit, I really recommend spending an entire day exploring all of the Carrington Falls area, including its natural swimming pools. While Sydney has lots of fantastic man-made outdoor swimming pools, there's something about swimming in natural freshwater pools that makes them so special. Near Carrington Falls are two of the best natural swimming pools in all of Sydney.
Swimming Near Carrington Falls: Nellie's Glen
Nellie's Glen is by far my favourite swimming spot in the area. It's beautiful, peaceful, and often quiet if you go there on an overcast day or early in the morning. After visiting the three lookouts over Carrington Falls, Nellie's Glen is only a quick walk or drive away, with its own dedicated carpark.
Nellie's Glen is a natural pool, with a small but powerful waterfall. I had the best time there — swimming in the fresh clean water and getting a great massage directly from the falling water — it was so amazing and refreshing! The water was really cool, so ideally it would be best to swim there on a warm day.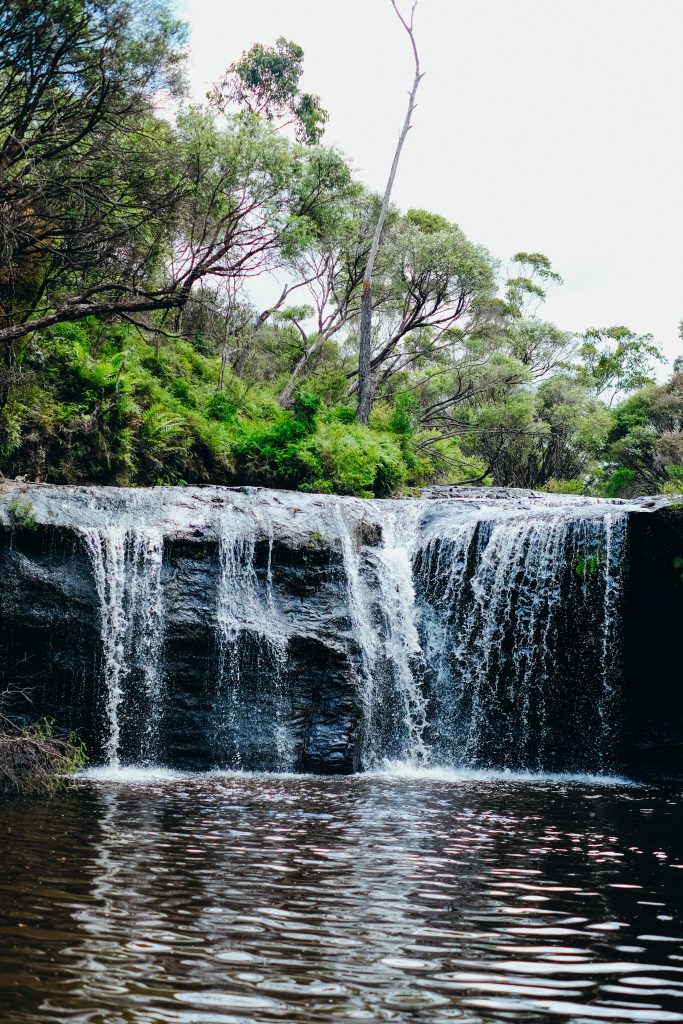 Nellie's Glen pool is deep in the middle but around the rocks, including under the waterfall, there are some slippery rocks to stand on. You can swim across the pool and stand right behind the waterfall. I recommend enjoying the water running along your back with your eyes closed, listening to sound of water and birds, and lounging on the sun-warmed rocks above the water.
As this will likely be your main stop for the day, I highly recommend that you bring plenty of water, a picnic blanket, something to eat, and a few snacks. You almost certainly won't have the place to yourself, so get in very early if you want to be alone for a while — but be prepared to share the space and be considerate of others.
Swimming Near Carrington Falls: Blue Pool
Blue Pool is another wild pool near Nellie's Glen. It is a little bigger and less well known, so its a great backup spot if Nellie's Glen is too busy. This natural swimming pool is called Blue Pool because it tends to be a deep, dark blue colour on a bright day. When I visited recently, the rain had disturbed the water too much and it was a little overcast, so I didn't get to see the blue colour for myself this time. Hopefully you have better luck than I did!
The Blue Pool Walking Track leads you right to this swimming spot, which is set in a very tranquil bit of bushland. It's an ideal place for families and friends wanting a relaxing day far from the noise and comings-and-goings of people at Nellie's Glen. A real highlight for me was looking at the vibrantly coloured plants and flowers that had sprung up in the warmer months following the recent rain.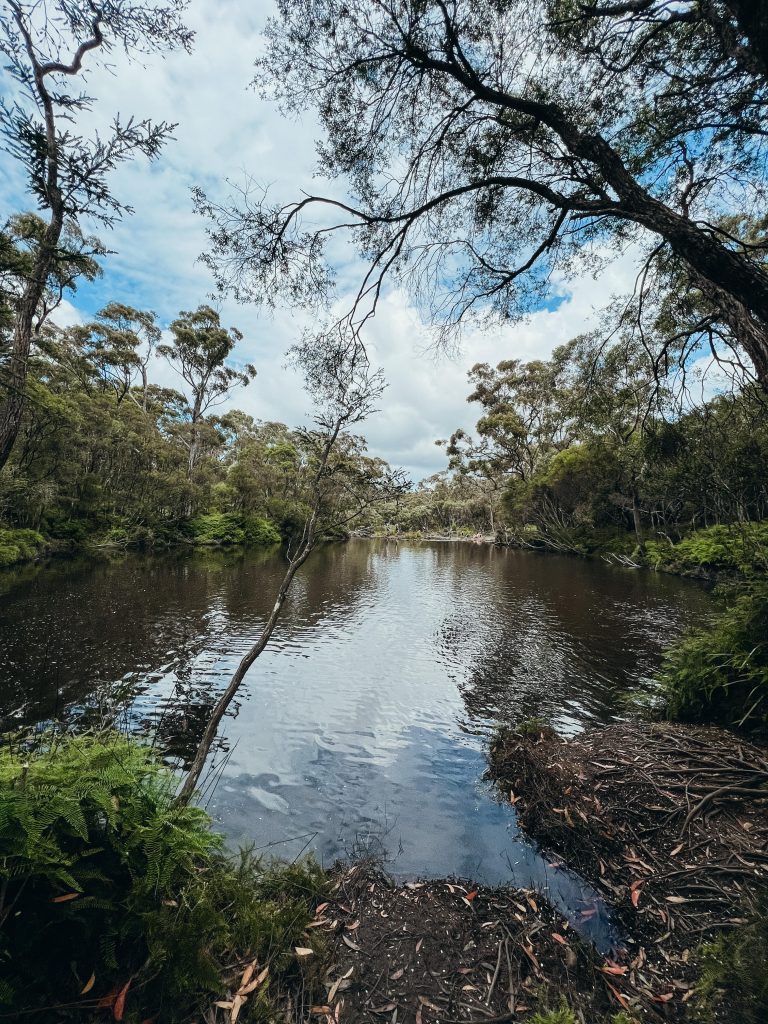 What to Bring with You to Carrington Falls
The walking trails around Carrington Falls are all easy to moderate in difficulty, so they suit just about anyone. While you won't need to bring any hiking gear, there are some items you should bring for comfort and to make your day trip more fun. The right gear can make all the difference, so here's what I packed for this day trip:
A light backpack
Comfy shoes (hiking shoes are best, but sturdy sneakers or tennis shoes will be fine!)
Swimwear and a towel, if you're keen for a swim
Sunscreen, even if it's overcast
A reusable bottle of water
A picnic blanket
Sandwiches and snacks
A camera, though your phone will probably be just fine
A portable phone charger
A quality raincoat (the weather changes quickly in the valley)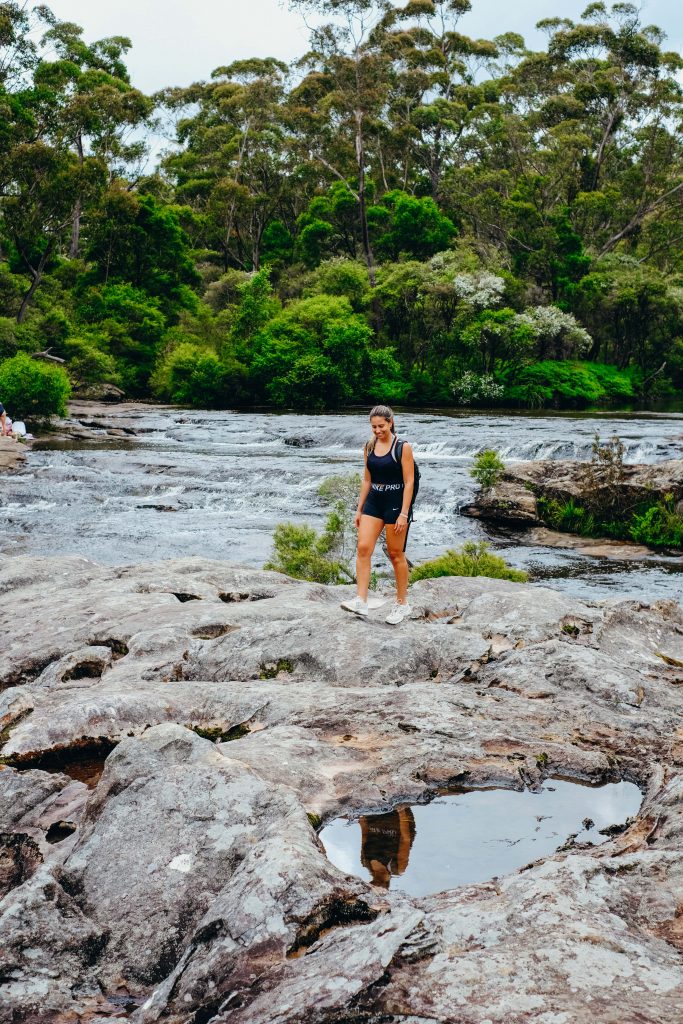 What to Do in the Southern Highlands near Carrington Falls
This was actually only my second trip to the Southern Highlands, but I'm absolutely in love with the region. If you go on a daytrip to visit Carrington Falls, but you feel like doing a bit more exploring, these are the ways I recommend you fill your day.
1. Check out the nearby town of Robertson
On my way back from Carrington Falls and Nellie's Glen, I stopped off in the town of Robertson. It's a small, beautiful small town with a village vibe to it, friendly locals, and a cute little high street with some famous eateries. If you're looking for somewhere to eat, check out the Robertson Pie Shop, the Robertson Cheese Factory, or Pizzas in the Mist. I had a nice glass of rose and a fabulous lunch in town before heading back to Sydney.
2. Visit the Illawarra Fly Treetop Adventures Treetop Walk
This is a great experience for a beautiful day. Illawarra Fly is a great way to fill your afternoon as you walk 1500 metres through the treetops of a beautiful and warm temperate rainforest. Amazingly, the panoramic views are so great that you can even see the ocean and rolling hills of the Illawarra region in the distance. Illawarra Fly is open from 9:00 AM to 5:00 PM is around $25 entry per person.
3. Explore the nearby Belmore Falls
Another fantastic waterfall around Robertson is Belmore Falls. If you've explored Carrington Falls before, or feel like going somewhere a bit more quiet, this is a great option. Belmore Falls is an absolutely fantastic waterfall with three drops on the nearby Barrengarry Creek. I actually ran out of daylight this time, but it's on my list to visit when in next in the area.
Hopefully now you're feeling encouraged to get out there and explore Carrington Falls for yourself! This is just a guide and I encourage you to make your own adventure out of the Southern Highlands region one day, or even on a long weekend. If you're thinking of travelling to Sydney for the weekend, but you aren't sure where to start, I recommend comparing and booking flights with Webjet!
I'm always looking for great spots across Sydney to visit on a day trip, and this is definitely one of my favourites so far and one I'll be coming back to again and again. If you've got something else you'd like to recommend in the area, leave a comment and tell me all about it! If you're looking for even more inspiration, check out these other great road trips from Sydney and make the adventure your own!