Great for the environment, your health and your wallet, bike riding is one of our favourite ways to explore a new place. The question is, what are the most bike-friendly spots you can visit? If you're travelling to Sydney or you already live nearby, we have four suburbs that are fantastic for exploring on two wheels.
Whether you want to pedal casually through the suburbs, go on a mountain biking adventure in the bush, or ride along a coastal route with a cool breeze, these Sydney suburbs are full of diverse cycling options and are worth checking out!
Best Sydney Suburbs to Explore on a Bike
1. Mosman, Lower North Shore
Located 8 kilometres northeast of the Sydney CBD, Mosman has become a prime spot for cyclists to explore, with a biking network that is continuously growing and improving. The suburb is known for ritzy and expensive houses, leafy green streets, impressive views, lots of hills, and light local traffic. 
This suburb has some of the most exclusive and best views in all of Sydney — even many of the garages have impressive views of the harbour. Pack some water and drift along the winding streets under the shade of the jacaranda trees, then dip your feet in the water. Mosman is a suburb best explored on a bike if you don't have anywhere in particular you want to get to.
To make it easier for cyclists to find their way around the suburb, the local council created a cycling map of Mosman, highlighting the type of tracks you'll find along the network. If you don't feel like going it on your own, there are even cycling groups where you can get all the help you might need to plan your itinerary.
 Mosman is actually a pretty huge suburb compared to others that are this close to the city. That means there's lots to explore, including lots of cafes and restaurants to stop off for a cool drink in. You'll also find that there's plenty to see and do in the neighbouring suburbs of Neutral Bay, Cremorne and Cremorne Point.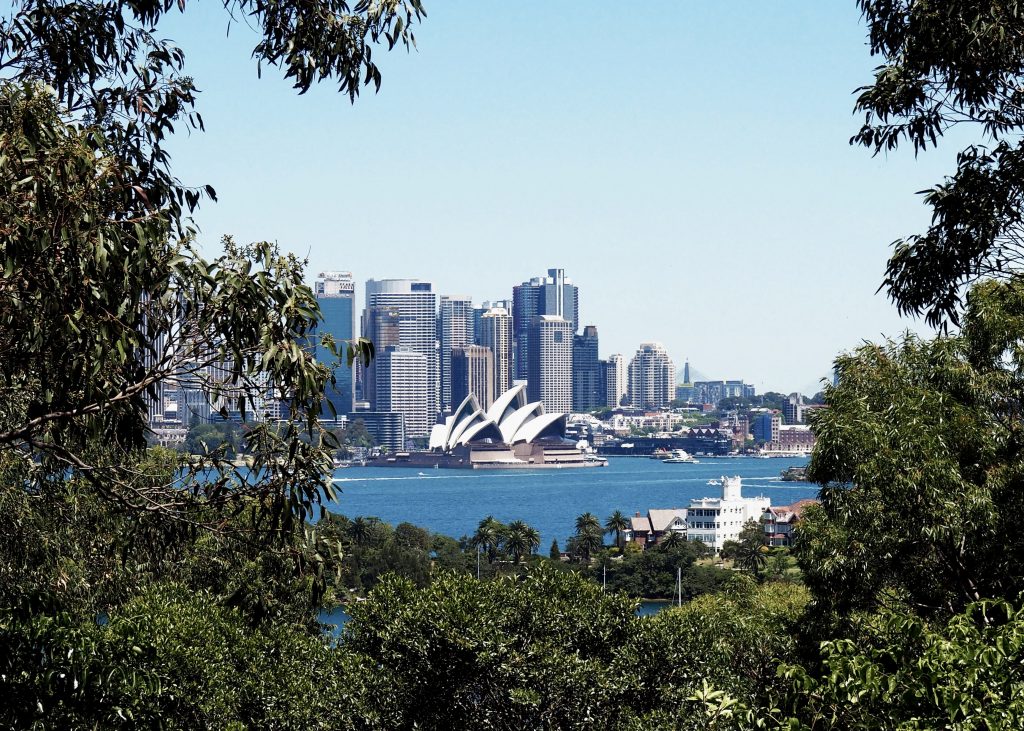 Things to Do in Mosman, NSW
Explore the coast of Mosman and take a dip in the water at Chinamans Beach.
Go snorkelling, or hire a kayak or stand-up paddleboard at Balmoral Beach.
Explore the abandoned military structures at the Inner Middle Head Battery.
Have a picnic after completing the cycling route at Rawson Park.
Bike your way to the award-winning Taronga Zoo and meet over 5000 animals from more than 350 species.
If you're feeling brave, get your gear off and visit Cobbler's Beach — one of Sydney's most popular nudist beaches. No gawking!
2. Bowral, Southern Highlands
Bowral is the biggest town in the Southern Highlands of New South Wales and is 90 minutes away from Sydney by car. This country town is popular with Sydneysiders looking for a relaxed day trip, as well as inner-city folk dreaming of a treechange. Visit Bowral for country charm, great food, beautiful natural landscapes, and a friendly, unpretentious atmosphere.
Home to many cycling trails, Bowral is an excellent destination no matter if you're on a road bike, motorbike or mountain bike. If you're used to less-than-polite motorists in the CBD, Inner West or Western Sydney, you're in for a shock. Motorists in Bowral are not only polite and patient, but gracious to those exploring the town on a bike. Just make sure you return the favour!
If you're a serious cyclist (and up for a challenge), time your trip right to attend the Bowral Classic — an award-winning cycling event. Or, if you want to slow down, book a bike tour through the Southern Highlands to explore the area and try delicious local wine along the way.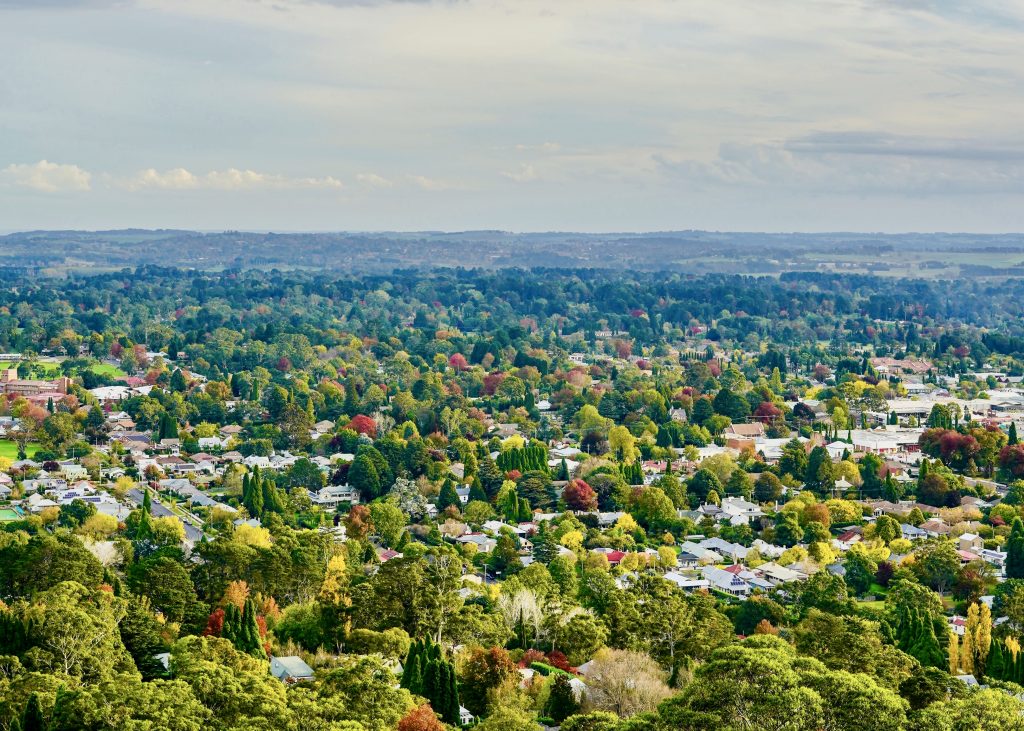 Things to Do in Bowral, NSW
Pedal for 3–4 hours through the challenging, yet spectacular Macquarie Pass return, starting at the top of Bowral until you reach Albion Park.
Visit the Bradman Museum and International Cricket Hall of Fame to learn the history of cricket in the town from which its most famous Australian player is from.
Cycle your way to the Bowral Lookout, overlooking Bowral, Moss Vale and the Wingecarribee River Valley.
Sample the many, many cafes and restaurants along Bong Bong Street like Bespoke Letterpress, RAW & WILD, and Gumnut Patisserie.
Wander through the stalls at Dirty Janes Emporium to find knick-knacks and second-hand treasures.
Travelling with little ones? Try the Bong Bong Track, a 5.5-kilometre flat off-road path surrounded by nothing but nature.
3. Camden, South-West Sydney
Situated on the south-western end of Greater Sydney, Camden is considered locally to be a gem of the Macarthur region and attracts many locals on the weekend. Camden is a historic town with booming population growth all around it, but it has managed to retain much of its small-town country charm.
Camden has many cycling routes, and the council is currently working on building more on and off-road cycleways, as well as conveniently located bicycle parking spots. The streetscape was also renewed in the last few years to reduce car traffic and become more bike and pedestrian friendly. You'll find plenty of shady trees, bike racks, traffic lights and pathways to make your trip safe and comfortable.
One of the best cycling tracks in Sydney is located right in Camden: the Nepean River Cycleway. This concrete pathway is shared between bikes and walking traffic, and snakes along the winding Nepean River. The pathway was flooded badly and bridges were destroyed a few years ago, but they have since been rebuilt stronger and safer than before. This 4-kilometre track takes you from Camden South into the heart of the town, and is perfect for people who like birdwatching, picnicking and exploring the bush. Just ring your bell as you pass people by!
Camden is very kid-friendly and a must-visit spot if you're going on a family trip to Sydney. You'll find lots of people pushing prams, holding coffees, dining al fresco and playing in the parks. You will definitely not be the only person or people on bikes when you visit.
Things to Do in Camden, NSW
Visit the nearby Australian Botanic Gardens at Mount Annan. This spot is popular with picnickers, but you can test your endurance on the 20-kilometre mountain biking tracks. Bring the off-road bike for this one.
Explore the town centre on two wheels, get your souvenirs at any of the picturesque gift shops
Hop off the bike for a coffee and some lunch at any of the outstanding cafes, including Dear Coffee, Jally's, Back Galley Cafe, or Squeeze & Grind.
Try one of Sydney's most underrated pies from Cafe Creme della Creme.
Ride your bike to the Camden Produce Markets, held every Saturday morning, and shop delicious, locally-grown goods.
Check out the Camden Town Farm and the walking track that goes around the property and past the Camden Bicentennial Equestrian Park.
4. Kiama, South Coast
If you're travelling along the South Coast of New South Wales, make your way to Kiama with both your bicycle and your surfboard. The township and its surrounding suburbs are extremely popular with Sydneysiders in the summer holidays. Travellers and holidaymakers visit Kiama for its beaches and fantastic surf, emerging food culture, and abundance of great family-friendly accommodation.
And the bike-friendliness! Kiama can be hilly in places, but like Bowral and Camden, it's a place where bikes are just an accepted part of the streetscape. Obey the rules, ring your bell to overtake, keep your eyes peeled for surfboards hanging off the back of cars, and you'll be fine. You'll find lots of interesting streets and suburban areas to ride around on if you take the time to explore.
The coastal region offers several cycle tracks for different levels. Some are perfect for casual cyclists looking for easy paths with scenic views, while others are made for mountain bikers who love a good steep hill. We recommend spending some time checking out some 3D maps before heading out to see how flat or hilly your intended route is so you can prepare accordingly.
Things to Do in Kiama, NSW
Go from Kiama CBD to Kendalls Beach and finish your 2.5-kilometre bike ride with a refreshing swim and a picnic by the ocean.
Pedal to Kiama Lighthouse and check out the largest blowhole in the world.
Set your alarm for an early bike ride to Jones Beach and capture the most mesmerizing photos of the sunrise.
Try to spot some whales from June to November at one of the many whale-watching lookouts.
Visit the nearby historic town of Berry for incredible cafes and restaurants (another great town to explore on your bike).
Take a trip to the nearby Jamberoo Action Park for some family fun on slides, toboggans and rides.
If you're planning a trip to Sydney, or if you're a Sydneysider looking for somewhere to explore on your bike, you're in luck. We've listed just a few of our favourite suburbs here, but there are loads of others to check out. While the Sydney CBD itself might not be particularly bike-friendly yet, it's always getting better. Luckily, Sydney's suburbs and the nearby townships are full of great places to explore on two wheels already.
If you're planning on flying to Sydney for a holiday, hiring a bike to explore the suburbs is a great way to spend your time and get to know Sydney even better. If you can't make it all the way out to Mosman, Bowral, Camden or Kiama, there are lots of other great suburbs like Newtown, The Rocks, Barangaroo, Pyrmont, Surry Hills, and Paddington which are also worth your time. What matters most is getting out there and starting to explore Sydney's suburbs on your bike. Happy riding!
Feature Image: A woman riding a bicycle in the Sydney suburb of Newtown. Photo by Emma Brown on Unsplash.