It's no secret we're spoiled for choice here in Australia when it comes to world-class beaches, but there must be something extra special in the water in the Whitsundays, because this pristine archipelago of islands are about as close to paradise as you can get.
Curious to know which shorelines are the best of a truly beautiful bunch? Well, we rolled around in the sand, tested the water clarity, compared palm trees and took a deep dive below the surface in order to find out. And trust us when we say, this list of incredible beaches will have you packing your bags to head north faster than we can say slip, slop and slap.
Whitehaven Beach
No list of the best beaches in the Whitsundays would be complete without the one and only Whitehaven Beach. This famous stretch of sand is consistently voted among the cleanest, whitest and most beautiful beaches in the world, and it's not hard to see why. Located on Whitsunday Island, the blindingly bleached sand is made up of 98 per cent silica, meaning it is extremely soft and powder fine, and can even polish up your jewellery. Head to Hill Inlet at the northern end of Whitehaven, where the tide causes the sand and water to swirl together to create a jaw-dropping kaleidoscope of colour.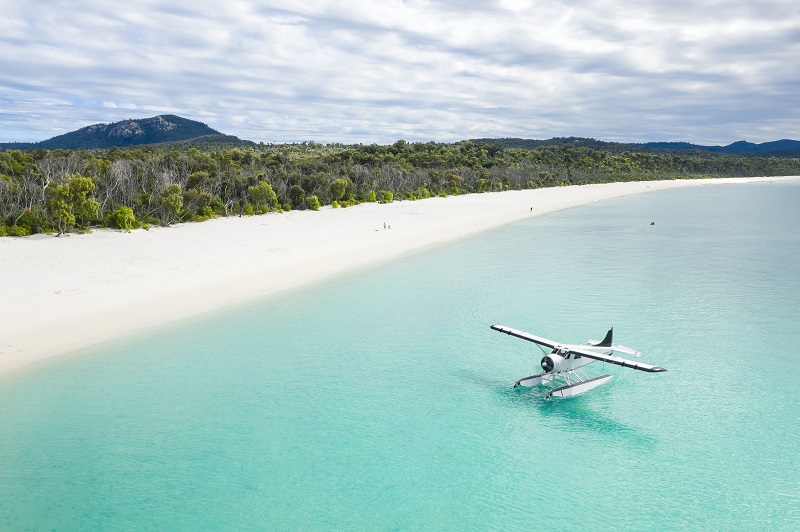 Blue Pearl Bay
This little slice of diving heaven is situated on the northwestern side of Hayman Island in the Whitsunday Islands National Park. Blue Pearl Bay boasts a gorgeous coral beach set against a rugged backdrop of rocky cliffs and fringing reefs. The crystal-clear waters are brimming with marine life, including schools of dazzling, colourful fish, manta rays and giant Maori wrasse. The diving depth ranges from three to 18 metres, and visibility is fantastic. It's also a popular spot for boaties, who can moor just off the shoreline in order to spend all day frolicking in the gentle waves.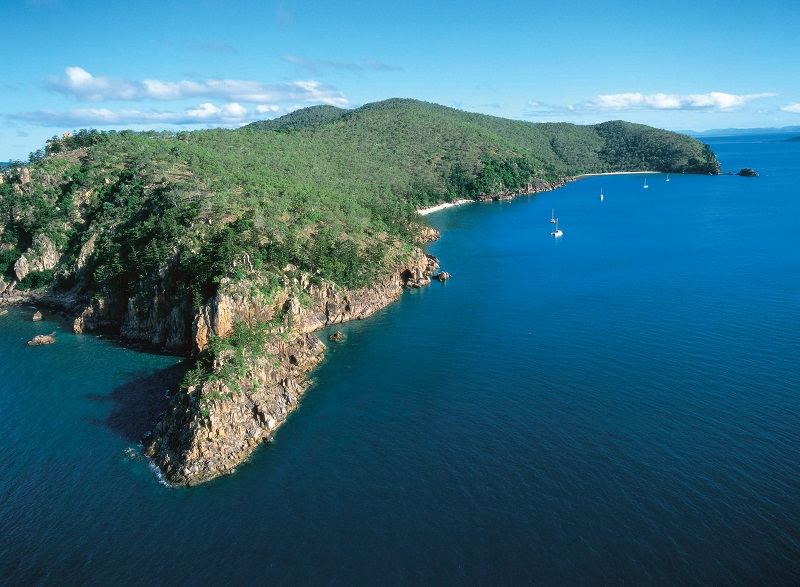 Catseye Beach
For perfect palm trees, chilled-out resort vibes and a plethora of water sports, look no further than Catseye Beach. As one of the main beaches on Hamilton Island, this is where the action takes place. You can spend hours lazing in a hammock or sunlounger (don't forget the SPF+), stroll out onto the sand flats when the tide is low, or take a dip in the turquoise, bath-warm water. There's activities galore to enjoy, and everything from stand-up paddleboards and kayaks to catamarans and windsurfing boards are readily available to hire. This tranquil bay really does have something for everyone, and is easy to access from most of the island's accommodation options.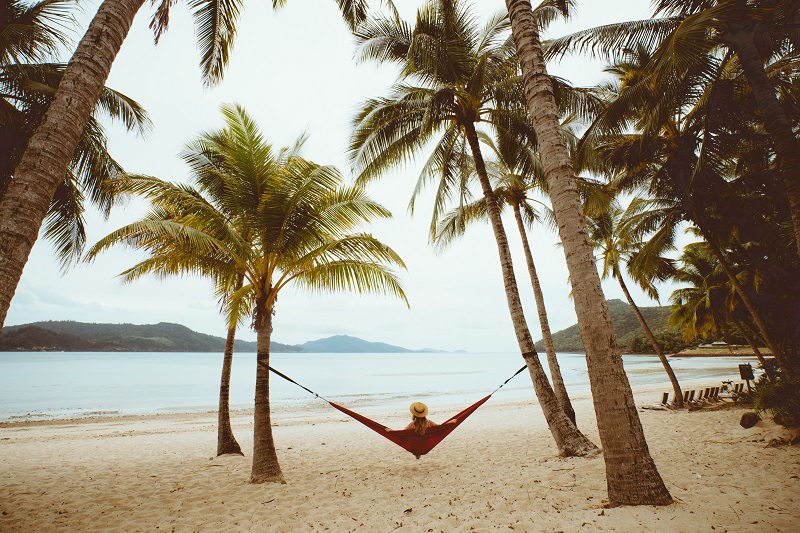 Langford Island
It may be small, but Langford Island is one of the most popular Whitsundays attractions. This skinny sand cay sits opposite Hayman Island, and is comprised of a long, narrow spit (that can disappear completely during high tide) and a tropical green bluff. Snorkellers and divers will find the surrounding reef overflowing with tiny fish species, but the real drawcard are the green turtles that come to graze on the sea grass. Back on dry land you can enjoy a picnic or game of beach cricket, or hike the short bushwalking track to the island's lookout point for stunning coastal views.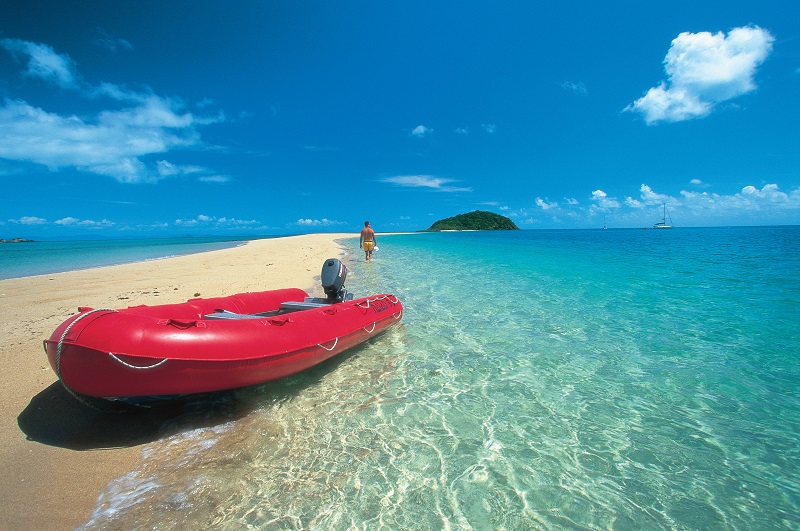 Chalkie's Beach
Ask any Whitsunday Coast local and they'll tell you that Chalkie's is better than Whitehaven. So, what makes this hidden gem on Haslewood Island better than the region's most iconic beach? Well, for starters, you won't be fighting boatloads of tourists for a prime spot on the sand – which happens to be the exact same silica sand as on Whitehaven. Those in the know will also argue the water is bluer and brighter, the fringing reefs offer a far more diverse array of marine life, and the sunsets are next-level good. The only way to determine which is best? Visit both and decide for yourself.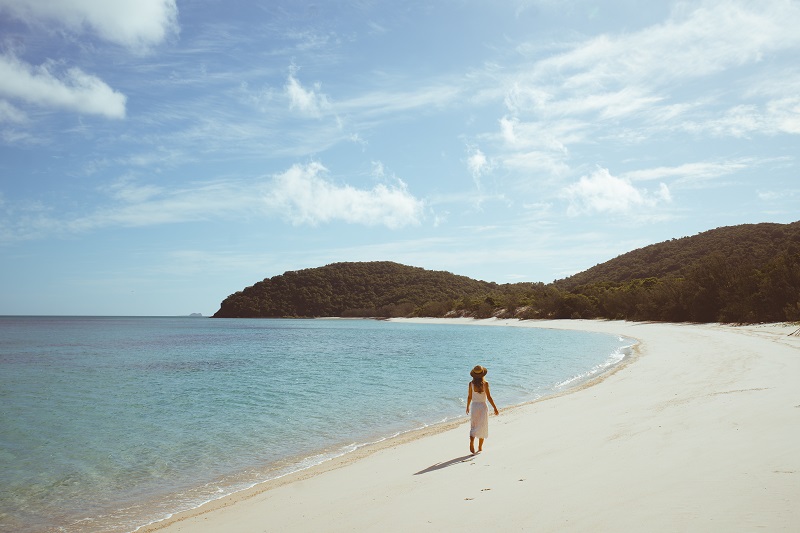 Horseshoe Bay
Proving you don't need to leave the mainland to discover spectacular beaches, Horseshoe Bay is an idyllic little cove in Bowen, north of Airlie Beach. Shaped like a – you guessed it – horseshoe, it's framed by enormous granite boulders that create a sheltered haven for the many sea creatures that call it home. And if the unspoiled swimming and snorkelling conditions weren't enough to lure you in, Horseshoe Bay is also part of the Ngaro Underwater Marine Sculpture Trail. Make sure you venture underwater to check out Bywa, an inter-tidal piece by artist Brian Robinson that tells a Dreamtime story about the reef and creation.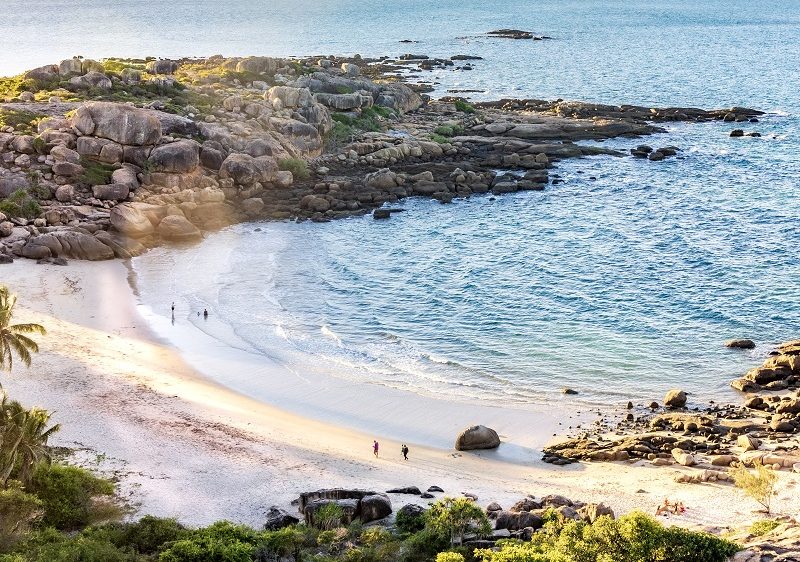 Crayfish Beach
Experience a more rugged side to the Whitsunday Islands in Queensland when you visit Crayfish Beach on the (mostly) uninhabited Hook Island. There's not a luxury resort or umbrella-topped cocktail to be seen here; instead, you'll find a secluded beach wedged between two large mountains and completely encompassed by dense bushland on one side and sparkling sea on the other. If that sounds like your idea of a good time, there's a small campground with room for just six tents so you can spend a couple of days soaking up the sun, fishing to your heart's content and exploring the island's natural wonders. Just don't forget to organise a permit beforehand.
Betty's Beach
Could Betty's Beach be the best-kept secret of the Whitsundays, Queensland? It very well could be. You'll find this protected cove nestled around the corner from Whitehaven Beach on the other side of Hill Inlet – so it really is hiding in plain sight. With all the squeaky white-sand goodness of Whitehaven minus the crowds, it really does feel like your own private paradise. Low tide is a fantastic time to visit if you've got the kids in tow, as the water is balmy and perfect for splashing around in – and keep your eyes peeled for the stingrays that can often be found gracefully gliding around the shallows.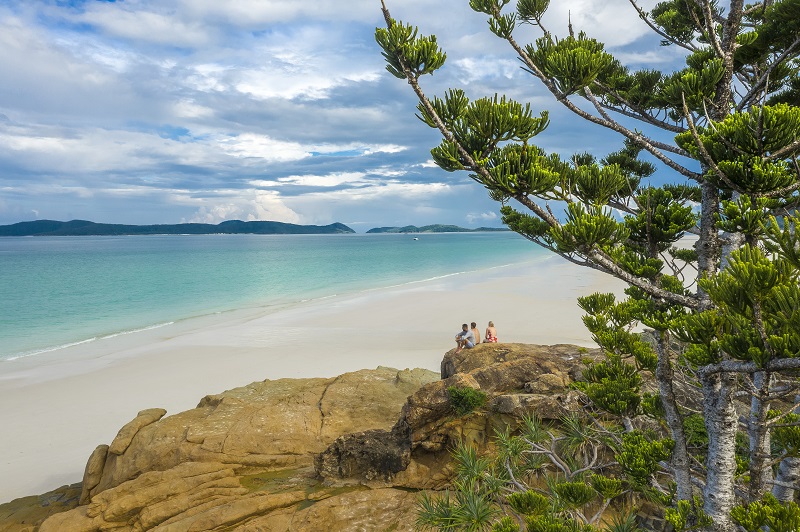 Chance Bay
It may be notoriously difficult to access by boat when the southeasterly prevailing winds pick up, but on a warm, sunny day when the northerlies roll in, there's no better place to be than Chance Bay. You'll find this half moon-shaped beach on Whitsunday Island, and it's a lovely, quiet oasis home to a few resident green, flatback and hawksbill sea turtles. There's a great elevated campsite with basic facilities and views across to Pentecost Island and Cape Conway, and you can easily rejoin civilisation via a 3.5-kilometre walking trail that leads directly to Whitehaven Beach – although there is every chance you won't be doing that in a rush.

Luncheon Bay
Discover a watery wonderland when you take the plunge at Luncheon Bay on the north side of Hook Island. Scuba enthusiasts of all skill levels are catered for here, and it's especially popular with beginners who can enter the ocean gradually from the shore thanks to the sandy, shallow descent. A vibrant coral garden plays host to gropers, moray eels and barramundi cod, and if you get lucky you might even spot a family of clownfish. For the more experienced diver there's also some amazing swim-throughs, like the 'tunnel of love' – which is an actual underwater canyon. The sun-drenched beach makes for a relaxing spot to dry out when you're finally done splashing around with the fish.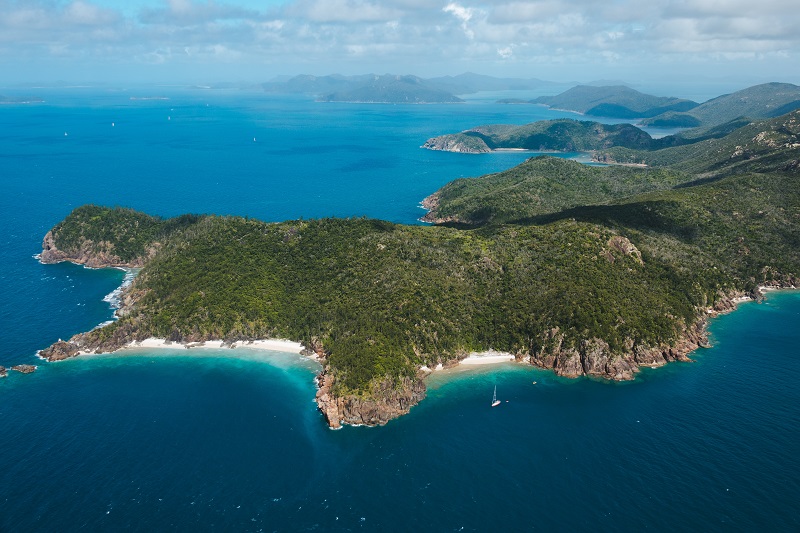 Plan your next getaway to Queensland with Webjet's cheap flights to the Whitsundays. Book a holiday package to take care of your flights and accommodation in one step, or explore the wide range of Whitsundays hotels and resorts also available to book on Webjet.
Hero image: Chalkie's Beach. Credit: Tourism and Events Queensland.