Secluded beaches can be hard to come by in Sydney, especially if you're a new visitor to the city. However, with the help of some secret local knowledge, you'll find that the city is abundant with hidden gems ranging from harbour swimming spots to ocean beaches. Far away from the crowds that pack Manly and Bondi Beach, Sydney's quiet beaches are perfect for exploring, unwinding and lazing on the water's edge.
Discover seaside tranquillity in the city with our 10 best secluded beaches in Sydney:
10 Hidden Beaches in Sydney, NSW
1. Sirius Cove, Mosman
Address: Sirius Cove Rd, Mosman NSW 2088
Located in Mosman, the easiest way to get to Sirius Cove is by taking the Taronga Zoo ferry and walking along the path to your left upon arrival. This U-shaped beach faces south into the harbour with two sheltered beaches at the northern end of the cove. Due to its safe, low wave swimming conditions, the beach draws in many families and it is also a favourite dog-walking spot, with off-leash access all day during the week and from 9:00am to 4:00am on the weekends and public holidays.
There are shaded grass areas by the beach, as well as picnic tables for a meal with a view of the Harbour Bridge and a playground for the little ones. If you forget to bring your picnic basket, Cafe Monstera serves burgers, toast and coffee until 1:30 pm on weekdays and 2 pm on the weekend.
What to Do Near Sirius Cove, Mosman
Visit over 5000 animals at Taronga Zoo, from Asian elephants to meerkats, Sumatran tiger, tree kangaroos and many more. Don't leave without getting a photo with an adorable koala, a cheeky meerkat and a majestic giraffe.
Capture the best photos of the Sydney Harbour and Opera House from Bradleys Head Amphiteatre. Bring some snacks for a picnic by the water or lace up your hiking shoes for a bushwalk nearby.
Discover the dark history of The Rocks during a ghost tour. Need to decompress after your spooky experience? Have a drink at 101 George St, Mrs Jones, The Lord Nelson Brewery Hotel or any of the other bars at The Rocks.
2. Milk Beach, Vaucluse
Address: Hermitage Foreshore Walk, Sydney NSW 2030
The small, isolated Milk Beach in Vaucluse is one of Sydney's Eastern Suburbs best-kept secret beaches. From fishing and snorkelling to family picnics, this all-purpose beach is a celebrated spot for beach enthusiasts who are sick of the crowds of other nearby Eastern Suburbs beaches.
Only a few minutes from Bondi, Milk Beach combines the best of both worlds – harbour views and surf, sun and sand. Although there are no cafes at this small beach, you can have a picnic at the parkland of the Strickland House, a heritage-listed mansion located only a 7-minute walk from Milk Beach.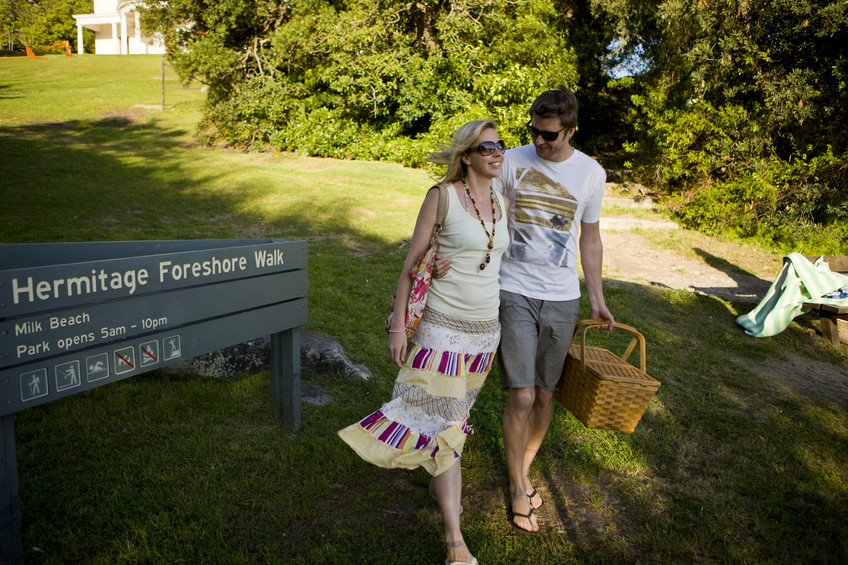 What to Do Near Milk Beach, Vaucluse
Complete the Hermitage Foreshore Walk and walk your way to stunning harbour views. The 1.8-kilometre walk is perfect to accomplish with kids or if you're looking for an easy stroll to stretch your legs.
Climb up Macquarie Lighthouse, the longest operational lighthouse in Australia. Go up 100 steps and look out over the blue waters, or join a guided tour for $3 to $5 and learn more about the landmark.
Satisfy your sugary cravings at The Grumpy Baker. Choose between croissants, fruit scrolls, brownies and pain au chocolat, and be sure to grab a hot cup of coffee to go with your sweet treat.
3. Chinamans Beach, Mosman
Address: McLean Crescent, Mosman NSW 2088
Chinamans Beach is a 250 metre stretch of sand, located in one of Sydney's quieter residential enclaves in Mosman. Well inside Middle Harbour, Chinamans Beach is super secluded and is the perfect setting for a relaxing swim, picnic or day of sun. Just remember to bring sunscreen as there are no shaded areas at this beach.
Chinamans Beach is also the perfect location for water sports, particularly snorkelling, kayaking and canoeing, but the waves aren't the best for surfing, so those travelling with their board might want to find another beach. The more popular Balmoral Beach is a great option, as it is just a scenic walk along rocks to the south, meaning it's easy to jump between the two during the day.
What to Do Near Chinamans Beach, Mosman
Take the kids to Rosherville Reserve, a huge park with a playground and plenty of shaded areas. There are also shower facilities at the park, so it's the perfect spot to get ready if you're headed somewhere right after the beach.
Enjoy the thrills and adrenaline at Luna Park. Boasting more than 30 rides and games for all ages, as well as a range of food and drink outlets, the park is a favourite among families exploring Sydney.
Spot Sydney's most emblematic landmarks from the top of Sydney Tower Eye, the city's ultimate viewpoint. If you dare, join a 60-minute SKYWALK and walk on air 268 metres above the city.
4. Collins Flat Beach, Manly
Address: Collins Beach Road, Manly NSW 2095
Scenic harbour views, just north of Sydney city and nestled between North Head and Little Manly Cove, Collins Flat Beach is located in one of Sydney's best clusters of beaches. Whether you're planning a romantic picnic or want to swim in calm waters, Collins Flat is the perfect spot for a day of relaxation.
Enjoy breathtaking views across The Heads in this secluded spot which feels miles away from busy neighbouring Manly Beach. Collins Flat Beach is also home to Sydney's only Harbour beach waterfalls, which will make any summer day even more magical, especially for the little ones.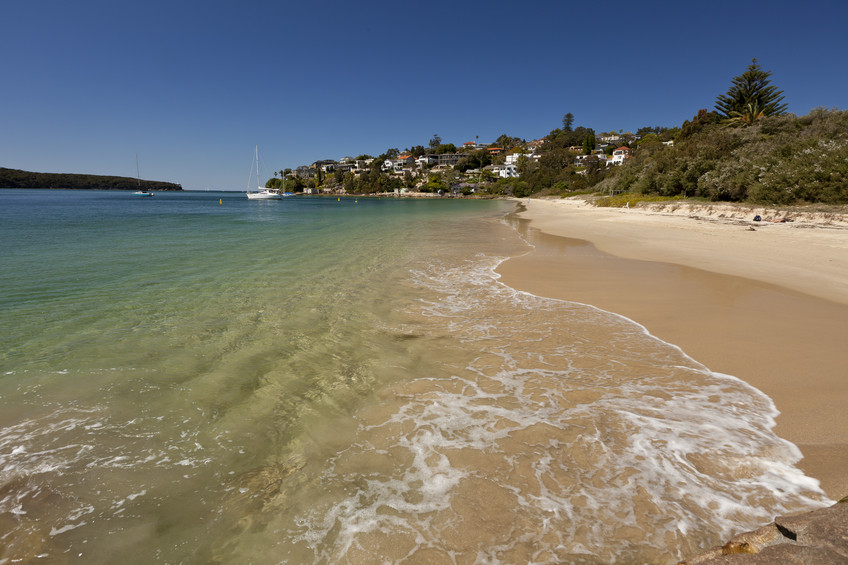 What to Do Near Collins Flat Beach, Manly
Hike your way from Manly to Spit Bridge, and catch a breath at all the pitstops along the way, including Clontarf Reserve, Grotto Point Lighthouse and Dobroyd Head. Although this trail is suitable for most walkers, it can take up to 4 hours to complete, so be ready to work your legs!
Have lunch by the shore at Manly Greenhouse. Have a cocktail at the rooftop, choose between 400+ international wines at the wine room or enjoy a 3-course bottomless lunch at the Greenhouse.
Visit the Manly Fresh Produce Markets for regionally grown fruit and vegetables, local cheese, rich olive oils and fresh bread. Held every Sunday from 8 am to 2 pm at Manly Plaza.
5. Gordons Bay, Clovelly
Address: Gordons Bay, Clovelly NSW 2031
Just north of Coogee Beach and south of Clovelly Beach, the protected aquatic zone at Gordons Bay in Coogee is a picturesque small bay that truly feels like a secluded oasis, with beautiful vegetation surrounding it and a few small animals strolling around.
Enjoy the rideable left break over the rocks just outside the bay and a rideable reef off the south side of Gordons Bay. With an underwater nature trail too, swimmers and snorkelers are well catered for. Boasting calm blue waters and relaxed waves, the surf of Gordons Bay is a treat for swimmers and surfers alike.
What to Do Near Gordons Bay, Clovelly
Go on a culinary journey to South East Asia at Sugarcane. With a diverse menu, a list of 100 wines and a lineup of delicious cocktails, Sugarcane has something for everyone and is the perfect restaurant for anyone travelling with a big group.
Follow the Coogee to Maroubra Beach Walk, through a number of incredible rock formations and pools. You might even find a couple more secluded swimming spots along the way!
Head to Wylie's Bath, a popular ocean pool offering unrivalled views of the Pacific Ocean. Book a massage by the sea for the ultimate relaxation experience, or join a yoga/pilates class for just $20.
6. Shelly Beach, Manly
Address: Marine Parade, Manly NSW 2095
Only a short, and very scenic stroll from Manly's main beach, Shelly is the quieter of Manly's main beaches. Getting there is easy – Shelly Beach Walk will lead you through the region's unique marine life, plants and natural attractions, connecting Manly and Shelly Beach.
Renowned as a fantastic scuba diving and snorkelling spot, explore the underwater scenery of one part of Cabbage Tree Bay. You can view a variety of marine life from the relatively shallow, protected waters. Enjoy panoramic breathtaking views of North Head and the Northern Beaches from this quiet, sandy spot. There are two electric barbecues for free use at Shelly Beach, but if you don't feel like cooking, head to The Boathouse, a cafe and restaurant only a stone's throw away.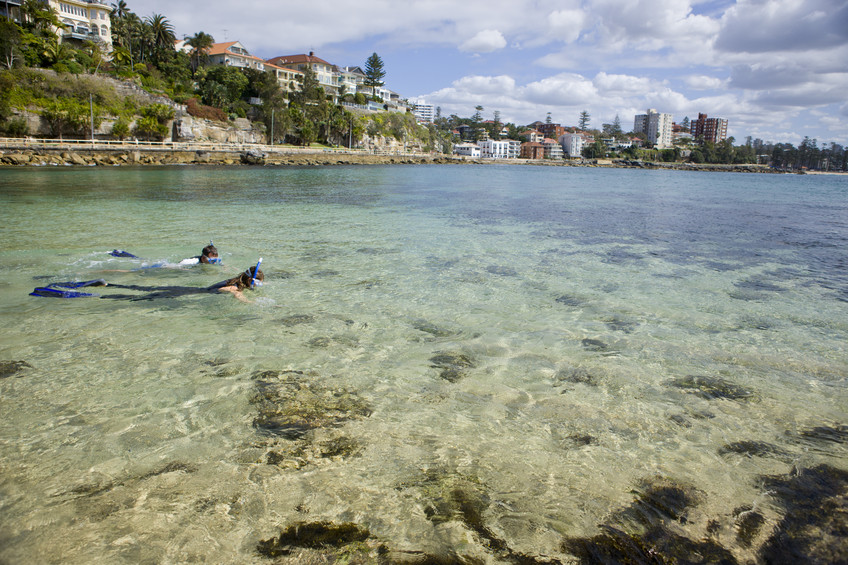 What to Do Near Shelly Beach, Manly
Watch an open-air show during a Night At The Barracks. Gaze up into the star-filled night sky while discovering some of the best Australian talents, in a unique venue that perfectly combines the history and the natural beauty of The Barracks.
Go on your own beer tasting tour (or join a guided one). There are a number of craft breweries across Manly, including 4 Pines Brewing Co., 7th Day Brewery and Dad & Dave's Brewery, all perfect to stop by on a hot, sunny day.
Browse through more than 200 boutiques and specialty shops at Manly Wharf, and choose between over 100 restaurants whenever you start feeling peckish.
7. Murray Rose Pool, Double Bay
Address: 535 New South Head Road, Double Bay NSW 2028
Visit Murray Rose Pool in Double Bay, nestled between King Cross and Vaucluse. Previously known as Redleaf Pool, this safe harbourside tidal enclosure gives swimmers incredibly safe and clean surroundings to enjoy the harbour backdrop. A popular spot for both recreation and relaxation, do laps in the cool harbour water or relax on the floating pontoons in the centre of the pool.
After your refreshing dip, go for a stroll along the wrap-around pontoon, walk up to Redleaf Cafe on the hill, serving breakfast, lunch and coffee, or simply relax on the grassy areas, under the shady trees.
What to Do Near Murray Rose Pool, Double Bay
Admire Sydney from up above during a Sydney Seaplane adventure. Drive just under 5 minutes from Murray Rose Pool to the Rose Bay terminal and hop on to the plane for a scenic flight over the city.
Not a fan of heights? Take a Sydney ferry instead and glide by some of the most iconic landmarks in Sydney. For a fancier experience, book a Sydney Harbour cruise and dine with the city's spectacular skyline as the backdrop.
If you find yourself in Double Bay during winter, experience Vivid Sydney, an annual light festival that goes for 23 days, showcasing unbelievable light installations, musical performances and creative industry forums.
8. Reef Beach, Balgowlah Heights
Address: Beatty Street, Balgowlah Heights NSW 2093
Reef Beach in Balgowlah Heights boasts prime views across Sydney's North Harbour right through to Manly. For a better view, head to the nearby Arabanoo lookout at Dobroyd Head for commanding views of the surrounding waters. Nestled between bushland and rock formations, Reef Beach was a popular nude beach in the 70s and 80s, and today it is one of the best-kept secrets among locals.
Take a refreshing dip and watch life move at a slower pace at this truly secluded gem only a stone's throw from the popular beach mecca Manly, and if the tide is low at the time of your visit, keep your eyes peeled for Aboriginal carvings in the rocks.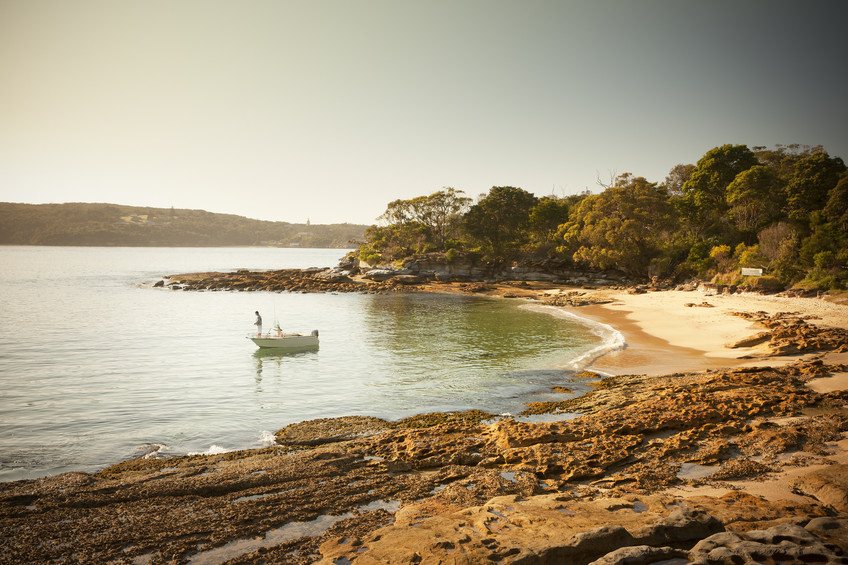 What to Do Near Reef Beach, Balgowlah Heights
Hike your way to Cutler Road Lookout and be sure to check out the Aboriginal rock carvings nearby, including illustrations of a dolphin, an emu and a large fish, all marked by timber guard rails.
Drive 10 minutes to Manly Surf n Slide, an outdoor playground where visitors of any age can splash slide down to the (heated) water, catch some sun on the spectator deck or have a snack at the Sliderz Cafe.
Admire the views from Manly Wormhole, another one of Sydney's hidden gems. Walk through the tunnel until you reach the end and be sure to take your phone to capture the moment
9. Lady Martins Beach, Point Piper
Address: Wolseley Rd, Point Piper NSW 2027
Located in Point Piper, Lady Martins Beach is a hidden harbour beach gem nestled in the relatively small Felix Bay. Access is difficult, via a narrow path from Wolseley Avenue or around rocks at low tide, so it might not be the best option for those will small kids. However, if you choose to visit, the effort will be worth it and once you arrive you'll never want to leave.
Lady Martins is one of Sydney's dog-friendly beaches, but your furry friend will need to be on a leash at all times. Whenever you need to cool down, simply tie their leash to one of the poles along the shoreline and enjoy a refreshing dip.
What to Do Near Lady Martins Beach, Point Piper
Visit Duff Reserve, a small yet charming park only a 5-minute walk away. Enjoy the harbour views and walk down the stairs to find a table and a grassy area. Note that the reserve is only open to the public after sunrise and before sunset, so plan your itinerary accordingly.
Hike a kayak or stand-up paddleboard from Point Piper Kayak Centre. Go on a harbour adventure and paddle your way to Shark Island or Milk Beach. Once you come back, grab a bite to eat or quench your thirst at any of the local cafes nearby.
Read a book while taking in the sunrays at Blackburn Gardens, and be sure to explore the secret garden as well. The heritage garden is also close to Murray Rose Pool if you want to drop by another secluded beach.
10. Shark Beach, Vaucluse
Address: 6 Steele Point Rd, Vaucluse NSW 2030
Located in Vaucluse, despite the concerning name, there's nothing to worry about at Shark Beach. The reserve, part of Nielsen Park, is renowned for its shady grounds and shark net-protected beach. The waters can get quite deep so parents are advised to keep an eye on young children and, as it is quite a sheltered area, the waves aren't the best for surfing.
With three large sheltered areas, and plenty of nearby foreshore walks, no list of the best secluded beaches in Sydney would be complete without Nielsen Park's Shark Beach. Be sure to see this stunning spot before the secret's out, and make your way to The Nielsen, a beachside restaurant serving the freshest seafood dishes.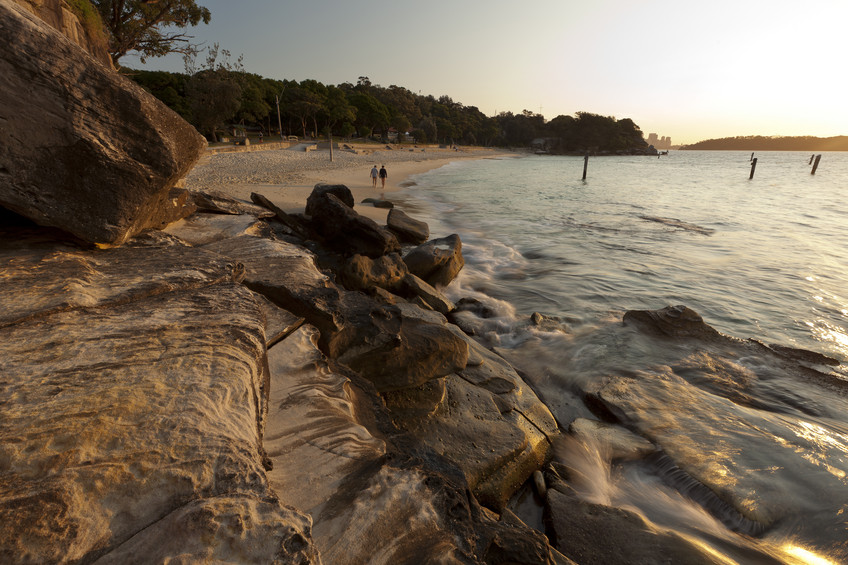 What to Do Near Shark Beach, Vaucluse
Travel back in time with a visit to Greycliffe Gardens, home to Greycliffe House, a Victorian-style mansion built in 1851 that is now a popular wedding venue. Please note that guests can't go inside the house, but the chance to admire it from the outside is still well worth the visit!
Drive a little over 20 minutes to Centennial Park for an open-air movie session at Moonlight Cinema. Check out the program to make sure the program is on at the time of your visit and don't forget to BYO food and drinks (including alcohol).
Discover the immersive exhibitions at Vaucluse House, open Thursday to Sunday from 10 am to 4 pm. Be sure to wander through the picturesque gardens and visit the chickens, ducks and goats that call the gardens their home.
From swimming in a quiet, secluded spot to coastal walks through some of Sydney's most untouched and pristine hinterland, Sydney has a handful of the best secluded beaches you'll find in the country. Whether you're looking for a safe beach for your little ones, a hidden oasis for a romantic date in Sydney or a secluded spot without any crowds, head to the state capital and explore the hidden beaches yourself with Webjet's great flight flight deals and accommodation options.