Looking to book premium cabin flights in the near future? Your next booking experience might just be easier than ever with our new Mixed Cabin Fares feature!
What Are Mixed Cabin Fares?
Mixed Cabin Fares are a new release from Webjet that opens up a world of product (pun intended), specifically for itineraries with multiple legs and cabin classes. Previously, if you selected a premium economy, business class or first class cabin when searching for flights, you wouldn't receive a result if that cabin class wasn't available the entire journey. Now with Webjet's Mixed Cabin Fares, you will see search results and if the cabin class you searched does not exist on certain legs, the next available cabin class will display.
This change is great if your travel plans include domestic services and smaller airlines, which may not offer all cabin classes, allowing you to find your ideal seats for that travel route. For example, if you were searching for Premium Economy airfares from Mildura to Los Angeles (a two-leg journey including both a domestic and international flight), chances are that you would not have the option of a Premium Economy airfare on the first leg from Mildura to Melbourne. However, with the addition of Mixed Cabin Fares, the original search would now show an Economy flight from Mildura to Melbourne and an Premium Economy fare from Melbourne to Los Angeles in the same result.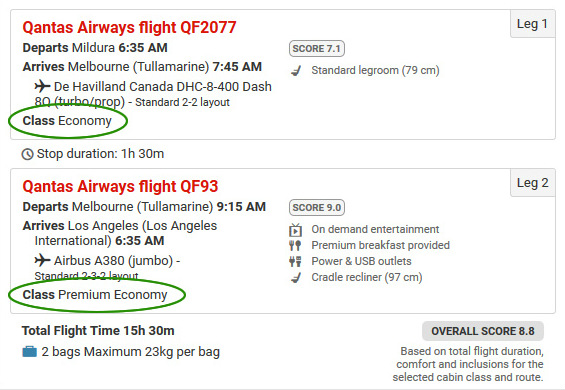 If your potential travel itinerary includes Mixed Cabin Fares, they will be clearly labelled throughout the booking process and noted on your confirmation documents too.
How Do Mixed Cabin Fares Help Me?
Including cabin classes that may not be your first preference, Mixed Cabin Fares provide you with greater choice and flexibility, giving you more travel dates, routes and times to choose from, especially when your itinerary includes flights to or from domestic centres, or includes flights with smaller airlines. Instead of needing to piece your travels together step by step, making use of Mixed Cabin Fares, in addition to our existing partnership with Routehappy, allows you to find your perfect itinerary with a minimum of fuss.