Featuring everything from in-house restaurants, spas and bars through to private rooms perfect for a pre-flight nap, the world's best airport lounges offer almost everything you could want and need between flights. If you've always wondered what you can find and do in the world's top airport lounges, check out six of the best below!
Thai Airways Royal First Lounge, Bangkok International Airport
Home to two VIP rooms, six private corners, dedicated slumber rooms and plenty of seating, the Thai Airways Royal First Lounge at Bangkok International Airport is a little slice of heaven for the weary traveller. Serving an a-la-carte menu filled with Thai and Western style dishes, there are plenty of opportunities to satisfy your appetite, while the lounge shower suites are great for freshening up before the next leg of your travels. First class travellers are treated to a complimentary one hour massage at the Thai Royal Orchid Spa with each visit, while business class passengers can enjoy a free thirty minute massage.
Qantas International First Lounge, Sydney Airport
Bright and airy, the Qantas International First Lounge at Sydney Airport boasts great facilities, delicious food and fantastic runway views. Self serve bars situated within the lounge are great for a quick refreshment or two, with snacks, drinks and coffee machines available, while the popular menu inspired by Australian chef Neil Perry is filled with refined flavours and fresh, seasonal produce. In addition to shower rooms, library nooks and high speed WiFi, the lounge is also home to a spa offering all manner of indulgent 20 minute treatments, spanning from massages through to facials.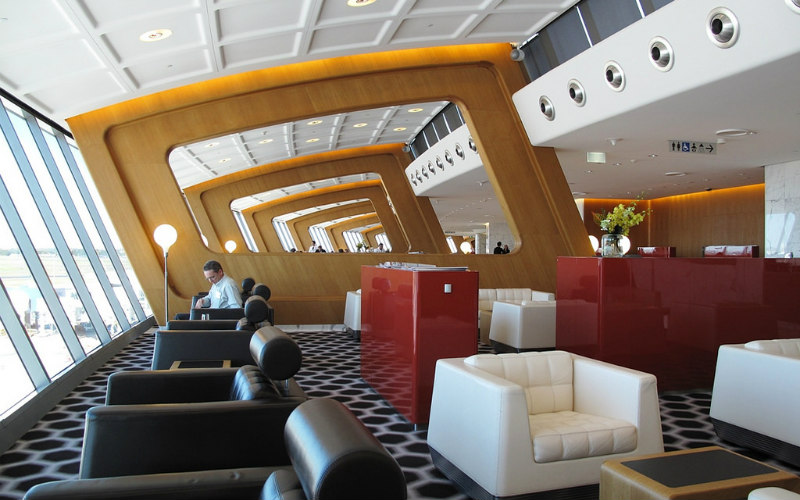 Lufthansa First Class Lounge, Frankfurt Airport
Whether you're wanting to sit back and unwind or are looking to get to work while you wait for your flight, the Lufthansa First Class Lounge at Frankfurt Airport provides amenities to match the needs of almost every traveller. Make use of the lounge shower rooms to freshen up or enjoy one of the many treatments offered by the in-house spa, including facials, manicures, massages and more. Set up an office away from home with the lounge's private office units and WiFi, or make the most of your visit by sampling the a-la-carte menu and buffet, or stopping by the bar or cigar lounge.
Virgin Atlantic JFK Clubhouse, John F. Kennedy International Airport
Fitted with decadent decor that draws together the best of mid-century and modern design, the Virgin Atlantic Clubhouse at JFK Airport offers an abundance of indulgent amenities and relaxation zones perfect for unwinding between flights. Feel pampered with a complimentary treatment at Bumble and Bumble hairstylist or the lounge spa, stretch your legs with a game of pool or freshen up at one of the lounge's shower rooms. Passengers departing in the evening are welcome to sample the drinks list at the in-house cocktail bar, while a food menu including dishes for breakfast, small snacks and full meals ensures guests won't go hungry. Both food and drinks are complimentary for travellers, with no limit to how many delicious morsels you can be sample during each visit.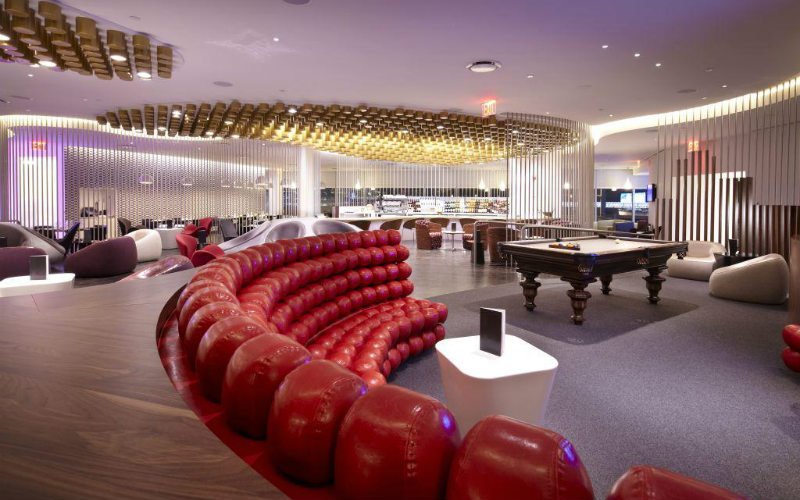 Finnair Premium Lounge, Helsinki Airport
Spanning across more than 400 square metres and incorporating the best of Finnish design, Helsinki Airport's Finnair Premium Lounge offers ample room to put your feet up, unwind and prepare for the next time you take to the skies. Whether you're travelling for business or pleasure, the lounge's facilities work well to cater to most needs. Savour a moment or two of peace and quiet in the relaxation zone, catch up on work in the business centre or keep your little ones entertained in the dedicated kids' room. Private shower suites and the in-house Finnish sauna provide the perfect opportunity to freshen up between flights, while the wide selection of beverages and local delicacies on offer are sure to satisfy most palates.
Cathay Pacific The Pier, First, Hong Kong International Airport
Furnished in a relaxed, yet stylish, manner, Cathay Pacific's The Pier, First is a first class lounge designed to offer travellers the feeling of visiting a home away from home. Featuring a variety of natural materials, from wood through to marble, the lounge exudes a warm ambience and offers a wide selection of amenities. Enjoy a moment or two away from the stresses of transit by spending time in one of the lounge's private rooms, with a relaxing 10 minute foot massage or a cocktail at the lounge's horse shoe shaped bar. Satiate your appetite with a visit to the in-house restaurant or self service snack areas, or head to the business centre, complete with computers and comfortable seating, to catch up on work.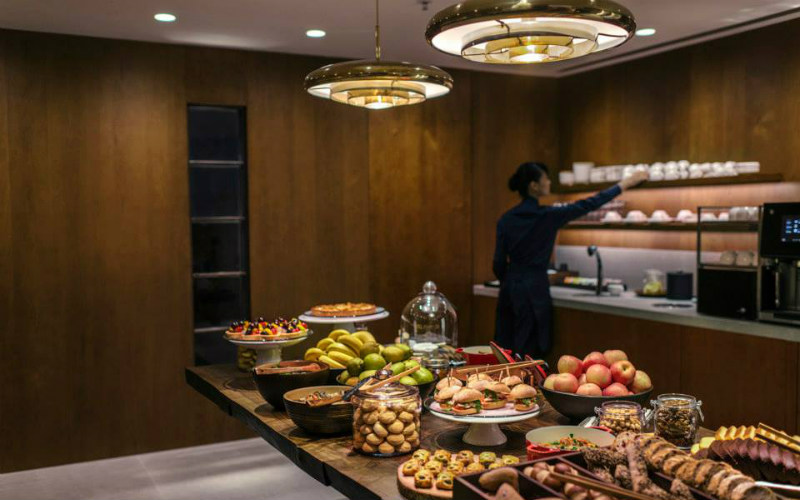 Interested in discovering these fantastic airport lounges for yourself? Discover and compare cheap flights with Webjet today!
Feature Image Credit: Virgin Atlantic.