Heading out and exploring your own backyard is one of the best ways to create a memorable family holiday. Whether you're planning your adventures around the school holiday period, a long weekend, or another time of year, there's no place like Australia for a family holiday.
Thankfully Australia is teeming with great family holiday destinations — so many in fact, that it would be nearly impossible to see every single one before the kids grow up! With so many opportunities at your fingertips, there's bound to be a destination for every type of family. So whether your family wants to spend days getting sandy and splashing in the sea, or if you and the kids want to head inland to camp and hike around national parks, there's something for you.
Take your pick between quaint coastal towns, UNESCO World Heritage Sites, cities steeped in convict history, epic mountain ranges, and desert outposts. All with an abundance of experiences to tick off while you're there. Let's say it again, there's plenty to see and do with kids in Australia!
So to get you thinking about where you might like to go on your next holiday, here are some of the picks for 10 family holiday destinations in Australia.
10 Family Holiday Destinations in Australia
Enjoy the Beach in Broome, Western Australia
Take your family to Broome to witness one of the most spectacular destinations along Western Australia's North West and Kimberley Coasts. Located about 2,000 km north of Perth in the Kimberley region, this oceanfront resort town is home to prehistoric dinosaur tracks, fascinating pearling heritage, and (most famously) the white sands of Cable Beach.
Stretching for more than 22 kilometres, Cable Beach is an iconic sight and is arguably best experienced at dusk — when the sinking sun casts an incredible glow of golds and reds across the water. Taking a ride on camelback is one of the most popular ways to see the Cable Beach sunset, or you can set up on the sands with a packed picnic.
Family-friendly things to do in Broome
:
Staircase to the Moon

Sun Pictures Outdoor Cinema

Horizontal Falls

Malcolm Douglas Holiday Park

Broome Courthouse Markets
Other tips for travelling to Broome:
The

best time of year to visit Broome

is usually during the dry season, between April/May to September/October.

Take care if swimming in the ocean between November to May. This time of year is jellyfish season and stingers are regularly sighted.

If you've hired a car and are planning on exploring the area around Broome with multiple day trips, always let someone know where you're going and what time you expect to return.
Explore the Outdoors on the Gold Coast, Queensland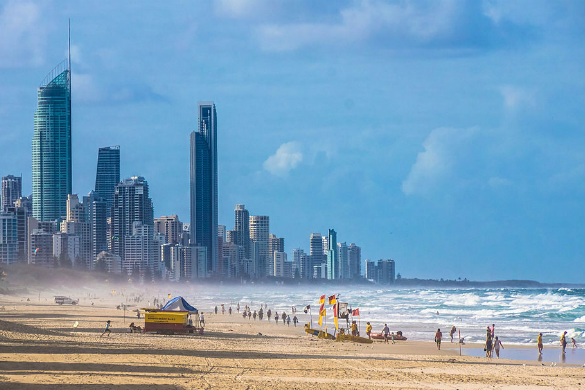 Travel to the Gold Coast with your family for the ultimate getaway. This oceanside city is perhaps best known for its glitz, glamour and beautiful beaches; it is the show pony of Queensland cities. Home to fantastic family-friendly attractions, this is a favourite holiday spot for visitors of all ages. 
One of the biggest draws for families on the Gold Coast is the variety of theme parks. Mingle with Tweety Bird and Batman at Warner Bros. Movie World, learn about Australia's spectacular marine life at Sea World, or race down waterslides and float on lagoons at Wet'n'Wild. 
There are also wildlife sanctuaries for close encounters with furry and feathery critters, and national parks abound in the hinterland area. Explore the Gold Coast's most beautiful tracks, walks to waterfalls, and explore hidden swimming holes. Tee off at any of the mini-golf courses around the city, sign up to learn how to hang 10 with a surf lesson, head out on the water on a whale-watching cruise, and spend weekend mornings exploring local markets for baked treats and arts and crafts. There's something for everyone!
Of course, no family holiday to the Gold Coast is complete without at least one day at the beach. Seek out the sandy stretches of Nobby, Burleigh, South Stradbroke and Rainbow Bay — just always remember to swim between the flags where the surf is patrolled by lifeguards.
Family-friendly things to do on the Gold Coast
:
Currumbin Wildlife Sanctuary

Mt Tamborine Glow Worm Caves

Holoverse

Currumbin Rock Pools

O'Reilly's Treetop Walk

iFLY Gold Coast

Jellurgal Aboriginal Cultural Centre
Other tips for travelling to the Gold Coast:
There are more places to stay on the Gold Coast than Surfers Paradise. Some of the quieter areas that make for great family-friendly bases include Burleigh Heads, Coolangatta and Miami.

Hiring a bike is a great way of getting around the Gold Coast on a budget, and there is a network of good and well-maintained bike paths around the city.

Don't ignore exploring the Gold Coast Hinterland! This area is often overlooked by those focused only on going to the beaches, and it would be a huge missed opportunity not to explore the smaller towns and beautiful national parks of the Hinterland region.

Avoid Surfer's Paradise during Schoolies Week. In the last weeks of November and early December, the area will be packed to the brim with rowdy school-leavers filling up every hotel, bar, beach and street. The Gold Coast is the most popular destination for Schoolies, and Surfer's Paradise, in particular, receives an influx of revelers.

Prioritise swimming at lifeguard-patrolled beaches and always paddle between the red and yellow flags.
Visit Some Australia's Best Museums in Canberra, ACT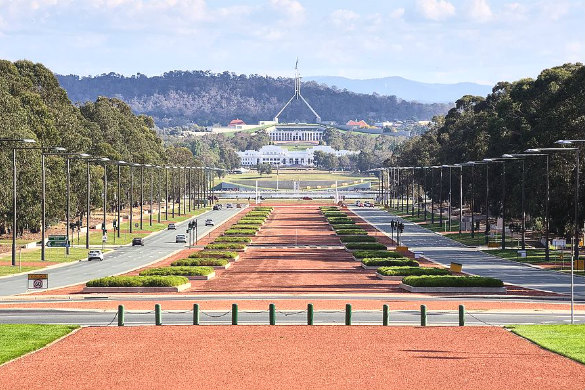 Think Canberra is all politics? Prepare to be surprised. The Australian capital city is brimming with great things to see and do with the family in tow.
Canberra's galleries and museums are world-class, for starters. Be sure to visit the National Gallery of Australia, home to the largest collection of Aboriginal and Torres Strait Islander art in the world. Admission is free, which is an added bonus if you want to travel on a budget. Make a solemn visit to the exhibits at the Australian War Memorial, and wander through the displays at the National Museum of Australia. A particular favourite with younger travellers is the National Science and Technology Centre (known as Questacon), for its interactive experiments and hands-on exhibits.
Sport-loving families can go on a behind-the-scenes guided tour of the Australian Institute of Sport (AIS), or make the walk up to One Tree Hill lookout. Families with older kids might even tackle the steeper track to summit Mount Ainslie. Rent a bike to pedal around the banks of Lake Burley Griffin, or head out onto the water in a hired kayak or canoe.
Must-try family activities in Canberra
:
National Arboretum

Capital Region Farmers Market and Old Bus Depot Markets

Cockington Green Gardens

Mount Stromlo Observatory

Canberra Deep Space Communication Complex
Family-friendly things to do in Canberra
:
Time

your trip to Canberra

to coincide with arts and culture festivals. The Enlighten Festival, which usually takes place from the end of February to mid-March, is an annual celebration of the arts that sees outdoor light installations and projections go up all over the city. Another key Canberra festival is Floriade, which happens every year sometime in September or October.

Visit Canberra in winter and you might see some snow. The Australian capital is one of the only major cities in the country where this happens!

Despite being a planned city just over 100 years old, public transport connections in Canberra are pretty underwhelming. By far the most convenient way to get around is by car — so consider

hiring a car for your stay in Canberra

. A set of four wheels is especially useful if you want to visit any of the wineries located on the city fringe.

The city often becomes a ghost town in January when local families and university students go on their own holidays. Many cafes and restaurants are also closed for the holiday break, so eating out options can become limited.
Embark on a City to Surf Adventure in Sydney, New South Wales
There's a reason (actually, there are a lot of reasons) why Sydney is one of Australia's most popular holiday destinations. The harbourside city is a magnet for all sorts of holiday-goers — including families. No matter what your family is into, there is a bounty of family-friendly activities in Sydney to make them happy. Seriously, Sydney has so much to offer.
Have a day out to see the furry, scaly, creepy and wet residents at Taronga Zoo, or get your thrills from the roller coasters and rides at the iconic Luna Park. Make a scenic ferry trip across the harbour to Manly, and join the sand-seeking crowds at the famous strip of Bondi Beach. Swan about in the leafy northern suburbs and go past the Prime Minister's house in Kirribilli. People-watch at The Rocks, or take a stroll around Hyde Park and St Mary's Cathedral.
Let the kids splash around on warm afternoons with an ice cream at the Darling Quarter Playground, or take a break indoors from Sydney's humidity at The Powerhouse Museum. Show the kids some old-fashioned fancy shopping in the Strand Arcade, and watch some live street performers at Pitt Street Mall. Follow the Convict Trail on Cockatoo Island, or simply settle in with a picnic in the Royal Botanic Garden.
Family-friendly things to do in Sydney
:
Chinese Gardens of Friendship

Sydney Tower

Bronte Bogey Hole

Shelly Beach Rock Pool

Sydney Park

Art Gallery of New South Wales

Sydney Observatory

Justice and Police Museum
Other tips for travelling to Sydney:
Bondi is a popular area for families making the

trip to Sydney

, but it can also be very expensive — not to mention the sand is packed with a mix of rowdy locals and tourists. Some good beach alternatives to stay at are Manly, Coogee and Watsons Bay.

Getting around in Sydney

is easy, as the city has a good network of public transport — all you'll each need is an Opal card or a multi-day pass to catch the train, bus, ferry or tram. Much of the CBD and inner-city suburbs are walkable though, and there are plenty of parks and places to rest when young feet become worn out.

The minimum age of the Sydney Bridge Climb is 8 years, and children must be taller than 1.2 metres.

Some of the best times to visit Sydney are between September to November and then March to May. During these months, you'll be able to enjoy warm weather perfect for getting around outside, without all the crowds or boiling temperatures that the peak summer season brings.
Experience Raw Australia in Darwin, Northern Territory
Move north to Australia's Top End and to Darwin, the capital of the Northern Territory. This city has grown a lot in the last 10 years, but still boasts unique natural beauty, fascinating history, and experiences not found elsewhere in Australia.
Coming face-to-face with some of Northern Territory's most infamous scaly residents is a popular activity, and families can seek out encounters with both saltwater and freshwater crocs at Crocodylus Park (a 15-minute drive out of the city) or at Crocosaurus Cove. For another watery wildlife activity in the NT, head to Doctors Gully at high tide to hand-feed shoals of mullet, barramundi and moonfish — stingrays have even been known to take part in the feeding activities.
Don't venture to the Top End without experiencing its most iconic landscapes. From Darwin, it is only a 90-minute drive to Litchfield National Park, or just under three hours by car to Kakadu National Park. Cruise along the Mary River to see its billabongs and wetlands, or take a sunset sail around Darwin Harbour.
Family-friendly things to do in Darwin
:
The Museum and Art Gallery of the Northern Territory

Mindil Beach Sunset Markets

Deckchair Cinema

Darwin Military Museum

Tiwi Islands

George Brown Darwin Botanic Gardens

Wave Lagoon
Other tips for travelling to Darwin:
Darwin is almost always one thing: hot. That said, it has a distinct wet and a dry season, and the dry season is definitely the best time to visit. It starts in April/May and ends in September/October. These months see lower humidity and minimal rainfall but are also the most popular (and expensive) times to visit Darwin. A holiday during the dry season is also best if you want to visit the national parks, as there is a risk of flash-flooding in the wet season.

As with any excursion into rugged landscapes, always be sure to let someone know where you are going and when you expect to return if you are planning on making any day trips out to more remote locations.

Always be respectful of Indigenous Australian culture, sites, traditions and landmarks when visiting. Assume all natural formations and places are sacred and precious — they may be even if they are not clearly marked.

Do not attempt to climb Uluru.

Uluru is a sacred site for the Traditional owners of the land, the Anangu People, and should be treated with the same respect as any religious site or place of worship.
Uncover the Best Art & Culture in Melbourne, Victoria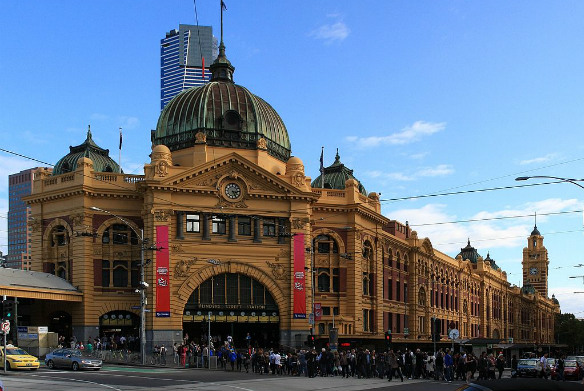 Make the trip to Melbourne, Australia's cultural capital. In addition to a great arts and food scene, it's also been listed as one of the world's most liveable cities multiple times. This is thanks, in large part, to the near-overwhelming line-up of excellent restaurants and cafes, entertainment precincts, festivals and events that Melbourne has to offer.
Snap up cheap last-minute tickets to a show at one of Melbourne's great theatres, or wander through the art and history exhibits at the National Gallery of Victoria or Melbourne Museum. Amble through the city's maze of alleys and laneways, see the penguins at St Kilda Beach, or take a day trip to the Great Ocean Road, the Yarra Valley, or the Victorian Goldfields.
If your little ones love sports, check to see what is on at the legendary Melbourne Cricket Ground (MCG), or time your family holiday to Melbourne to coincide with the Australian Open, F1 Grand Prix, or Melbourne Cup Carnival.
Family-friendly things to do in Melbourne
:
Royal Botanic Gardens Melbourne

The Australian Centre for the Moving Image (ACMI)

Werribee Open Range Zoo

Polly Woodside

Scienceworks

Luna Park

Puffing Billy

Ian Potter Children's Garden
Other tips for travelling to Melbourne:
Come prepared for all weather conditions. Melburnians really love saying that their city experiences all four seasons in one day, meaning the weather can easily turn from brilliant sunshine in the morning, to stormy before lunch, cold and windy after midday, then warm again in the afternoon.

Take advantage of the City Circle Tram and the Free Tram Zone in the Melbourne CBD to get around.

One of Melbourne's best family-friendly events is Moomba, usually happening in early March. Moomba is Australia's biggest free community festival and takes over the city for a weekend, with parades, carnival rides, fireworks, kids' activities and more.
Go Snorkelling & Diving in Cairns, Queensland
Cairns is only a stone's throw from the wonders of the Great Barrier Reef, the world's largest coral reef. The city is one of the gateways into Far North Queensland and to the ancient Daintree Rainforest.
There is plenty to do in Cairns: wow the kids as you soar over the lush tree canopy with a ride on the Skyrail Rainforest Cableway, or stay closer to terra firma with a trip on the Kuranda Scenic Railway. Feel the sand beneath your toes with a barefoot stroll along the beach at Palm Cove, or make the drive slightly north to the laid back town of Port Douglas.
Of course, one of the major drawcards of Cairn — no matter who you're travelling with — is the Great Barrier Reef. A handful of operators depart out of Cairns, offering everything from snorkelling and diving trips to excursions in glass-bottom boats and even seaplane journeys. Miss Frizzle wishes she could channel this level of learning-by-visiting.
Family-friendly things to do in Cairns
:
Babinda Boulders

Mossman Gorge

Cape Tribulation

Rainforestation Nature Park

Cairns Lagoon

Cairns Botanical Gardens

Tjapukai Aboriginal Cultural Park
Other tips for travelling to Cairns:
The best time to

take a holiday in Cairns

is between April to September, which is the warm, dry season. Another good time to visit Cairns is just after the end of the wet season, in February and March.

Take care if swimming in the waters off Cairns between November and May as there is an increased risk of stingers.

Having a car is the best way to reach places like Port Douglas, Cape Tribulation and Palm Cove from Cairns, as public transport options are limited.

Cairns has a great night scene, with many shops and restaurants staying open later than other cities along the east coast.
Discover the Farm Life in Adelaide, South Australia
Adelaide may have a reputation as an in-the-shadows small town city when compared to some of its interstate counterparts, but South Australia's City of Churches is teeming with attractions and activities for families to take advantage of.
Sweet tooths (teeth?) young and old will delight in a trip to the Haigh's Chocolate Factory for a tour through confectionary heaven. Fill a picnic hamper with favourite treats from vendors at Central Market and throw down a blanket on a patch of lawn at Adelaide Botanic Garden. The gardens are also home to the Little Sprouts Kitchen Garden, which aims to educate kids about where their food comes from.
Have an afternoon in Glenelg, soaking up the sunshine with a barefoot walk along the beach, or hopping between the waterslides and rides of The Beachouse — an amusement park on the foreshore. Pop in to say hello to the pandas that call Adelaide Zoo home, or test your head for heights by navigating one of the courses at TreeClimb in Kurrangga Park. Take the thrills to the next level at Mega Adventure, or plan a night out to the Observatory to learn about the constellations.
Family-friendly things to do in Adelaide
:
Farm Barn

Strawberry picking at Beerenberg Farm

Rent a BBQ Buoy

Cleland Wildlife Park

Woodhouse Activity Centre
Other tips for travelling to Adelaide:
If you're thinking of

flying to Adelaide

, the centre of the city is great for walking and most places can be reached on foot. However, if you'd like to day trip to other nearby parts of South Australia — like Victor Harbor or the Barossa — then

renting a car

is definitely the way to go.

Adelaide has a Mediterranean climate, so the summers can be scorchers. October and November are two of the best times to visit Adelaide on a family holiday, especially if you want to avoid the peak summer heat. Be sure to pack plenty of SPF!

There are some free bike rental services operating throughout the city if you and your troop want to use pedal power to get around.
Wander Through Markets in Hobart, Tasmania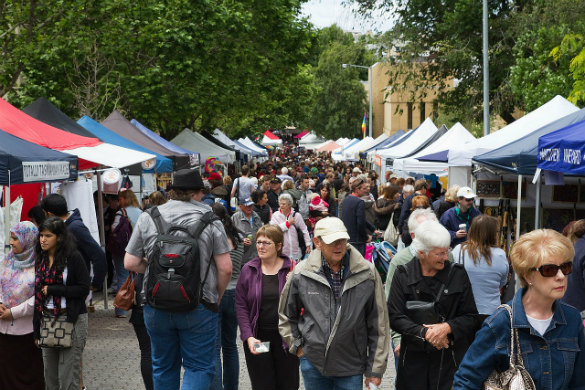 Hobart is remarkably abundant in both heritage and culture, and the Tasmanian capital should be on the radar of anyone visiting the Apple Isle. The beauty of Hobart is that it's relatively compact, meaning it can be explored largely on foot – without wearing out the littlest of legs too much. A Hobart weekend institution is the iconic Salamanca Market. This outdoor sprawl has more than 300 stalls offering oven-fresh baked goods, crafts, jewellery and knick-knacks, plus there is a regular rotation of live music and activities. Pick up a serving of fresh-cooked fish and chips from one of the outlets along the Hobart harbourfront to savour a casual lunch or dinner by the water, or get creative with a visit to The Museum of Old and New Art (MONA) – just be sure to look up some exhibits ahead of time, as not all displays are suitable for younger kids. Hobart also makes a great launchpad for some day trips out of the city, including to Port Arthur, one of Australia's best-preserved convict sites; Bruny Island, a haven for all things gourmet and food; and the Hastings Cave Reserve, which also has hot springs and a café offering picnic hampers and barbecue packs.
More things to do in Hobart:
Fruit or berry picking
Bonorong Wildlife Sanctuary
Tasmanian Museum and Art Gallery
Mawsons Hut Replica Museum
Mt Field National Park
Other tips for travelling to Hobart:
While it is easy enough to get around Hobart on foot, heading out on day trips and to neighbouring regions really requires four wheels
One of the best times to visit Hobart is in the autumn, when summer crowds are beginning to dwindle yet you can still experience temperatures warm enough for outdoor excursions and sightseeing
Go West and Hang with the Quokkas in Perth, Western Australia
Travelling to Perth is rarely a quick trip — it's one of the most remote state capitals in the world (Bali is closer in some parts of the east coast!) — but making the trip out west brings with it an abundance of rewards. Perth offers the chance to see unique wildlife, spend days hanging out on clean white-sand beaches, and visit the sprawling parks made for lawn games and lazy afternoon picnics.
One of the best places to start is a popular destination that, geographically speaking, isn't even in the city itself. Travel to Rottnest Island thanks to one of the local ferry operators and take the day to paddle in secluded bays, putt your way around a mini-golf course, and snap that all-important family selfie with a smiling quokka.
Enjoy more time by the water by casting a line from a point around Hillarys Boat Harbour, or gaze up overhead as you walk through the underwater Shipwreck Coast tunnel at the Aquarium of Western Australian to see turtles, stingrays and sharks. Kings Park is another great family day out, with playgrounds for kids to scramble over, bike paths to cycle along, a treetop walk, and the DNA tower to climb.
Get interactive with the displays at Scitech, or learn about the state's gold history at The Perth Mint. Cast a line from one of the points around Hillarys Boat Harbour, or choose to look in at the habitats at AQWA. Travel down to Fremantle to see the historic Fremantle Prison or browse through Fremantle Markets. Then embrace nostalgia by catching a film at the Galaxy Drive-In in Kingsley.
Family-friendly things to do in Perth:
Bibra Lake Regional Playground

Perth Zoo

Gwelup Secret Garden

Western Australian Maritime Museum

Art Gallery of Western Australia
Other tips for travelling to Perth:
Perth's beaches are definitely one of the city's top attractions. No matter which sandy stretch you visit, always be sure to check to see if it is patrolled and then swim between the red and yellow flags.

The distance between Perth and other major Australian cities can slightly increase the cost of visiting the WA capital. Eating out can become expensive, so families planning on an extended visit may want to book accommodation with cooking facilities.

Make use of the free bus (the CAT service) to get around the centre of Perth and Fremantle.

Plan a visit to Perth during the springtime if you want to be in the city to see the local wildflowers in bloom.
Did one of our top 10 family holiday destinations in Australia catch your attention? Start planning your trip today: book your flights and accommodation with Webjet!