Looking for cheap things to do in Sydney, but consider yourself a bit of a night owl and prefer venturing out after dark? Never fear, because although Sydney has a reputation for being slightly heavier-hitting on the wallet, there are things to do in Sydney at night that won't leave you feeling to much out of pocket.
Head out into the Harbour City under the cover of darkness to see what cool, quirky and fun things are on offer, including those activities that are budget-friendly AND even some that are totally free.
From getting up-close with the fairy penguins of Manly Wharf or tucking into plates at the ever-popular Night Noodle Markets, to late-night art shows and the bright lights of Luna Park, you might be surprised to discover what's on offer when the sun goes down.
Walk Across the Sydney Harbour Bridge
A wander across the Sydney Harbour Bridge is a rite of passage for any visitor to the city – especially first-timers – but why not ditch the daylight walk in favour of a moonlit stroll? Equally gorgeous at night, you'll be treated to stunning views of Sydney's sparkly skyline, the flashing neon of Luna Park and the twinkle of boats bobbing in the harbour. Pedestrian access to the bridge is via The Rocks on the southern side or north at Milsons Point, and at just over one kilometre in length it should take only 15 to 30 minutes to cross from one end to the other. Although with so many incredible photo ops along the way, don't be surprised if getting across takes a whole lot longer than you originally expected.
Visit Luna Park
Speaking of Luna Park, why not pay the iconic amusement park a visit once you've finished your walk across the Sydney Harbour Bridge. After all, it's located right at Milsons Point, and entry is free! That's right, it costs absolutely nothing to walk through the iconic toothy-smile entrance and have a look around. While you do need to pay to go on any of the rides (unlimited ride passes cost $57 for adults), there's still plenty of things to keep you entertained if you don't want to shell out too much for your thrills – think roving entertainers, historic carnival decorations, light-up signs and sideshow games. Luna Park is open late, to 10pm, during summer, and if you're looking for some old-school fun, it's definitely one of the coolest things to see in Sydney at night.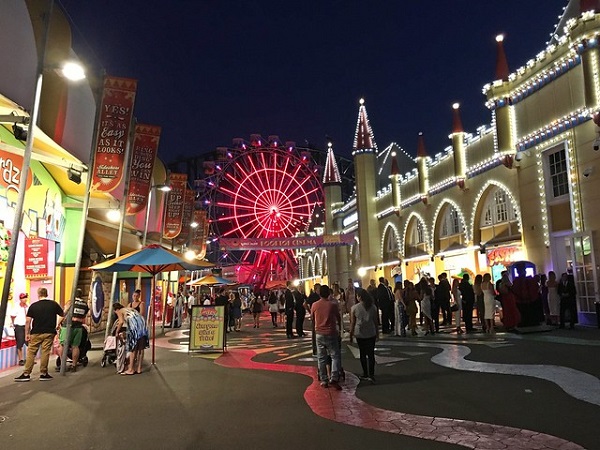 See the Fairy Penguins at Manly Wharf
If you thought it was only Victoria that was lucky enough to play host to a bunch of adorable fairy penguins, then think again. Over on the Northern Beaches, Manly Wharf is actually home to the only mainland breeding colony in New South Wales. While the population once peaked in the hundreds, there are now just 60 breeding pairs left and they are classed as an endangered species. If you want to catch a glimpse of these very special residents, pop down at twilight between July and February to catch them coming home to nest after a long day of foraging and fishing in Sydney Harbour. As far as free Sydney attractions go, this is definitely up there as the cutest!
Check Out Art After Hours at the Art Gallery of NSW
Lovers of art, history and film rejoice, because you can now get your all-important culture fix on a Wednesday evening at the Art Gallery of NSW. And, you guessed it – it's free to attend! That's right, as part of the weekly Art After Hours event, the Art Gallery of NSW keeps its doors open late, offering even more people the opportunity to wander through its hallowed, portrait-filled corridors. All permanent and visiting exhibitions are open to the public, and the gallery runs a rotating roster of lectures, live music, workshops, guided tours, screenings and even celebrity talks. Open until 10pm, there's truly something for everyone to enjoy, and definitely ranks as a nice change in pace for fun mid-week activities in Sydney.
North Head Lookout
Aside from the Sydney Harbour Bridge (which you've already conquered), one of the city's best vantage points is North Head Lookout. Part of
Murramarang National Park, it's just a five-minute drive from Manly and offers incredible panoramic views of the Sydney cityscape, Manly Cove and across to South Head. There's a scenic one-kilometre walking track that weaves through the surrounding bushland, and if you happen to be visiting between June and July or August and October, it's the perfect platform for whale watching. Another option is to pack a picnic and head up to North Head for an amazing sunset-viewing session. Here, you'll have uninterrupted front-row seats as golden hour descends upon the city and the stars begin to blanket the sky. You'll want to bring your camera along for this excursion.
Fireworks at Darling Harbour
When it comes to free activities in Sydney, the Darling Harbour fireworks are a long-time family favourite. Held every Saturday night at 8.30pm, the spectacular display lights up the entire precinct in an explosion of colour that lasts roughly 10 minutes. The best viewing spots are Cockle Bay, anywhere close to the water's edge, or at one of the harbourside restaurants. Our tip? Book a waterfront table for dinner (some of the best restaurants open late in Sydney are located at Darling Harbour) and settle in for a dazzling extravaganza that will leave the whole family mesmerised. It's also worth noting that the fireworks go ahead rain, hail or shine, so if it's looking like a wet evening don't be put off – rumour has it that it's even more breathtaking when the weather gets a bit wild.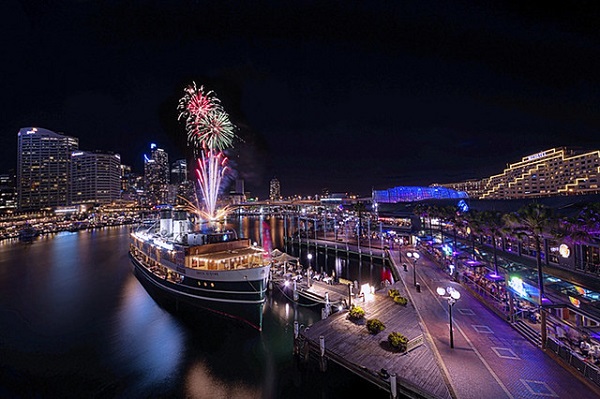 Night Noodle Markets
One of Sydney's favourite foodie extravaganzas is back, with the Night Noodle Markets returning in October 2019. The festivities will be held in Hyde Park, and hungry market-goers can expect to see stallholders along the likes of Hoy Pinoy, Johnny Bird and Flyover Fritterie, while perennial favourites Wonderbao (their roast pork belly bao are legendary) are also expected to attend. For the dessert fiends, the legendary team at Gelato Messina are almost guaranteed to be there with some kind of ridiculously good sweet treat. Entry is free, but you will need your credit card on hand to purchase food as the markets are an entirely cashless event. One of the best cheap things to do in Sydney at night? You bet. And the tastiest? Absolutely.
Go On a Walking Tour of The Rocks
What's better than wandering the cobblestone laneways of The Rocks, learning about its convict past, uncovering gruesome secrets of murders and muggings, and visiting Sydney's oldest pubs and breweries? Doing it at night! On a free walking tour of the historic Rocks precinct with I'm Free Tours, you'll discover all this and more as the sun sets around you. There's just something extra eerie about hearing stories of some of Australia's most notorious crimes with only a street lamp lighting your way. Kicking off at 6pm, the tours last 90 minutes and won't cost you a cent. Plus, The Rocks is home to a few of the coolest bars open late in Sydney, so your night doesn't have to end once the tour is over.
Hero image: Sydney. Credit: Jacob Surland | CC BY-NC-ND 2.0