Australians love travelling to Bali — especially its world-renowned beach clubs. In Seminyak alone, you'll find the popular Ku De Ta, Finn's, Potato Head, and Mrs Sippy, as well as the new beach club, Café Del Mar, in nearby Canggu.
While these clubs are packed with sun-seeking revellers, DJs spinning tunes and cocktails galore, if you're travelling with younger ones in tow, don't think it means you'll need to give these hotspots a miss. Many beach clubs have kid-free zones, which is great if you're seeking some adult time to have an adults-only Bali detox holiday, but don't let the kid-free status of a few deter you.
Finding a family-friendly beach club the whole clan will love isn't as tricky as you might think. So, forgo the kitschy theme parks in favour of lazy hours at these crowd-pleasing haunts. And if you have a late evening flight, these clubs are even a great way to spend your day before leaving. If it's your first time travelling to Bali, don't fret; this beginner's guide to Bali holidays has everything you need to know about this island paradise before your departing flight even leaves the tarmac.
From Ubud to Ungusan, Seminyak to Canggu, there are many kid-friendly beach clubs around Bali. Offering top-notch service, shallow pools, kid-friendly food menus and adult-friendly cocktail lists, these beach clubs in Bali are the perfect spot for your little ones to burn off their energy (and for you to get some back)!
Bali's Best Family-Friendly Beach Clubs
Ku De Ta, Seminyak
An oldie but a goodie, Ku De Ta is popular on Sundays when it transforms into a children's circus-themed wonderland. Think bouncing castles with sandcastles and big top-style tents with kids' activities galore. Parents can kick back while the kids indulge in all the fun. Parents will also be able to cater to fussy palates thanks to speciality menus designed for little ones.
You'll find Ku De Ta on Petitenget Beach just off Seminyak's famous Eat Street. It's certainly the spot where there's something for everyone. Family Sundays run from 9 AM to 3 PM but get there before 11 AM to snag a prime spot by the pool.
Potato Head Beach Club, Seminyak
Potato Head Beach Club is another popular Seminyak spot during the day where little ones can splash about in the baby pool, and the shallow end of the larger pool is great for children too. Here you'll also find a large grassed area with retro patio-style furniture where kids can run amok, and plenty of daybeds for adults to relax while keeping an eye on the little ones (and sipping on a refreshing beverage).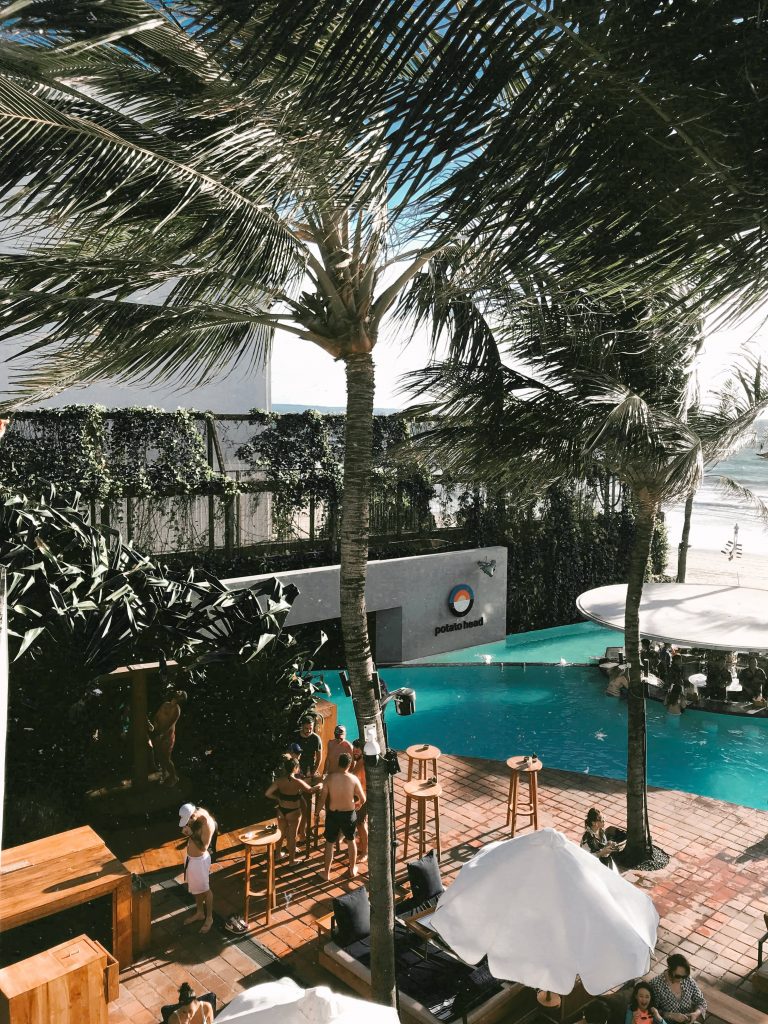 Mrs Sippy, Seminyak
Family-friendly Mrs Sippy does have an entrance fee (about $10 per adult) but it's close to everything in Seminyak and offers a bit of everything for all ages. The 800-metre saltwater pool is complete with 1-metre, 3-metre and 5-metre diving platforms at the far end that kids won't get enough of. With kid-friendly menus and plenty of pool kits to float and frolic with, this one is a great spot to get in early and spend a full day relaxing.
La Brisa, Canggu
A family favourite, La Brisa is the bohemian hotspot of Canggu and is one of the few Bali beach clubs with no minimum spend or entrance fee. Get in quick on a morning to nab a spot and enjoy the facilities before the beach club starts to get crowded; they even offer a breakfast menu to cater to early birds, with fresh options to start the day off on the right note. La Brisa has a shallow kid-friendly splash pool and a playground with loads of palm trees providing plenty of shaded areas.
Panama Kitchen & Pool, Canggu
Also in Canggu, Panama Kitchen & Pool might not be as flashy as some of the other family-friendly Bali beach clubs, but its stylish and laid back atmosphere is the perfect spot for troops to enjoy a low-key pool day. It's set away from the beach, but what it lacks in sandy views it makes up for in kid-friendly access.
The pool includes a shallow section with a railing and plenty of floaties to keep the kids entertained. The menu includes several kid-friendly options (including a Smores Kidzadilla your little ones won't be able to resist) and, for a unique family meal, you can book a Panama Pool Brunch.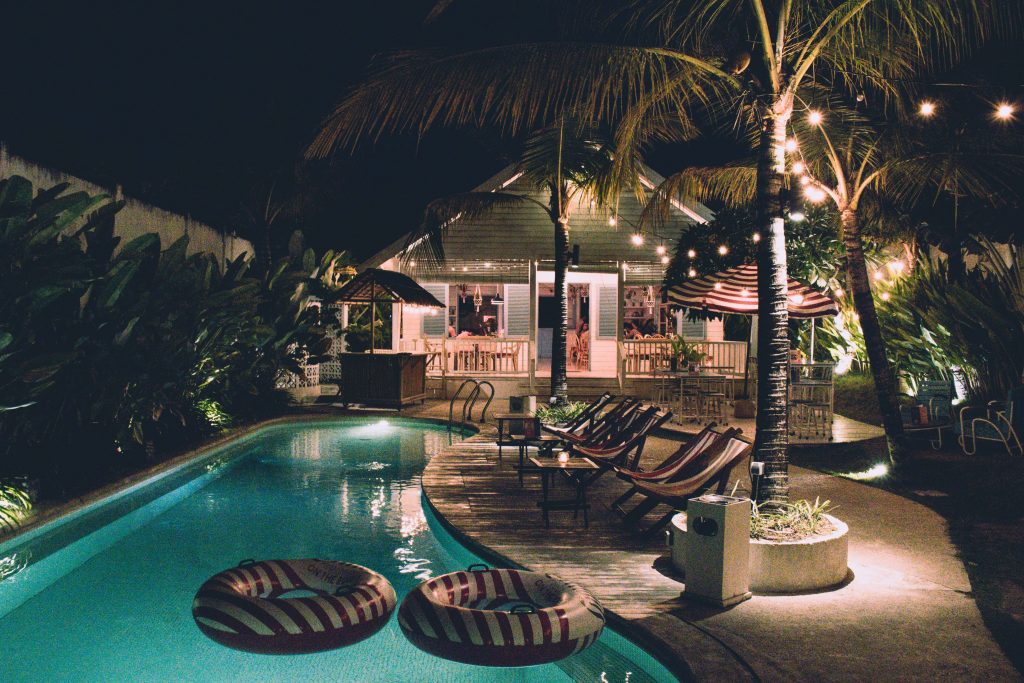 Flamingo Bali Family Beach Club, Gianyar
The little pink paradise of the Flamingo Bali Family Beach Club is a wonderland for kids. This beach club, located in Saba village, provides a vibrant backdrop for families with a playground surrounded by plenty of seating for parents. A children's pool and a kid-friendly menu are available, as well as an adult pool. The child-focused activities here take place on weekends and can include anything from painting to crafts, kite-making and more.
Open Friday to Sunday, the beach club has an entry fee of around $10 for adults and $7 for kids. When planning your day at the Flaming Bali Family Beach Club, just remember that kids aren't allowed in the pool after 6 PM!
Jungle Fish, Ubud
You won't find a beach at this beach club, but Jungle Fish — just a short distance from Ubud, is known as one of the best non-beach beach clubs. Its gorgeous pool (named one of the world's most beautiful by Vogue) is perched over the Osh River Valley amongst jungle surrounds. The club is laid back, entrance is free, and there's no minimum spend, so you'll get access to the pools, showers, lounge and dining areas as well as an unforgettable view at no cost. It opens from 9 AM, so get in early as it's first-come, first-served.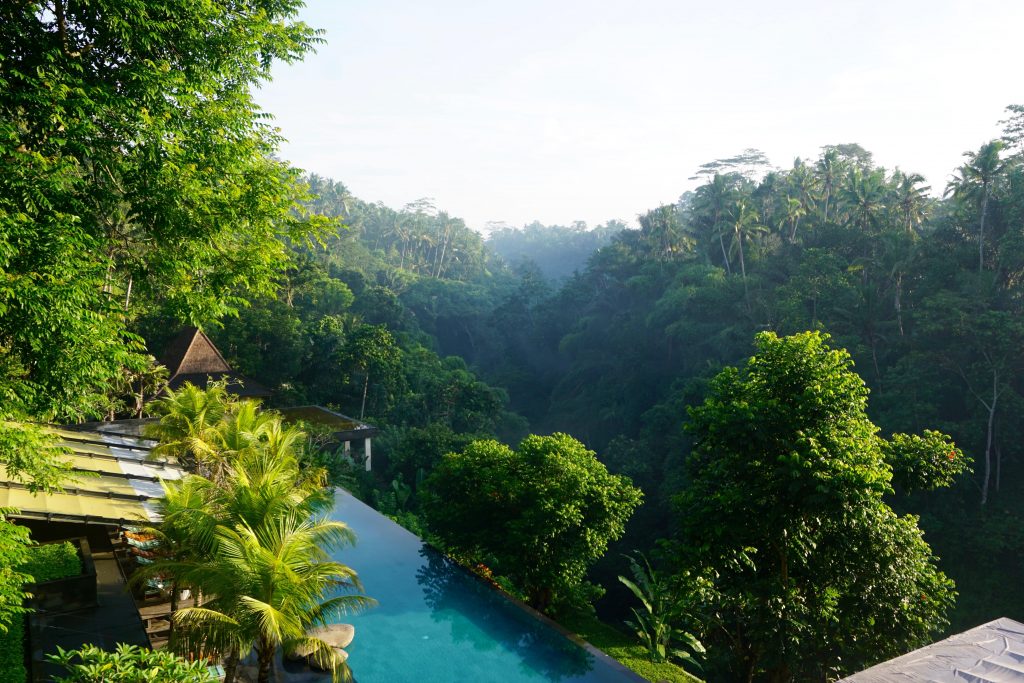 Artotel Beach Club, Sanur
Families in the know head to the relaxed neighbourhood of Sanur, which is quickly becoming one of Bali's best family-friendly destinations. As one of the best places to stay in Bali with kids, the Artotel Beach Club, in particular, is a winner. With generous lawn areas, a playground and a shallow children's pool (in addition to the adult one), this club, located just off the main drag of Jalan Danau Tamblingan, offers direct beach access as well.
The beach here is reef-protected, making the water calm enough for kids to swim and snorkel too. The club regularly hosts special events and additional kids activities, so check out their website and plan accordingly.
Karma Private Beach Club, Ungasan
Karma Private Beach Club isn't the cheapest of the beach clubs, but it certainly delivers. From screening kid-friendly movies on the beach on Monday nights to snorkelling, swimming, kayaking, stand up paddleboarding and a host of other beach activities on the private beach, you can't go wrong here. Oversized daybeds are the perfect spot to lounge or nap, and the views from the rooftop lounge are pretty spectacular. The award-winning 3 Monkeys Kid's Club is also a hit with the wee ones, with games and workshops that will keep them entertained for hours.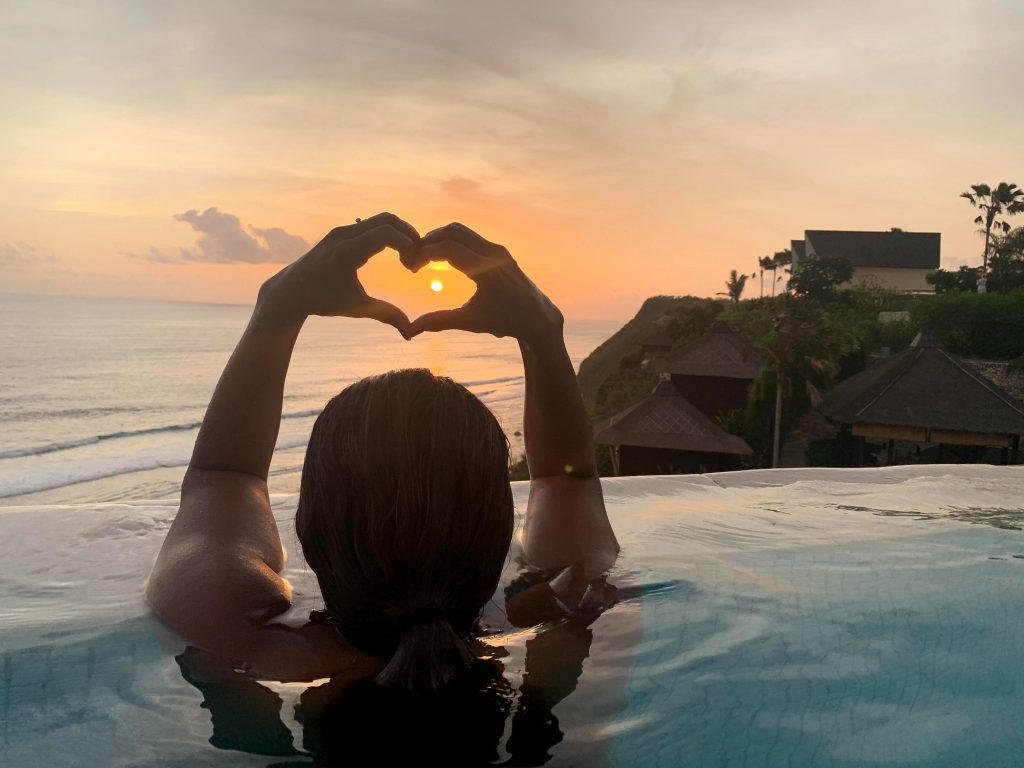 Sundays Beach Club, Ungasan
Also in Ungasan, Sundays Beach Club is located at the very tip-top of the Bukit Peninsula and taking the inclinator down to the beach alone will impress the kids. Admittedly, it's pretty special for adults too. Think clean white-sand beaches, gourmet food, beachfront massages and all the water sports you can handle. Much like Karma, it's not the cheapest of clubs, but it's definitely an all-day excursion because you won't want to miss the sunset bonfires here where kids (and kids at heart) can roast marshmallows on the beach.
Roosterfish Beach Club, Kuta
Open every day from 10 AM to 7 PM, Roosterfish Beach Club is part of the Renaissance Bali Uluwatu Resort & Spa, located on Pandawa Beach, in Kuta. Guests staying at the hotel can take the free shuttle, leaving every hour from the hotel reception, and access the club in just 10 minutes.
For some nibbles, the family-friendly menu of wood-fired pizzas and sweet desserts is a win all around. There's plenty of lawn space for games, floating beanbags in the pool, oversized daybeds to chill out and unwind, and a volleyball pitch if you're up for some friendly competition.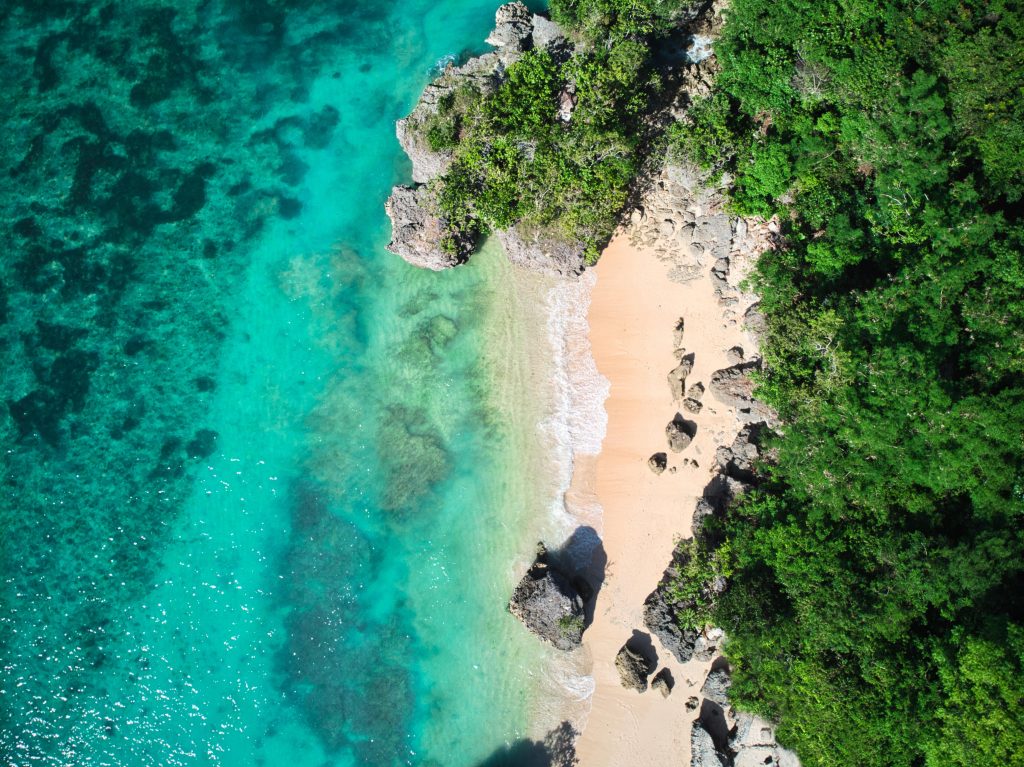 How do Bali beach clubs work?
Wondering what to wear to a beach club, which ones charge entry fees, or how the minimum spends work? Typically, there is no dress code for Bali's beach clubs; simply treat it like a day at the beach. Most beach clubs like Potato Head and Ku De Ta are free entry, but if you want to secure a daybed or private area, you'll have to pay a minimum spend. This fee also gives you access to bathrooms, changing rooms, towels and a selection of entertainment and food and beverage outlets.
A minimum spend usually also means putting a pre-loaded fee onto a tag or a bracelet that works as credit towards food and beverage. When you leave, any excess can be settled up before you go. It's a handy way not to fuss with cash on the day and ensures you a private and shaded area for your stay.
Pack up the kids and book cheap flights to Bali for the whole crew with Webjet, and enjoy a day or two at one of these family-friendly beach clubs. You can put some extra spending money in your hip pocket too, by snapping up a Webjet Bali holiday package – combining both your accommodation and your flight into one booking.
Hero image: Potato Head Beach Club. Credit: Dion Hinchcliffe | CC BY-SA 2.0