Last year's Easter getaways didn't quite go to plan, so there's no better time than now to start planning a redo. With four full days at your fingertips (or longer if you are maximising your annual leave and taking an extended trip), the options for your Easter break could be broken up into day excursions to several destinations, or dedicated to more time in just one place. This year, in particular, the Easter road trip looks set to more popular than ever. So wherever you are across the country, we've got an incredible regional getaway to suit your Easter holiday needs. Hop into the Easter road trip ideas below!
Easter Road Trips Within Victoria
Gippsland
If there's one place in Victoria that deserves a bit of love this Easter (not to mention our vital tourist dollars) it's Gippsland. Devastated by the 2020 summer bushfires, this vast region in the state's far east is making a comeback, and the rugged national parks, pristine beaches, intricate lake systems and rolling hills of farmland have never looked better. Highlights include the charming coastal townships of Lake Entrance and Mallacoota, while no trip is complete without a hike in Wilsons Promontory.
King Valley
Forget the Yarra Valley or Mornington Peninsula. When it comes to good wine and even better food, look no further than the King Valley. Tucked away in the foothills of the Alpine National Park, about a three-hour drive northeast of Melbourne, you'll find arguably the largest concentration of Italian wine varietals in the country (including the aptly-dubbed Prosecco Road!) and an incredible selection of award-winning restaurants, trattorias and tastings rooms.
Easter Road Trips Within New South Wales
Shoalhaven
According to TripAdvisor, Shoalhaven on the NSW South Coast just landed the number eight spot on its annual list of emerging destinations. This gorgeous region – which includes Jervis Bay, Mollymook, Berry and the Kangaroo Valley – has been flying under the travel radar for a while now, with those privy to its white-sand beaches, abundance of wildlife and wonderful walking trails doing a pretty good job of keeping it under wraps. Well, the secret's out now, which means this Easter is the perfect time to discover the beauty of Shoalhaven for yourself. Make the trip with the two-hour drive from Sydney.
Orange
In the mood for an epic foodie getaway served with a side of history this Easter? It doesn't get much better than Orange, located deep in the heart of country NSW. Get a feel for the gorgeous township by taking a stroll along the elegant, tree-lined streets as you follow the self-guided heritage trail, then relax at one of the many acclaimed restaurants with a glass of chardonnay (Orange is renowned for its cool climate wines) while sampling some of the local meats, cheeses and fruits.
Easter Road Trips Within Queensland
Stanthorpe
If you were after the quintessential Queensland getaway this Easter, this is probably not going to be it. Far removed from the golden shores of Surfers Paradise, Stanthorpe is a delightful rural hub in Queensland's Granite Belt that is best known for its distinct seasons (snow is not unheard of in winter), fresh produce and a burgeoning wine scene. The main drag is lined with antique shops and rustic-style bakeries, and if you venture out a bit further, Girraween and Sundown National Parks offer lovely mid-level hiking trails.
Bundaberg
So much more than just the birthplace of an iconic Aussie rum, Bundaberg may seem laid-back, but we guarantee it's full of surprises. Situated at the southernmost gateway to the Great Barrier Reef, there's a smorgasbord of marine creatures to see, including manta rays, migrating humpback whales and the largest congregation of nesting sea turtles on the east coast. Check out Fairymead House for an explainer on the area's sugarcane industry, and you can't leave without a tour (and tasting!) at the famous rum distillery.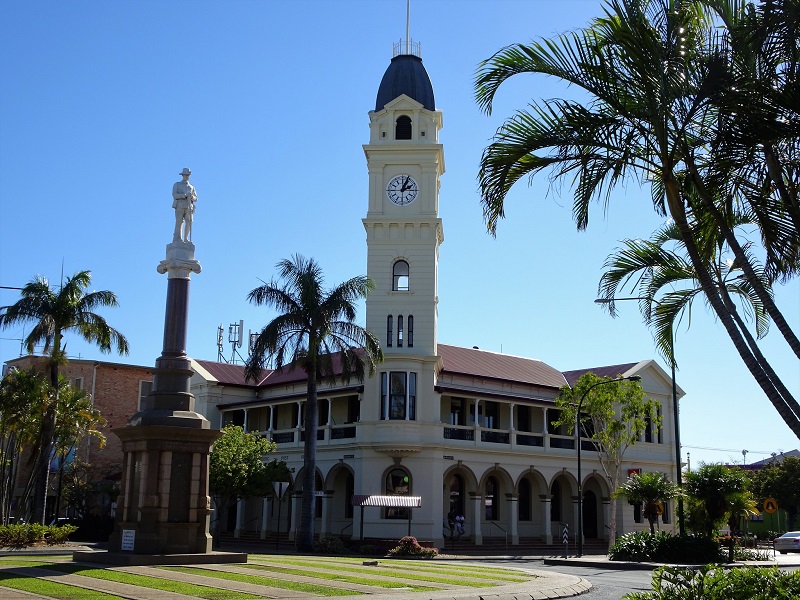 Easter Road Trips Within South Australia
Coffin Bay
Look up 'paradise ' in the dictionary and we're fairly certain you'll find a picture of Coffin Bay. Nestled at the southern tip of SA's Eyre Peninsula, this coastal wonderland truly has it all: great fishing, native bushland teeming with wildlife, secluded bays and water so brilliantly blue it needs to be seen to be believed. And then there are the oysters. Visit one of the local farms to discover how these divisive delicacies are bred, grown and harvested, before shucking and slurping as many as your heart desires.
Mount Gambier
To dismiss Mount Gambier as nothing more than a convenient pit stop on the road between Melbourne and Adelaide would be to do this vibrant town – SA's second-largest settlement – a great disservice. Overflowing with geological wonders, there's much to explore, including sinkholes (Umpherston and Kilsby are the most popular), crater lakes, volcanic rims and limestone cave systems. And when it's time to refuel, there's a plethora of cute cafes and cellar doors to choose from.
Easter Road Trips Within Western Australia
Dunsborough
When it comes to finding the ideal spot for an Easter getaway in WA, Dunsborough ticks all the right boxes. Located along the stunning shores of Geographe Bay, this quiet beach town combines relaxed vibes with great surf, a vibrant arts scene and breathtaking natural wonders. The Cape to Cape walk (between Cape Naturaliste Lighthouse and Cape Leeuwin Lighthouse) is a must-do, and keen divers won't want to miss exploring the HMAS Swan – one of the largest accessible wrecks in the Southern Hemisphere.
Kalgoorlie
Step back in time with a trip to Kalgoorlie, Australia's biggest Outback city and a bustling oasis in the red-dirt desert. Grand colonial buildings dominate the streetscape, and there are plenty of remnants and reminders from the city's gold rush-era days. Prepare to have your mind blown at the sheer size of the Super Pit (one of the world's largest open cut mines) and get your art fix at nearby Lake Ballard, which features 51 steel sculptures dotted across the saltpan.
Easter Road Trips Within Tasmania
Huon Valley
The bountiful Huon Valley begins just 40 minutes' drive out of Hobart and stretches right to the southernmost tip of the state. Across this lush, fertile land you'll discover a patchwork of farms and orchards, plus quaint country villages and snaking waterways. When you're not sampling the local organic cider or cheese from Australia's only dairy sheep, check out the epic Tahune Airwalk, hike through Hartz Mountains National Park or explore Hastings Caves and Thermal Springs.
Strahan
They don't call Strahan the epicentre of Tassie's wild west for nothing. Perched on the edge of the Franklin-Gordon Wild Rivers National Park, this historic fishing port is both notorious for its dark convict past and famed as the gateway to some of the state's most incredible wilderness areas. High on your to-do list should be a visit to Sarah Island, a former penal settlement in Macquarie Harbour, along with a cruise down the Gordon River deep into the region's untouched temperate rainforests.
Easter Road Trips Within Northern Territory
Alice Springs
Alice Springs has long been considered the spiritual heart of Australia, and surrounded by ancient mountain ranges, ochre-tinged desert and significant Indigenous landmarks, it's not hard to understand why. It may be small, but Alice packs a punch, playing host to a diverse line-up of festivals and events, while the Araluen Arts Centre is a fantastic cultural precinct housing many important Indigenous works. Alice is also the perfect springboard to explore Uluru, the West MacDonnell Ranges and Kings Canyon.
Katherine
Think of Katherine as the adventure capital of the Northern Territory. A three-hour drive from Darwin, the crowning jewel of this region is Nitmiluk National Park, home to Katherine Gorge. Here you can hike, canoe, go fishing for barramundi, take a refreshing dip at Leliyn Falls, cruise down the river or even enjoy a scenic flight. At Katherine Hot Springs you can ease your weary muscles, before visiting some of the town's local galleries housing pieces by the Jawoyn, Warlpiri and Dagoman people.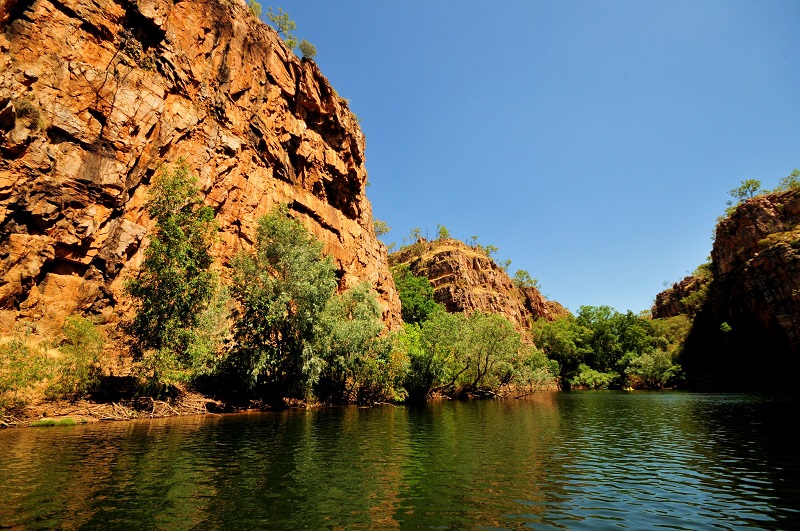 Haven't booked in your Easter travel plans yet? Get your Easter trip sorted with Webjet's incredible range of hotels, accommodation and holiday packages. Those in need of a set of wheels can also rent a car or motorhome. You can even explore things to do while you're away for the ultimate Easter itinerary!
Hero image: Strahan, Tasmania. Image: Steven Penton | CC BY 2.0