The grind of everyday life, especially in an age when we are glued to our iPhones at all hours, can be exhausting. The ultimate healing, rejuvenating cure is a health retreat to Bali for daily yoga and fresh, colourful, healthy food.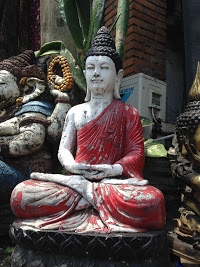 Far from needing to seek yoga and healthy food choices, these are ubiquitous in Bali. Particularly in the wellness mecca that is Ubud, you'll find yoga studios, plant-based cafes and restaurants and massage, traditional medicine and health stores in almost every street. The allure of taking a wellness holiday to Bali is that it's joyfully affordable to eat out at every meal, sign up for weeks of yoga, travel via taxi or scooter, and enjoy daily massage or pedicures and manicures. This is the life you wish you lead at home, within your budget.
Ubud is perhaps best known for being the yoga and healing destination Julia Roberts heads to in Eat Pray Love. While Ketut, the infamous traditional Balinese medicine healer, died years ago, his son carries on the family tradition. There are so many opportunities to explore wellness treatments that setting your goals on one place or person isn't necessary though.
When in Ubud, stroll to The Yoga Barn on your first day to sign up for one of their passes. The option you go for will depend on the length of your stay and how often you think you'll get to classes. Considering there's classes almost every hour from dawn to late, you'll hardly have to sacrifice all the other things to do in Bali in order to get to class daily. From a physically challenging, invigorating vinyasa class through to slow, mindful Yin, you'll find a diverse array of choices daily. Don't be shy to start up conversations with people at the on-site cafe (The Garden Kafe) to get their recommendations on which teachers and classes they've been to and love. Also try Radiantly Alive where you'll find barre and Pilates in addition to yoga.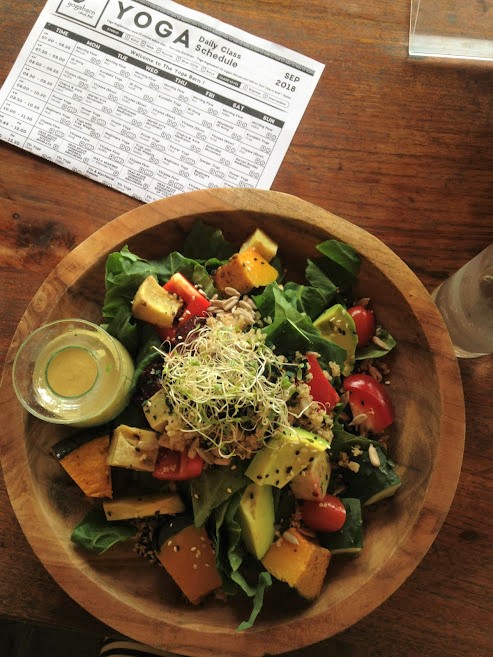 Whether you're vegan, vegetarian, raw-food or gluten intolerant – or whether you're none of these – there's a vast world of good food in Ubud. Kafe is beloved of international travellers. The organic red rice and lemon tahini sauce are worth the flight to Bali alone. Take advantage of the free WiFi to post photos of your lunch back to jealous friends and family.
Alchemy is a little further from the central hub of Ubud, but don't miss it for the sun-dried tomato pizza that is entirely plant-based. They also run regular courses on raw food, as does Sayuri Healing Food. Whether it's a short course to learn some recipes and preparation techniques, or whether you opt to qualify as a Raw Food Chef, getting involved in a group development course is a great way to really connect with Bali and to go home, armed with the skills and passion to continue eating, moving and living healthily.
Sayuri Healing Food offers full Raw Food Chef qualification courses, but equally, dropping in for their nourishing buddha bowls and smoothies is manna for the soul. It's a good 15-minute walk from The Yoga Barn, but this your opportunity to really build your appetite and take space between movement practice and the following meal. Sit alone with a few copies of the Sayuri Raw Food recipe books, or settle into a communal space and strike up conversation with whoever is around.
A major drawcard of Ubud, and Bali as a whole, is its magnetic appeal to international travellers seeking mind, body and spirit rejuvenation. Being reminded that it's a universal human desire to better our thinking, our health and our relationships is healing and uplifting in itself, well beyond the yoga classes and acai bowls.
You'll find there's year-round opportunities to gain qualifications as a yoga teacher through doing an intensive course, if you're considering this as a career or to deepen your studies. These are usually one month but can stretch to three or longer depending on whether they're offered part-time or offer more extensive certification. Luring international teachers, often with highly recognisable names, perhaps rather than purely holidaying, a change of career may be in the Balinese winds for you.
One spot not to miss in Ubud is Ganesha Bookstore. While it may look small and unassuming from outside, the range of secondhand books from yoga and spirituality through crime, fiction and non-fiction is impressive. Stock up for cafe and flight-reading material and to continue your spiritual adventuring long after you've arrived home again.

Ready to settle into child's pose? Book cheap flights to Bali with Webjet.