Switzerland is known the world over for a number of reasons: it boasts striking mountain ranges, is home to many world-class ski resorts, and was the goal destination for Maria and the Von Trapp family. Just as importantly though, Switzerland is a hot bed for incredible culinary delights. We're talking chocolate, fried foods and enough cheese to make any fromage fan feel slightly giddy. No wonder this small European country is near the top of every foodie's must-visit list.
But how does Zurich stack up? Located in the north of Switzerland, on the northern banks of Lake Zurich, Zurich is the largest city in the country. The city was founded by the Romans in 15BC, and today is one of the world's largest financial centres, despite its relatively small population. Zurich also boasts a reputation for being clean and efficient, and is consistently regarded as having one of the highest living standards world-wide.
We know what you're thinking: all of this is very fascinating, but what about the food? Well, you'll be pleased to learn that the Swiss cuisine in Zurich is some of the finest you'll find anywhere. The restaurants here deliver both traditional and modern dishes, providing you with ample opportunities to gorge yourself of some of Europe's tastiest fare. With that in mind, here is the pick of what to eat in Zurich. 
Cheese Fondue
Considering one of the stereotypical images that comes to mind when picturing Switzerland is of black and white cows scattered around the countryside, it's not altogether surprising that the country should be known for its extraordinary cheese. Fondue is perhaps the country's most famous dish, consisting of a medley of melted cheeses served bubbling over an open flame, typically with such ingredients as mushrooms, herbs, wine or garlic in the mix. The dish is always served with bread and is best when accompanied by a glass of local white wine. Today, fondue is inextricably linked with Switzerland, and you'll be hard pressed to find a better way to warm up in the chilly months.
It's impossible to single out the best cheese fondue in Zurich, but a few contenders include Le Dézaley, where the fondue is prepared according to an old family recipe; Chäsalp, where your meal is set against a backdrop of a gorgeous ancient stable; and Walliser Keller, which features an impressive eight types of fondue on the menu. Honestly though, you can't go wrong with fondue restaurants in Zurich.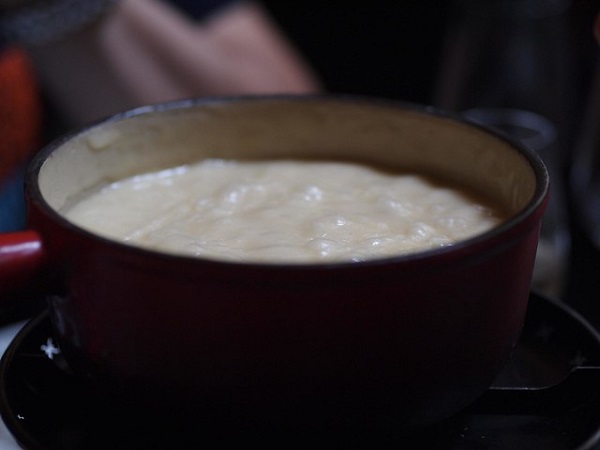 Rösti
Originating as a typical farmer's breakfast in Bern, Switzerland's capital, röstis can now be found and enjoyed the country over. Essentially a very fancy hashbrown, a rösti is made from grated potato that has been fried to golden-crisp perfection. Some places might mix in some bacon, onion, apple or, of course, cheese, to liven it up a bit. Röstis are typically eaten as a side dish, often replacing fries, but there's absolutely no reason not to enjoy these traditional delicacies on their own.
If you're looking to indulge in this Swiss staple, be sure to head along to Hiltl, one of the most famous restaurants in Zurich that holds the Guinness World Record for being the oldest continuously operated vegetarian restaurant in the world. Everything you eat here will knock your socks off, but their rösti is not to be missed.
Zürcher Geschnetzeltes
While we're on the subject of famous food in Zurich, another quintessentially Swiss dish is Zürcher Geschnetzeltes – only, this one isn't for vegetarians. Translating to "meat cut Zurich style", this dish is slices of veal cooked with cream, onions and wine and sometimes mushrooms. Typically, it's served alongside rice, noodles or your new favourite potato concoction, the rösti.
You have no shortage of options for where to eat this dish in Zurich. Just some of the options include the charming and old school restaurant Zeughauskeller; the luxurious Hotel Ambassador; and the legendary Kronenhalle, which was once frequented by such artists as Picasso and Chagall (who were known for paying their bills with pieces they'd created).
Zürcher Geschnetzeltes: hard to pronounce, delicious to eat.
Raclette
More cheese! This semi-hard cheese is usually served melted, a process that involves grilling over slowly over a fire, with the gooey sections sliced off to blanket a serving of boiled potatoes, onions and pickles. It can also be served with cold deli meats, other charcuterie bites and crudites. This dish is truly heaven.
Unsurprisingly, there are countless raclette restaurants in Zurich, with the smell of wood-burning fires and pine permeating the streets in the colder months as locals order up this hearty dish. It's impossible to pinpoint the best raclette in Zurich though, as a dish consisting of velvety melted cheese is impossible not to do well.
Chocolate
We can't talk about must-try food in Zurich and not mention arguably Switzerland's most famous sweet export: chocolate. While you'll be able to find exquisite chocolate anywhere you go in Switzerland, Zurich is a top contender for the best hot chocolate in the country. There is nothing better on a chilly day than to wander into a quaint old cafe, such as Conditorei Schober, and wrap your hands around a rich mug of hot chocolate.
You also can't leave Zurich without tasting a truffle. Some of the longest queues you'll find anywhere in the city will likely be out the front of a chocolate store. These bite-sized morsels have a high percentage of cocoa butter, which means the end result is incredibly creamy, rich and an absolute indulgence. If you're looking for where to eat in Zurich's Old Town, try Confiserie Honold: their truffles are exceptional.
Älplermagronen
Another cheese-centric dish you must try in Zurich is Älplermagronen, meaning "Alpine Farmers' Macaroni". A unique take on classic mac and cheese, Älplermagronen is created using those ingredients that farmers or herdsmen have ready access to in the Alpine pastures; specifically, pasta, cream, cheese, potatoes and onions. You might even find versions served with stewed apples, fried onion rings or bacon. Hearty and satisfying, this dish is as warming in winter as it is suitable for summer.
A final note on cheese: be sure to visit one of the local markets to pick up some wedges for a picnic in the countryside. Every Wednesday in Zurich, a fresh food market pops up in the main hall of the train station, selling all the bread, cheese and meat you'll need for a ploughman's lunch. Bürkliplatz is also wonderful to visit on market day, as this stunning, lakeside spot is transformed into a farmers' market selling all kinds of local delicacies.
Zopf
Considering how popular cheese is in Switzerland, it makes sense that another local speciality is bread. While there are plenty of options to try, zopf is one of the most iconic. Easily recognisable thanks to its signature braided look (its name actually means "braid"), zopf is made from milk, eggs, yeast and flour, and the dough is brushed with egg yolk before baking to ensure that the loaves emerge from the oven with a gleaming golden shine. If you're looking for tasty (and cheap) food in Zurich, you can't go past zopf. It is tradition to eat zopf on Sunday mornings, so swing past a local bakery while in Zurich to get involved with this local custom.
Bircherm?esli
What to order for breakfast is a no-brainer in Zurich; the city was the birthplace of bircher muesli. As the story goes, the dish of oats and fruit was invented by Dr Maximilian Bircher-Benner, a local doctor who saw the benefits of feeding such a nutritious breakfast to his patients. The rest of the country quickly caught on and you can now find it in almost every cafe throughout Switzerland.
If you're looking for a delicious, authentic and cheap breakfast in Zurich, muesli is a must.
Hero image: Cafe Schober in Zurich. Credit: syntart | CC BY 2.0