Ah Queenstown – the home of extreme sports, epic snowfields and … romance? That's right, if you know where to look, there's no shortage of romantic things to do in Queenstown, New Zealand.
From hot air balloon rides to heavenly hot tubs – and a whole lot of eating and drinking in between – this mind-blowingly gorgeous mountain town is an alluring haven for couples looking to take their love affair overseas and spend some quality time together.
So you know what to do: lock in your leave, book those flights and get set for one seriously special getaway – the sparks are guaranteed to fly.
Couples' Bungy Jump
What better way to strengthen the bond between you and your significant other than with a heart-racing experience? A Queenstown couples' bungy jump is just the thing for loved-up thrill seekers, and the best place to take the plunge is at New Zealand's original bungy site, Kawarau Bridge. Located 20 minutes' drive from Queenstown, tandem jumpers are required to throw themselves off the 43-metre-high bridge into the freezing turquoise waters below – the crazy things you do for love, right?! Our tip? Jump out rather than dive down and you won't get dunked in the river below. It may not be one of the most quintessentially romantic things to do in Queenstown, but it's the only place in the country where you can free-fall together, and it sure makes for an epic story!
Onsen Hot Pools
Ask any romance guru and they'll tell you one of the best things to do in Queenstown as a couple is to indulge in a session at the Onsen Hot Pools. Perched dramatically on the cliffs overlooking the Shotover River canyon, smitten duos can rent a private cedar Jacuzzi that come complete with retractable roof (for maximum exposure to the epic views), plus an exclusive changing area and shower. And if you really want to amp up the luxury, glasses of Queenstown's finest sparkling, along with a selection of mouth-watering snacks, are available to enjoy during your time in the hot tub. The Onsen Hot Pools are open late every night, so the hardest decision you'll have to make is whether to treat yourself to a daytime bathe, or enjoy a soak under the stars.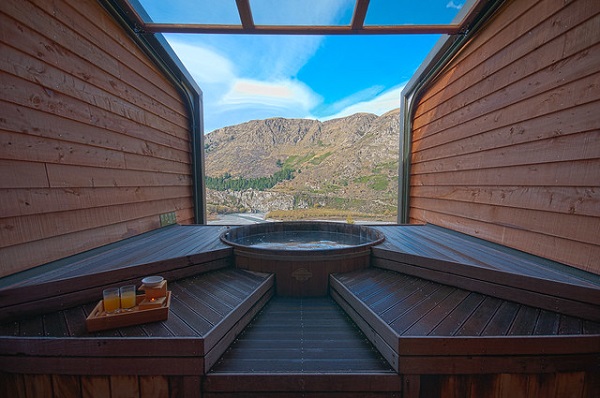 Skyline Gondola and Stratosfare Restaurant
Reach new heights with your love at one of the most romantic restaurants in Queenstown: Stratosfare. Located 450 metres above the city at the top of Bob's Peak, the only thing more stunning than the eatery is the journey to get there. Arrive at Stratosfare in style via the Skyline Gondola, the steepest cable car lift in the Southern Hemisphere. This glass-encased carriage offers panoramic views of Queenstown and its snow-capped surrounds, so be sure to jump aboard at twilight to catch an incredible sunset. And secure the best spot in the house by booking the Premium Dining option, which guarantees a window seat and free drink upon entry. And while it may be hard to take your eyes off the breathtaking scenery, Stratosfare's buffet-style menu (which includes antipasto, seafood and flame-grilled rotisserie fare) is equally enticing.
Queenstown Wineries
When it comes to essential ingredients for a successful Queenstown romantic getaway, good wine is usually pretty high up the list – and luckily, this particular part of New Zealand has plenty of it. Queenstown is actually considered the starting point of the Central Otago wine region, and there are more than 200 world-class wineries and vineyards within a 45-minute drive from the city centre. The number one tipple here is the pinot noir, which is especially flavoursome thanks to the unique climate, temperatures and soil conditions. For the ultimate day of cellar door hopping, it is best to organise a chauffeur-driven private car to whisk you from winery to winery.
Cruise Lake Wakatipu
No romantic weekend in Queenstown is complete without a cruise on Lake Wakatipu, and on the TSS Earnslaw you'll feel as though you've stepped back in time. This historic vessel, affectionately known as the 'Lady of the Lake', is brimming with old-world charm and has been ferrying passengers and freight across Lake Wakatipu since 1912. Cruises depart regularly during the day, and while on-board you'll have the chance to tour the bridge and coal-fuelled engine room, admire the picturesque views and even join in a sing-along with the steamship's resident pianist. There's also the option to stopover at Walter Peak High Country Farm (45 minutes' from Queenstown on the south-western shoreline), where you can explore the grounds, feed the animals and enjoy morning or afternoon tea by the lake.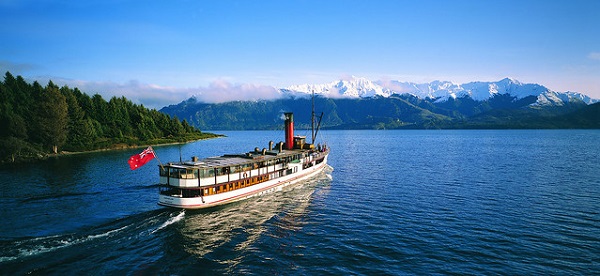 Hot Air Balloon Ride
Love is in the air (literally) when you take flight over Queenstown in a hot air balloon. Departing daily at dawn (weather permitting), you'll rise to an altitude of 6,000 feet – the perfect vantage point to admire Queenstown's ridiculously gorgeous scenery. As you drift peacefully through the clouds keep your eyes peeled for The Remarkables mountain range, the Southern Alps, Lake Wakatipu, the Shotover and Kawarau rivers and plenty of filming locations used in The Lord of the Rings and The Hobbit. And as if that wasn't romantic enough, once you've finished your one-hour balloon ride there's a champagne breakfast – which includes pastries, muffins, fresh fruit, cheese and crackers – waiting for you back on solid land. If that's not one of the cutest Queenstown couple activities ever, we don't know what is.
Patagonia Chocolates
Chocolate's an aphrodisiac, right? That means you need to pay a visit to arguably Queenstown's most delicious establishment, Patagonia Chocolates. This famous chocolaterie is heaven on earth for sweet tooths, with handcrafted treats, artisan ice cream, decadent desserts and even hot churros on offer. There are two locations in Queenstown (Rees Street and Beach Street on the waterfront), and there's nothing more delightful than scoring a window seat at the Beach Street venue, ordering a sweet something for two and watching the world go by. For an alternative option, Rees Street is open late, so when that post-dinner sugar craving hits, one of the most indulgent Queenstown things to do at night is to pop down to Patagonia Chocolates for a rich hot chocolate.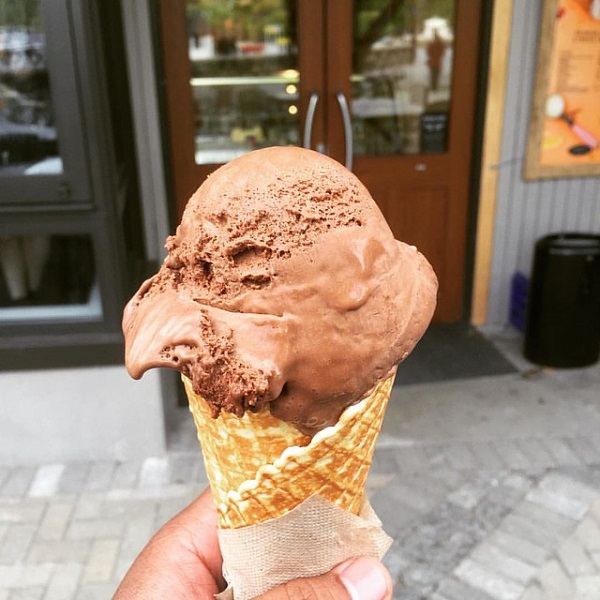 The Spa at Millbrook Resort
If you want to really spoil your loved one during your dreamy getaway to Queenstown, there are just two words for you: spa day. And the luxurious The Spa at Millbrook Resort just happens to be one of the best in the country (in fact, it's so good it was crowned New Zealand's Top Spa Resort by the World Travel Awards five years in a row). Just 15 minutes' from the heart of town, prepare to be pampered with a spa treatment menu that includes skin boosting facials, aroma stone therapy, deep cleansing body scrubs and detox wraps. Oh, they also happen to do the best couples massage in Queenstown. Get ready to leave feeling as though you're floating on air.
Ready to whisk your partner away for a loved-up getaway to Queenstown? Find cheap flights to Queenstown with Webjet, and also find the perfect Queenstown accommodation for your escape.
Hero: Queenstown. Credit: Sathish J | CC BY-NC-ND 2.0