Ahh Hawaii, the ultimate sun-soaked getaway — especially for Australians, who are looking forward to finally jetting across the Pacific for a bit of vitamin sea. But aside from cracking beaches and top-notch resorts, it's safe to say that there's plenty to see and do all across Hawaii's islands — especially O'ahu, the home to the famous city of Honolulu. If you've spent any time considering a visit, then let us help should you all the things to do on a holiday in O'ahu.
First things first: you're going to be spoiled for things to do, as long you just have to know where to look. To make things a little easier, we've put together this list of 9 things to do in O'ahu, Hawaii, on your next overseas holiday.
9 Things to Do in O'ahu, Hawaii
1. Hike Diamond Head Crater
O'ahu is a natural paradise for hikers, with plenty of challenging, scenic routes. The best one for the average holidaymaker to tackle? Diamond Head Crater, which looms dramatically over the southeast end of Waikiki Beach and was originally built as a part of the island's coastal defence system back in 1908. It's only a 2.6-kilometre round trip, which sounds easy enough, but it's also almost entirely uphill and the incline is steep, so prepare to work up a sweat. Make sure to wear your most comfortable walking shoes and remain on the marked hiking path to avoid any accidents, as in some areas the rocks might be loose and unstable. 

It's all worth it once you reach the summit of this extinct volcano though, with spectacular 360-degree views that extend across O'ahu's south shore, north to the mountains, west to Kapolei and east to Koko Head Crater. If you visit during the winter, you might even be able to spot humpback whales swimming in the ocean!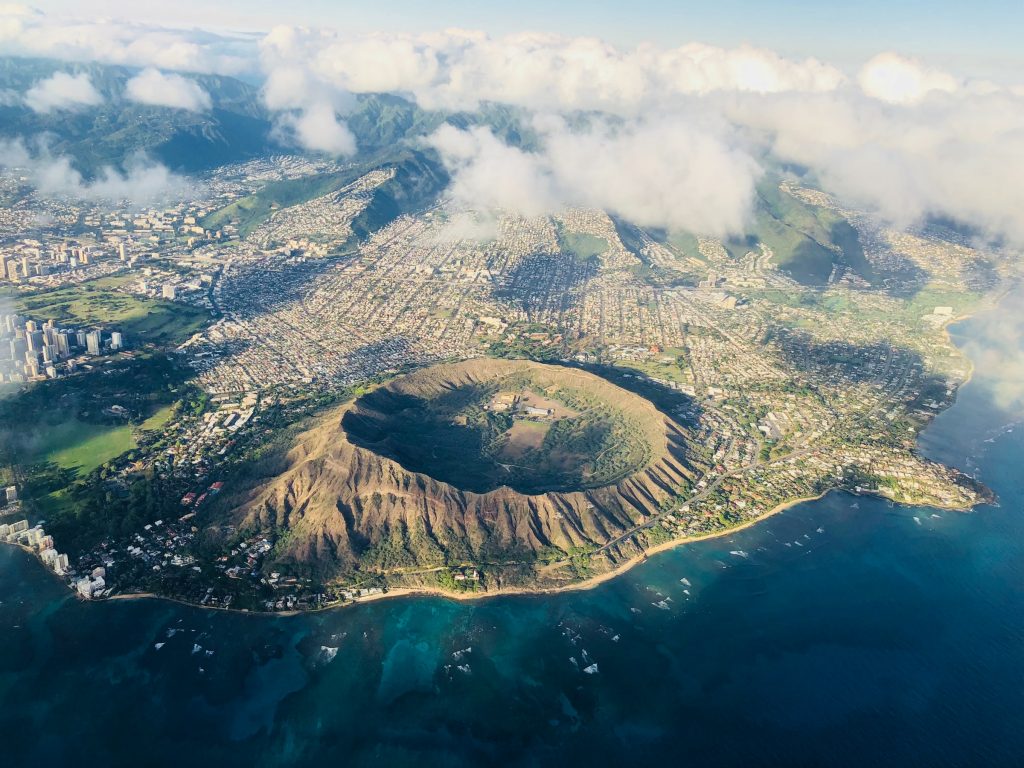 2. Visit Pearl Harbor
It doesn't matter whether you're a history buff or not, one of the must-see things on Honolulu is Pearl Harbor. This moving site, just 30 minutes drive from Waikiki, commemorates the devastating events that took place on 7 December 1971, when Japan launched a surprise aerial attack on the US naval fleet. On display are photos, artefacts and personal memorabilia, and visitors can also watch a 23-minute documentary featuring footage of the attack. 
At Pearl Harbor, you can choose between 14 different tours, including family-friendly ones, where your kids can have an age-appropriate educational experience. Those travelling on a budget can take the Pearl Harbor and Historic Honolulu City Tour and travel back in time to uncover Hawaii's royal past, while those who are able to spend a bit more can see the world's most active volcano up close in a One-Day Hawaii Volcanoes National Park Experience.
Out of everything you can do at Pearl Harbor, perhaps the most emotional component is the USS Arizona Memorial, a floating shrine built above the sunken USS Arizona that honours the 1,177 seamen who lost their lives. It's a sobering excursion, but an important one for people to experience.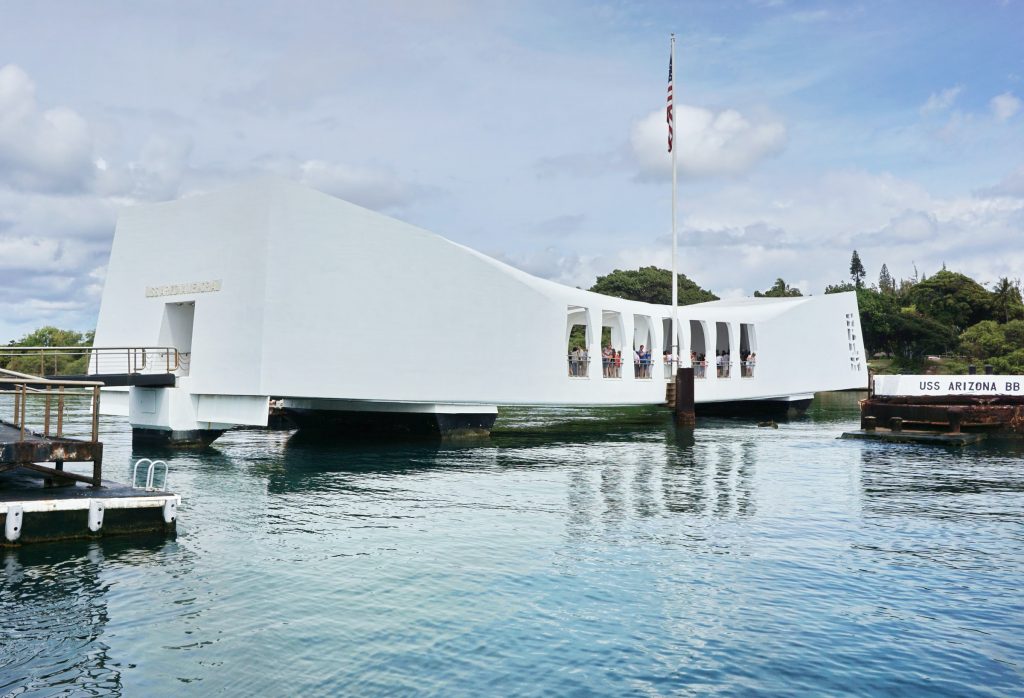 3. Go Shopping at Ala Moana
Unfortunately, it's impossible to guarantee blue-sky days year-round in Hawaii, so if you're not sure what to do in O'ahu when it rains, head to Ala Moana Shopping Centre. It's the largest open-air mall in the world (don't worry though, there's plenty of shelter space to shield you from the weather as you dash from shop to shop), and it boasts more than 350 stores and restaurants. 
High-end boutiques such as Dior and Balenciaga mingle with the likes of Bloomingdale's and Macy's, plus there's a great range of cosmetics, homewares and electronics. Offering more than 160 restaurants and cafes, the dining area doesn't disappoint either – after all, who doesn't need a delicious meal to recharge batteries after a big shopping spree? Ala Moana is within easy walking distance from Waikiki, so there's really no excuse not to shop up a storm. It's also only a 20-minute drive from the Honolulu International Airport, so if you have some time to fill between your arrival and your hotel check-in, you know where to go!
4. Snorkel Hanauma Bay
With an abundance of pristine, white-sand beaches at your very doorstop on Hawaii's most popular island, it can be a tough decision trying to figure out where to snorkel in O'ahu. There is one very obvious choice though: Hanauma Bay on the southeast coast. Formed within a volcanic cone, this curved stretch of the shore was declared a protected marine life conservation area and underwater park in 1967. 
It's home to more than 400 species of fish, colourful coral and shallow waters that are ideal for paddling in. Just remember there's a $25 USD entry fee (for visitors over 12 years of age), the park is closed on Mondays and Tuesdays, and numbers are capped at 1,000 people per day in order to best protect the reef. Look instead of touch at Hanauma Bay, and you'll be in for an underwater delight.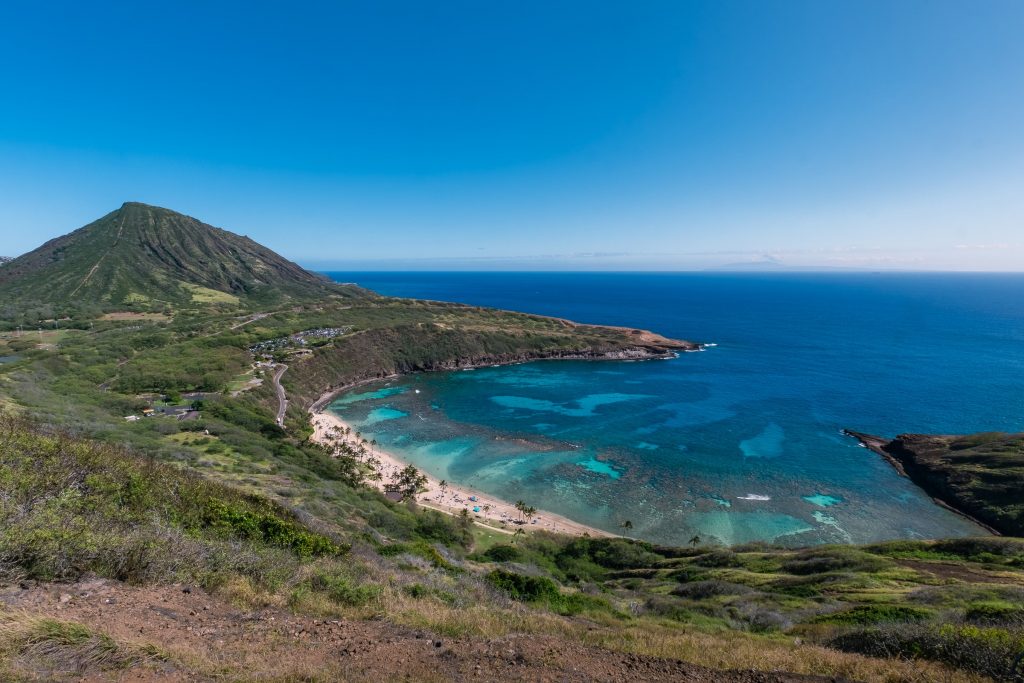 5. Eat Your Way Along the North Shore
If you're looking for a reason to take off on an O'ahu North Shore road trip , here's a good one: the insanely tasty food trucks. From smoked meat and shaved ice to tacos and Thai, there's something to suit all taste buds on this gorgeous stretch of coastline, which is just under an hour's drive from the Honolulu CBD. 
Some favourites are the frozen yoghurt and açaí bowls from Ono Yo (because you haven't really been to Hawaii if you don't try a fruit-topped açaí bowl) and the legendary shrimp from Giovanni's – this is where the locals eat on the North Shore of O'ahu. Vegans and vegetarians can head to the Island Vintage Coffee for a meal that's as nutritious as it is delicious. While the food trucks don't always stay in the same spots, if you plan your O'ahu road trip itinerary carefully, you should be able to tick them all off your must-eat list. For something sweet to follow, check out Ted's Bakery for whopping slices of piled-high pie – the chocolate haupia cream pie is a go-to pick.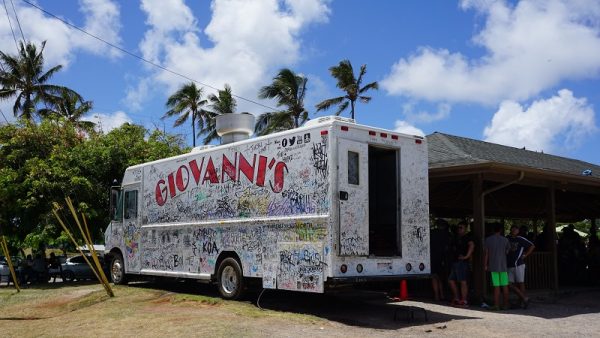 6. Learn to Surf in Waikiki
Hawaii has long been considered a mecca for surfers – just look at how many flock to the Pipeline surf break trying to prove their worth – so if there's one place you're going to learn to surf, it may as well be O'ahu. No matter if you're a beginner who doesn't know the difference between regular or goofy stance, or a more advanced boarder looking for a challenge, there's a surf school out there for you. 
Many are located on Waikiki Beach, as the waves are gentle and calm, but you can also find plenty of reputable surf schools on the North Shore, including Sunset Beach and Waimea Bay, where the big winter waves are a surfer's paradise. If surfing isn't for you, you can also try stand-up paddling or outrigger canoe surfing. Whatever your skill level, a couple of hours out in the Hawaiian waves and you'll be hanging ten with the best of them.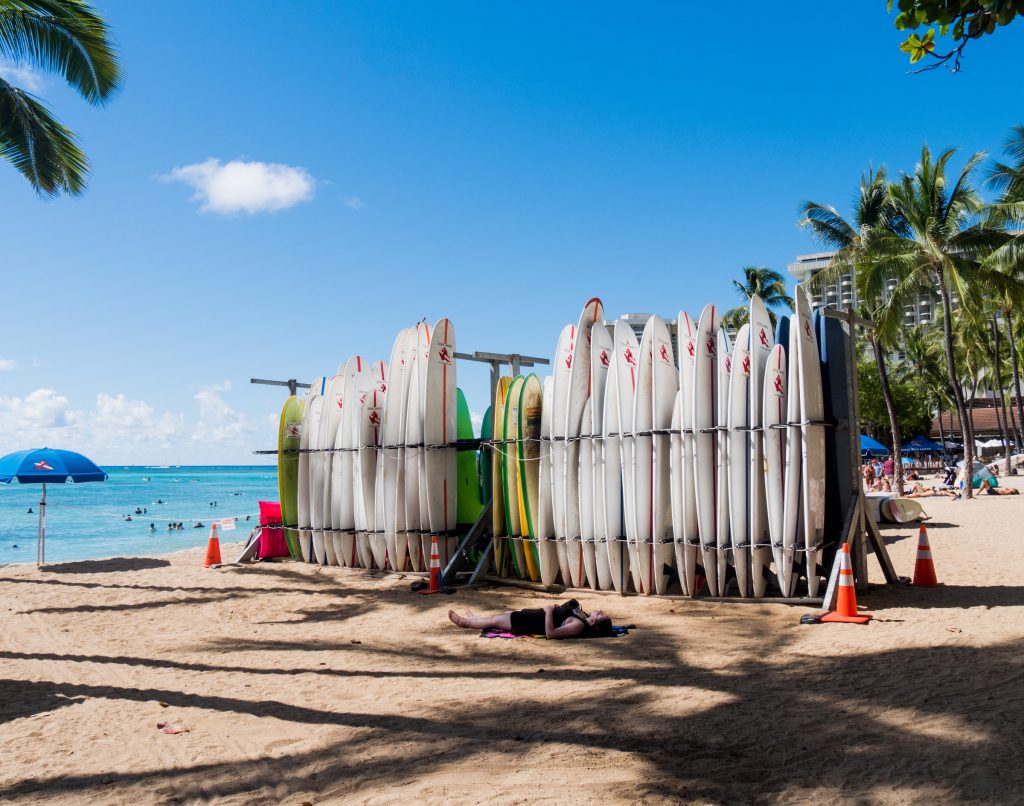 7. Take a Sunset Cruise
So you've landed on O'ahu, but you're not sure how to get around Honolulu without a car. Who said anything about needing a car when you can go on a cruise? And this isn't just any old boat trip; it's one of Waikiki's famous sunset cruises. Departing directly from the shore, this is one of the most breathtaking ways to see the O'ahu coastline. The refreshing breeze, azure Hawaiian waters and unbelievable panoramic views of Waikiki, Honolulu and Diamon Head will make you wish you never had to go back home!
Sunset cruises in O'ahu generally run for a couple of hours and are accompanied by free-flowing cocktails and chilled-out tunes. There are also longer sailing options that include dinner or whale watching. There are several high-end cruise experiences available, but you'll also be able to find affordable options without having to skimp on luxury. Just make sure you've got your camera at the ready because the Hawaiian sunset will blow you away.
8. Explore Kualoa Ranch
If you're wondering what to do in O'ahu with kids, look no further than Kualoa Ranch. Part Hollywood movie set, part epic tourist attraction, this stunning 4,000-acre nature reserve, a 45-minute drive from Waikiki, is like nothing you've ever experienced. 
As the location for blockbuster films such as Jurassic Park, Kong: Skull Island, Jumanji: Welcome to the Jungle and 50 First Dates, there are super cool tours that take you past sites where many of the most iconic scenes were shot. Hop on a vintage bus and explore the iconic Ka'a'awa Valley where more than 200 films and TV shows have been filmed, join the deluxe Jurassic Adventure Tour, or book a 2-hour eco-adventure in Hawaiian taro fields. 
After something more adventurous? Then why not try horse riding, cycling, kayaking, zip-lining or jumping on the back of an ATV. There's even a petting zoo and a couple of old military bunkers to explore. For lunch, head to Aunty Pat's Cafe and treat yourself to a homemade Hawaiian meal and, before you leave, don't forget to stop by the Kualoa "Jurassic Valley" Gift Shop to get all your souvenirs. If you want the ultimate O'ahu day out, this is it.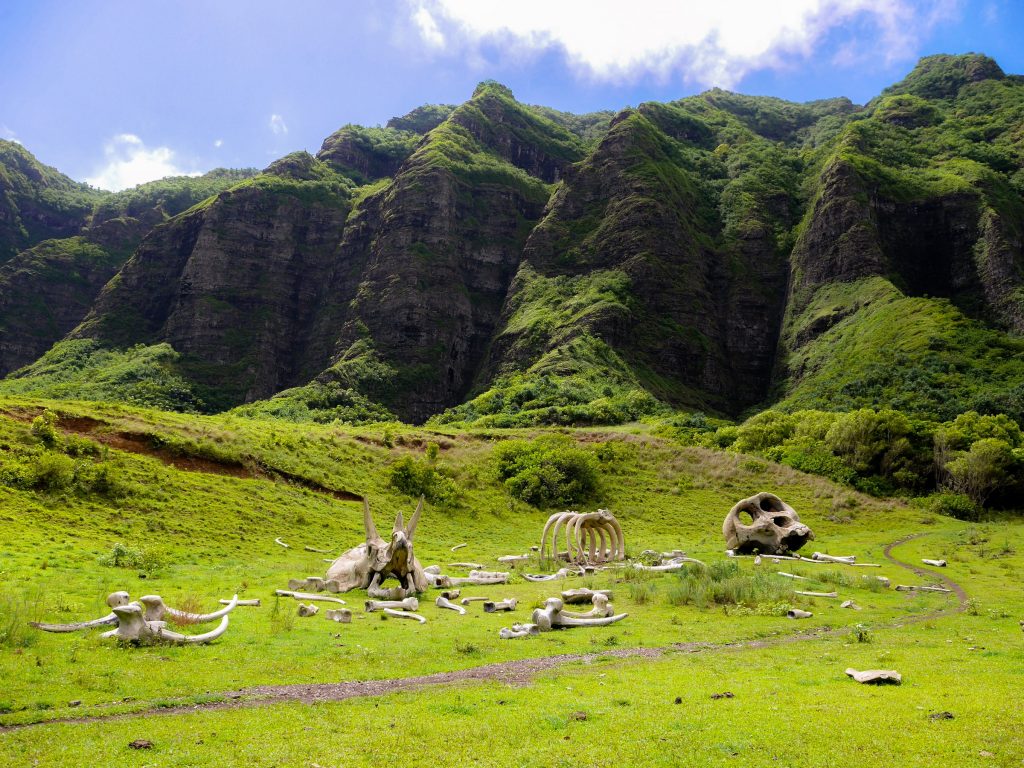 9. Experience a Traditional Luau
It's easy to lose sight that there's so much more to Hawaii than cocktails and shopping bargains, so if you'd like to learn more about the local culture, you need to experience a proper luau. And one of the best is at the Polynesian Culture Centre on the North Shore. Here you can learn how to fish without a net and paddle in a traditional canoe, before settling in for a feast of Kalua pork and Huli Huli chicken, while you watch an incredible song and dance performance. 
You can join the O'ahu Circle Island Tour to uncover the history and culture of the island, witness the impressive evening show Hā: Breath of Life, and have a go at ancient Hawaiian games during the Island of Hawaii Cultural Presentations. Not sure how to get to the North Shore of O'ahu? The Polynesian Culture Centre offers a shuttle bus service that will pick you up from Waikiki and drop you back again.
When it comes to idyllic destinations, it doesn't get much better than Hawaii. So, eager to say aloha to O'ahu and take your mind off everyday life for one or two weeks? Book cheap flights to Honolulu and O'ahu with Webjet, or combine your hotel or resort accommodation with your airfare in one of Webjet's money-saving Hawaii holiday packages!
Hero: Hanauma Bay Nature Preserve. Credit:  William Zhang on Unsplash