Planning a trip to "The Big Apple"? Check out our handy guide before you book and find out where to stay in New York, USA. From Midtown to Harlem, there are so many unique neighbourhoods to discover!
Midtown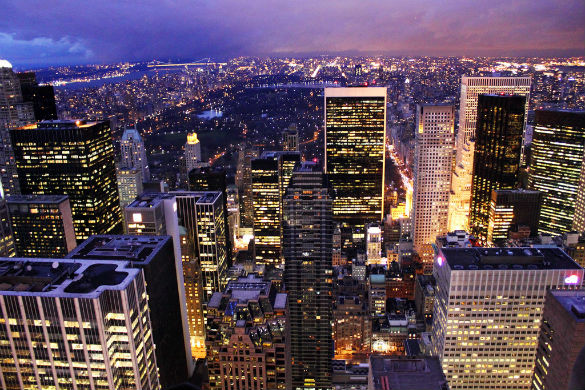 Peppered with world famous monuments and buildings, Midtown is the place to head if you're wanting to surround yourself with the glitz, glamour and bright lights of New York. Lined with towering skyscrapers, frequented by yellow taxis and firmly positioned amongst many of the city's must-see attractions, it's a great area to stay in if it's your first time visiting "The Big Apple", with the city's best sights, including the Empire State Building and Times Square, within walking distance or just a short taxi ride away.
See the bright lights of Times Square, one of the city's iconic and unmissable attractions.
Catch one of the unforgettable live performances held on Broadway. Watch on as actors, musicians and dancers wow the crowd with their incredible talents.
Soak up spectacular city views from The Top of the Rock Observation Deck or the Empire State Building, the highest open-air observatory in New York.
What's in Midtown? Some of the city's most iconic locations, including Times Square, the Empire State Building, the theatres of Broadway and the Rockefeller Center.
Stay in Midtown if… It's your first time visiting and you want to be close to all the city's top attractions.
Meatpacking District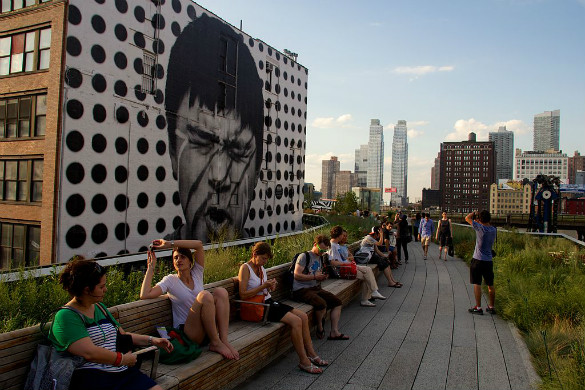 Bordering the Hudson River, the trendy Meatpacking District is located to the southeast of Midtown, close to both Chelsea and West Village. Once home to slaughterhouses and packing plants, the compact neighbourhood is now filled with vibrant bars and clubs, an impressive concentration of eateries and more. Great at any time of the day, it's after dark that this part of the city bursts to life. Soak up the nightlife, enjoy a meal you won't forget or simply revel in this charming riverside locale.
Take a stroll along the High Line, an elevated green space built along a disused railway line, and soak up fantastic views of the neighbourhood.
Head to the Chelsea Market and shop, dine and explore until your heart's content. From sushi and tacos through retail stores, this enclosed mall and food court offers it all.
Stop by the Whitney Museum of American Art and see modern and contemporary American artworks on show. With more than 3,000 American artists represented, it's a great opportunity to learn about the country's art scene.
What's in the Meatpacking District? The High Line, the Whitney Museum of American Art, Chelsea Market, hip clubs and bars, and plenty of restaurants.
Stay in the Meatpacking District if… You'd like to discover a neighbourhood filled with history, love cutting-edge fashion or wanting to base yourself somewhere trendy, quirky and comparatively low key.
Find cheap flights to New York >>
Lower East Side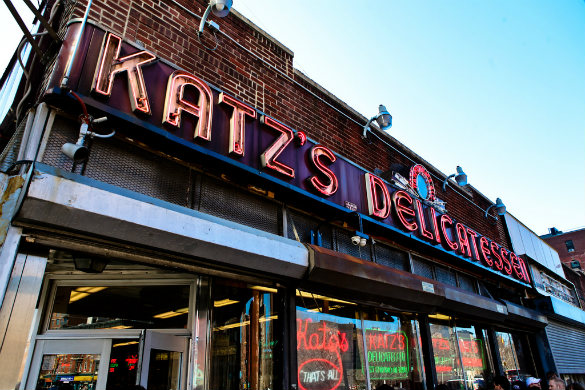 A little gritty, yet incredibly trendy, the Lower East Side proves that New York certainly is the 'city that never sleeps', with bars, clubs and live music venues keeping the magic and spirit of the city alive well into the night. Abundant with cafes, restaurants and history, it's a district that also has plenty to offer during daylight hours, including its popular Tenement Museum and fantastic dining spots. Base yourself here to see a different, more authentic side of the city.
Take a guided tour of the Tenement Museum and learn about the district's migrant heritage, from the 19th century through to the present day.
Explore the district's eateries, including classic New York delis, hip coffee shops, pizzarias and modern restaurants.
See some of the best local and international talent live on the stage of the character-filled Bowery Ballroom.
What's in the Lower East Side? A wide variety of cafes, restaurants, clubs, bars and live music venues.
Stay in the Lower East Side if… You're looking to explore a hip part of the city that hasn't forgotten its roots.
Upper East Side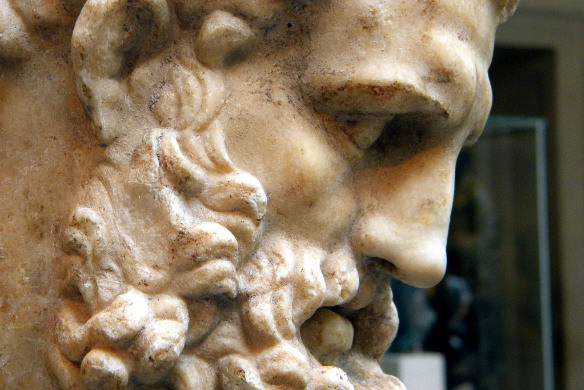 With its roots firmly planted in old money, New York's Upper East Side certainly offers a more relaxed pace than some of its neighbours. Sandwiched between Midtown East, East Harlem and Central Park, it's picturesque streetscapes are home to some of the city's best museums, an assortment of high end fashion retailers and more. Within easy reach of Central Park, it's a great part of the city to kick back, relax and enjoy the finer things in life.
Explore the 'Museum Mile', encompassing the Metropolitan Museum of Art, El Museo del Barrio, the Museum of the City of New York and the Jewish Museum, and learn more about art, the city's heritage and more.
Shop 'til you drop at Barneys New York, Tom Ford, Missoni, Céline, Chloe, Alexander McQueen, or one of the many other luxury stores that call the Upper East Side home.
Spend the day in Central Park, the city's iconic green space, discovering Central Park Zoo, the Loeb Boathouse, the Great Lawn, Belvedere Castle and some of the park's other great sights.
What's in the Upper East Side? High end stores, fantastic art and culture museums, and relatively quiet neighbourhoods.
Stay in the Upper East Side if… You'd like to see how the other half live, are looking for somewhere quiet to unwind, or are wanting to base yourself close to spectacular Central Park.
Harlem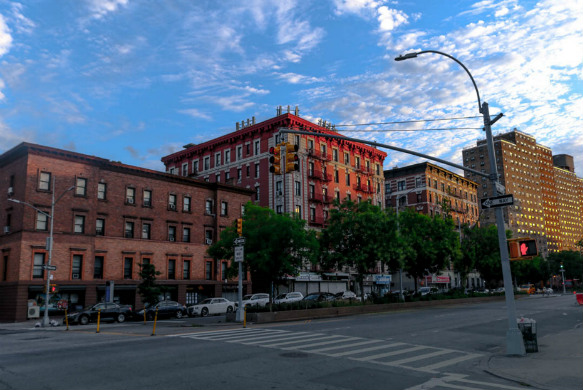 A little further from the action of Downtown, Harlem offers a different view of the city. Filled with history, culture and plenty of soul, this neighbourhood has shaken off its negative associations, embraced its past and evolved to become a district well worth exploring. Once home to a primarily African American community, today's Harlem is far more diverse than it was last century, but still holds its civil rights heritage, jazz pedigree and love of soul food close.
Catch some live jazz, modern hip hop or a performance from some of the district's up and coming musicians at one of the district's bars, clubs or live music spaces. Slip on your dancing shoes and boogie the night away Harlem-style at venues such as the iconic Apollo Theater.
Join a guided tour and learn about the best of Harlem from locals in the know. Get to know more about its history, lively cultural scenes, involvement in the civil rights movement, and more.
Indulge your taste buds with a visit to one of the district's much loved soul food cafes, or try out the flavoursome dishes on offer at some of the city's best Mexican eateries.
What's in Harlem? Top-notch soul food, some of the city's best Mexican eateries and a rich hub of African American culture.
Stay in Harlem if… You're wanting to discover the heart, soul and rhythm of New York.
Ready to see the sights of New York? Find flights to New York, hotels, hire cars, and more with Webjet today!