Vietnam is one of the foodie capitals of the world, and for a very good reason. Vietnamese food is loaded with fresh herbs and spices, with dishes typically light, balanced, and incredibly tasty. It goes without saying that you can't visit Vietnam without tucking into a bowl of traditional Vietnamese noodle soup at a street-side pho restaurant, savouring a freshly-made rice paper roll, or tucking into an authentic banh mi from a local bakery. And if you're the type who loves to dive into local cuisine and authentic tastes while on holiday or on tour,  we are sharing some of the most lip-smacking experiences and best things to eat in Vietnam.
Take a Cooking Class in Hoi An
If you want to get a little hands-on with your appreciation of local dishes, be sure to give a Vietnamese cooking class a go. While classes are available across the country, the most popular ones are based in Hoi An, a favourite destination among travellers owing to its saffron-coloured merchant houses, beautiful lanterns, and brightly painted fishing boats. You could easily spend days exploring the historic heart of this town, but to truly immerse yourself in the culture, join one of the area's cooking schools and try your hand at whipping up some local Vietnamese dishes.
Dive into Vietnam's Coffee Culture
Considering that Vietnam was once a French colony, it's not too surprising that the country boasts a burgeoning coffee culture. However, the scene here is entirely unique, and you simply cannot leave without trying an authentic Vietnamese coffee. Made by pairing a little condensed milk with traditional drip coffee, this sweet cup of joe is a staple of Vietnamese life. For something even more unique, some areas of the country also add egg yolks to their brew, which results in a strong but satisfying flavour. While you can find traditional Vietnamese coffee right across the country, if you want to go straight to the source, consider taking a pilgrimage out to Dalat — a beautiful highland region hosting numerous coffee plantations.
Explore a Local Market
Thanks to the extensive river systems of the Mekong Delta, floating markets have become a way of life in Vietnam. As a traveller though, they are a wonderful window into the local culture and a great opportunity to try some authentic foods. Here you can find everything from local fruit such as mangoes, coconuts, durians, mangosteens, and rambutans, through to shrimp, fish, crabs, and frogs. There are numerous floating markets in Vietnam, but the most popular are Phung Hiep, Phong Dien (in the Hau Giang province), Cai Rang (in the Can Tho province), and Cai Be (in the Tien Giang province).
If you prefer your markets on dry land, be sure to visit the Ben Thanh Market, the largest marketplace in central Ho Chi Minh City. Eternally busy, bustling and loud, the Ben Thanh Market is a great place to get your hands on dried food and snacks, teas and coffees, spices, and sauces. There is also a huge number of food stalls available here, each offering traditional meals cooked right in front of you.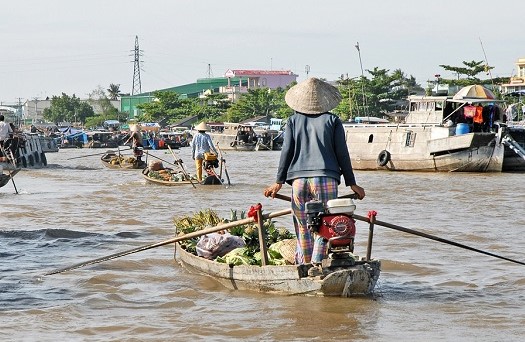 Join a Food Tour in Hanoi
The capital city of Vietnam is bursting at the seams with tasty and traditional foods, and Hanoi offers an exciting mix of street food merchants and refined restaurants. An exhilarating way to experience the best of this city is to jump on the back of a Vespa, the iconic transportation option of the region. On a Vespa food tour, you have the chance to visit numerous restaurants and drinking holes, sampling local delights and experimental dishes all while experiencing life on Hanoi's busy streets.
If zipping around the crowded streets of Vietnam's capital on a Vespa doesn't appeal to you, fear not! There are many other ways to experience popular Vietnamese food here, including on a delicious Hanoi street food tour. Explore the Old Quarter and visit numerous street hawkers selling exotic fruits, popular dishes and unusual delicacies. Street food is a staple of Vietnam — no matter where you go, you're guaranteed to find street-side stalls serving up aromatic plates and traditional flavours.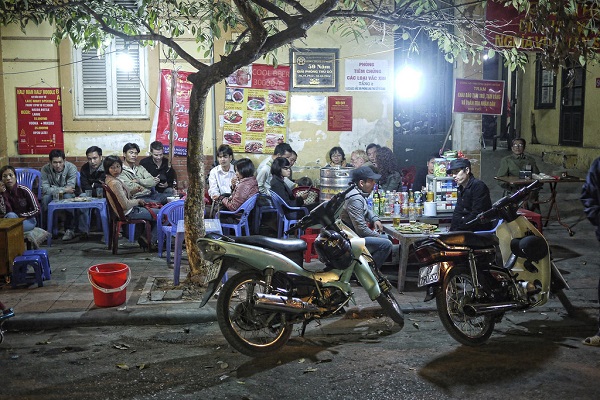 Visit a Fresh Food Factory
Looking for an experience that's truly off the tourist-beaten track? Try visiting a working food factory. Tour a fish sauce factory in Phú Qu?c to learn how this staple of Vietnamese cuisine is produced, or make your way to a coconut workshop on the Mekong Delta to watch as locals separate coconut flesh from the shell and make coconut candies. Or why not swing by a rice paper factory to see for yourself how this delicate paper is made? We guarantee that witnessing the amount of care and finesse that goes into making these rice sheets will make those fresh rice paper rolls you see at every street food cart taste all the more delicious.
Savour a Local Delicacy
When exploring new places, it's always a good idea to throw caution to the wind and try something outside of your comfort zone — at least in terms of what you eat. Chow down on some nom hoa chuoi, a banana flower salad served with cilantro, chicken and a salty fish sauce dressing. While in the Mekong Delta, be sure to try a bowl of canh chua, a traditional sour soup made from fresh fish straight from the delta and a tamarind-flavoured broth. And when you're in Hanoi, pull up a stool at a street-side smoky grill and enjoy a plate of bún ch?, a lunch dish consisting of grilled pork, vermicelli rice and a dipping sauce.