Many of us accept that waiting in queues to see all the best attractions is simply part of travelling. It doesn't mean we enjoy it, it's just something we've gotten used to. So what if we told you we had a couple of handy tricks for avoiding long lines in one of the world's busiest, most queue-heavy cities? That's right, say goodbye to lining up for Eiffel Tower tickets and hello to skipping the line in Paris. From secret entrances to guided tours, we've got the lowdown on lining up in the City of Love.
1. Arrive Early
This one might sound like a no-brainer, but sometimes arriving early before the official opening time really does work. Yes, it means you'll still have to line up, but a 30-minute wait first thing in the morning sure beats a two-hour wait and 100-metre queue later on in the day. And for places like the popular Notre-Dame Cathedral, which has no secret entrances or skip-the-line passes, showing up before the rest of the masses is your best bet at gaining speedier entry. So, grab yourself a croissant and get comfy in the queue, we promise you'll thank yourself later.
2. Find The Secret Entrance
If it's the inside word on where to find the Louvre's secret entrances you're after, you've come to the right place. First up, forget about entering via the glass pyramid; that's for rookies who don't know any better. Savvy Louvre-goers know it's all about the Carrousel du Louvre and Porte des Lions entrances for dodging crowds, as finding queues at either of these gateways is practically unheard of. The Porte des Lions (east of the Pont Royal) offers the closest access to Mona Lisa, while the Carrousel du Louvre is hidden away near the Palais Royale-Musee du Louvre metro stop.
And while it's not quite a secret entrance, here's a little Paris travel tip for you: there's a special entry point for visitors willing to climb the 328 steps to the first level of the Eiffel Tower. It's far less busier than the line for the elevator, and once you're up there, there's another lift to take you straight to the top anyway. Sneaky, right?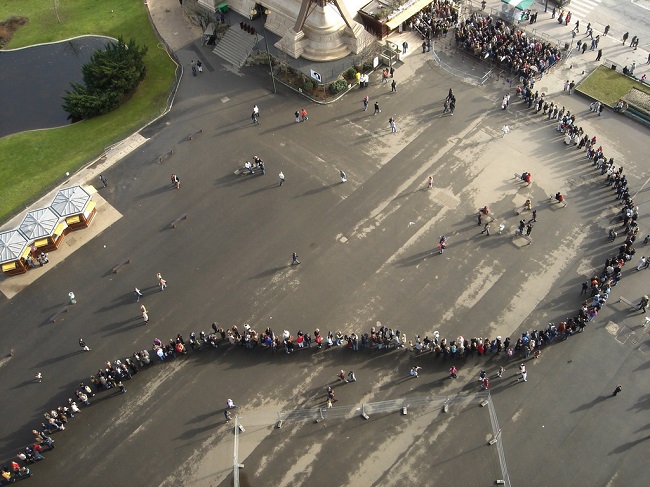 3. Pre-Book Online Tickets
From hairdressing appointments to dinner reservations, these days the options to pre-book things are endless. Which is why it should come as no surprise that one of the easiest ways to avoid queues is to simply book online. All the big-ticket Paris attractions offer online booking services, including the Louvre, Eiffel Tower, Palace of Versailles, Catacombs and the Musée d'Orsay, and you'll most likely have the option of choosing the exact time and date you wish to visit. Just remember that for the majority of online tickets you're required to purchase a minimum of 24-hours in advance, and during peak season they have been known to sell out.
4. Book A Guided Tour
Want to skip the queues AND learn an extra thing or two about the museums and galleries of Paris that you're visiting? Then there's only one solution: book a guided tour. Organised tours are often given priority passes when it comes to entering, which means no lining up whatsoever. And once you're in, you'll be bombarded with facts, figures and cool info by your (most likely) fantastic guide. You'll learn so much more than if you were just wandering around by yourself. Another perk to guided tours? Tour leaders may be given special access to restricted areas, closed exhibitions or hidden floors; places you'd never be able to visit if you were just a regular patron.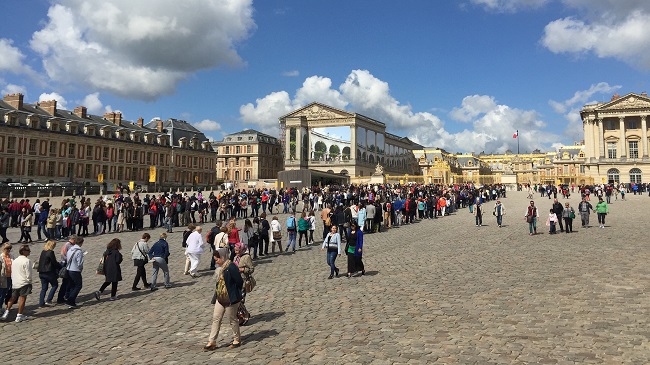 5. Visit During Off-Peak
While there's never a bad time to visit the French capital, like any popular destination it has its off-peak times, when tourist numbers are much, much lower. For Paris, that's during the shoulder months of February and November. The weather can be cold, wet and slightly dreary – all elements that make waiting in queues pretty unappealing. But throw on a rain jacket and get out there! The lines are significantly shorter, and aside from the Eiffel Tower or Arc de Triomphe (which have outdoor viewing areas), all of the other major things to do in Paris are under cover, so you won't even have to brave the elements for that long. You'll be surprised at how quickly you gain entry to places.
Did you know that the Louvre also has time periods that are considered off-peak? Not many people (especially tourists!) realise the Louvre is open late on Wednesday and Friday nights – until 9:45pm. So as everyone starts to spill out around 5:45pm – in anticipation of the usual closing time of 6pm – that's your opportunity to waltz right in, grab your Louvre tickets, and make the most of the half empty museum.
Eager to get your fix of croissants, baguettes and Paris sightseeing? Book your flights to Paris with Webjet and be on your way to discovering the best things to do in Paris, all while bypassing those long queues.
Feature image: The Louvre, Paris. Credit: Inge Knoff / CC BY-NC 2.0