With incredible wilderness, vibrant cities full of dining and drinking options, exciting events, and one-of-a-kind experiences, Scandinavia is high up on the bucket lists of intrepid travellers everywhere. Booking a trip to Scandinavia is a no-brainer – the hard part is choosing what to do once there. A tour is an excellent way to cover off the highlights and get unique local insights. Whether you want to go in search of the Northern Lights, see the best of Scandinavia by coach, or cruise in Norway, there are plenty of great guided trips available.
Once you've chosen your adventure, the next hurdle will be getting ready to go. Packing for destinations with extreme weather and an element of unpredictability can be tricky. Even more so if you're jumping from place to place – you don't want to lug around way more than is needed. That's why we've put together a few savvy tips for your Scandinavian trip, including what to pack across seasons and some easy to follow lists. Start planning your Scandinavia packing list today, and then check out some of the coolest cities you can look forward to exploring while there!
What To Wear in Scandinavia in Summer and Autumn? (June-November)
If you fancy the idea of outdoor festivals, lush green landscapes, and extra-long days, with the sun remaining high in the sky at midnight in many parts of Scandinavia until the end of July, you should plan your visit around this time. If you'd rather avoid the crowds of high season, coming at the tail-end of summer or in autumn (September-November) would be wise.
What to pack for Scandinavia in June, July and August, which are the warmest months and a popular time to visit, will vary depending on where you're going and what you have planned. While the weather is generally pleasant throughout summer, you will still need to bring a couple of layers for early morning and night-time temperature drops and to keep warm in windy conditions (which are not uncommon in this part of the world). If you're heading to areas surrounding Scandinavia, such as Iceland, you will need to pack warmer clothing still.
What you know about Scandinavian minimalism is true, so if you want your wardrobe to reflect the spirit of the place, pack stylish basics in neutral tones. This type of clothing tends to be versatile for travel, too, so it's not only a fashionable approach but also a practical one. For ease and convenience, avoid bringing clothes you'll need to iron.
Checklist
? T-shirts, singlets, shorts, loose pants and sandals for when the sun is shining, including one or two pieces you can dress up for heading out at night
? Sunscreen and bug spray
? Swimmers and shoes that are easy to kick off on the beach
? Warm layers, such as a cardigan, light coat, small scarf and cosy socks
? Wet-weather options, including a rain jacket and shoes that will keep your feet warm and dry (a boot of some kind should do it), plus a bag to separate any wet gear from the rest of your luggage
? Comfortable walking shoes that won't give you blisters for big days of exploring
? An eye mask so that you can get some sleep despite the late-night sun (earplugs are also essential, no matter where you're travelling)
What to Wear in Scandinavia in Winter and Spring? (December-May)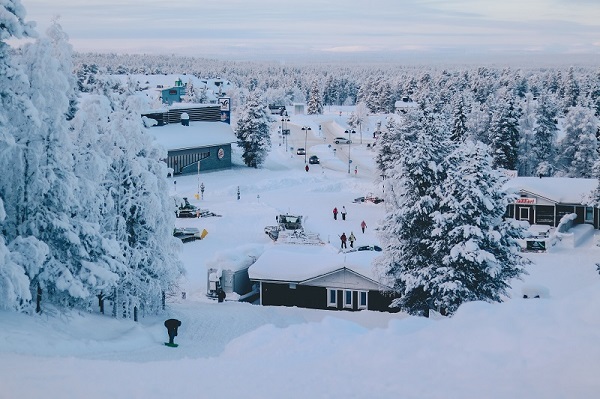 Winter sports enthusiasts and those wanting to experience the magical natural phenomena of the northern lights will be looking to travel to Scandinavia during the cooler months. Again, your checklist will vary depending on where you're going and what you're doing – for example, what to pack for Denmark in December (the coldest country/month) will be different from what to pack for Sweden in April or May (the warmest country and in the milder months of spring).
The average temperatures across Scandinavia from December through March are sub-zero, but that doesn't mean you need to fill up your luggage with chunky knits and coats. You can ski or snowboard in the Alps, trek to see the aurora borealis, soak in thermal pools and more with the comprehensive packing list below.
Checklist
? Spring weather can be changeable, so pack clothing you can layer, including a warm cardigan, light coat and a t-shirt or two in case spots of sunshine find you feeling hot
? Swimmers and shoes that are easy to slip off for visiting Scandinavia's famous hot springs, spas and saunas
? For winter, you'll need warm clothing that travels well – i.e. multipurpose pieces that aren't too bulky. Think thermals, long-sleeve t-shirts and thin sweaters, a lightweight down jacket, compression tights and socks, a scarf and beanie that pack down small, gloves and boots that will go with everything
? For snowy and altitudinous areas, don't forget sunscreen and sunglasses to protect against the higher-intensity UV rays
? Pack a heavy-duty moisturiser and lip balm to ward off dry, chapped skin from the cold and winds
? A headtorch will be handy in winter, especially if you're going on an expedition to see the Northern Lights
? In any season, prepare for drizzly weather with a rain jacket and warm, snug shoes that will keep out the elements, plus a bag to keep any wet gear separate
? An eye mask and earplugs, just in case
Additional Packing Tips for Scandinavia
Packing smart is all about having versatile options. Choose one coat based on your coldest destination and, if possible, make it a waterproof one (to save you having to pack a raincoat as well). Similarly, if you're going to be doing a lot of outdoor activity in varied locations, a stylish hiking boot that's comfortable to walk in, warm and keeps out the wet could cover you in a range of settings. If you can pack one great option that ticks all the boxes rather than cramming your luggage with multiple items, you'll be much better off.
Hero image: John O'Nolan on Unsplash