There's no use sugar coating it: long distance travel within Japan can be expensive. The country may be relatively small, but considering the Japanese archipelago is made up of 6,852 islands, getting around can take some time. Of course, most tourists will only visit the four main islands – Honshu, Hokkaido, Kyushu and Shikoku – and those looking to ease the strain on their wallet will benefit from sticking not only to one island, but to just one region of that island. However, considering Japan is such a diverse and exciting country, you couldn't be blamed for wanting to see all of it. And to do that, you will need to know the best way to get around Japan without breaking the bank.
Plane, Train or Automobile?
While the idea of a Japanese road trip might appeal to the most intrepid of travellers, there are a number of easy ways of getting around Japan without a car. First of all, there's the bus. Highway buses are one of the most economical ways to travel long distances in Japan, albeit also one of the slowest. If you have time to spare, these can be a great option, especially as overnight buses also allow you to save on a nights' accommodation. Buses also have the advantage of the Japan Bus Pass, which, when used effectively, can significantly reduce your overall transportation costs. These passes are available for three days, five days and seven days, and don't need to be used over consecutive days. So, if you've got the time (and the inclination), buses are a great way to see the countryside between Japan's big cities.
However, if you want to limit your travel time during your holiday (or if long distance bus travel just doesn't appeal to you), the Japanese rail service is a great alternative. Trains in Japan are fast, frequent, clean and comfortable – and not as expensive as you may think. The main operator is Japan Railways, aka JR, with the Japan Rail Pass (JR Pass) providing foreigners (and only foreigners) with a cost-effective option for traipsing across the main islands. This pass offers unlimited, nationwide travel on most trains operated by JR, including most shinkansen (bullet trains), and is available for seven, 14 or 21 consecutive days. While the upfront fee might seem a little steep (a seven-day adult pass, for example, is Y29,110 – or about $400AUD), when you consider that a one-way bullet train ticket from Tokyo to Osaka is roughly Y13,620, you can easily make your money back. Do note that these passes can only be purchased before you arrive in Japan, so if the JR Pass appeals to you, be sure to organise one well in advance of your travel dates.
Another popular travel option within Japan is a domestic flight. Thanks to strong competition between railway companies, bus companies and airlines, cheap airfares can be easy to come across. Flights are by far the most convenient way to travel between islands, but also a great option for those on a strict schedule who want to travel from Tokyo to other big cities, like Osaka, without any fuss. Just some of the carriers offering internal airfares include All Nippon Airways, Japan Airlines and Jetstar Japan. Happily, cheap domestic flights in Japan can be booked on Webjet, too!
So, now that we're all clear on the numerous ways to get around Japan, let's take a closer look at the best routes between Tokyo and Japan's most popular tourist destinations.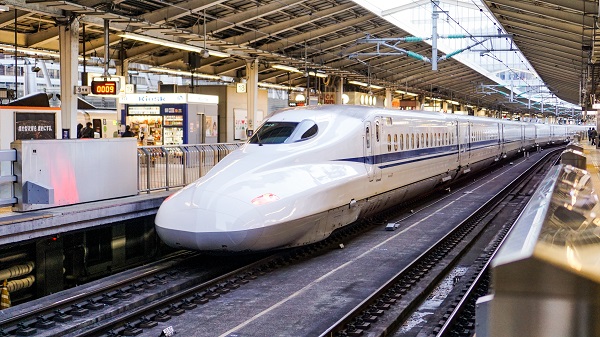 Getting From Tokyo to Osaka
We've all heard about Japan's famous Shinkansen, but really, how fast do bullet trains in Japan travel? While the country's various trains run at different speeds, the maximum speed is 320 kilometres per hour. This means that you can make the long journey between Tokyo and Osaka in as little as two and a half hours. Bullet trains in Japan are so iconic that you should make the trip just for the experience, but they are far from a novelty. However, Shinkansen aren't your only option when travelling between Tokyo and Osaka.
Bullet Train
As mentioned, the bullet train from Tokyo to Osaka takes just two and a half hours, but this is only if you use the Nozomi train, which is not actually included on the JR Pass. If you're travelling outside of peak travel hours or outside of peak travel season, you won't need to reserve a seat, but if your trip does fall within these popular times, it's best to spend the extra, lest you want to stand up for the entire journey. The other bullet trains operating on this route that are included with the JR Pass include the Hikari train and the Kodama train, which take three hours and four hours respectively.
Overnight Bus
Although it may not be for everyone, an overnight bus is both a cheaper and slower alternative to the bullet train. The journey from Tokyo to Osaka will take roughly eight to nine hours, and set you back about Y2,500 (buses with WiFi are more expensive).
Plane
Flying between Tokyo and Osaka is another popular option, particularly if you're in a hurry. Osaka has two airports, Itami Airport (also called Osaka International Airport) and Kansai International Airport (KIX), with flights taking 70 minutes and 90 minutes respectively. While the flights to Kansai are typically cheaper, this airport is also further out from central Osaka, which is worth factoring into your travel plans. From Itami Airport, you're looking at a 30-minute journey by taxi, bus or train to get into the city, while Kansai International requires a 50-minute commute by express train or airport bus.
Getting From Tokyo to Kyoto
Kyoto is undeniably one of the most beautiful cities in Japan, thanks to its ancient temples, lush gardens and striking UNESCO World Heritage Sites. It's no wonder then why so many people treat this city as a must-visit on their Japanese adventure.
Bullet Train
A one-way reserved-seat Shinkansen ticket from Tokyo to Kyoto costs about Y13,600, with the journey lasting two hours and 20 minutes. This route is actually the same one as you take to get to Osaka, so again, the Nozomi train is not included with the JR Pass.
Overnight Bus
Again, this is the same route that will take you from Tokyo to Osaka, and will last seven to eight hours. Prices start from about Y2,500.
Plane
Unfortunately, Kyoto does not have its own airport, so you'll need to fly to Osaka and then take a train, bus or taxi to Kyoto. Travel time is roughly one hour from Itami Airport and one hour and 15 minutes from Kansai International (KIX).
Getting From Tokyo to Sapporo
Did you know that you can now fly direct from Melbourne to Sapporo? If you're heading to Niseko for the winter season, this could be the best option, allowing you to bypass Tokyo altogether. However, if you've never been to Japan before, you absolutely must visit Tokyo – and thankfully, it couldn't be easier to travel from Tokyo to Sapporo.
Bullet Train
Owing to the two cities residing on different islands, there is no direct Shinkansen service between Tokyo and Sapporo. You will need to take the Hokkaido Shinkansen from Tokyo to Shin-Hakodate Hokuto (roughly four-and-a-half hours) then transfer to a regular express train, the JR Hokuto Express, which adds on another three-and-a-half hours. This will require you to purchase two separate tickets, but if you do so at the same time, you will receive a discounted fare.
Plane
Quick and affordable flights operate between Tokyo and Sapporo, so this mode of transport definitely comes in as the easiest way to travel between islands. The flight from Tokyo to New Chitose Airport (CTS) will last only one hour and 45 minutes, although another 40 to 60 minutes will be needed to reach Sapporo from the airport.
Getting From Tokyo to Mt Fuji
No trip to Japan is complete without a visit to the country's iconic volcano Mt Fuji. Conveniently, the journey from Tokyo couldn't be easier.
Highway Bus
Year-round buses connect Tokyo with Mt Fuji, and are one of the most popular options. The journey to Kawaguchiko Station will only take about two hours, though those heading to Lake Yamanaka will need an extra half hour. From Kawaguchiko Station, you can jump on a local bus to get up to the Fuji Subaru Line 5th Station, with this journey requiring an additional 50 minutes.
Train
If you're really opposed to the bus, there is also a train servicing Mt Fuji. Year-round options include the Fuji Excursion Limited Express train from Shinjuku Station direct to Kawaguchiko Station (which takes roughly two hours) and a JR Limited Express train to Otsuki, which requires a transfer to the Fujikyu Railway to get to Kawaguchiko. This option takes approximately two-and-a-half hours.
Book cheap flights to Japan with Webjet, as well as hotels and Japan holiday packages, to get your next holiday to the Land of the Rising Sun underway! Plus check out these tips if you're planning to visit in cherry blossom season, or discover the must-have foodie experiences in Japan.
Hero image: Tokyo. Credit: Victoriano Izquierdo on Unsplash