We know that more often than not, it's faster to fly between Australian destinations. However, there's nothing quite like an old-fashioned road trip — and, stretching along a good portion of the New South Wales east coast, the trip from Sydney to Byron Bay is among the best.
If you're planning to drive from Sydney to Byron Bay, discover these seven spectacular places worth stopping by during your road trip!
Where to Stop on the Drive Between Sydney and Byron Bay
Stop 1: Gosford, Central Coast
Highlight: Discover the Central Coast's native wildife
Time Betweeen Gosford and Byron Bay: 7 hours, 40 minutes
A little over an hour from Sydney's CBD, Gosford is not only the largest centre on the Central Coast but also a great place to explore. Surrounded by countless coastal towns and beautiful beaches, the area boasts some fantastic natural and cultural attractions.
Places to Visit in Gosford, Central Coast
The Australian Reptile Park: One of the Central Coast's most iconic attractions, the park is home to all manner of native wildlife, from koalas and wombats through to crocodiles, cassowaries and dingos.
Somersby Falls Picnic Grounds: Set in the Brisbane Waters National Park, this is a wonderful spot to sit back, settle in for a picnic and enjoy the beauty of the lush rainforest.
Gosford Regional Gallery: Great for an art fix on the go, the gallery features works by local, Australian and international artists. Admire paintings, photographs, sculptures and more, before exploring the beautiful Japanese gardens nearby.
Stop 2: Newcastle, Hunter Region
Highlight: Explore the Hunter Region's Lively Art Scene
Time Between Newcastle and Byron Bay: 7 hours
The state's second-largest city, Newcastle effortlessly combines the classic Australian surf culture, a thriving thriving arts scene, and a rich history to deliver a destination that can be explored in countless ways. Explore for a few hours, or spend a day or two discovering the heart and soul of the city.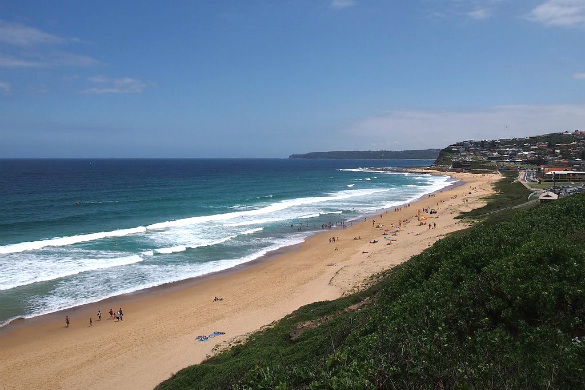 Places to Visit in Newcastle, Hunter Region
Merewether Beach: Considered one of Australia's best beaches, this superb stretch of golden sand offers both great surfing conditions and family-friendly ocean pools.
Darby Street: Home to dozens of cafes, a number of award-winning restaurants and a wide assortment of shops, this popular local haunt is a great spot to refuel and discover Newcastle's, vibrant artistic heart.
Newcastle Memorial Walk: The perfect excuse to stretch your legs, this scenic walk was built to commemorate the centenary of the ANZAC landing at Gallipoli. Stretching from Strzelecki Lookout to Bar Beach, it offers some fantastic views along the way.
Stop 3: Forster, Mid-North Coast
Highlight: Witness breathtaking views and world-class beaches
Time Between Forster and Byron Bay: 5 hours 30 minutes
Around two hours north of Newcastle, Forster (pronounced as 'Foster' — no hard 'r' noise) is a town that is best known for its spectacular beaches. Offering all the modern conveniences you could want and no shortage of natural beauty, it's a great spot to stop and admire the stunning surroundings of the Great Lakes region.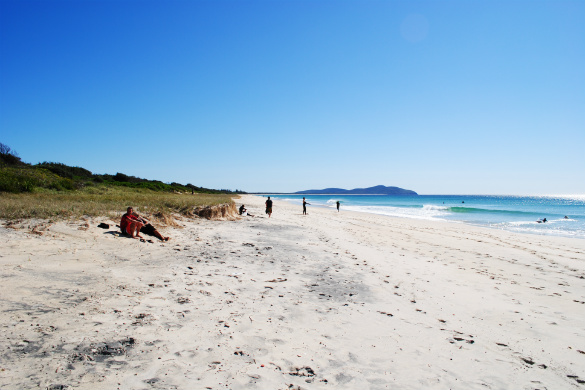 Places to Visit in Forster, Mid-North Coast
Cape Hawke Lookout: Offering incredible 360-degree views of Booti Booti National Park, Wallingat National Park and Forster's coastline, the hike to the top of this lookout is well worth the effort. Keep an eye out to the sea in winter; you might just spot some migrating whales.
One Mile Beach: Popular with families, surfers and just about everyone in between, this long untouched beach is great for swimming, surfing, or simply lazing beneath the warm summer sun.
Booti Booti National Park: If you're not in a hurry, set aside some time for a bushwalk, some birdwatching, or a swim in this beautiful national park. With so much to see and do across its length and breadth, you'll easily while away the hours.
Stop 4: Port Macquarie, Mid-North Coast
Highlight: Visit one of Australia's oldest lighthouses
Time Between Port Macquarie and Byron Bay: 5 hours 30 minutes
Bordered by lush hinterland and incredible golden beaches, Port Macquarie sits at the mouth of the Hastings River. Boasting a rich history, a plethora of natural beauty and unique attractions, you'll find plenty to see and do across the area.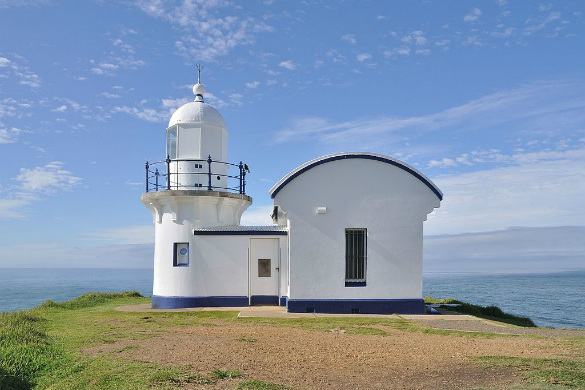 Places to Visit in Port Macquarie, Mid-North Coast
Tacking Point Lighthouse: One of the oldest of its kind in Australia, this lighthouse sits upon a headland that offers some of the town's best views. Soak up the amazing ocean panoramas, and be sure to keep an eye out for migrating whales in the cooler months.
Port Macquarie Museum: A great place to learn more about the town and its heritage, this museum is filled with interesting exhibitions and artefacts that span generations.
Koala Hospital: An opportunity to see some koalas up close; visiting this dedicated wildlife hospital is a free and amazing activity for all ages. Time your visit right and you can even enjoy an interesting volunteer-led tour of the facility.
Stop 5: South West Rocks, Kempsey
Highlight: A guided tour through one of the Coast's most historic gaols
Time Between South West Rocks and Byron Bay: 4 hours
Just over an hour north of Port Macquarie, South West Rocks is the perfect place to stretch your legs and get active. Sitting at the mouth of the Macleay River, here you'll find historic sites, great fishing spots and much more.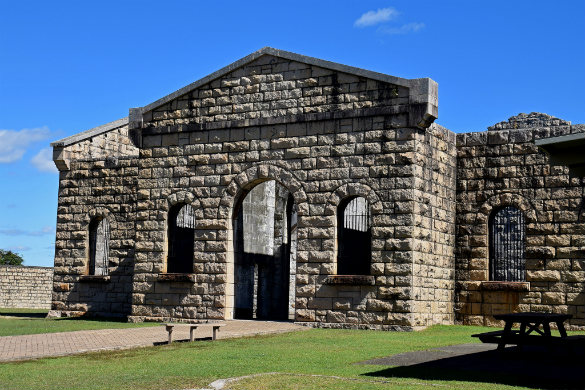 Places to Visit in South West Rocks, Kempsey
Trial Bay Gaol: Filled with history, a visit to this interesting site is a great way to learn more about the people and events that have influenced the area over the past 130 years. You can wander through the grounds by yourself, or join a guided tour.
Smoky Cape Lighthouse: Another of the state's picturesque heritage buildings, this historic lighthouse serves as the backdrop for a picnic, birdwatching, and soaking up some beautiful coastal scenery.
Horseshoe Bay: A favourite with locals and visitors alike, this popular beach features grassy headlands and a sheltered cove perfect for a relaxing swim.
Stop 6: Coffs Harbour, North Coast
Highlight: The classic photo opportunity in front of thr Big Banana
Time Between Coffs Harbour and Byron Bay: 3 hours
Another hour north, you'll find Coffs Harbour, a coastal city perhaps best known as the home of the iconic Big Banana. Beyond its most famous attraction, you'll find unspoilt beaches, breathtaking sunrise lookouts and other coastal delights.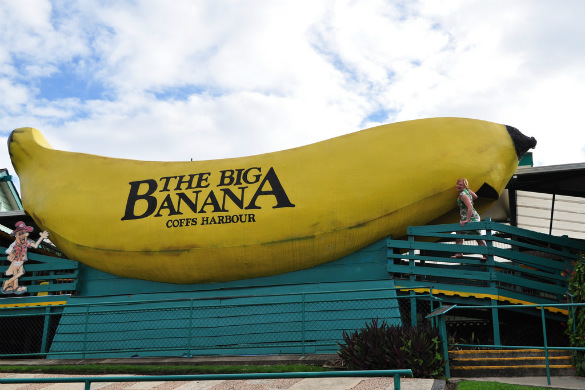 Places to Visit in Coffs Harbour, North Coast
The Big Banana: One of the best known 'big things' in Australia, you can't visit Coffs Harbour without stopping by this popular attraction. Take a snap for your holiday album in front of the Big Banana and enjoy the ice skating rink, waterpark and mini-golf course.
North Coast Regional Botanic Garden: Covering an impressive 20 hectares, the gardens are home to trees, plants and flowers from across Australia and the globe. Set out on a stroll through the grounds and find a nice shady spot to sit back and watch the world roll by.
Korora Lookout: Another good option if you have the time up your sleeve, the lookout offers some incredible views of Coffs Harbour and the beautiful Coffs Coast. Wander through the easy 400m walking track and learn all about the Gumbaynggirr Dreaming story of the Goanna.
Stop 7: Yamba, Northern Rivers
Highlight: Catch waves and relax on the sand before the crowds at Byron
Time Between Yamba and Byron Bay: 1 hour, 45 minutes
A firm Northern Rivers favourite, Yamba is the perfect spot for surfing, sunbathing on spectacular beaches and indulging in deliciously fresh seafood. An hour and 45 minutes south of your final destination, it's a great place to stop before the end of your Sydney to Byron Bay road trip.
Places to Visit in Yamba, Northern Rivers
Pippi Beach: Once home to an abundance of shellfish by the same name, this beach is patrolled during the warmer months and is a great place to head for a picnic with a view. The southern end is a leash-free area for dogs, which is great if you happen to be travelling with your four-legged friends.
Angourie Beach: One of the locals' favourite surfing spots, this a beach to visit if you're wanting to ride some serious waves. If surfing isn't your thing, take a walk along the headland and soak up some pretty special sea views.
Main Beach: Yet another of the region's beaches, this stretch of sand not only boasts great waves but an ocean pool too, making it a great place to stop and take a dip with the whole family.
It's really easy these days to just fly between Sydney and Byron Bay. But if you're up for a road trip, there's plenty of great spots between Sydney and Byron Bay to stop and checkout. With beautiful clean beaches, historic townships, and plenty of iconic locations — why wouldn't you do it at least once?
If you're interested in taking the trip, you can compare and hire a car or even book accommodation with Webjet today. Now get planning, send your road trip itinerary to your mates, and tell your boss you need a few days off work. Happy road tripping!