In the heart of the Pilbara region, in Australia's northwest, awaits the incredible Karijini National Park. While not as well-known as the Northern Territory's Kakadu National Park, nor the Yarra Ranges National Park in Victoria, I'd argue that this incredible National Park is deserving of far more attention than it currently gets. It's vast, beautiful, remote, and has some of the best hiking spots in all of Western Australia.
Karijini National Park is Western Australia's second-largest National Park — but I'm going to call it now and say that I think it's the most impressive. Brimming with ancient red rock gorges, natural swimming holes and refreshing waterfalls, Karijini National Park is an adventure seekers delight. 
No matter if you're an Aussie looking to explore more of Australia, or if you're travelling to Australia from overseas, I think a visit to Karijini National Park should be on your bucket list. To make getting started on your Western Australia adventure a little easier, I've put together this expert guide on Karijini National Park. Now, let's get stuck in.
Expert Guide to Karijini National Park
Where is Karijini National Park?
In short, Karijini National Park is very remote — so your adventure really begins long before you get there. If you're travelling to Western Australia, you should know that Karijini is located around 1,400km north of the capital city, Perth. In fact, the nearest town to Karijini National Park, Tom Price, is a full hour away by car. You can't say you weren't warned.
For how long it takes to get there — as well as how much there is to see and do there — I'd recommend allowing at least three days to experience the highlights of Karijini.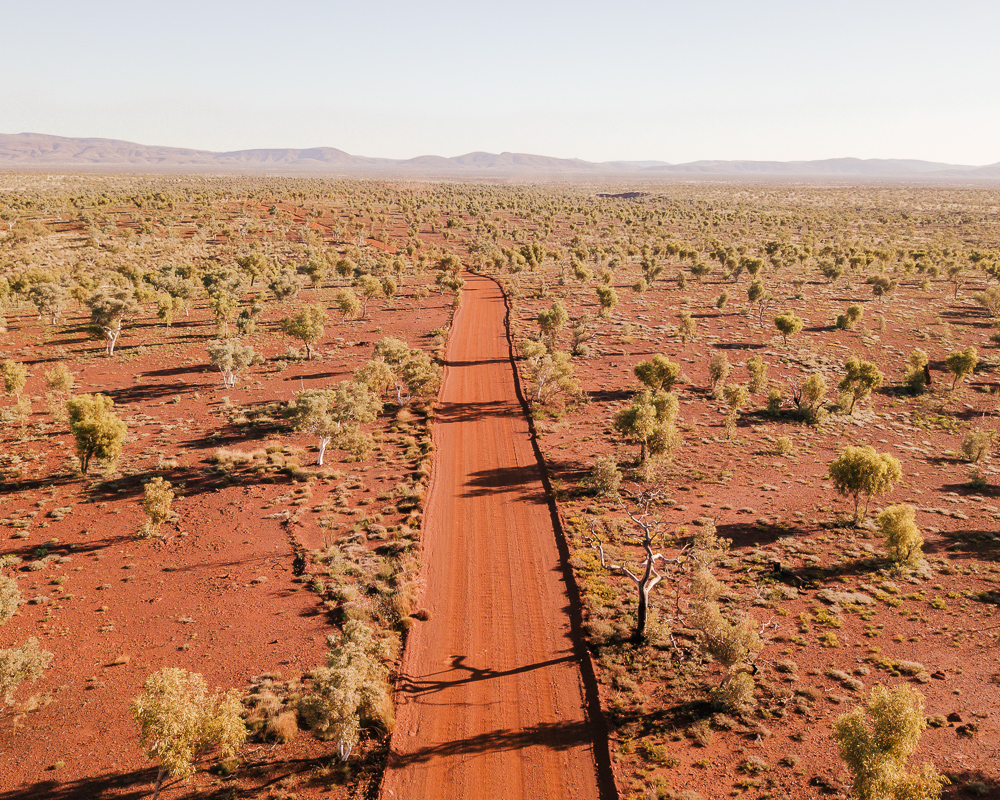 How to Get to Karijini National Park
The quickest way to access Karijini is to fly into the mining town of Paraburdoo via Perth and hire a car to drive to Karijini from there. Alternatively, if you're up for a Western Australia road trip across dusty and varied terrain, the drive from Perth to Karijini takes about 15 hours. This is a huge undertaking that I wouldn't recommend going alone, with an overnight stop recommended to break up the drive.
If 15 hours seems a bit daunting, you can try combining your visit to Karijini with a stop in Exmouth: the gateway to the Ningaloo Reef, one of the best snorkelling spots in the world. Exmouth to Karijini is about a 6-hour drive if you drive on sealed roads via Paraburdoo.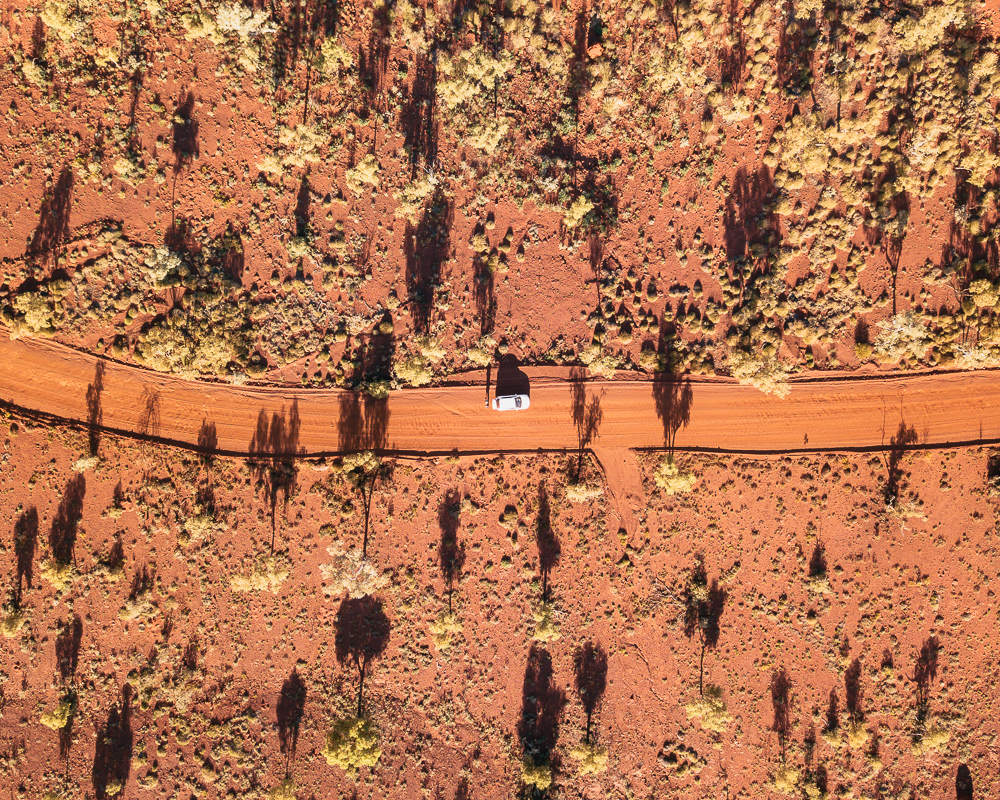 The roads within Karijini National Park are mostly unsealed gravel roads, but they are still generally accessible in a 2WD car. Call or visit the Visitors Centre in Tom Price or Karijini beforehand for the latest information on road conditions.
It's also worth noting that there are entry fees when visiting Karijini National Park. If you're planning on visiting more than one national park on your Western Australia road trip, consider getting a Parks Pass to avoid paying at every Park you visit.
The Best Time to Visit Karijini National Park
The best time to visit Karijini National Park is during the cooler and drier months, from April to October. Outside of these months is the wet season, when it is extremely hot and wet — with temperatures of over 40°C and heavy rains. This time also usually means unpredictable flash flooding in the gorges, making it dangerous to camp in or drive through.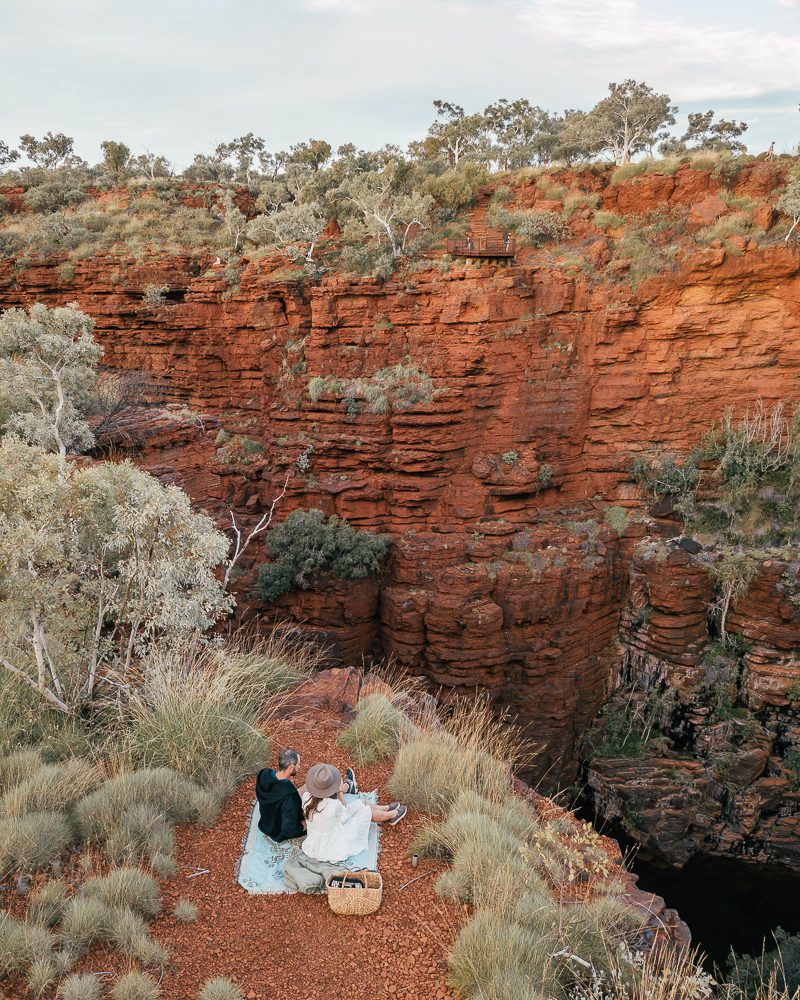 During the winter months, from June to August, the days will be warm and clear but night-time temperatures drop far lower than you might expect due to the semi-desert climate of the park. Make sure to pack warm clothes for the afternoon and evening if you plan on visiting at this time!
It's also worth noting that the WA school holiday period in July is a particularly busy time to visit Karijini. Lots of families visit the Park during the cool and dry season, so make sure to plan your trip well in advance if you're interested in travelling at this time of year.
Where to Stay in Karijini National Park
When planning your trip, it's important to note that there are very limited facilities and accommodation in Karijini National Park. Your accommodation options in the park are limited to camping or glamping, but if you need more facilities, a supermarket and accommodation is available in the town of Tom Price. It's an hour each way, but you can drive into the park each day from town if you like.
There are two camping options available in Karijini for you to stay at: Dale's Campground, and the Karijini Eco Retreat.
Camping at Dale's Campground, Karijini National Park
Dales Campground is a large campground run by the ​​WA Department of Parks and Wildlife. It is located on the eastern side of the park, near Fortescue Falls, Fern Pool and Dales Gorge. If you're a pretty advanced camper, this is the option for you. The campground has minimal facilities consisting of picnic tables, gas barbeques and bush-style drop toilets. All campers must be self-sufficient for drinking water and power.
Camping at Karijini Eco Retreat, Karijini National Park
The Karijini Eco Retreat is a privately-owned campground located closer to Tom Price and is within walking distance of Joffre Gorge. Traditional camping is on offer, as well as more luxurious (did someone say hot showers!) glamping accommodation in eco-tents. Camping here offers more facilities than Dales Campground, with flushing toilets and shower ablution blocks available.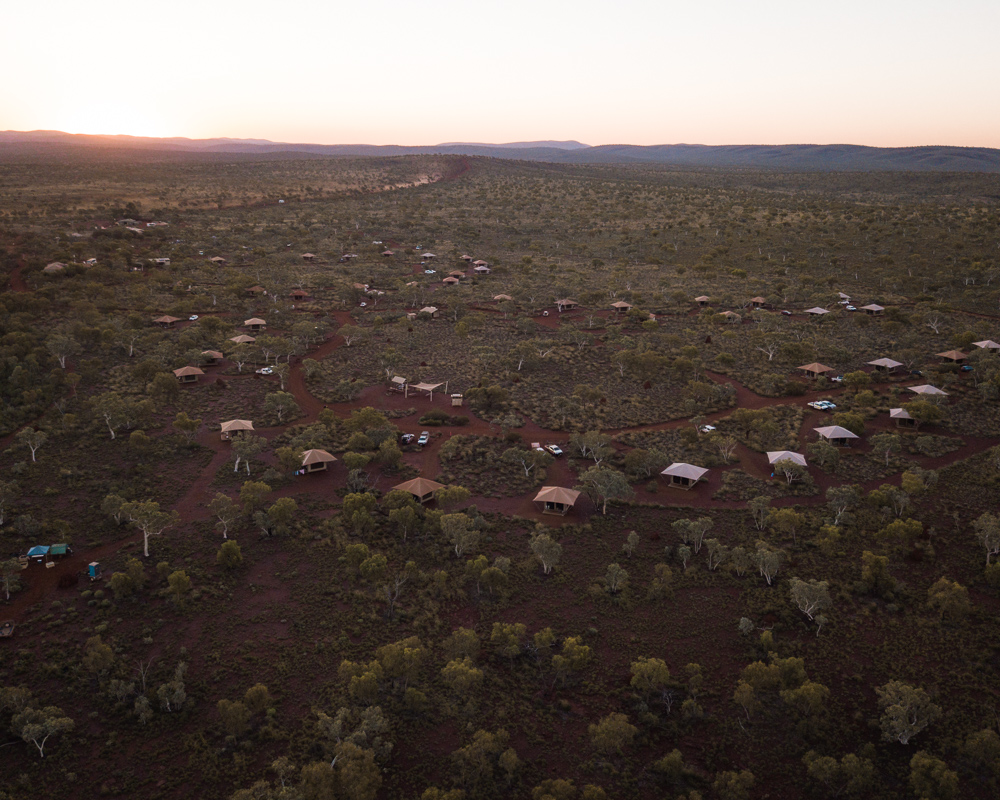 My favourite thing about Karijini Eco Retreat? Why the outback alfresco restaurant of course. After a full day of exploring, come back to camp and have someone else cook for you – just note advance bookings are required. My insider tip: if the restaurant is fully booked, check to see if they are doing burger night for an easy takeaway option.
5 Best Gorges to Explore in Karijini National Park
Karijini is famous for its many gorges; narrow rock formations caused by erosion over thousands of years. Here's your guide to what you'll find at some of Karijini's best gorges: Hancock, Hamersley, Joffre, Knox and Dale's.
1. Hancock Gorge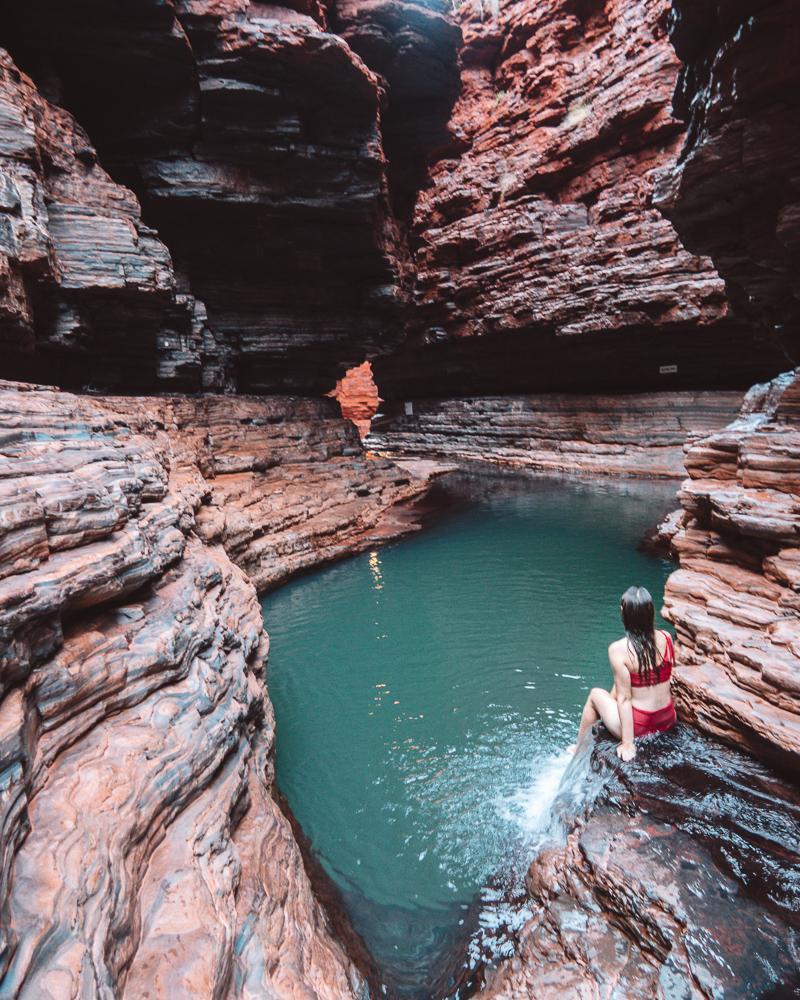 Hancock Gorge is one of the most popular — and photogenic — gorges in the Karijini National Park and offers one of the Park's most adventurous hikes. Descend among the deep red rocks of the gorge, where sections of the hike involve wading through waist-deep water. In the last section of the hike, you'll need to 'spider walk' between the narrow rock walls to reach your destination: the deep green waters of Kermit's Pool.
2. Hamersley Gorge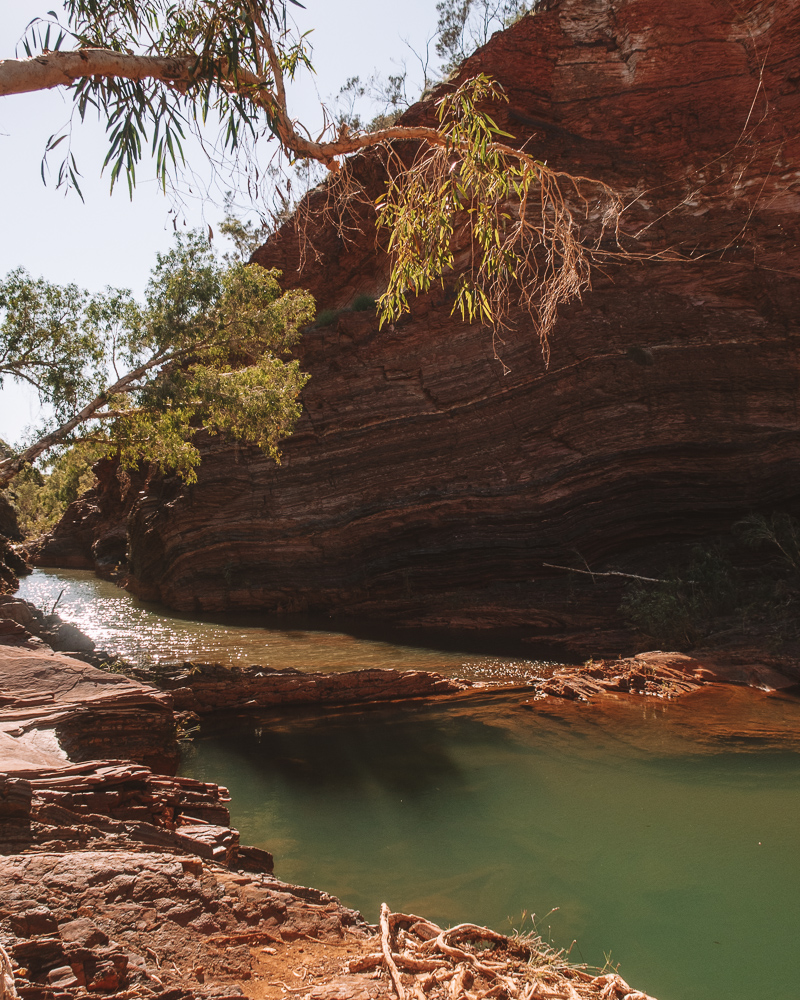 Located on the western side of the National Park, Hamersley Gorge is unlike any of the other gorges in the park. The unique geology of this wide gorge immediately draws your eye, with multiple bands of stunning multi-coloured layered rock.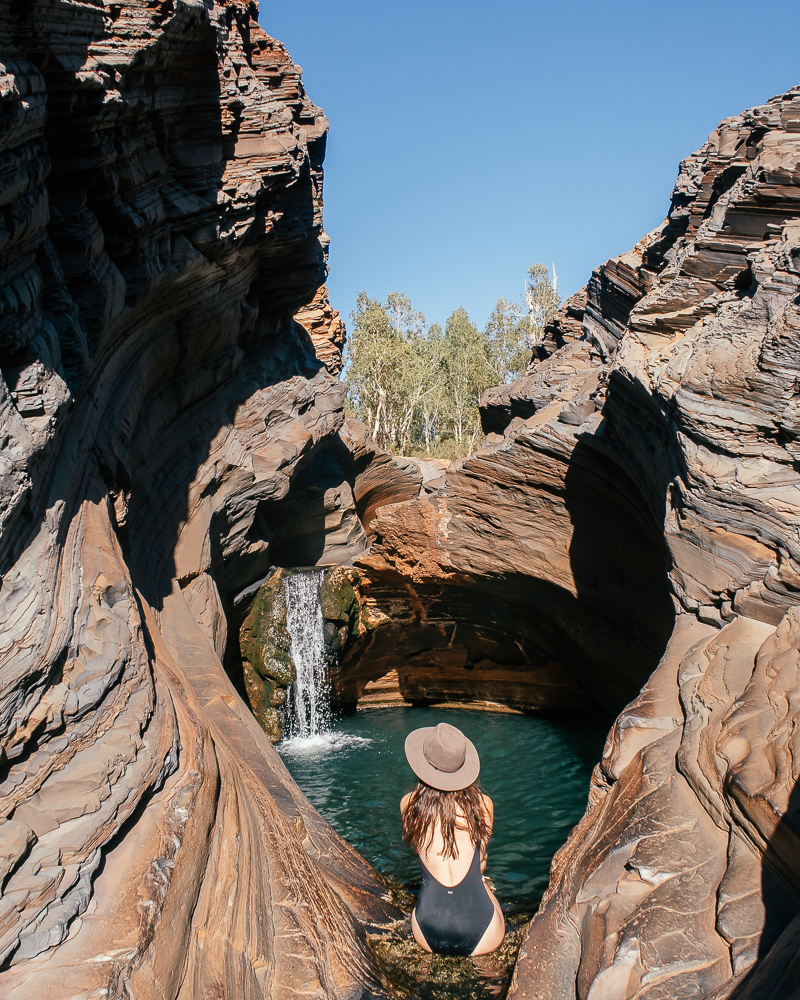 While the swimming hole at Hamersley Gorge looks inviting, continue heading further up the gorge in search of the Instagrammable Spa Pool — a small but deep pool with a waterfall. Soak in the freshwater, or soak up the sun on the rocks — just be careful not to slip over!
3. Joffre Gorge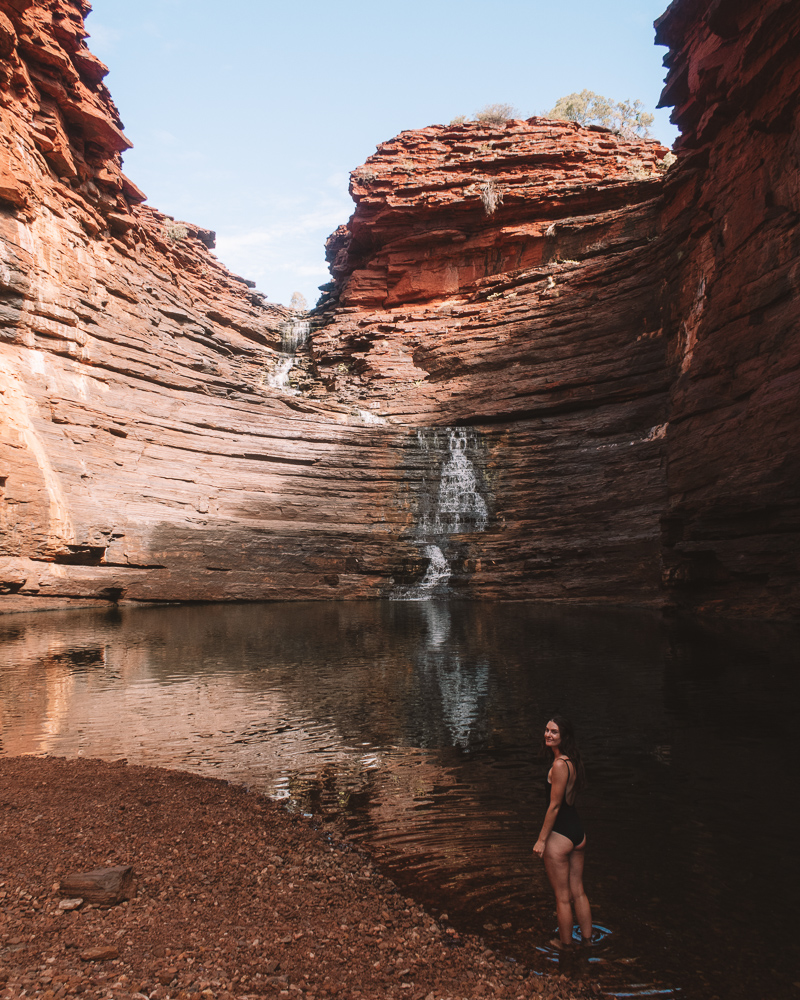 If you're looking for more waterfalls, descend the ladders into the heart of Joffre Gorge. Follow the river upstream to where the Joffre Falls plunge into a deep pool of icy water at the bottom. One of the Park's most impressive gorges, the red rock structures seem to stretch on for eternity when looking back through the gorge.
4. Knox Gorge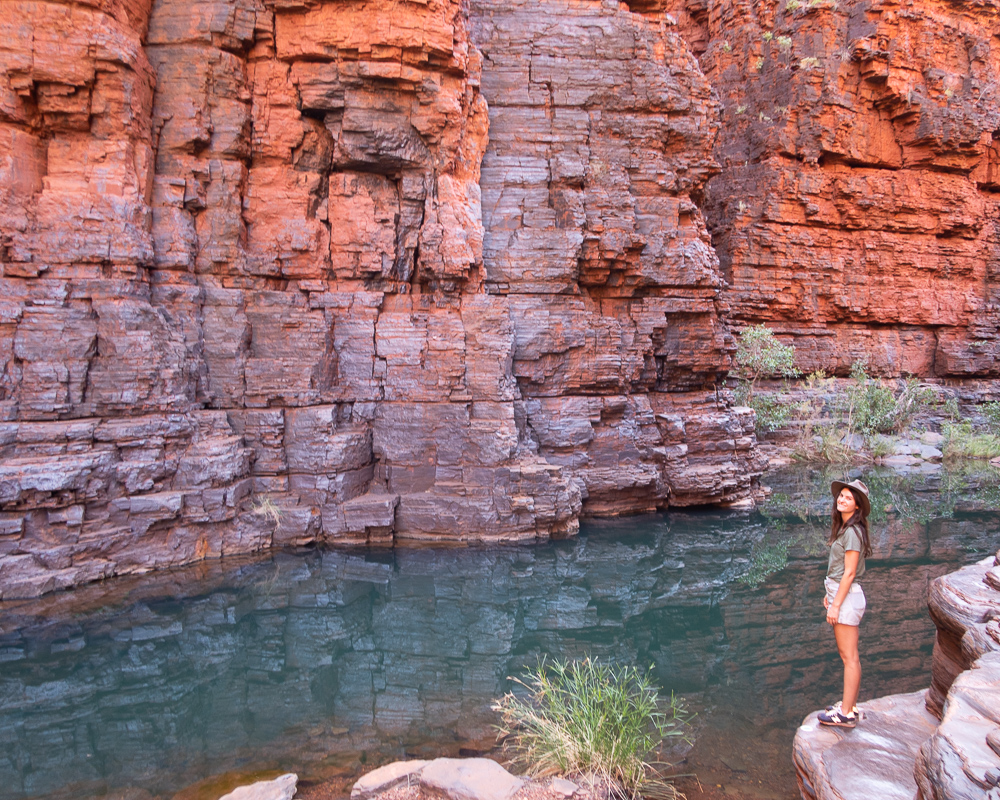 The first time I saw it, Knox Gorge took my breath away with its stunning contrast of emerald water and brilliant red rock. After a rocky and steep descent down into the gorge, the trail takes you along the gorge to a lookout where a small gap offers scenic views into the gorge beyond. Here you can swim, or simply enjoy the cool breezes occasionally coming off the top of the water in the shade.
5. Dale's Gorge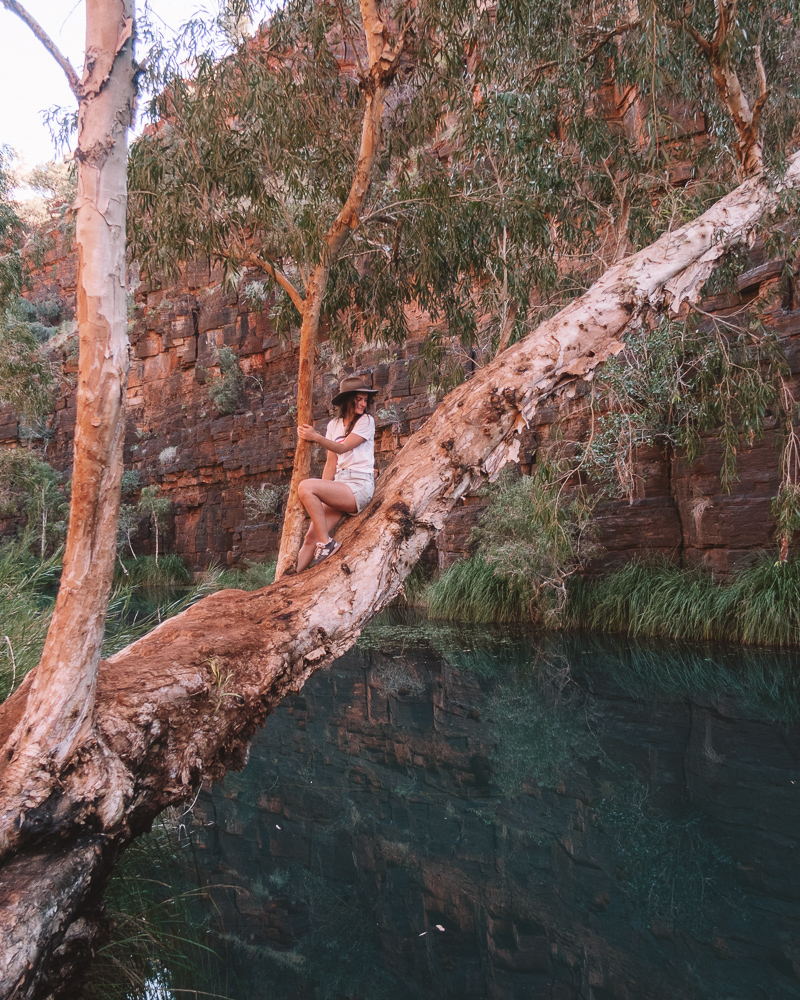 Thanks to its proximity to Dale's Campground, Dale's Gorge is one of the most popular gorges in Karijini National Park. Dale's Gorge is home to the park's largest waterfall, Fortescue Falls, which is a great spot to laze around on the rocks or float in the large pool.
A short walk from Dale's Gorge takes you to the nearby Fern Pool, which is (as the name suggests) a small tranquil pool surrounded by rich green ferns and a small waterfall. Swim across the pool to sit in the small cave and let the waterfall wash over you as you take in the natural beauty of this spot. Just note that this is an especially important place to the local Aboriginal people, so you should enter the water quietly and avoid making loud noises.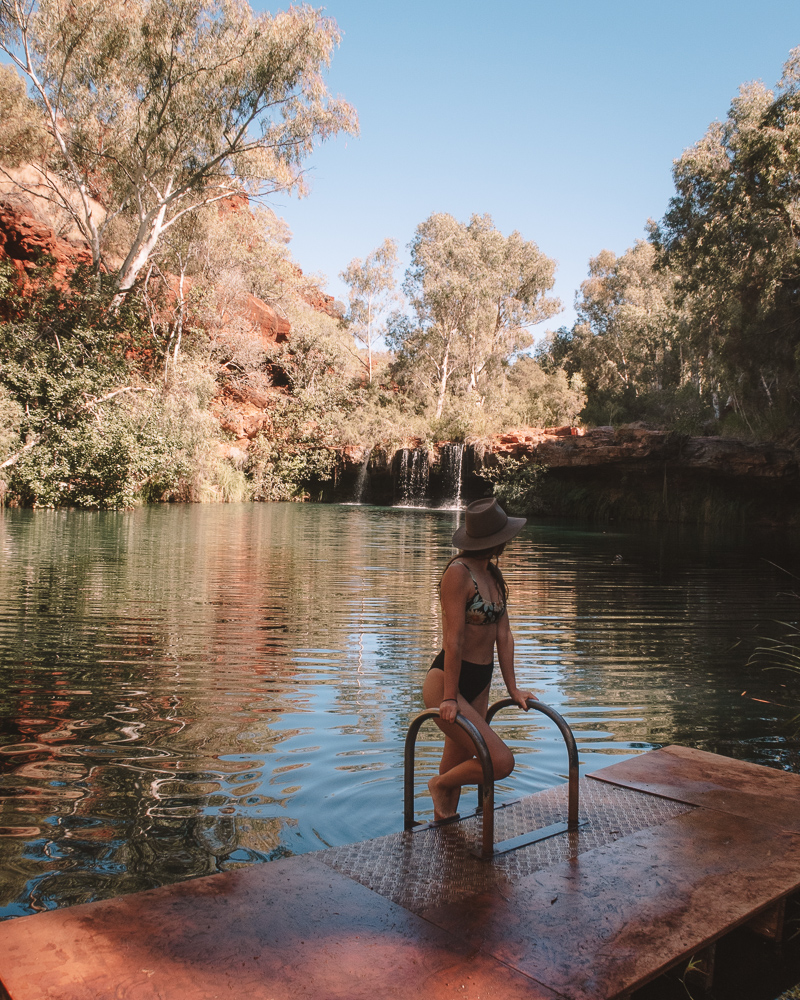 4 Things to Do in Karijini National Park
Once you've had your fill exploring Karijini's gorges and waterfalls, there's lots more to do. These are four must-do things that should be on your to-do list when you visit the Park:
1. Discover the rich cultural history of Karijini
The Karijini Visitors Centre has an impressive range of exhibits on display. Here you learn about the local Aboriginal people and their culture, both past and present. Karijini is the traditional home of three Aboriginal Peoples: the Banyjima, Kurrama and Innawonga Peoples. In fact, the name 'Karijini' comes from the Banyjima name for the Hamersley Range.
At the Visitors Centre, you can geek out on facts about the geology, wildlife and history of the park. You can also pick up cold drinks and ice creams here, which are most welcomed after a day of hiking through the gorges.
2. Take advantage of clear night skies with some astrophotography
Karijini makes for awesome stargazing and has some great astrophotography opportunities thanks to the minimal light pollution. If you've never been much of a photographer, there are plenty of great guides on travel photography out there to learn how.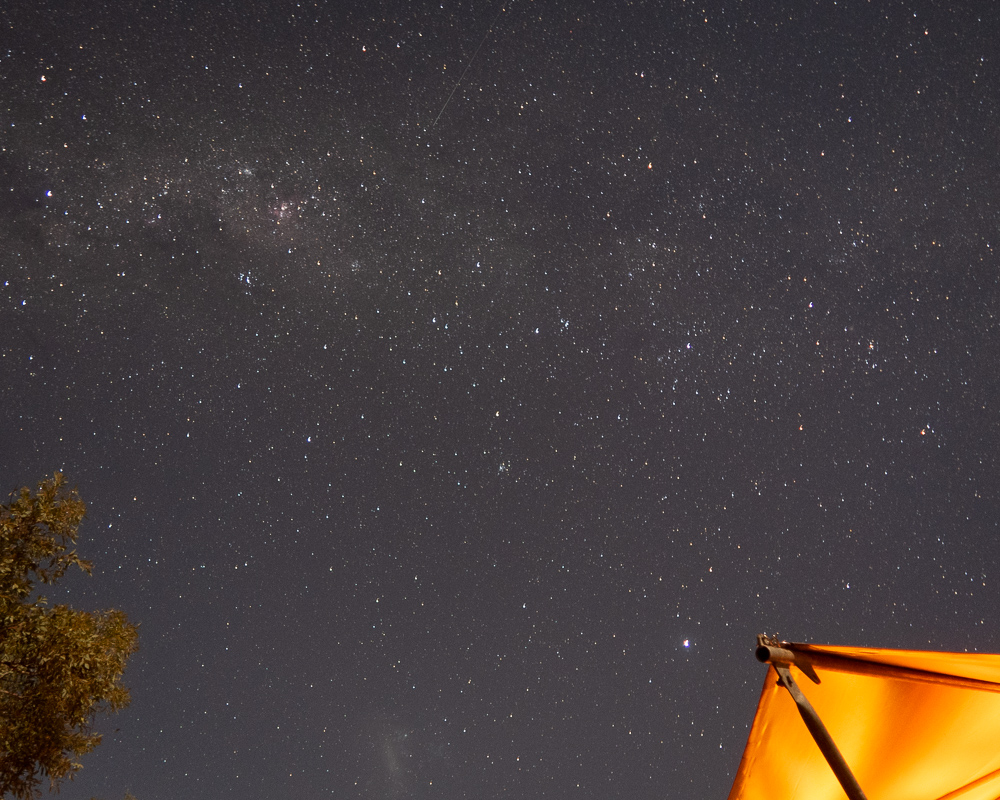 While a fancy DSLR helps, there are also plenty of great apps for your phone that let you manually adjust your shutter speed, aperture and ISO. If you're heading to Karijini, make sure you bring a tripod if you have one so you can get some long exposure photos — or make do with propping your phone up with some rocks, sticks, or whatever you have on hand.
3. Take in the landscape at one of the many lookouts
Many of the Karijini Gorges have lookouts for you to drink in views of the natural landscape. Make sure to visit Circular Pool Lookout near Dales Gorge to view the amphitheatre-like pool below.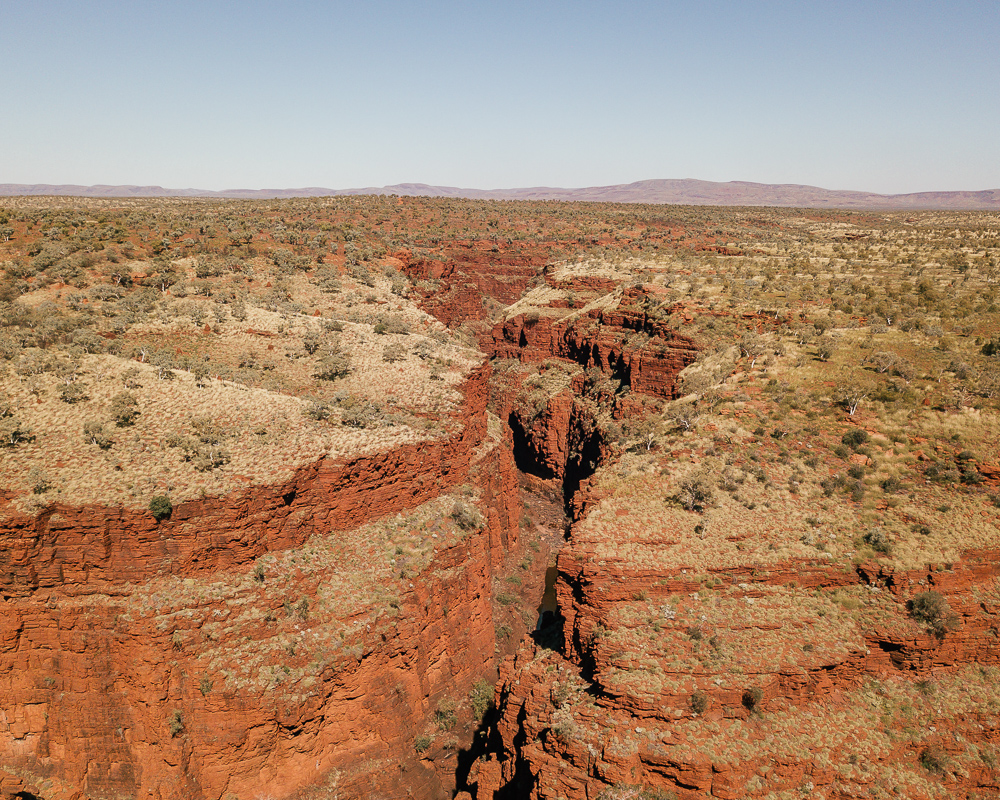 Over the other side of the park near Weano Gorge, you'll find Oxer Lookout and Junction Pool Lookout. Both these lookouts offer scenic views across and into the sweeping gorges below. Joffre Falls Lookout is within walking distance to the Eco Retreat and makes for a brilliant sunset viewing spot with a bottle of wine to celebrate the end of another day of incredible adventures.
4. Conquer Mount Bruce/Punurrunha
As you approach the entrance to Karijini, it's hard to miss the towering profile of Mount Bruce on the horizon. Mount Bruce — or 'Punurrunha' as it's called by the Aboriginal people that are the traditional custodians of this land — is WA's second-highest peak. Its red, rocky face stands out among the flat, dry landscape that surrounds it.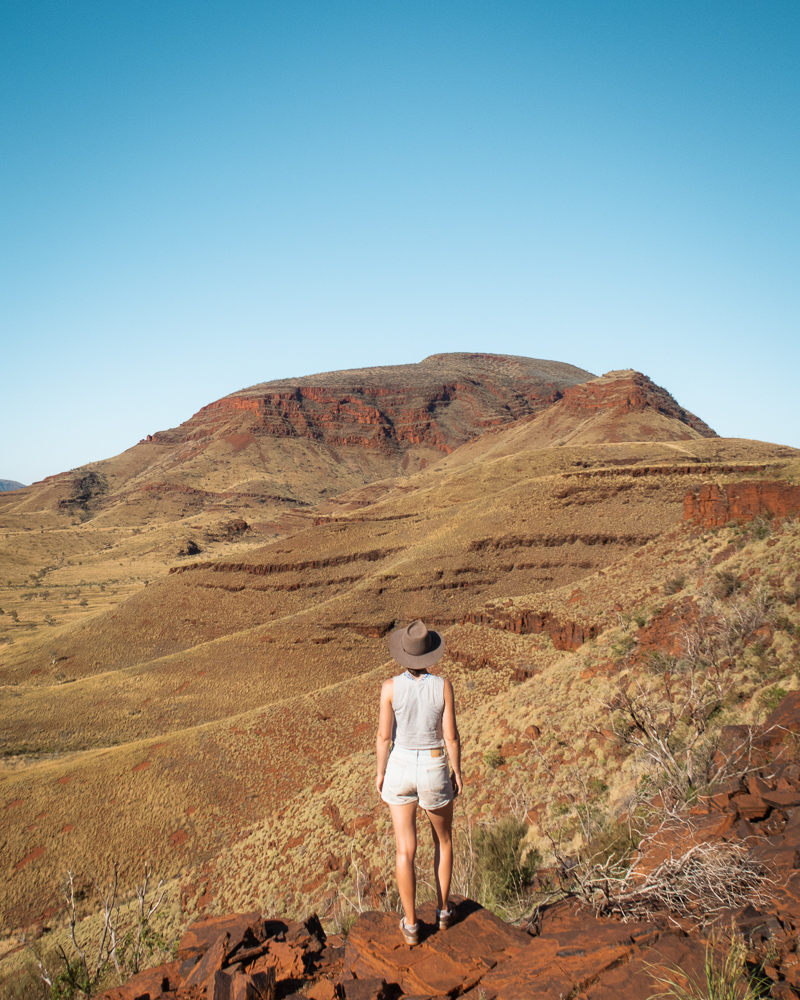 I'd recommend getting an early start for those wanting to conquer the 1249 metre high summit, as this return hike can take up to 6 hours. Shorter options are also available, offering scenic views of the open vistas around it and informative displays located along the hike.
Start Planning Your Visit to Karijini National Park
To get started on your plans, compare and book flights to Western Australia with Webjet. As I mentioned earlier, the easiest way to get to Karijini is by flying to Perth and then getting a connecting flight to the nearby mining town of Paraburdoo. From there, you can hire a car to drive to Karijini (trust me, you're going to want a car). Flights are infrequent and it's remote to say the least, so make sure you plan your trip for at least 3–4 days plus travel time.
That wraps up my insider guide for all you need to know for your next adventure through the magnificent landscapes of Karijini National Park. It's hard to overstate just how fantastic and underrated this National Park is. I highly recommend all visitors, both Australians and tourists from overseas, visit Karijini at least once. The natural wonders of the park are something that must be seen to be believed and will leave you with memories of adventures that will last a lifetime!
I hope you're feeling inspired to get out there and explore all that Karijini has to offer. If you've found this guide helpful, please let me know. Hopefully, I'll see you out there!