If you're travelling to the south-west of Western Australia, you'd better bring your appetite. This is home to the Margaret River Region — WA's incredible wine country. Margaret River has a world-renowned reputation as a mecca for food and wine connoisseurs. I recently visited the area to find the absolute best places to eat and drink in Margaret River and this is what I found.
The great thing about Margaret River is that it attracts top talent from all around the country. As a result, there are new and exciting venues popping up all the time — stunning bakeries, specialty cafes, fancy restaurants, incredible Western Australian wineries — but I believe the venues I've chosen are good enough to stay around for the long run.
So whether you're looking for a traditional croissant, the best latte of your life, a wine tour, or a fine dining degustation, here are my top picks for the best places to wine and dine in the Margaret River region.
The 8 Best Restaurants, Cafes and Wineries in Margaret River, WA
1. Glenarty Road
Venue Type: Restaurant, wine bar & farm
Address: 70 Glenarty Road, Karridale, Western Australia 6288
Instagram: @glenartyroad
Glenarty Road is a rustic farm-to-table restaurant that was recently announced as the WA Good Food Guide's Best Regional Restaurant for 2022. After my visit, it was easy to see how it earned that prestige.
Glenarty Road offers a Forage on the Farm experience that I highly recommend — it's the best way to experience the complete tapestry of food, wine and farming that make this place so special. This farm tour takes you beyond the restaurant to see and experience exactly where all the produce comes from, all while sampling fresh farmhouse treats and wine pairings as you go.
The tour is genuinely inspiring. It lets you peek behind the curtain to see how passionately the farm is cared for and how thoughtfully each item on the menu is curated. I would highly recommend this charming epicurean adventure for anyone searching for a complete farm-to-table experience in Western Australia.
2. Yardbyrd
Venue Type: Cafe
Address: 10413 Bussell Hwy, Witchcliffe, Western Australia 6286
Instagram: @yardbyrd_witchcliffe
Featuring great specialty coffee and plenty of breakfast options, Yardbyrd in Witchcliffe is a funky must-visit spot. Located just 10 minutes out of Margaret River, Yardbyrd is the local cafe of choice for the cool, young, surfy crowd. I couldn't help but notice that everyone passing through for their morning coffees seemed to be barefooted and bronze beach hunnies.
Yardbyrd is open 7 days a week until 2 pm, so there are plenty of opportunities to check it out. I enjoyed a latte and banana bread in their pretty little garden, but if you're after something stronger, it's also a BYO venue for when you fancy a tipple at breakfast! I'll definitely be having a mimosa on my next visit.
3. Riversmith
Venue Type: Cafe & artisan goods store
Address:122 Bussell Hwy, Margaret River, Western Australia 6285
Instagram: @riversmith.mr
At Riversmith, the avocado toast was a highlight and the coffee was pretty great too — but what I love most about this gem of a cafe is the fun, lofty space. This is more than a cafe and is actually an artisan store filled with all kinds of books and gifts.
Riversmith really isn't the kind of place you want to duck in for a quick take-away coffee — not because the coffee isn't great — but because I can almost guarantee you'll end up wandering around and checking out all the beautiful products. Be prepared to come out with much more than just a latte and a muffin.
This cafe gets busy in the morning, so if you don't get your timing right, you may need to prepare for a bit of a wait. If you're there to eat, it seems the folk in Margaret River are really into brunch. Rest assured, if the quality of my breakfast is anything to go by, the wait for food is well worth it — and at least there are lots of lovely things to look at to pass the time.
4. Egberts
Venue Type: Cafe & takeaway
Address: 2/124 Bussell Highway, Margaret River, Western Australia 6285
Instagram: @egbertsmargaretriver
I came across this little hangout right in the centre of Margaret River quite by accident — and boy am I glad I did. At Egberts, you'll find the most friendly staff and a super impressive selection of baked treats. The music was great, the service was friendly, the energy was right, and the decor is very understated in an Instagram-worthy kind of way.
It was highly suggested to get in earlier as their bakery items get snatched up very quickly. I missed out on getting one this time around, but apparently, these guys have some of Margaret River's best croissants. Definitely put Egberts on your list of must-visit coffee spots in the Margaret River region.
5. Vasse Felix
Venue Type: Winery, restaurant & gallery
Address: Caves Road (Cnr Tom Cullity Drive), Cowaramup, Western Australia, 6284
Instagram: @vassefelixwines
My personal gold medal for the best food in the region goes to Vasse Felix. Granted, I'm far from alone in that opinion. Vasse Felix is highly rated amongst food critics and was voted Number One in the WA Good Food Guide's Top 100 for 2022.
After my first sampling at Vasse Felix, I knew their achievements were well earned. I could not fault a single thing I ate. Chef ​​Brendan Pratt has some kind of superpower with pairing flavours. The lamb with smoked beef fat milk radicchio was a work of art, as was the macadamia kangaroo. The desserts were a whole other masterpiece — in particular the chocolate, cherry and fennel pollen.
The Chef's signature cabernet caramels were a perfect finish to the meal, perfectly paired with a classic espresso. While it meant the end of the meal, without a doubt, it won't be the last time I visit Vasse Felix to eat.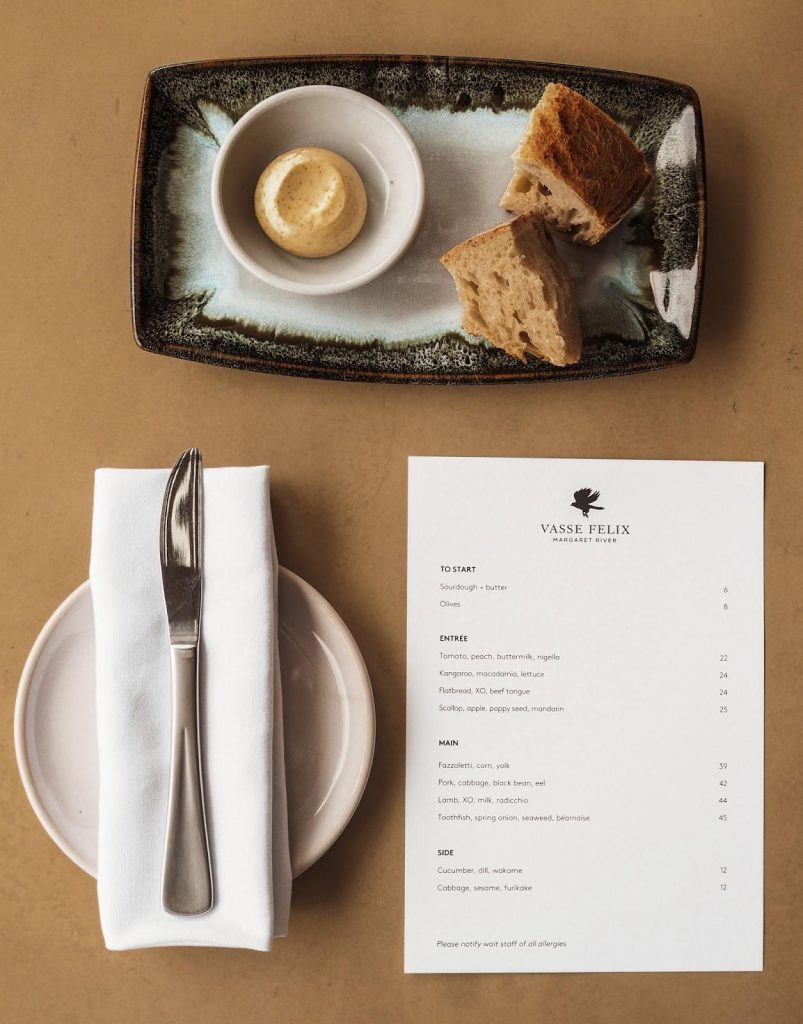 6. Merchant & Maker
Venue Type: Cafe & artisan goods store
Address: 8/35 Dunn Bay Rd, Dunsborough, Western Australia 6281
Instagram: @merchantandmaker
A little away from Margaret River itself, Merchant & Maker is another must-visit Dunsborough local. A hybrid of a specialty cafe and a general store, you'll find this place buzzing at all times of the day. I always make sure to stop here whenever I'm passing through the region on a Western Australian road trip down south.
This spot's popularity as a takeaway venue is absolutely warranted! They've got a fantastic selection of bakery items, fresh pies, bread rolls and sandwiches. Merchant & Maker serve some of Western Australia's best specialty coffee, with fancy equipment and quality beans by Five Senses Coffee.
The staff are also a delight and are eager to help you explore the store's range of gorgeous artisanal products, including teas, crackers, cheeses, cured meats, sauces and mueslis. There's also a comfortable and chic space to sit down and enjoy breakfast, but I've always felt just as happy and welcome wandering around with a takeaway coffee and pastry.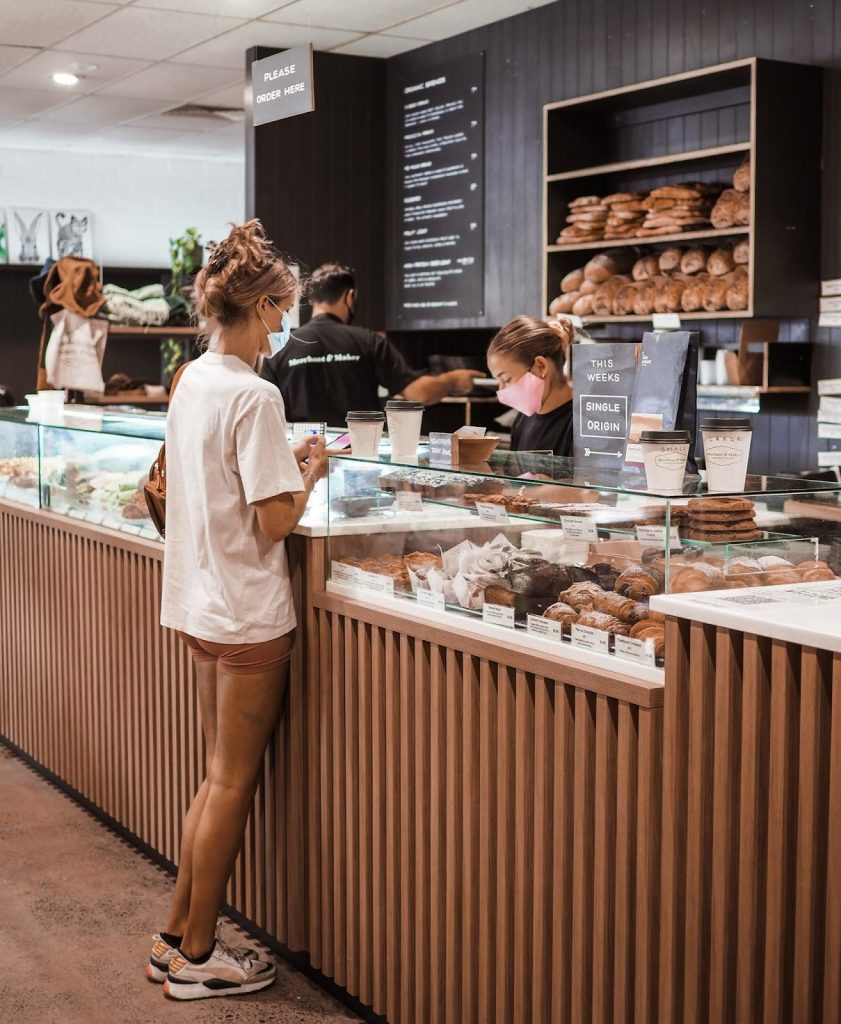 7. Meelup Farmhouse
Venue Type: Restaurant, bar & hobby farm
Address: 54 Sheens Rd, Naturaliste, Western Australia 6281
Instagram: @meelupfarmhouse_
Arguably the most aesthetically pleasing venue in the region, Meelup Farmhouse is a spot worth travelling for. This space is a triple threat of restaurant, bar and hobby farm that moonlights as a gorgeous wedding venue. When I visited, it was in the full swing of charming hobby farm mode — with beautiful gardens to explore and plenty of friendly animals to meet.
Food from Meelup Farmhouse is, in short, fantastically gourmet. They offer a la carte dining with a seasonal menu and a long, long drinks list. They also offer a bottomless brunch, with bottomless mimosas & Bloody Marys. On the day I visited, however, I opted to skip the restaurant and sampled one of their seasonal picnic hampers.
The hamper came with all the accessories you might need including a picnic rug and a pop-up table. The food was impressive — the house-made chicken liver pate being a particular hit — and the bottle of Farmhouse Prosecco complimented the feast perfectly. With such a beautiful venue to enjoy, these picnic treats tasted even better.
8. Voyager Estate
Venue Type: Winery & restaurant
Address: 41 Stevens Rd, Margaret River, Western Australia 6285
Instagram: @voyagerestate
Voyager Estate is a gorgeous, organic-focused, family-owned estate that produces some of the best Chardonnay and Cabernet Sauvignon in the Margaret River wine region. While there are lots of fantastic estates to visit while exploring the wine region, Voyager Estate stands out for the depth of premium experiences on offer.
There are a wide array of activities to partake in here, including tours, wine tastings, and class from the Estate's sommelier. Sadly, my visit was only very brief, with just enough time to sample some of their world-renowned wines and a simple but decadent cheese board. This brief visit alone was enough to justify the trip and left me longing for more.
The restaurant at Voyager Estate is creative and focused on showcasing the best the region has to offer. The menu is impressive and, having read about the restaurant's awards, I'm eager to return as soon as I can and dedicate an entire afternoon to it. The seven-course degustation comes highly recommended, and I soon intend to indulge in it and the beautiful grounds of the venue to see all it has to offer.
And there they are: my recommendations for the best cafes, restaurants and wineries to visit while in the Margaret River region. While these are my favourite spots, I hope this list gives you some inspiration to get out there and explore the beautiful wine region for yourself!
Aside from food and drink, Margaret River is a stunning place to explore. Visit in the summertime for its stunning beaches and scenic viewpoints — or wait for the cool of winter when you can cosy up by a warm fireplace in a beautiful farm stay house and appreciate darker wine varieties and seasonal produce.
If you choose to fly to Western Australia, make sure you get the best deal on flights and accommodation by comparing and booking with Webjet. Just be sure to leave some space in your luggage — you'll almost certainly end up taking some bottles of wine and other treats home with you!