Taking the time to get up early and watch the sunrise is a pretty special experience, no matter where you are in the world. And some of the most beloved places in Australia to welcome a new day are undoubtedly reserved for those who take a trip to Byron Bay.
But what time is sunrise in Byron Bay, exactly? Well, a quick search online should be able to tell you the exact time for any day, but a good bet is that it will be anywhere between 5 and 6 am. So set your alarm, lay out your clothes for the morning and get a good night's sleep — there's a plethora of extraordinary sunrise locations to discover.
If you've got a whole week (and a lot of energy in the morning), check out these 7 scenic lookouts. We promise the views will be worth it though.
8 Best Places to Watch the Sunrise in Byron Bay
1. Cape Byron Lighthouse
Great for: Awe-Inspiring Coastline Views
If we're going to talk about the best place to watch daybreak unfold in Byron Bay, check out Cape Byron Lighthouse. Fun fact: this lighthouse marks the most easterly point in Australia, so there is basically no destination to rival this for uninterrupted views of the sunrise over the ocean. Sheer coastal cliffs offer 360-degree views of the Byron landscape, and the iconic Cape Byron Lighthouse acts as the perfect backdrop for a classic first-light photo.
Getting to Cape Byron Lighthouse is easy too — you can either drive in on your own, or join the early morning procession of people on the Byron Bay lighthouse walk just before sunrise. It's no easy feat to get up in absolute darkness and trudge the steep hills of the Cape. But once you catch a glimpse of that gorgeous orange hue on the horizon… the struggle of a pre-dawn alarm will disappear.
2. Belongil Estuary
Great for: A Memorable Bird Watching Experience
Welcome the morning sun with a couple of feathered friends as you watch the sunrise from the Belongil Estuary. This protected nature reserve consists of saltmarsh, mangroves and sandy dunes that together create a rich, diverse ecosystem. It's hard to believe it's just a 2.5-kilometre walk north of the main Byron hub.
The estuary is home to a number of threatened or endangered plant and bird species, including the little tern, but avid bird watchers will also want to look out for osprey, egrets, cormorants and sacred kingfisher — all of which are especially active during the morning hours.
And when you're done at the estuary, the beach route back to town is one of the loveliest Byron Bay walks. So if it's a serene, back-to-nature experience you're after post-sunrise, the Belongil Estuary delivers in spades.
3. Wategos Beach
Great for: A family-friendly sunrise
While the high vantage point that Cape Byron offers makes for a wonderful spot to watch the sunrise at Byron Bay, the view from ground level is just as breathtaking. If you're interested in watching the sunrise from sea level, Wategos Beach is a prime shoreline location.
Sheltered and calm, Wategos is a 600-metre curved stretch of sand popular with families and backpackers. Accessible via one of the Byron Bay walking tracks from the Cape, you'd be forgiven for thinking Wategos would be a busy meeting place for sunrise chasers. But, it's actually much quieter than the nearby lighthouse and there's generally only a handful of people around.
To best enjoy this lovely little Byron Bay sunrise point, pack a blanket, a thermos of hot tea or coffee, and settle down in the sand to watch as a new day reveals itself. It's well worth the early morning and is a must if you want a relaxing experience.
4. Fisherman's Lookout
Great for: Stuning sunrise photos
With panoramic views that extend east out across The Pass (one of Byron's busiest surf breaks), Main Beach and the wider township — Fisherman's Lookout is a great option come sunrise time in Byron Bay. And the outlook from the other direction certainly isn't bad either. The timber viewing platform is also perfectly positioned to catch the morning light as it breaks on the Cape Byron Lighthouse.
With vistas this good, this Byron Bay lookout is a photographer's dream! Bring along your camera gear, including a tripod and the biggest zoom lens you've got, and get the best shots you can of the dolphins and whales swimming by. It's also worth mentioning that sometimes the locals refer to Fisherman's Lookout as The Pass Lookout — its close proximity to the renowned surf spot means it often goes by that name as well.
5. Paterson Hill Lookout
Great for: Learning about Byron Bay's history
Funnily enough, here's another lookout that goes by two different names. Formally renamed to 'Eric Wright Lookout' in 2002 after the local Byron historian, Eric Wright, it's still pretty common to hear this sunrise spot referred to by its original name: Paterson Hill Lookout.
Whatever you want to call it, there's no denying it's a cracking location to watch the sun come up. The hill is located on Paterson Street and offers views all the way across Arakawal National Park, Tallows Beach down to Broken Head, and the Cape Byron Lighthouse. On a clear day, you can even see as far as Mount Warning, which is easy to spot thanks to its distinct crooked peak.
If you've got keen eyes, you'll also notice a plaque erected in Eric Wright's honour. He saved Paterson Hill from being turned into a residential area; something any visitor to the area is certainly grateful for. How's that for a slice of history with your sunrise?
6. Mount Warning
Great for: A challenging but rewarding hike
Look, Mount Warning may not technically share the same postcode as Byron Bay (it's roughly an hours' drive away), but with jaw-dropping views that encompass the entire incredible Byron hinterland and coast line, it's too good to leave off this list.
Standing between you and a heavenly sunrise though is a challenging hike to the top of the 1159-metre summit. You thought the Byron Bay Lighthouse sunrise walk was hard? Honey, you've got a big storm coming. This journey is a nine-kilometre trek through lush rainforest, rocky tracks, and up steep rocky inclines. You will need lots of drinking water. You will need sturdy shoes. You will need a first aid kit. You will need at least one other person with you and to tell people where you're going. You will need to prepare for any weather, including sun and storms. These are non-negotiables.
The hike itself can take more than two hours to complete — so get ready for a 3:30am start to your day. Don't let that scare you off though, the track is actually very well signposted and the relief you'll feel at the top far outweighs any hesitation you may have had before. Give it a crack with some mates and you won't regret it.
For the Ultimate Sunrise Sights: Hot Air Balloon Ride
Great for: Impressing your partner or friends
While Byron's famously gorgeous beaches, lookout and lighthouses are what it's known for, we think we've saved the best for last. Prepare to take to the skies for what has to be the most unforgettable Byron Bay sunrise experience: hot air ballooning. Sure, hiking up a mountain or sitting on the beach are both worthy sunrise-viewing activities, but there's just something special about a hot air balloon ya know? Try it out and you'll find yourself soaring high above the ground while the rest of the world is still waking up.
Considered Australia's ballooning paradise, a sunrise flight over Byron kicks off at 5:00am, with a departure time of 6:00am (good weather permitting). Once you're in the air, with a champagne flute in hand, you'll soar serenely over the region's most picturesque areas. The sky really is the best place to take in Byron's coastline, the hills of the hinterland, and the volcano caldera surrounding Mount Warning. And all the while you'll have front row seats as the rising sun puts on a dazzling light show.
8. Main Beach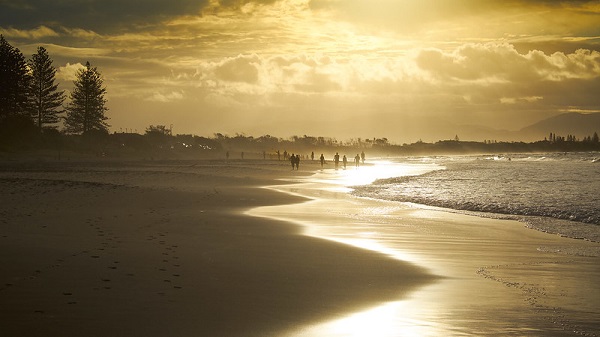 Great for : Hanging out and watching the sunset with friends
The only thing just as beautiful as a Byron Bay sunrise? A Byron Bay sunset, of course. And the best part is you don't need to wake up before the crack of dawn — already a winning argument for some.
Sundown in Byron is a glorious thing to witness; the horizon erupts in a blaze of orange, pink, peach and yellow, casting a golden glow across the entire township. And there's really no better place to watch this spectacle transpire than Main Beach. Every afternoon, a crowd descends on the sandy shores to catch the last light, and there's a real buzz in the air as people wait in anticipation to see what kind of performance Mother Nature puts on.
Sunset-watchers in Byron are rarely disappointed, as the gentle waves of the ocean are the perfect stage for an unforgettable nightly show. Plus, if you want to show off your travel photography skills, a photo of the sunset in Byron is basically cheating. It's just that easy to get a good shot when the surrounding area is so beautiful.
Whether you're taking a road trip along Australia's east coast, or you're flying to Byron Bay, these lookouts need to go on your must-visit list. Start planning your getaway with Webjet and get ready for the sunrise views of a lifetime!
Hero image: Cape Byron Lighthouse. Credit: thaths | CC BY-NC 2.0