Australia is one of the most popular tourist destinations in the world. If you're planning to see more of this spectacular country, be sure to check out some of the iconic Australian tourist attractions scattered throughout its states and territories.
From remarkable geological formations through to cultural institutions, you'll find captivating, intriguing and awe-inspiring sights across the length and breadth of Australia. With so many great places to explore, it's been hard to nail down our favourites, but we've chosen ten of the most unmissable ones for every visitor. How many have you visited?
10 Iconic Tourist Destinations in Australia
Sydney Opera House and the Sydney Harbour Bridge, New South Wales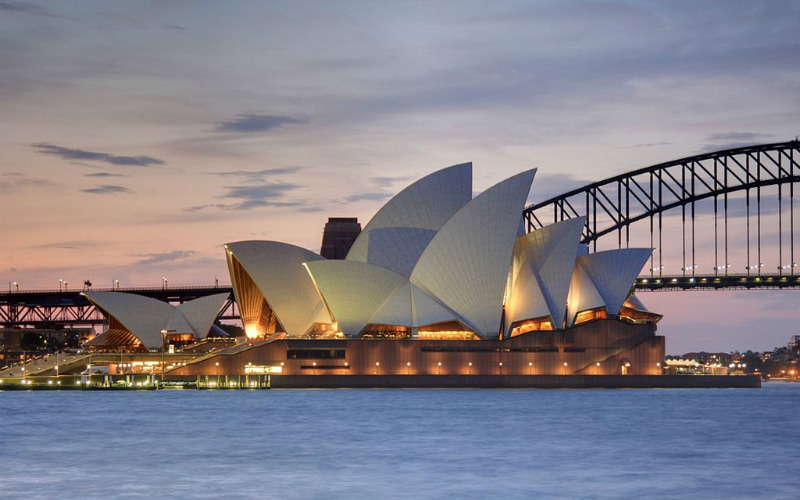 When most international visitors think of Australia — and Sydney in particular — it's likely that the first images that come to mind are of the Sydney Opera House and the Sydney Harbour Bridge. Spectacular in both design and history, these are true icons of the city's landscape that are well worth seeing during a visit to Harbour City.
Behind the scenes tours of the Sydney Opera House allow you to get to know more about the history and workings of one of Australia's best-known buildings, as well as the many famous names that have performed there over the years. If you don't feel like taking a complete tour, you are still welcome to walk around the building and up it's iconic steps to admire it from it's many angles. A waterside walk through the neighbouring Royal Botanic Gardens towards Mrs Macquarie's Chair will earn you incredible views of both the Opera House and Harbour Bridge that few tourists know about.
One of Australia's most celebrated landmarks, the Sydney Harbour Bridge has welcomed over four million climbers in an adventure with sights to remember. Whether you're looking for a family-friendly activity or a unique romantic date idea in Sydney, choose your climb route and scale up the bridge to witness 360° views of the city.
Great Barrier Reef, Queensland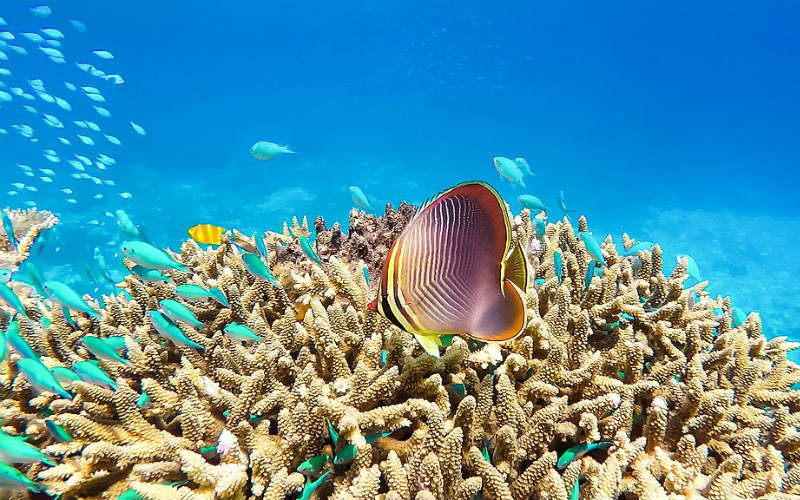 Made up of more than 3,000 different reef systems and hundreds of islands, visit the Great Barrier Reef to see one of Australia's most remarkable natural landmarks. Located just off the coast of Queensland, the reef stretches from Bundaberg in the south through to Cape York in the north. This is home to hundreds of different species of fish and an array of spectacularly coloured corals.
There are countless ways to discover the Great Barrier Reef and this wonderful part of the country. Go underwater in a snorkel or scuba diving adventure to see a plethora of exotic fish and corals up close. Take off on a scenic helicopter ride to get a bird's eye view of the reef — or go on board a sightseeing boat to soak up the scenery in comfort.
Uluru, Northern Territory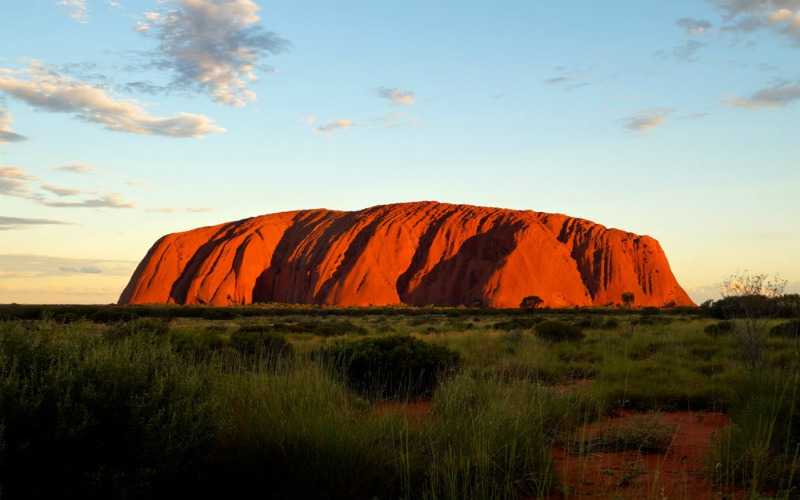 Estimated to be around 600 million years old, Uluru is one of Australia's most iconic landmarks. Standing at about 863 metres tall, the massive monolith emerges from the red soils of Uluru-Kata Tjuta National Park, making it a truly awe-inspiring sight to experience.
Nothing short of remarkable in its scale, this natural landmark holds incredible significance to the local Indigenous people. Uluru is considered a sacred site, carrying around it an ambience and feeling that is difficult to describe. Spectacular at any time of day, Uluru is perhaps best viewed at sunrise or sunset, when the rich earthy tones of its surface shift colour beneath the soft sunlight, and its grand figure is beautifully silhouetted.
TheUluru-Kata Tjuta National Park has many walking tracks that take you on a journey through thousands of years of cultural heritage, geological wonders and photo-worthy backdrops. Explore the park by yourself, or join the park rangers for free to learn even more about the landmark.
Three Sisters, New South Wales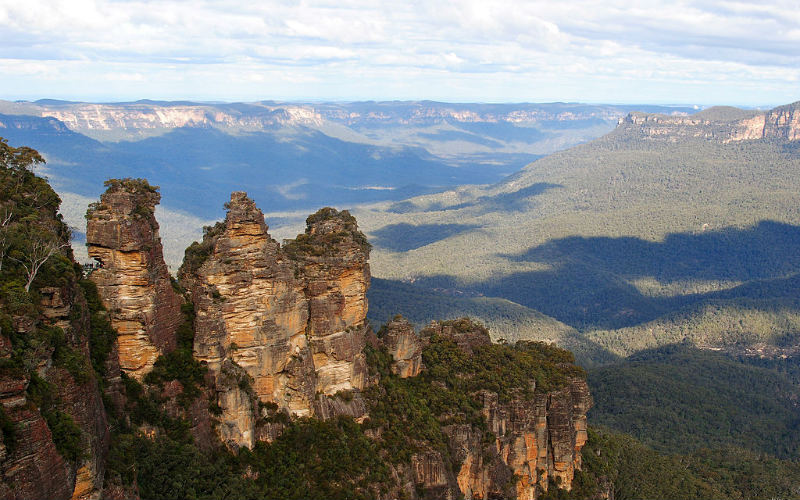 Another of Australia's incredible geological formations, the Three Sisters have stood tall in place at the heart of the New South Wales Blue Mountains National Park for more than 50 million years. Attracting visitors from across the globe, the weathered sandstone peaks have become a symbol of the area and one of its must-see attractions.
A trip to Echo Point lookout in Katoomba will offer you some of the best views of the Three Sisters, with the breathtaking Jamison Valley providing the perfect backdrop to one of the region's most popular tourist spots. Offering great views of Three Sisters along with their surrounding cliffs and waters, visit Echo Point early in the morning or late in the afternoon to avoid the crowds.
Twelve Apostles, Victoria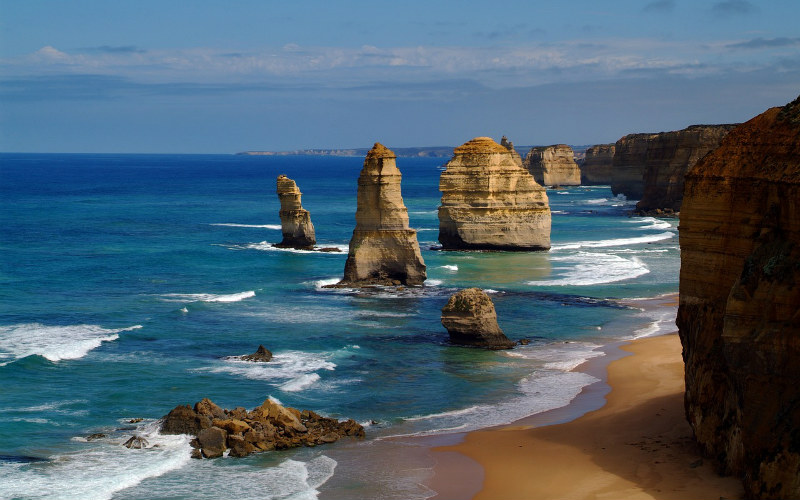 Located alongside the famed Great Ocean Road at around 275 km west of Melbourne, Victoria's Twelve Apostles stand an impressive 45 metres above the waters of the Southern Ocean. Once connected to the mainland, the limestone pillars have been weathered and shaped by the wind and rain, resulting in their current height and form.
Although there are only eight Apostles remaining after the collapse of one in 2005, they remain one of Victoria's greatest scenic landmarks and are a very worthy addition to any travel itinerary along the Great Ocean Road — in fact, it's often the entire reason that many tourists make the drive at all. To get there, you can hire a car in Melbourne and enjoy a 4.5-hour picturesque drive, or if you're up for a several-day hike, you can also make the Great Ocean Walk.
Bondi Beach, New South Wales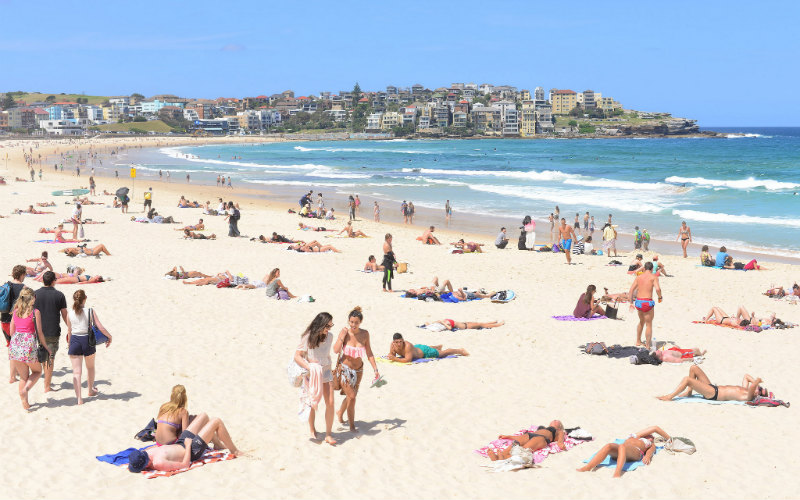 One of Australia's most famous coastal stretches, Bondi Beach has become an iconic symbol of Sydney's culture and the laid back, ocean-focused way of life that many Australians love. Located just a few kilometres from Sydney's CBD, Bondi's golden sands, decent surf and beautiful views attract tens of thousands of visitors every year — with everyone from backpackers, through to international celebrities, taking a dip at this world-renowned waterside spot.
Surrounded by cafes, close to a number of incredible coastal walks, and hosting a variety of great events throughout the year, there's always something to see, do or discover at the iconic Bondi Beach. From scuba diving and learning all about the marine life in the area to swimming in Bondi Iceberg Baths' calm waters and strolling around the weekend markets, in Bondi you can easily plan a full day of activities.
Salamanca Market, Tasmania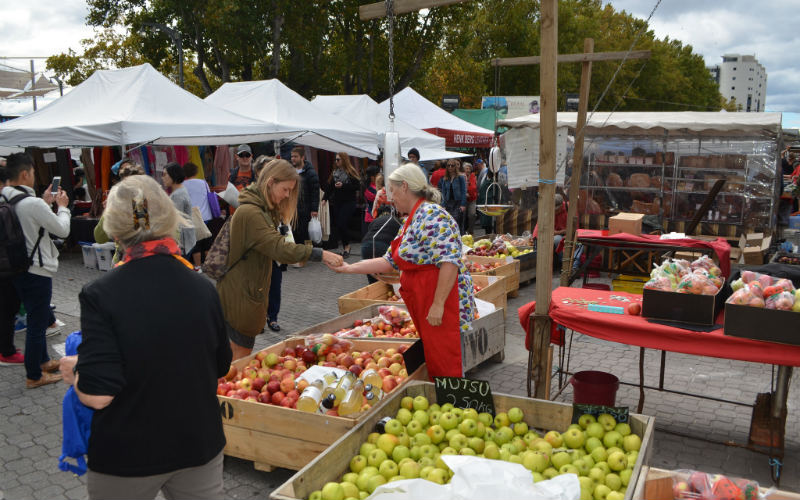 One of Tasmania's most visited attractions, Salamanca Market has become one of many unmissable experiences in Hobart. Held each Saturday from 8:30am – 3:00pm in historic Salamanca Place, the vibrant outdoor markets showcase the wares of more than 300 stallholders. You'll find everything from hot food and fresh produce, to fresh-baked treats and fashion, and even handmade homewares and art on offer.
Perfect for finding souvenirs, gifts and treats to spoil yourself with, locals and tourists alike flock to this popular market each and every week. Grab a fresh croissant to eat, a cup of good coffee, and spend a lazy Saturday wandering amongst the market's fantastic stalls. If you visit during the summer, make sure to enjoy an old fashioned ginger beer (or two) for a traditional Tasmanian refreshment!
Parliament House, Australian Capital Territory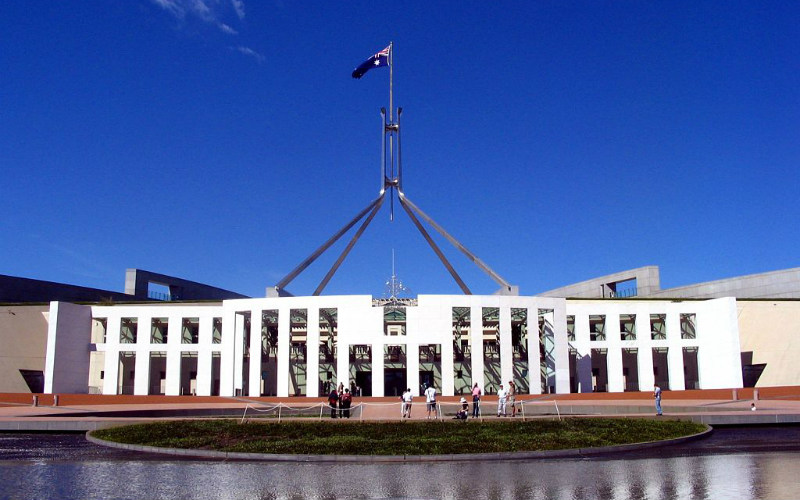 The home of Australian federal politics, Parliament House is one of the country's most important national buildings. Located by design in the heart of Canberra, Australia's capital city, this unique structure stands tall on Capital Hill and can be seen from many of Canberra's most iconic locations. Opened in 1988, it's a great place to head if you want to learn more about the Australian political system, as large portions of the grand building are open for the public to tour and explore.
Time your visit right to take a seat in the public galleries and watch as the country's politicians discuss the legislation and are scrutinised by their counterparts during question time (seriously, it's quite a show and often more exciting than it sounds!). Finish off your visit with a delicious meal at Queen's Terrace Cafe, and don't forget to grab a keepsake of your visit at The Parliament Shop.
Rottnest Island, Western Australia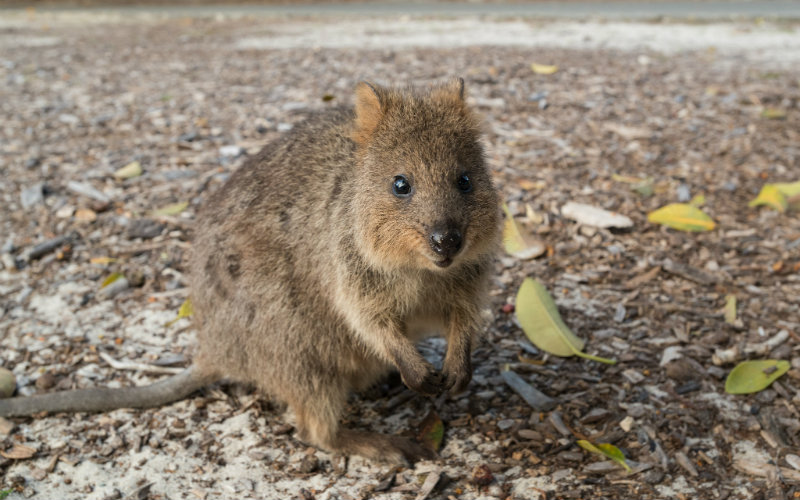 A little slice of island paradise located just off the Western Australian coast, Rottnest Island has quickly become one of the state's must-see destinations. Perhaps best known as the home of one of the region's cutest residents, the quokka, the island offers plenty of fantastic opportunities to disconnect from modern life and enjoy some time amongst nature.
Bordered by beautiful beaches and colourful coral reefs, there are countless activities to enjoy during a visit to the island, from snorkelling and surfing through to guided walking tours, cycling and simply exploring on foot at your own pace. Most of the island's biggest draw cards are found outside — so be sure to pack appropriately and plan your visit to Western Australia so it coincides with fair weather for the best experience.
Wave Rock, Western Australia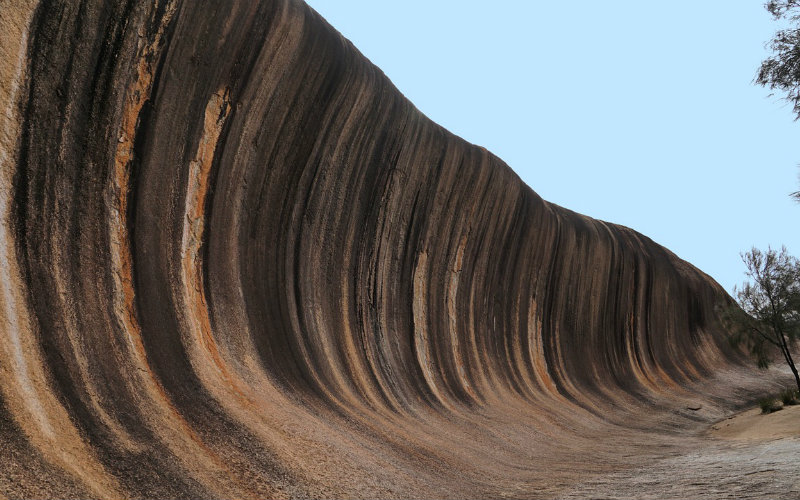 Worn and weathered by the elements over millions of years, Western Australia's Wave Rock is an intriguing geological feature found on the eastern edge of the state's Wheatbelt region. Standing at 15 metres high and close to 110 metres long, the granite formation looks remarkably like a breaking wave emerging from the dry earth below.
Coloured with rich earthy tones, the spectacular formation appears to shift colour depending on the time of day, providing some fantastic photo opportunities for keen photographers. Located more than 330 kilometres from Perth, Wave Rock is not quite a day-trip destination from the Western Australian capital, but it is certainly well worth seeing in person. To fully enjoy your Wave Rock experience, hire a motorhome to stay at the Wave Rock Caravan Park and explore the countless walking trails around the area.
Whether you're planning an epic adventure trip or a family-friendly vacation, Australia is brimming with incredible destinations worth adding to your travel bucket list. Plan your holiday with Webjet and explore all of the most iconic tourist attractions in Australia!
Feature Image Credit: Corey Leopold / CC by 2.0.