Nicknamed "the nation's kitchen", Osaka is home to perhaps the best culinary scene in Japan. Just a short trip from the ancient capitals of Kyoto and Nara, Osaka is a fantastic place to learn more about Japanese culture and food. Read our handy guide below to find out where to stay in Osaka during your visit to the food capital of Japan.
Kita (Umeda)
Kita is the perfect place to stay for first-time visitors to Osaka, and those with little time on their hands. Kita is the main business and transport hub of Osaka, as well as a thriving shopping, dining and entertainment district. Kita brims with excellent restaurants, bars and department stores, as well as its fair share of unique attractions. Wander through beautiful Nakanoshima Park, an urban oasis nestled between the Dojimagawa and Tosaborigawa rivers, and filled with some 3,700 rose bushes. Learn, explore and admire at the National Museum of Art, the Osaka Museum of Housing and Living, and Kids Plaza Osaka—one of the top children's museums in Japan. Explore the country's longest shopping street (Tenjimbashisuji Shopping Street), and enjoy panoramic views of Osaka from the observation deck of the Umeda Sky Building. The convergence point of four train lines, Kita also provides easy access to other parts of Osaka, as well as Kyoto, Nara, Kobe, Himeji, and beyond.
What's in Kita? Sleek skyscrapers and lots of great restaurants, shops, bars, and museums.
Stay in Kita if… you're a first-time visitor to Osaka, or just want convenient train access to the rest of the city and wider region.
How to get to Kita: As part of downtown Osaka, Kita is easily accessible by public transport. Umeda station complex is serviced by Japan Rail (JR Osaka Station) as well as Hankyu and Hanshin Railways, and the Midosuji, Yotsubashi and Tanimachi subway lines.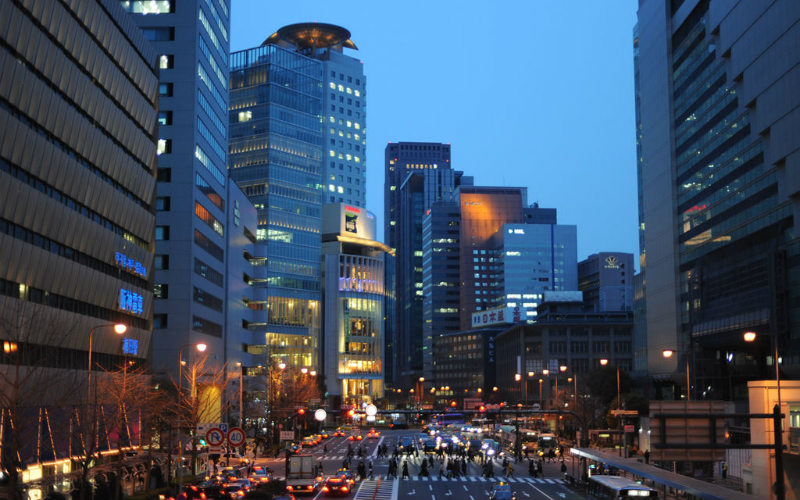 Osaka Bay Area
Osaka Bay is a great place to stay for families, and those who want to explore the attractions located outside of the city centre. This area is home to museums, restaurants and shops, as well as two of Osaka's biggest tourist drawcards. Spend an action-packed day exploring Universal Studios Japan; home to the iconic Wizarding World of Harry Potter and drawing some 15 million visitors every year, this is regarded as one of the best theme parks in the world. Lose yourself in the underwater landscapes of the magnificent Osaka Aquarium, or stroll through Tempozan Harbor Village to discover shops, food alleys, and a 100-metre-wide Ferris wheel. You can find plenty of accommodation options both on the mainland, and on the artificial islands of Osaka Bay.
What's in the Osaka Bay Area? Waterfront views, and top-tier attractions such as Osaka Aquarium and Universal Studios Japan.
Stay in the Osaka Bay Area if… you want to stay in a family-friendly area with a relaxed atmosphere and a good range of Western restaurants.
How to get to the Osaka Bay Area: The Chuo subway line connects central Osaka with both Tempozan Harbor Village (Osakako Station) and Sakishima Island (Cosmosquare Station). From Cosmosquare Station, you can also catch the New Tram to Suminoekoen Station for access to the Yotsubashi subway line.
Minami (Namba)
Minami (meaning 'south'), makes up the southern half of downtown Osaka. Along with Kita, Minami is one of the busiest and most exciting parts of Osaka. Much like its northern neighbour, Minami is a vibrant destination for shopping, dining and entertainment. However, Minami is the undisputed winner when it comes to nightlife. At any time of year, the streets of Minami bustle with people moving between shopping centres, clubs and eateries without any signs of slowing down. The colourful Dotonbori district is packed with bright billboards, daring fashion, and more restaurants, bars and clubs than you can count. Gawp at the endless electronics stores of Den Den Town, capture beautiful nighttime photos in Hozenji Yokocho Alley, and witness the collision of American influence and Japanese youth culture at Amerika-mura.
What's in Minami? Perhaps the best nightlife in Osaka, plus an incredible shopping and dining scene.
Stay in Minami if… you're looking for an epic night out or simply want to stay in the most vibrant part of central Osaka.
How to get to Minami: The Midosuji subway line runs right through Minami, stopping at both Shinsaibashi and Namba stations. Minami is also serviced by the JR Line, the Nankai Line and the Kintetsu Line, which provide easy access to Nara and Wakayama, as well as southern Osaka.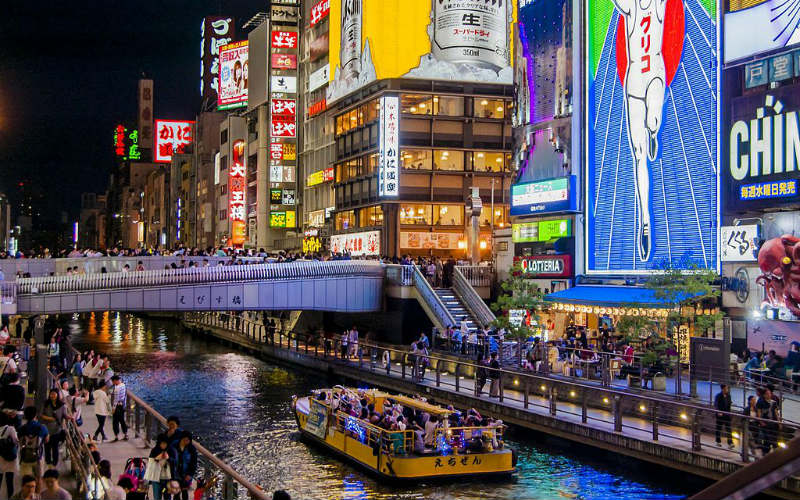 Shin-Osaka Area
Shin-Osaka station is where most people enter Osaka on the shinkansen (bullet train) from other parts of Japan. More or less a transport hub, the Shin-Osaka area offers easy access to both central Osaka and Kyoto (about 15 minutes away by train and shinkansen, respectively). If you have a Japan Rail Pass and want to explore other destinations such as Tokyo, Hiroshima, Kyoto or Himeji, staying in Shin-Osaka can save you a lot of time and energy. There are also plenty of places to eat and shop in the station complex itself, as well as in the surrounding area.
What's in Shin-Osaka? Easy access to neighbouring cities, plus a number of hotels and restaurants.
Stay in Shin-Osaka if… you want to explore both Osaka and Kyoto without changing hotels, and you don't mind taking the subway when you want to explore the city.
How to get to Shin-Osaka: Shin-Osaka station is the entry point for most inter-city services to Osaka. If travelling from central Osaka, you can easily reach Shin-Osaka on the Midosuji subway line.
Honmachi
If you can't choose between Kita and Minami, or want to stay somewhere a little quieter, consider staying in Honmachi (Central Osaka). Despite being sandwiched right between Kita and Minami, Honmachi is quite a relaxed and peaceful area. Although it doesn't offer the same concentration of attractions as either Kita or Minami, those staying in Honmachi can enjoy easy access to both districts without being surrounded by their louder and busier streets. As well as a good selection of restaurants, you'll also find Utsubo Park just a short walk from Honmachi subway station. With its beautifully landscaped gardens, water features, statues and fountain, this is an excellent place to enjoy a picnic, read a book, or view the cherry blossoms in spring.
What's in Honmachi? Good restaurants, a peaceful atmosphere, and affordable accommodation.
Stay in Honmachi if… you want to stay further from the bustle and crowds of central Osaka, while enjoying incredible proximity to its attractions, and access to cheaper hotels.
How to get to Honmachi: If you're a keen walker, you can get to Honmachi from either Minami or Kita in about 35 minutes. Alternatively, the Midosuji subway line also stops at Honmachi Station and can take you virtually wherever you want to go.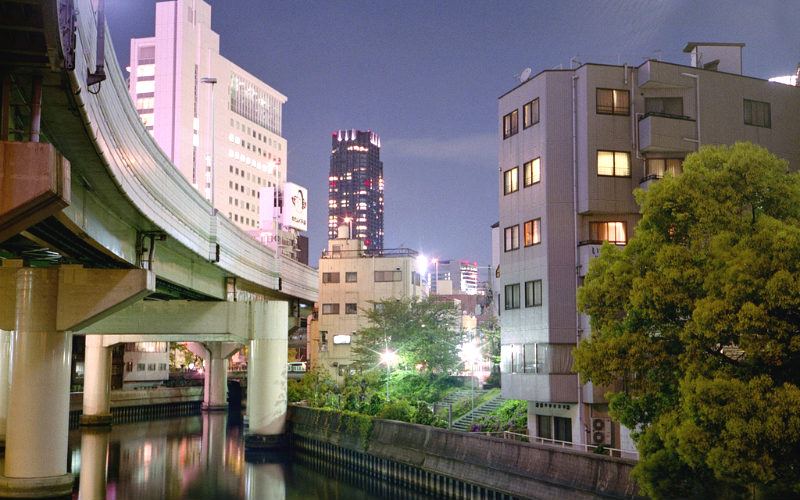 Ready to explore the sights, sounds and smells of Japan's food capital? Book cheap flights to Osaka, hotels and more with Webjet today!