Whether you're planning to visit during a short stopover, or are looking to discover more of what makes the city-state so special — this Singapore travel guide is for you. This guide has plenty of information, including the best time to visit, what to do in Singapore, and what to know before you book your next international break.
The Ultimate Guide to Travelling to Singapore
Where is Singapore?
When is the best time to visit Singapore?
When is the best time to book flights to Singapore?
When is the most expensive time to visit Singapore?
What should you know before you travel to Singapore?
Where is Singapore?

Comprising one main island off the southern coast of Malaysia, plus 62 islets scattered throughout the Singapore Strait, Singapore is a Southeast Asian city-state that is steadily increasing in popularity with travellers from across the globe. 

Situated close to the islands of Indonesia, and in the vicinity of other popular holiday spots including Thailand, Vietnam and Cambodia, Singapore is a destination that is quickly becoming one of the region's leading economic centres. Singapore is well-known in the region as a cultural melting pot and a hub for great food and shopping. Blending world-leading modernity with a touch of old-world Singaporean charm, the city-state is captivating and full of character.

At just over 5 hours from Perth and around 8 hours from Sydney and Melbourne, Singapore is a destination that is quite accessible to Australian travellers. Offering a holiday experience to rival the biggest cities in the region and quite consistent temperatures throughout the year, the Lion City is a destination well worth adding to your next holiday itinerary.
When is the best time to visit Singapore?

Temperatures in Singapore are quite consistent throughout the year, ranging on average from a low of 23°C to a high of 31°C. There are no distinct seasons like you find in countries further from the equator. This makes it easy to pack and visit at any time, but there are moderate monsoonal seasons and times of the year that are wetter or drier than others.

While temperatures are quite favourable all year round, the period from June to August is generally considered to be the best time to visit Singapore. At this time, the city-state sees some of its lowest monthly rainfall and overall humidity, and fewer locals are on holidays — so there are smaller crowds to contend with as you tour the city. 

Although crowds are generally reduced, there are still plenty of great events taking place at this time, including the Singapore Arts Festival and the Singapore Food Festival. These are fantastic opportunities to explore like a local and enjoy the diverse cultures that Singapore hosts.
When is the best time to book flights to Singapore?

As a general guide, the best time to book international flights is around 3 months prior to your intended departure date. If you're planning to make the most of the best time to visit Singapore, you should consider securing your flights and booking your accommodation in Singapore from March to May.
When is the most expensive time to visit Singapore?

Perhaps unsurprisingly, the most expensive time to visit Singapore is from November to January. This coincides with the city-state's high season, its most popular events and the Northern Hemisphere winter. 

People from colder countries flock to Singapore at this time to escape the cold, visit family in Singapore, and stopover in Singapore to visit other countries in the region. It is at this time of year that visitors flock from abroad to enjoy celebrations such as Chinese (Lunar) New Year, so both flights and hotels are at their most expensive.
What should you know before you travel to Singapore?
Singapore is often rated as one of the safest cities in the world, so it's rare that you'll face any problems as you wander through Singapore during the day or night. However, as with any other part of the world, it's best to remain aware of your surroundings and belongings as you see the city's sights.

Strict rules are enforced across the city to ensure that Singapore remains clean and tidy. Behaviours that are considered to be quite minor in other countries — such as littering, jaywalking, spitting, and eating on public transport — are frowned upon and may attract a fine if you are caught in the act. Be sure to check for signboards to avoid any unwanted fines. 

The country also holds a hard-line stance on illicit drugs, with the possession of just a small quantity enough to warrant a conviction or, in the worst case, even the death penalty. The conviction of some crimes, including illegal entry, overstaying your visa, vandalism and robbery, sees perpetrators face the punishment of caning.

Don't let Singapore's strict rules scare you — it's thanks to these rules that Singapore has one of the lowest crime rates in the world and is so safe for tourists to visit. There's so much to see, do and explore in Singapore that it would be a shame to merely pass through Singapore airport on the way somewhere else.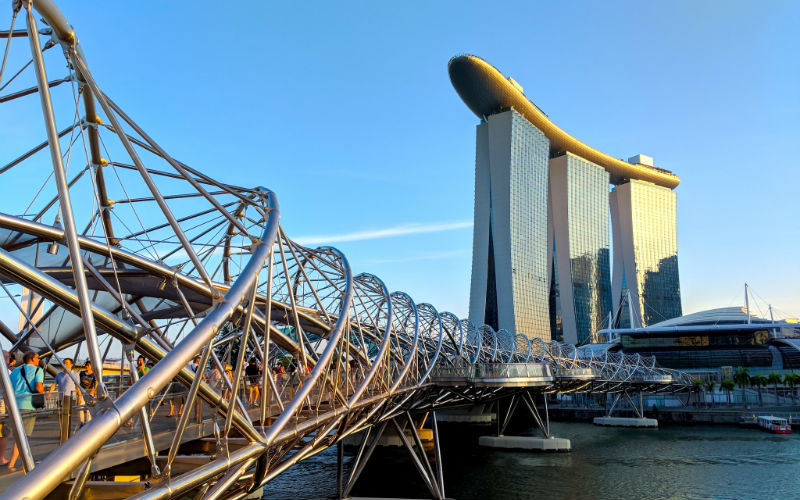 What is there to do in Singapore?
Go shopping at Orchard Road
It's no secret that Singaporeans love to shop, and it's even more evident with a visit to any of the city-state's popular shopping hubs. One of the most famous shopping destinations, Orchard Road, stretches along a 2.2 km boulevard in the city's south. This strip is lined with shopping malls, restaurants, hotels, entertainment venues and more. 
Gaining popularity from the 1970s onwards, Orchard Road now boasts big-name retailers from across the globe, including Alexander McQueen, Chanel, Givenchy and Gucci. Perfect for a spot of retail therapy, you're sure to find so much to see and do throughout the city's shopping districts, regardless of your budget.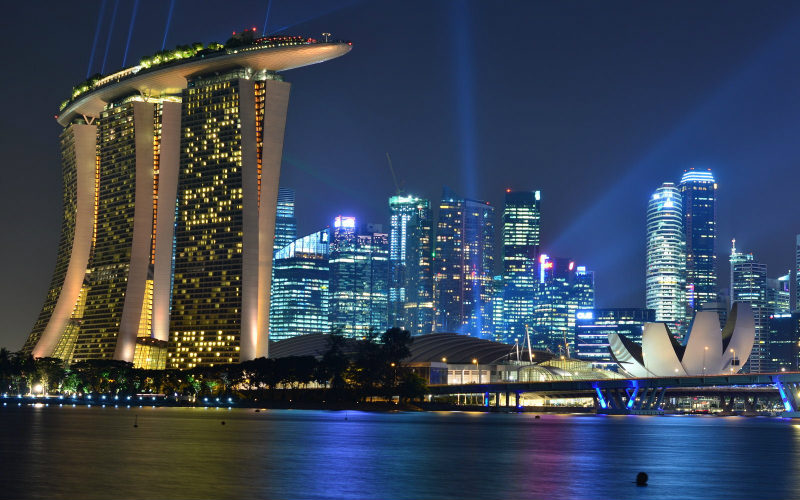 Explore Gardens by the Bay
Combining natural beauty with cutting-edge modernity, Singapore's Gardens by the Bay sit amongst the city-state's must-see attractions. Bordering Marina Bay, the gardens cover an expansive 101 hectares, and are divided into three separate waterfront gardens known as Bay South, Bay East and Bay Central. 
The largest of the gardens, Bay South, is home to the iconic Supertree Grove. These tree-like vertical gardens stand between 25–50 metres above the ground and are a major attraction for tourists, photographers, and botany enthusiasts. The grove is a fascinating feat of engineering that helps to collect solar energy that fuels the growth of more than 200 plant species, including ferns, orchids and tropical flowering climbers. 
Providing shade within the gardens, the grove really comes alive at night, showcasing a captivating light and sound display after dark. If you ever peruse stock image sites or read about futuristic cities, you've surely seen photos of this place at one time or another. Other attractions scattered throughout the gardens, such as the Flower Dome, Cloud Forest and Sun Pavillion, are also well worth checking out.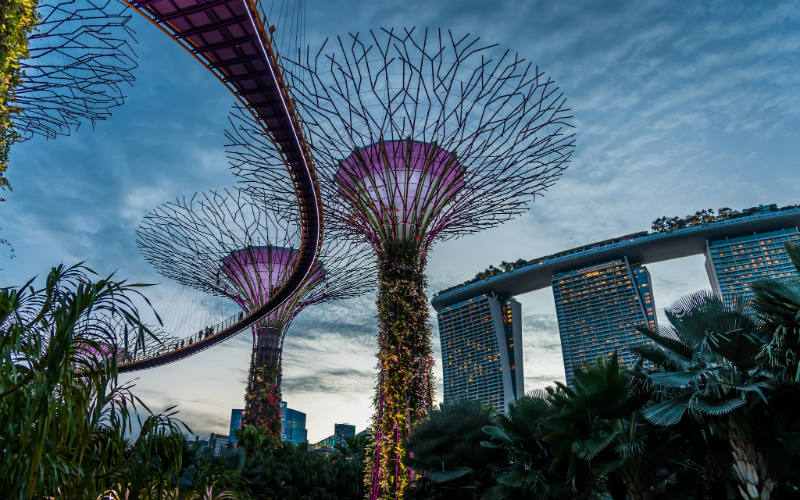 Discover Singapore's history and culture
Possessing a long and fascinating history, no visit to Singapore would be complete without taking the time to get to know about the people and events that have helped to shape the city-state. 
The National Museum of Singapore is a great place to visit to gain an understanding of Singapore's transformation over time. The Museum has information and artifacts documenting some of Singapore's most significant moments and defining times,  such as the fall of Singapore in 1942, its time as a British colony, and the incredible growth that has taken place following World War II. 
The Asian Civilisations Museum is home to the region's most comprehensive collection of artefacts from across Asia and is also well worth a visit. If you have time, be sure to take a few hours to admire the beauty of Singaporean art during a visit to the National Gallery of Singapore. In this gallery you'll find the largest collection of modern art in Southeast Asia, as well as a strong contingency of locally produced works showcased in permanent and special temporary exhibitions.
Go sightseeing at the Marina Bay Sands SkyPark
There are so many ways to experience the beauty of Singapore, but perhaps one of the most unique can be found with a visit to the Marina Bay Sands SkyPark. Perched atop one of the city-state's most recognisable buildings, the observation deck offers stunning 360-degree views and is one of the largest structures of its kind in the world. Along with an observation deck, the complex also features fantastic restaurants and an infinity swimming pool with unforgettable views — but you'll need to be a hotel guest to swim in it.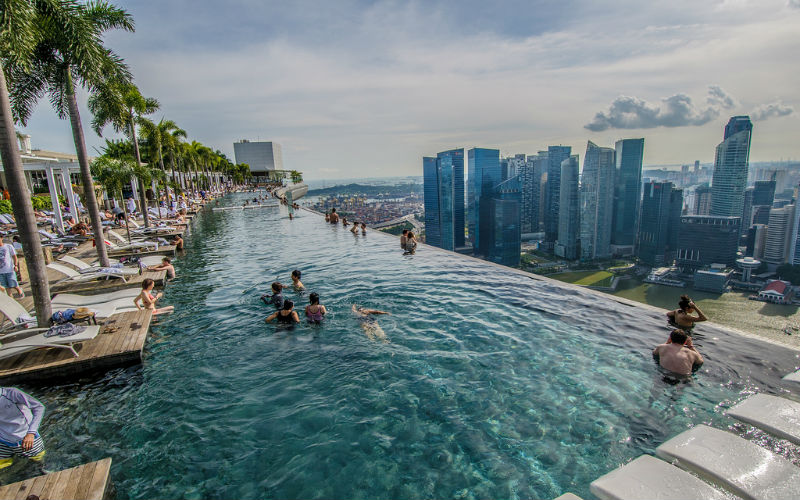 Ready to cross Singapore off your bucket list? The amazing beaches, cultural sites and spectacular views won't disappoint. Remember our travel guide when planning your holiday, book your accommodation and compare cheap flights to Singapore with Webjet today!