Kruger National Park is one of South Africa's most incredible destinations. World-renowned for being home to the African Big 5 and other iconic wildlife, safaris through this remarkable national park offer once-in-a-lifetime opportunities to get up close to some of the planet's most impressive animals. Booking a safari trip is a true escape from the ordinary, and is an unbeatable chance to discover an entirely different world. Explore the sweeping landscapes of the savanna, watch lions lounge in their prides, cross paths with elephants, and catch some of the most spectacular sunsets you're likely to ever see.

So while the appeal of a Kruger National Park safari is obvious, knowing when is the best time to go may not be as clear. Plus, how do you get to Kruger National Park? To help prepare you ahead of your safari, here are some of the best tips and tricks for getting up to speed on what you need to know about visiting Kruger National Park. The only thing left for you to do will be to book that safari and start packing your bags!
Where Is Kruger National Park in South Africa?
Kruger National Park is a giant protected reserve in the north-east corner of South Africa, bordering close to Zimbabwe and Mozambique. It spans 20,000sq. kms, and is one of Africa's biggest national parks.
When Is The Best Time To Visit Kruger National Park?
It's no secret that Africa is a hot, dry continent, often stereotyped for its dry, arid landscape. Kruger National Park experiences a subtropical climate, so its calendar year and weather is split into two seasons: wet and dry.
The wet season falls during South Africa's summer – November through to February. These months see well-levelled waterholes, green and lush vegetation, and newborn animals just getting out and about to explore their backyard for the first time. The abundance of flora can make wildlife-spotting slightly trickier if you are visiting Kruger National Park in the wet season, as there is plenty of cover for animals to conceal themselves and hide away from camera-toting tourists. The weather during the summer tends towards hot and humid conditions, and the average daytime temperature is about 32°C – although some days can see the mercury soar above 40°.
The dry season in Kruger National Park covers May through September, and sees this legendary landscape undergo quite drastic changes. The verdant greenery gives away to the dry and sparse conditions that are so often associated with the African savanna. This isn't bad news for visitors though, as the dry season is actually the best time to visit Kruger National Park for wildlife spotting. You will have a better chance of seeing big cats, mammals and other critters as they can no longer hide away in dense shrub. Waterholes become a prime spot for animal viewing as creatures big and small come to drink. You might even see herds migrating across the land on the search for their next water source. The average daytime temperatures during the dry season hovers between 28° to 30 °C, however humidity is much lower than in the wet season. Nighttime temperatures are also much more comfortable.
Another time to take note of when planning a trip to Kruger National Park is the South African school holidays.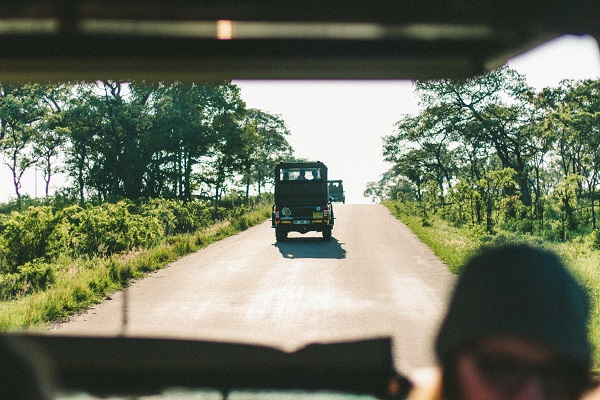 What Animals Are Found in Kruger National Park?
Kruger National Park is home to thousands of species, from the largest of elephants through to the smallest of beetles. A guided Kruger National Park safari or open-air game drive is the best way to get up close to and encounter some of the park's most famous residents. Most drives are led by experienced local guides, and some head out in specialist open-air safari vehicles.
Big game
From the spotted coat of a leopard and the rock-hard horn of the buffalo, through to the almighty mane of a lion and to the elegant stride of a leggy giraffe; there is something awe-inspiring about seeing Africa's big game in the wild. It's common to see elephants, giraffes, zebra, buffalo and hippos throughout the park – a feat made easier thanks to the expertise of your safari guide. Less common, but still present, are lions, cheetah, leopards and rhinos. Make sure to pack binoculars so you can get an even closer view of these amazing animals.
Birdlife
Kruger National Park is rich with birdlife. Catch the long, awkward strides of the marabou stork, foraging in wetlands for scavenged goods, or spot the kaleidoscopic colours of the lilac-breasted roller, boasting a feathery cape of blues, yellows, greens and purples. Keep an eye on the skies to see a martial eagle, great pelican or a scavenging vulture circling overhead. The birdlife of Kruger National Park may be less known to those embarking on African safari tours, but the bird-watching opportunities offered within the park are second-to-none.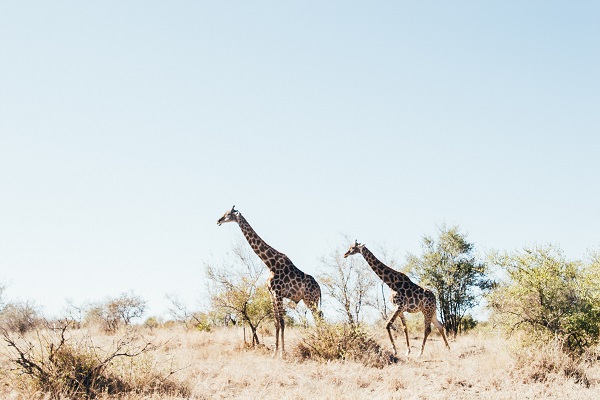 How To Get To Kruger National Park From Cape Town
If you're flying from Cape Town to Kruger National Park, you have several options of airport: Nelspruit Airport, Kruger Mpumalanga Airport or Hoedspruit Airport. The flight from Cape Town usually takes about 2 hours 30 minutes, and you must then drive overland from your airport of choice to your Kruger accommodation or lodge.
It is possible to drive to Kruger National Park from Cape Town, however the car journey is upwards of 18 hours. Driving is also not generally recommended for tourists in South Africa. Another option is to take a local bus – however the trip can be about 23 hours.
How To Get To Kruger National Park From Johannesburg
Much like flying into Kruger National Park is the quickest, most convenient option if you are travelling from Cape Town, the same applies to visitors coming to the park from Johannesburg. The flight time between Johannesburg and the airports closest to the park is about one hour.
Driving from Johannesburg to Kruger National Park takes about six hours. There are no direct bus routes between the two locations.
Alternatively, one of the most convenient ways of reaching Kruger National Park from either Cape Town or Johannesburg is to book your safari experience as part of a tour. These itineraries can include internal flights within South Africa and airport/hotel transfers – meaning you won't have to worry about logistics, and can instead focus on which animals you want to spot first.
Things To Know Before Arriving At Kruger National Park
When planning any trip overseas, it's important to consider what preparations you need to make before jetting off. Now that Kruger National Park is on your radar, make sure to tick off the below so you're ready to tackle your safari like an expert.
You may need to organise vaccinations for Kruger National Park, including checking routine childhood vaccines for tetanus, measles and hepatitis B are up-to-date. There is also a risk of malaria in Kruger National Park, so consult with your doctor about additional measures or precautions that can be taken.
Binoculars and a good camera are essentials. Pack extra SD cards too, as you're guaranteed to be taking a lot of photos!
Don't forget the correct travel adaptors so you can keep your electronic devices on full charge.
Pack appropriate clothing, no matter if you're travelling in the wet or dry season. Night temperatures during the dry season can get very cold, so you definitely want to have some warmer layers in your luggage. On the flip side, account for waterproof gear and protective wear if travelling during the wet season. Other must-pack items include plenty of sunscreen, sunglasses and insect repellent.
On the topic of clothing, prioritise breathable cotton fabrics in neutral colours. Pale and natural hues allow you blend in with the landscape and the wildlife won't be spooked by the bright colours. A pair good durable shoes is a no-brainer when heading out into this wilderness, and hiking boots may suit travellers planning on undertaking any treks or arduous walks.
Hero: Sarthak Navjivan on Unsplash