For those in need of a quintessential tropical island escape, there is one Queensland destination that immediately springs to mind. The Whitsunday Islands are as idyllic as isles come, and are known to lure in sun-seekers, beach-lovers and holiday-makers from around the world. Located in the heart of the Great Barrier Reef, the Whitsundays are made up 74 separate isles and visitors are certain to encounter stunning beaches, turquoise waters and coral reefs no matter which island they visit. To help know which island is best for your next Whitsundays holiday, here is a breakdown of some of the most popular Whitsundays islands.
Hamilton Island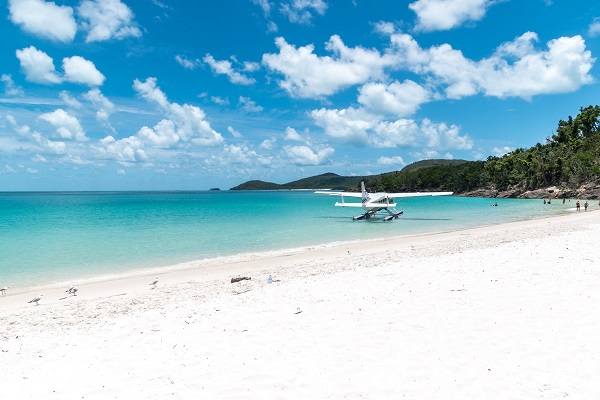 How Do You Get To Hamilton Island?
Hamilton Island is perhaps the easiest island to reach. It has its own airport (there is another one at Prosperine on the Queensland mainland) for those flying in. Flights to Hamilton Island usually connect via Brisbane, depending on your origin. Those wanting to arrive to Hamilton Island by water can board a ferry from Airlie Beach or Shute Harbour. Ferries also depart from Long and Daydream Islands if you are keen on experiencing more than one of the Whitsundays on your tropical break.
Who Is Hamilton Island Best For?
There is something on Hamilton Island for everyone, no matter if you are headed to the Whitsundays in search of family fun, a romantic rendezvous, or a group trip in the sun. Those with kids in tow will find a range of family-friendly activities – go-karting, mini golf, splash pools, watersports hire – that will put a smile on everyone's face. There is also a good range of accommodation options to suit those wanting to keep their holiday budget low. On the flip side, travellers making their way to Hamilton Island wanting to splash out can book a suite or villa at one of the isle's luxury resorts or hotels – some are adults-only.
What Can You Do On Hamilton Island?
Catseye Beach: This isn't just the most popular beach on Hamilton Island – it's one of the most popular across all of the Whitsundays. Snorkel over the fringing reef offshore or try other water sports like paddle boarding and windsurfing.
Passage Peak: Make your way along a 2.7-kilometre hiking trail to Passage Peak, which is the highest point on Hamilton Island. It's a challenging ascent, but you'll be rewarded with breathtaking views over the Whitsundays once you reach the summit.
Golf buggies: This isn't an attraction of sorts, but it is certainly a novelty that delivers a kick or two. Hamilton Island is car-free, so the main ways to get around are on foot or by golf buggy. Some accommodation provide buggies with room bookings, or you could hire on an hourly or daily basis from your hotel or resort.
Hamilton Island Wildlife: Get to know Whitsunday locals at this animal conservation centre. There are opportunities for encounters with koalas, kangaroos, cockatoos, and reptiles, as well as guided tours that operate twice daily.
Long Island
How Do You Get To Long Island?
Long Island is just a stone's throw away from the Queensland mainland. Hop on a ferry from Airlie Beach or Shute Harbour to make the quick journey to Long Island. Ferries are also available from the other major islands in the Whitsundays, including Hamilton Island, Daydream Island, and South Molle Island.
Who Is Long Island Best For?
Long Island is known for its tranquil and remote atmosphere, but as it isn't a private island, it is still accessible and easy to reach. The two hotels on Long Island are styled as quiet island retreats; the perfect base for couples and small groups of adult travellers.
What Can You Do On Long Island?
Snorkelling: The fringing reefs surrounding Long Island promise abundant snorkelling opportunities. Some of the best spots are located near each of the two hotels, and hotel guests can rent snorkelling gear for free.
Hiking: There are about 20 kilometres of scenic rainforest trails around Long Island. Round Hill Circuit and Sandy Bay Trail are two of the best hikes to have on your radar.
Daydream Island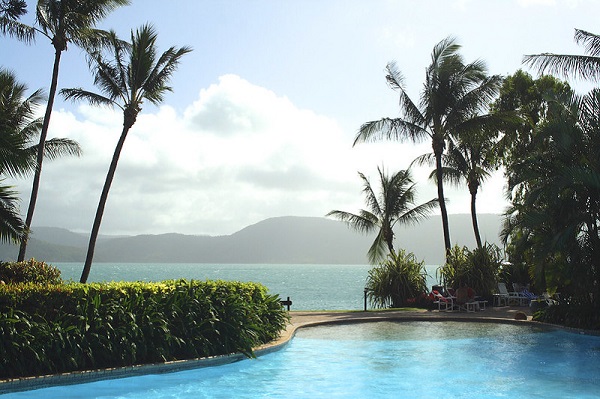 How Do You Get To Daydream Island?
Daydream Island is well-connected by ferry to both mainland Queensland and other Whitsunday Islands. Hop on a ferry to Daydream from Airlie Beach, Shute Harbour, Hamilton Island, Long Island, or South Molle Island.
Who Is Daydream Island Best For?
Daydream Island is popular with families and travellers wanting to soak up easy access to the Great Barrier Reef. Hotel guests generally have access to free activities like guided rainforest walks, talks from marine biologists, and outdoor fitness classes, as well as free hire of snorkelling equipment, kayaks and paddle boards.
What Can You Do On Daydream island?
Living Reef: This free-form coral lagoon is made up of more than 100 species of fish, sharks, rays and other marine animals. Chat with the on-site marine biologists, and watch the watery goings-on from the Underwater Observatory.
Daydream Island Rainforest: Rainforest covers much of Daydream Island and the scenic rainforest walk only takes about 30 minutes to complete.
Lovers Cove: Lounge on the beach and take in the views from this Daydream Island favourite. It's always beautiful, but especially so during sunset.
South Molle Island
How Do You Get To South Molle Island?
South Molle Island tends to fly under the radar more than its Whitsundays neighbours, but it is still linked by a ferry that departs several times a day. Ferries are available from Airlie Beach, as well as nearby Daydream and Long Islands.
Who Is South Molle Island Best For?
Are you looking for a rugged escape? South Molle Island is for adventure travellers who want to spend a couple of days on what feels like a deserted island. South Molle doesn't have any operational hotels, but there are two campsites with toilet facilities (no showers). Be sure to arrive with pre-prepared food to last your stay and remember to take all rubbish with you when it's time to leave.
What Can You Do On South Molle Island?
Bushwalking: Hiking trails reach to every corner of South Molle Island, and these paths are the best way to see all that South Molle has to offer. Hikes range from 2 to 4.4 kilometres and are mostly suitable for intermediate hikers.
Snorkelling: There are beautiful sheltered reefs to see around South Molle Island. Just remember to bring your own snorkelling gear as there's nowhere to rent on the island. Some of the best snorkelling can be found at Sandy Bay and Paddle Bay, which are each located next to one of the island's campsites.
Hayman Island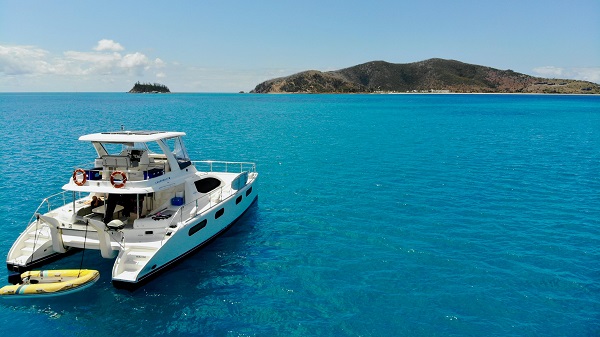 How Do You Get To Hayman Island?
Hayman is a private island, so you won't find commercial transport headed there. Instead, the resort arranges luxury charter boats and helicopters to collect its guests from Hamilton Island Airport. Guests staying on Hayman Island can also arrange their own private transfer to the resort from the mainland, Hamilton Island Airport, or other Whitsunday Islands.
Who Is Hayman Island Best For?
Travellers coveting a quiet, luxury stay should look no further than Hayman Island. It's a five-star island resort with a secluded atmosphere, perfect for couples and small groups of adults. Unlike most Whitsunday Islands, day-trippers aren't allowed to visit Hayman Island – adding to its sense of exclusivity.
What Can You Do On Hayman Island?
Floating massage: Enjoy the upmost in Hayman Island luxury by getting a massage while floating just offshore on the turquoise water of the Coral Sea.
Blue Pearl Bay: Don some snorkelling gear and head into the water at Blue Pearl Bay. You'll see gorgeous coral and tropical fish without heading too far from shore.
Aerial tour of the Whitsundays: Helicopter and seaplane tours depart from Hayman Island's resort and take scenic flights over the Whitsundays.
Hayman Island walking trail: This route stretches for 7.8 kilometres around the island, and resort guests can take up free walking tours. The trail passes through tropical forests and some of Hayman Island's major landmarks like Blue Pearl Bay and Dolphin Point.
Whitsunday Island
The largest of the Whitsunday Islands is completely uninhabited; no hotels or resorts. While you won't be able to stay on the island, you can certainly visit for a day. The isle is home to some of the Whitsundays' most iconic landmarks, including Whitehaven Beach and Hill Inlet. Take your pick of a day tours to Whitsunday Island departing from Hamilton Island, Daydream Island, Hayman Island and Long Island.
Ready to book your next trip to the Whitsundays? Browse Webjet's deals on flights and hotels, then get ready to make some memories in the Great Barrier Reef.