Trailing just behind Sydney and Melbourne, day to day expenses in Brisbane are soaring. The Australian city usually finds itself in a comfy spot on 'Most Expensive City In The World' lists, having recently been voted the most expensive city for business travel. Therefore, saving money where you can is always a good idea.
There's plenty of things to see and do in Brisbane for free, so cut down on costs by checking out some of these favourite free Brisbane places or pastimes that won't make a dent in your wallet.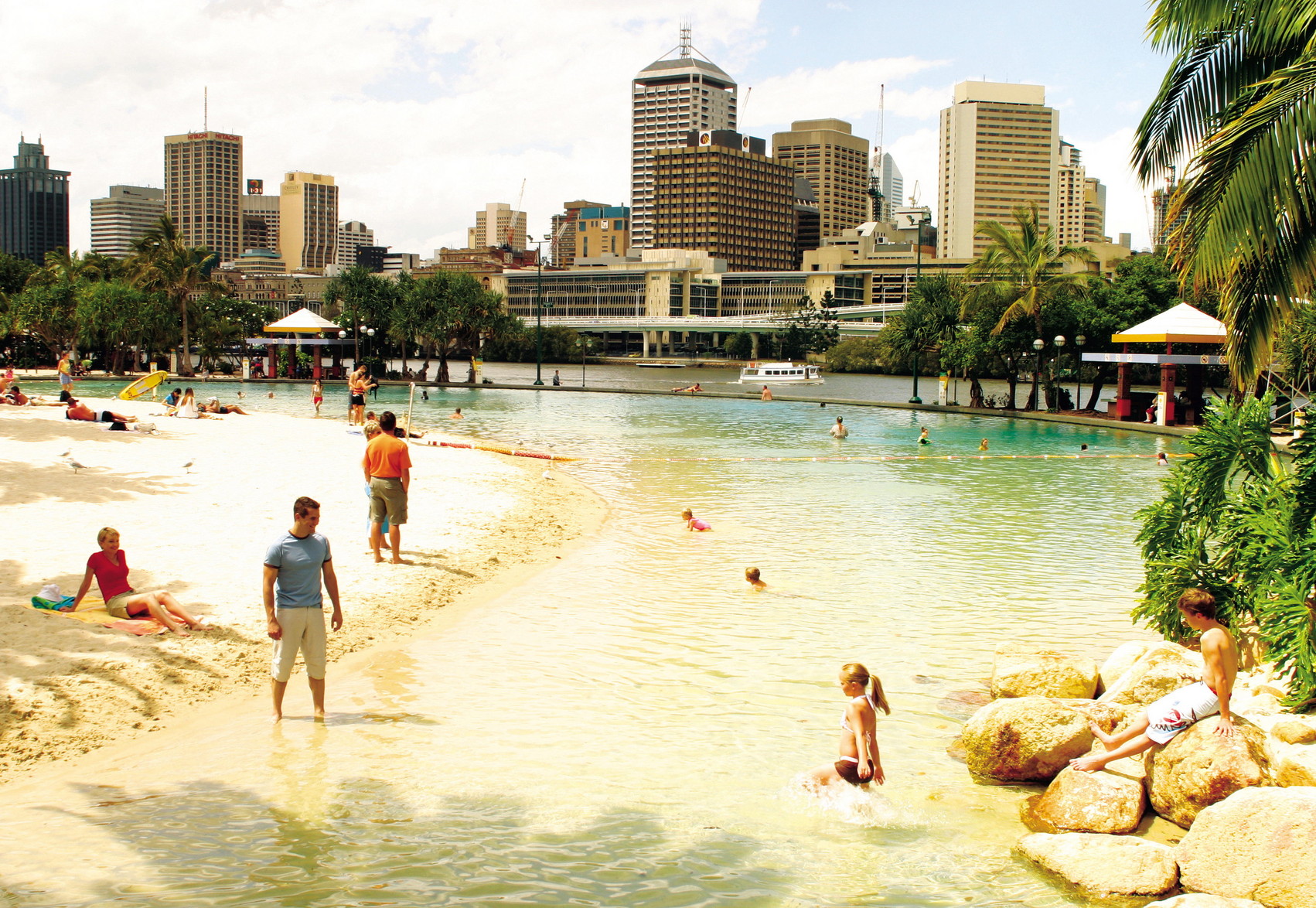 South Bank Beach
Australia's only artificial inland city beach, South Bank beach is not just inland – it's in the middle of the city. There's something great about swimming in a vibrant beach within the hustle and bustle of Brisbane's CBD. Complete with lifeguards on duty for your safety, this man made sandy white beach is a fantastic spot for families and ranges from deep water pools to rock pools. South Bank is a bustling hub for a range of entertainment including fantastic buskers and the weekend's free music event Live On The Green on Melbourne Street.
The City Botanic Gardens
A 20 minute walk from the bustling Queen Street Mall and located by the Brisbane river, Brisbane's original botanic gardens is a great spot for walking or cycling and features sculptures and ornamental ponds. The garden is home to the Riverside Stage, which has seen performers such as Lorde, Arctic Monkeys and Florence and the Machine grace its stage. For a thorough wander through the gardens, take advantage of the free volunteer guided walking tours.
Queensland Gallery of Modern Art
Located in South Bank's arts district, this attraction gives you a bang for your buck (or lack thereof). Although there are ticketed feature exhibits, Queensland's Gallery of Modern Art hosts a range of year-round free exhibits which are more than enough to fill your free afternoon. The gallery sits on the Brisbane river and its glass walls makes it a hotspot to take in Brisbane's city views.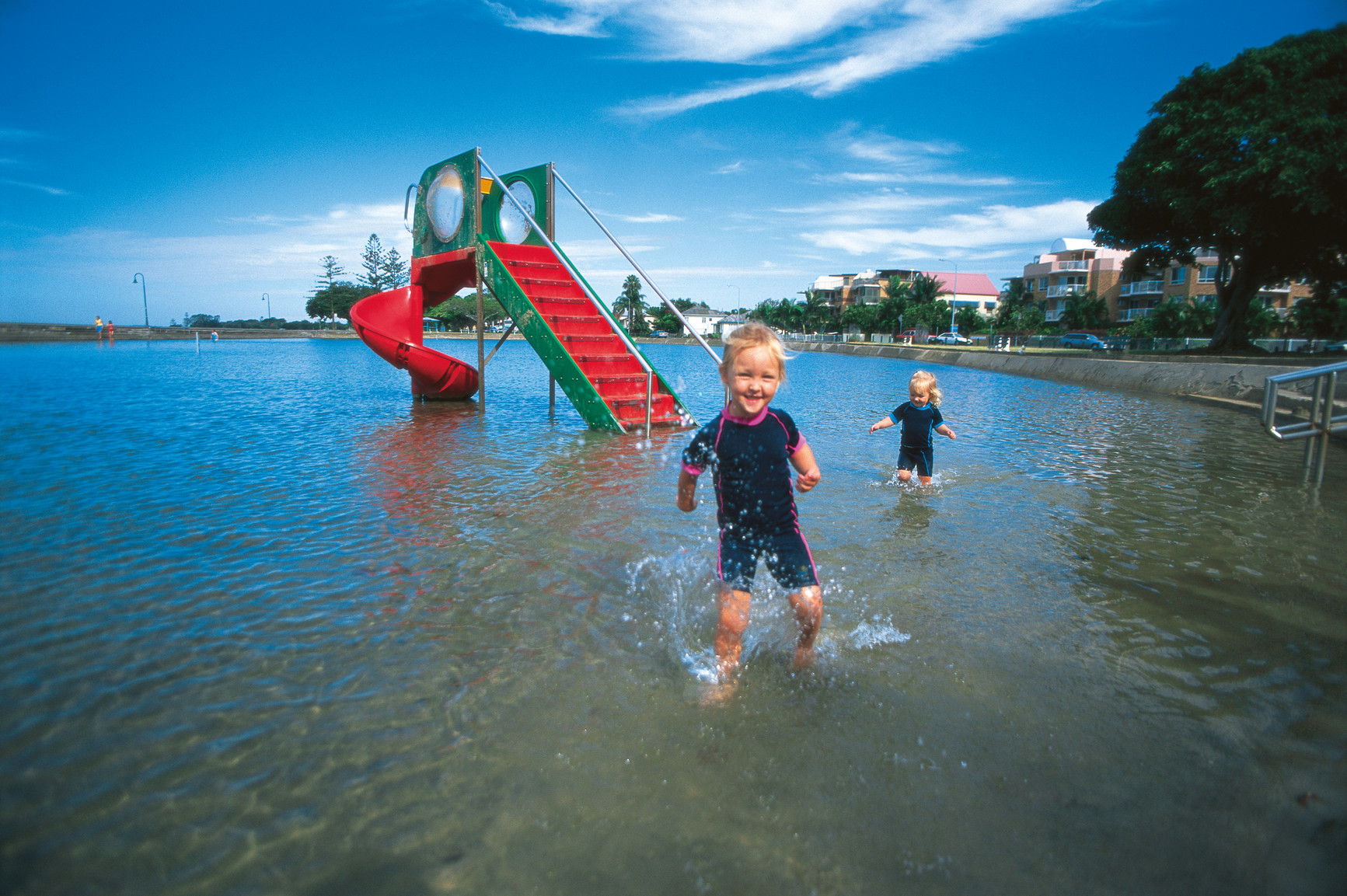 Dip in Wynnum Wading Pool
Constructed during the 1930s, the Wynnum Wading Pool consists of a pool and adjoining playground, perfect for families. High tide means the pool is filled with seawater – perfect for kids to splash around. Low tide means kids can chase the legions of soldiers crabs scuttling across the foreshore or enjoy an ice-cream on the jetty.
Go Riverside Cycling
If you own a bike you're spoiled for choice: Brisbane is a city made for cyclists. The off-road cycling infrastructure around Brisbane follows the outline of the winding Brisbane River and makes for an incredibly scenic ride. One of the great cycling routes to follow starts from Teneriffe Ferry, goes through New Farm Park and ends in the heart of Brisbane's CBD.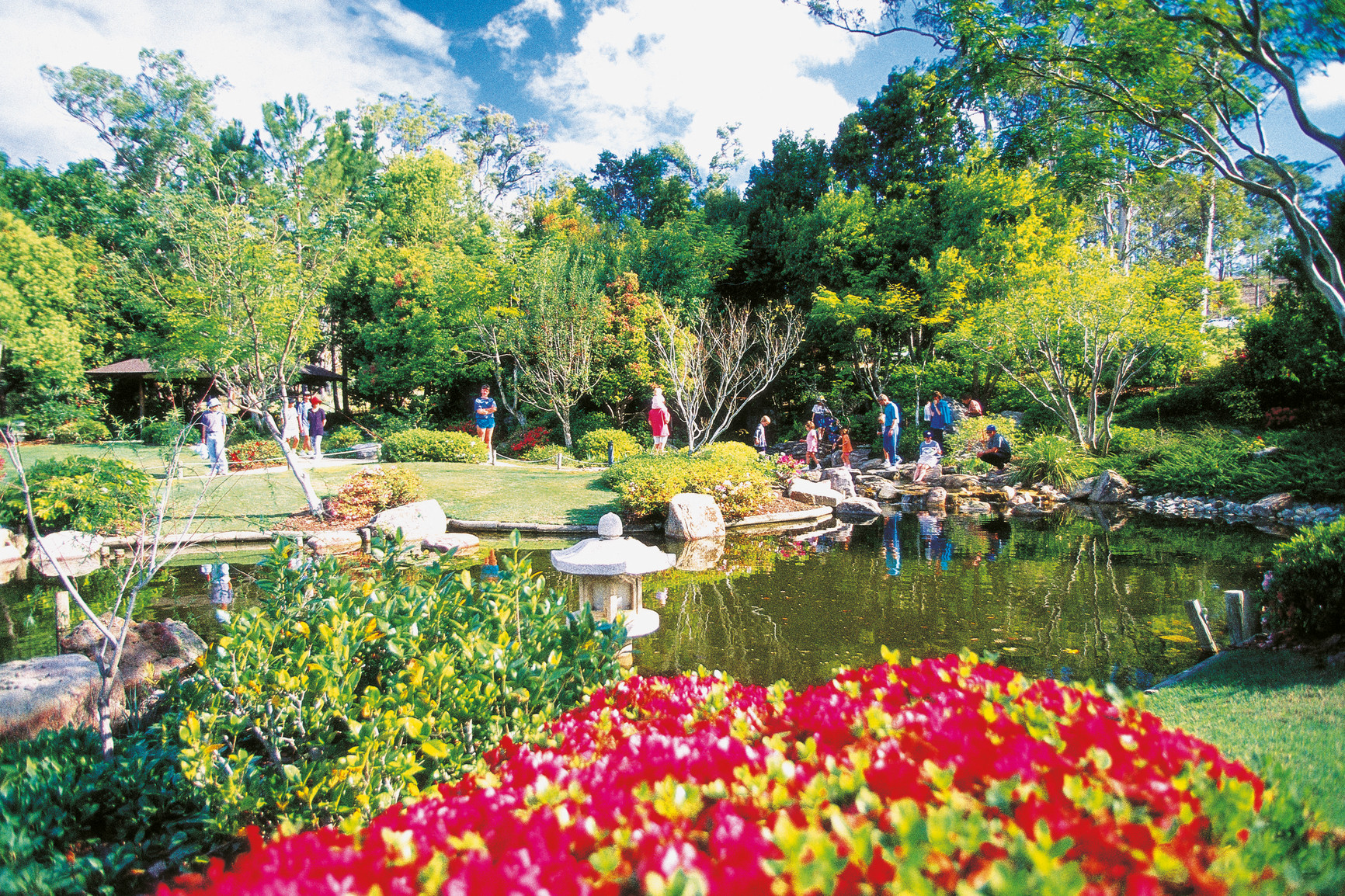 Mount Coot-Tha Botanic Gardens
Get on your walking shoes and explore Brisbane's Mount Coot-Tha Botanical Gardens. Regarded as Queensland's premier subtropical gardens, Mount Coot-Tha's impressive gardens spreads across 52 acres and encompasses stunning water features and a number of different attractions such as the Bonsai House, the Arid and Cactus Zone and the Tropical Display Dome. Children and parents can pick up a map and explore the Hide 'n' Seek children's trail in the heart of the garden's Exotic Rainforest.
Take the Loop
This free bus service circles Brisbane's CBD, not only making it a great way to get around, but also making it a tourist attraction in its own right. Stopping at places such as Central Station, Queen Street Mall, City Botanic Gardens, Riverside Centre, Queensland University of Technology and King George Square, this jump-on jump-off service is a great way to see the city without spending a cent.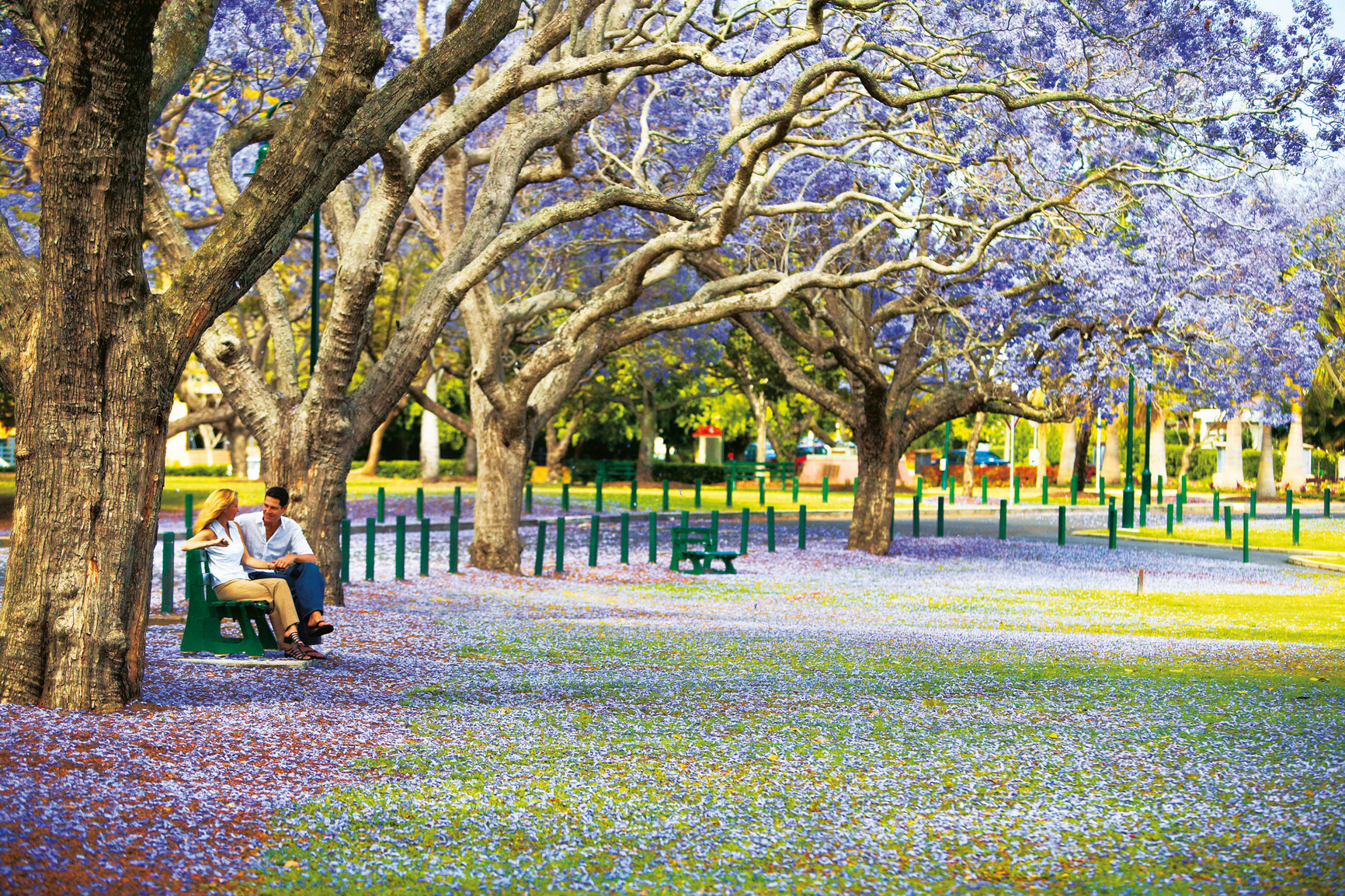 Have a picnic in New Farm Park
There's nothing more relaxing than having a picnic lunch in the scenic New Farm Park among displays of roses and jacarandas. Attracting more than 18,000 visitors each year, New Farm Park is very popular for many reasons. The park has a great playground for kids – and the occasional adult –  with a number of trees that are begging to be climbed. For the romantically inclined, a stroll through the park's rose garden or by the park's waterfront is a must. The park's large grounds means room for a number of sporting activities, the weekends see the place filled with impromptu touch games or frisbee throwing. The perfect Brisbane location to picnic, play, cycle or simply stroll that particularly comes alive on Brisbane's signature sunny days.
Visit Kangaroo Point
Kangaroo Point in Brisbane has the best views in the city, and perhaps the best part of all is that they won't cost you a cent. Kangaroo Point is famous amongst locals for an incredibly steep set of stairs – that is popular with fitness enthusiasts – leading to Kangaroo Point Cliffs lookout, a great spot to enjoy panoramic views of Brisbane city and watch the world go by. The spot is also great for cycling, rollerblading and picnics. A number of unique sculptures adds to Kangaroo Point's character.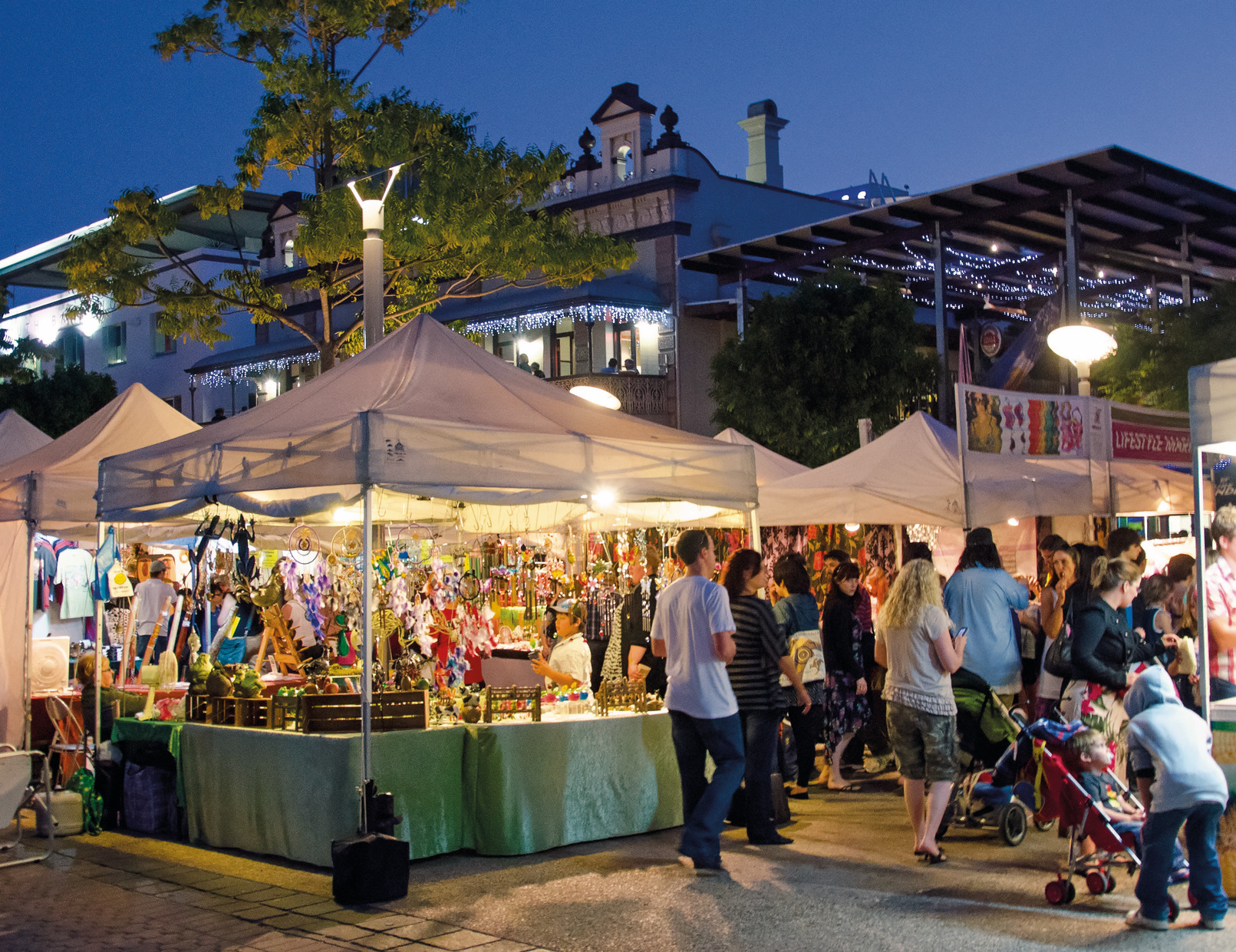 Markets, markets, markets
We can't guarantee you won't get your wallet out once you see the eclectic range of stalls, but window shopping at Brisbane's many world-class markets won't cost you a thing. Brisbane boasts a huge number of markets – from the South Bank Lifestyle Market, to Finders Keepers Markets and the unique Suitcase Rummage, where anyone can sell their second-hand goods, on the first Sunday of every month.
Visit the West End Twilight Markets on the fourth Saturday of every month for a spot of evening shopping, or stop by Jan Power's Powerhouse Farmers Markets held at various locations throughout the week. Brisstyle Indie Markets are also hosted every second month from 5pm to 9pm at King George Square.
Here's an extra tip to get more bang for your buck: if you're near city coffee joint Ciao Bella between 2-3pm on a weekday, roll a six on their dice and you'll get your coffee for free.
If you book in advance or keep an eye out for domestic deals, flights and accommodation to Brisbane can be quite moderately priced. Check out Webjet's cheap flights to Brisbane and Brisbane accommodation offers and plan your next escape to Queensland's vibrant capital.