A collection of light installations, live music and innovative ideas, Vivid Sydney is the perfect reason to plan a trip to the New South Wales state capital. Over 23 nights, Sydney will host a series of major light installations, musical performances and creatives from around the world. Vivid Sydney is now heading into its tenth successful year, and its jam-packed program of events is sure to captivate all that attend.
Check out some of the best things to see at Vivid Sydney below and start planning your itinerary!
Tumbalong Lights
Where? Darling Harbour
When? 25 May – June 16, 18:00 to 23:00
A new installation for Vivid, Tumbalong Lights will be adding further spark and imagination to the Darling Harbour precinct. The piece is comprised of four separate installations which combine to represent the wonderful underwater world of the seafloor. Tumbalong Lights has a focus on inclusivity and accessibility for each installation, aimed at making public events such as Sydney Vivid more inclusive and accessible for visitors with disabilities and their families. Through the use of lights, projections and music, each installation is used to mimic the surreal and wonderful world that is the ocean. In a truly interactive display, find yourself lost in the beauty and excitement of the illuminated ocean and all that comes with it.
Lights for the Wild
Where? Taronga Zoo, Mosman
When? 25 May – June 16, 17:30 to 21:30
One of the mainstays of Vivid Sydney, Lights for the Wild is an art installation for all visitors. As night falls on the zoo, your favourite animals will come to life in the shape of extravagant light sculptures. The installation aims to educate guests about the necessity for environmental conservation, using stunning multimedia sculptures to inspire and connect. The illuminated sculptures are scattered all around the zoo, from the Sumatran jungle through to the rugged Australian bush scene. Daily session times for the event are 5:30 pm, 6:30 pm and 7:30 pm, with each session taking visitors on a unforgettable two-hour journey of the zoo.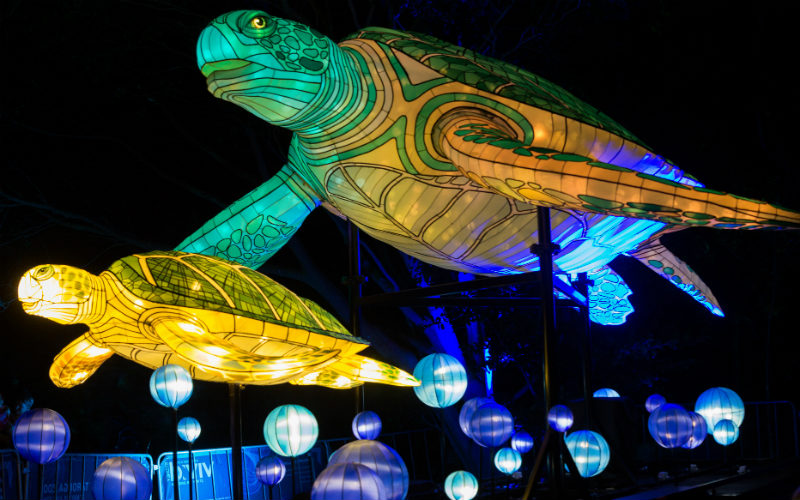 Hyperweb
Where? The Royal Botanic Garden Sydney
When? May 25 – June 16, 18:00 to 23:00
Placed in the middle of the Royal Botanic Garden, the Hyperweb is an engrossing installation used to represent the complexity behind the over interconnectedness of the world. Stretching its bright purple legs out across the tree line like a giant spider, the web is a must on your visit to Vivid this year. The brain behind the piece is Australian artist Louisa Magrics, known for her ability to mix art and interaction, in collaboration with international artists Chuck Grotte, Stephen Haynes and Calum Young. Hyperweb has been created to be site-responsive, meaning that the installation responds with colour and music to stimuli such as temperature and noise.
Vivid Sydney Music
Where? City and surrounds
When? 25 May – June 17
Spanning across 23 nights, the city plays host to some of the best local and international music acts as part of Vivid Sydney 2018. Playing in over 30 different venues across the city, Vivid Music welcomes a beautiful mix of celebrated bands, DJ's and live performers. The Sydney Opera House will be a central hub to Vivid Music in 2018, welcoming iconic artists such as Ice Cube. Hip-Hops prodigal son will be playing at Vivid Sydney from May 25 – 28, with those shows being his only in Australia. Grammy award-winning St. Vincent will also be performing at Sydney's Carriageworks this year. This one night only performance is not be missed and will have the crowd pumped from start to finish. Other acts to include on your Vivid agenda are Middle Kids and Iron & Wine, both of which are performing at the Opera House.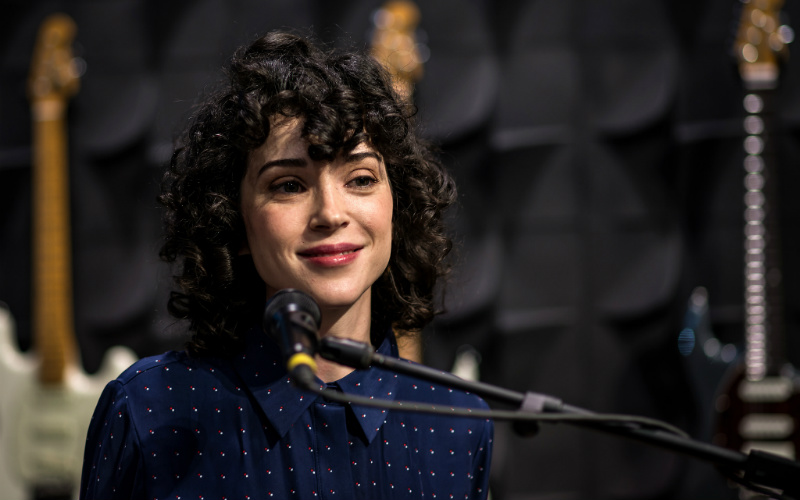 Game Changer: Dan Goods – NASA & Creativity
Where? City Recital Hall
When? June 3, 14:00 – 15:30
This year Vivid Sydney welcomes Dan Goods, director of the Museum of Awe and visual strategist for NASA, to inspire and galvanise audiences about the importance of science and creative thinking. Goods will be speaking at the City Recital Hall on June 3, looking to educate visitors about the beauty of the universe, presenting complex ideas in a wonderfully simple and humorous manner. Discussing his transition from graphic design to space science with NASA, this unique blend of visual stimulation and scientific examination is bound to fascinate visitors. Accompanying Goods on stage is ABC presenter and science enthusiast Bernie Hobbs. Hobbs will be helping Goods break down this illusion of art vs science, and encourage, rather, art with science.
Parrot Party
Where? The Royal Botanic Garden Sydney
When? May 25 – June 16,18:00 to 23:00
Spread across a pavilion deep within the Botanic Garden, a bunch of vibrant and cheerful birds perch together, welcoming visitors to chat and play at this year's Vivid. A social environment is created by the installation, with the birds bright colours and gentle chatter. As visitors approach the pavilion, the birds become very excitable and radiate a series of sensational colours. The two species depicted in the piece are the Australian rainbow lorikeet and the New Zealand kea parrot. The artist behind the work, Zara Pasfield, chose the two variations of bird to represent the friendly relationship between the two nations. The installation is completely free, with visitors invited to socialise with the interactive birds during all 23 nights of Vivid Sydney.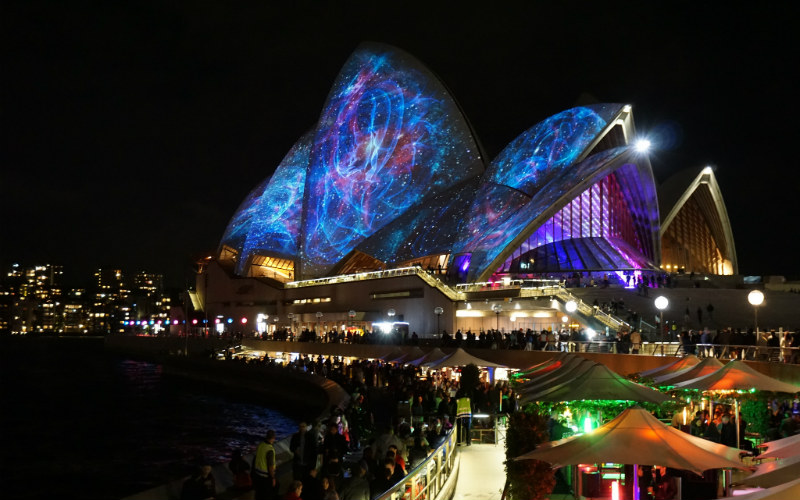 Earth
Where? The Rocks
When? May 25 – June 16, 18:00 to 23:00
Utilising advanced images of the earth from space, multidisciplinary artist Luke Jerram has created an extraordinary experience for attendees of this year's Vivid Sydney celebrations. A multidisciplinary artist, Jerram wanted to replicate the astronaut experience of outer space, bringing it back to earth and into The Rocks. Combining the NASA exclusive imagery with a carefully curated extraterrestrial soundtrack from BAFTA-winning musical composer Dan Jones, the illusion of planet earth from space is achieved. Through the installation, Jerram aims to create the 'overview effect', which is defined as the feeling of awe when viewing the Earth from outer space. The work is a humbling piece, conveying the idea of how fragile our bright blue planet is.
Wanting to discover Vivid Sydney firsthand? Find cheap flights to Sydney with Webjet!
Feature Image Credit: Jason Tong / CC by 2.0.