The colourful culture of New Orleans is at its peak on Frenchmen Street, an epicentre for the city's world-famous music, dining, and nightlife. Once a favourite local spot that was little known to travellers, today, the word is starting to spread, and residents and tourists alike come here to soak up the diverse and vibrant scene.
While live music draws people to Frenchmen Street in droves at night and it's particularly buzzy on the weekend, visit anytime and you'll find plenty of highlights. Find out why ahead.
Where is Frenchmen Street?
Frenchmen Street is walking distance from Bourbon Street, the hotspot that attracts hordes of people to its dive bars and nightclubs where they can party well into the morning. It's also just beyond the French Quarter, which would be an excellent place to jump over from around 10 to 20 minutes' walk away. Frenchmen Street runs from the neighbourhoods of Marigny to Gentilly, but there are a few blocks where most of the action happens, and those are closer to the Marigny/French Quarter side.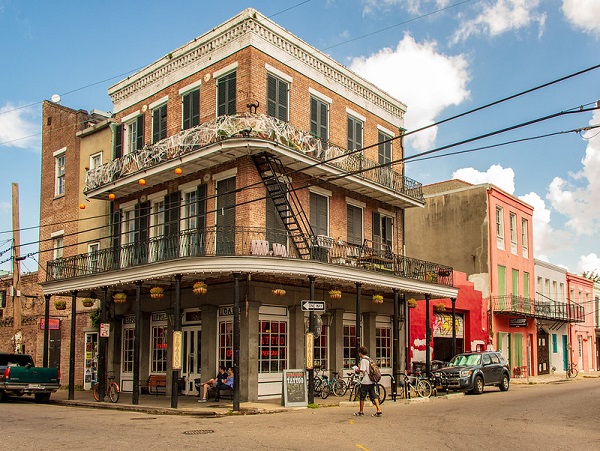 Why visit Frenchmen Street?
In the jazz clubs of New Orleans' Frenchmen Street, you'll find some of the most talented jazz musicians around. That should come as no surprise, as jazz was born in New Orleans in the 19th century and Frenchmen Street is the 21st-century heart of the scene. It's not all about jazz music, either. Punk, funk, rock, country and western and more can all be found on the Frenchmen Street music calendar, providing something for pretty much every taste. Music events are on every night of the week and at nearly every stop along the street – jump from place to place until you find something you like.
Of course, there are also plenty of great venues that have been built up around this entertainment, with Frenchmen Street offering everything from smoky New Orleans clubs serving Sazerac cocktails (the heady, dark spirit-based drink that originates in the city) to bistro-style places with exceptional food. No matter your tipple of choice or the atmosphere you'd prefer, Frenchmen Street has something for you. Choose from breezy outdoor patios to kick back with a local beer, boho cocktail bars decked out in vintage wares, or high-energy places that can host a full brass band – you could start your afternoon somewhere relaxed, and work your way up to the shoulder-to-shoulder dancing.
Frenchmen Street's New Orleans restaurants are plenty tempting, too. If you want the authentic New Orleans dining experience, there are heaps of places that serve Creole classics like gumbo, crawfish boil, po'boys, red beans and jambalaya, and sugar-dusted beignets for dessert. You can also look to late-night diners dishing up comfort foods such as hot dogs, burgers and fries, tater tots, fried chicken, and fully loaded mac 'n' cheese – just the thing for refuelling following a few drinks and dancing. Otherwise, if you need a break from rich southern dishes, you can find everything from fresh Middle Eastern fare to casual cafes serving salads and sandwiches.
Top Things To Do on Frenchmen Street
1. Go record hunting
The massive warehouse that is the Louisiana Music Factory provides hours of browsing material for culture lovers and vinyl collectors. Hundreds of records, books and posters showcasing the rich musical heritage of the southern state are housed here, making it a great place to while away some time flipping through the selection.
2. Stop for a cleansing ale
If that steamy New Orleans heat has you feeling thirsty, make a quick detour to Brieux Carre just off Frenchmen Street, a multi-level microbrewery with a line-up of exciting beers. With around 14 taps to choose from, sample a few before settling in with your favourite. Open from 11am, this is an ideal mid-afternoon stop for an ice-cold brew, and you can set-up outside to catch a breeze or soak up some sun.
3. Art spot and market shop
Not all New Orleans artists have music as their medium. The creative diversity of the city is well represented at the Palace Market Frenchmen, which features nearly 40 stalls that run the gamut of creators from painters to photographers, illustrators, jewellers, and milliners, to name a few. This market is open nightly from 7pm until late. For even more local art and craft, hit up the Art Garden NOLA, where you'll be tempted by the selection of handmade goods to take home – and it's all in support of small creatives.
4. Catch an open-air performance
The shows happen in halls, bars, and on the streets in New Orleans. The intersection of Frenchmen and Chartres Streets is a bit of a hotspot for bands to play, but you'll find performances pop up everywhere, so grab some takeout from one of the excellent eateries and see what you can find.
5. Head to dinner and a show
As we've learnt, there is no shortage of delicious dining on Frenchmen Street. And there are a few famous places where you can sit down to a meal and enjoy music at the same time, combining two of its biggest draws. The Three Muses is probably the most popular of these venues, with a nightly rotation of jazz bands and solo artists alongside a mouth-watering menu of small plates, plus stellar cocktails and wines.
6. Dance, dance, dance
There are loads of late-night venues where you can continue the party along Frenchmen Street. Sway in a moody jazz club, jump to a big brass band, or stay out until the early hours at a DJ night or dance party. When you've had your fun, you can slide into a booth to rest your feet and recharge with some indulgent Louisiana eats. 
Follow the sound of jazz by booking cheap flights to New Orleans with Webjet and getting to experience all of NOLA's charms for yourself. Plus, make planning your trip to the USA even easier by booking your New Orleans accommodation at the same time.
Hero: Jazz on Frenchmen Street. Credit: Morgan Petroski on Unsplash