For Melburnians, there's nothing quite like sipping a coffee in the afternoon or going for brunch on the weekend. But these quiet moments of self-love don't have to be spent alone… treat yourself and your pooch by heading to one of the city's dog-friendly cafes.
The Vertue of the Coffee Drink
This quintessential Melbourne cafe takes its name from England's first ever coffee advertisement, published in 1652. The Vertue of the Coffee Drink is hidden in a laneway behind a service station, just a stone's throw from the University of Melbourne. This hidden gem serves light, refined meals along with a seasonal rotation of house-roasted coffee beans. If you (or your dog) enjoy surrounding yourself with exposed brick, natural light and the smell of specialty coffee, this is the place for you.
The Vertue of the Coffee Drink – 8 Raffa Place, Carlton, Victoria, 3053
The Farm Cafe
The Farm Cafe offers a slice of country charm just 4km from the centre of Melbourne. The cafe sits adjacent to Collingwood Children's Farm, a not-for-profit farm which offers visitors the chance to feed chickens, pat cows, spot ducks and peacocks, cuddle guinea pigs, and play with goats and lambs. Dogs are welcome to come and join in the fun, and hungry visitors will be pleased to hear that The Farm Cafe contains plenty of outdoor seating for four-legged guests.
The Farm Cafe – Collingwood Children's Farm, 18 St Heliers Street, Abbotsford, Victoria, 3067
Hunter's Kitchen & Bar
Hunter's Kitchen & Bar is an upmarket eatery located on St Kilda Road in the CBD. Run by card-carrying bulldog lovers, Hunter's Kitchen mixes a sophisticated menu with a casual atmosphere, and tops it all off with excellent service. Sidestep the stylish interior—which is punctuated by low-hanging light bulbs—and grab a seat on the outdoor terrace to enjoy breakfast, lunch or dinner along with your dog.
Hunter's Kitchen & Bar – 454 St Kilda Road, Melbourne, Victoria, 3004
A Minor Place
This buzzing little cafe can be found in a converted cottage in suburban Brunswick. A Minor Place's colourful menu boasts a good number of vegetarian and vegan options, while the coffee menu has been kept refreshingly simple—with the exception of the coconut cold drip coffee. While it can sometimes be difficult to find a seat in the homely interior, the outdoor area—characterised by its milk crate seating—is a welcome addition for dogs and their owners.
A Minor Place – 103 Albion Street, Brunswick, Victoria, 3056
Drugstore Espresso
Drugstore Espresso is a popular South Yarra cafe with a focus on ethical and sustainable produce. Drugstore Espresso only uses organic, Fairtrade, Rainforest Alliance-certified beans, which can either be enjoyed hot or in a cold-drip, syphon, or pour-over coffee. Foodwise, take your pick from a range of wholesome breakfast items, or visit at lunchtime to sample the selection of crowd-pleasing burgers. Dogs are more than welcome here; in fact, they'll find themselves in good company with the cafe's resident pup!
Drugstore Espresso – 194 Toorak Road, South Yarra, Victoria, 3141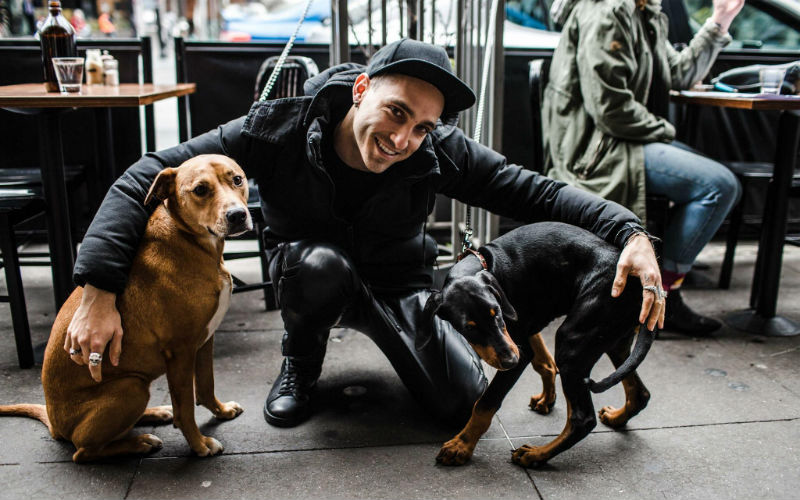 Vincent the Dog
Vincent the Dog is situated near the bustling intersection of Lygon Street and Johnston Street, virtually next door to The Vertue of the Coffee Drink. This cosy cafe serves up tea, coffee and juices, plus traditional breakfast items, a range of bagels, and sweet or savoury waffles. As well as a communal table and window bench, you'll also find a charming astroturfed courtyard outside. With ample shelter from the elements, this the perfect place to relax with your pooch on a sunny day.
Vincent the Dog, 348 Drummond Street, Carlton, Victoria, 3053
Priscilla Jones
Priscilla Jones is something of a staple among the dog-loving coffee addicts of Melbourne. Located within Gasworks Arts Park, Priscilla Jones' patrons can enjoy free parking while their pooches can enjoy the inclusion of a large outdoor area which opens onto a park. With house-made dog food on offer and plenty of canine friends to socialise with, Priscilla Jones is sure to be a hit with your dog.
Priscilla Jones – 21 Graham Street, Albert Park, Victoria, 3206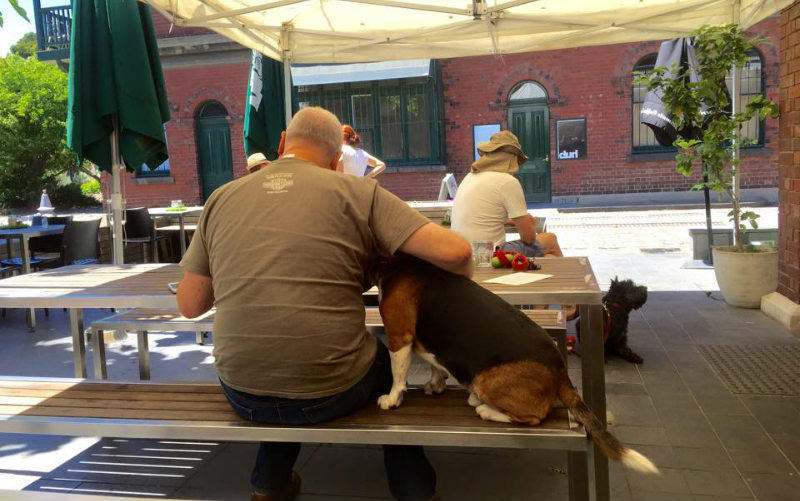 Ready to take on the town with your loyal companion? Find cheap flights to Melbourne and great hire cars with Webjet!