Regardless of whether you're staying in Brisbane or you're a local, Brisbane hosts a range of great high teas ranging from something more traditional to an afternoon tea with a modern twist.
If you're looking to make a day trip of it and head out of Brisbane, there are plenty of favourite high tea spots in the Gold Coast including the Old Teahouse Gallery, the luxury high tea at the Palazzo Versace, Main Beach, or Platform 9 in Toowoomba.
1. Parliament House
Queensland Parliament offers High Tea in the Strangers' Dining Room, a traditionally adorned room which is not so strange at all. Held monthly and with both a traditional and special high tea on offer, you'll enjoy the beautiful interiors of Queensland's premier heritage building while dining on a selection of high tea favourites including petit sandwiches, fresh scones and tea or coffee. If you're looking to enjoy your high tea like they did in the old days, this is one for you.
2. French and Mor
Highly recommended if you're a Francophiles, French and Mor is the only cafe in Brisbane you'll find which puts on a French high tea. If you're looking for a twist on the English traditional variety of high tea, you'll love the servings of rich gateau and pastries brought out on a three-tiered cake stand.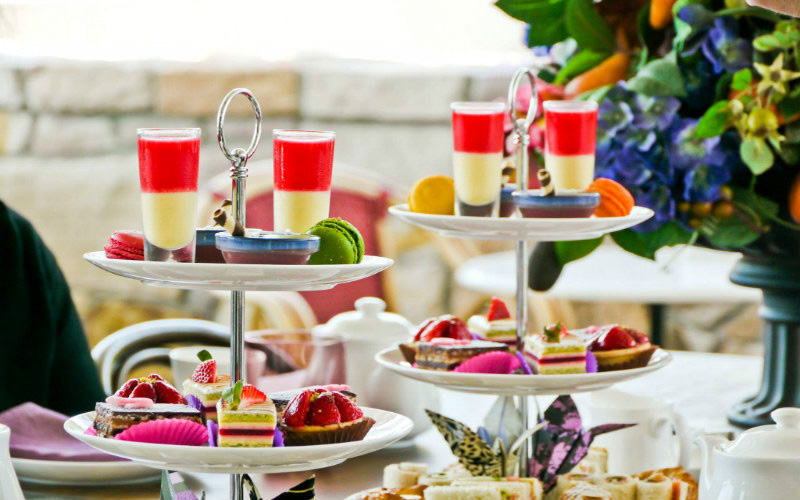 3. Cobble Stone Tea House
This country-style tea house is located in the leafy back streets of New Farm and is served in three varieties – elegant, indulgent or decadent. Whether you're looking for extravagance or just a modest treat, the Cobble Stone Tea House has something which caters for your occasion. There's also a high tea option available for the under 12's, making this a great place for a family afternoon tea.
4. Queenie's Tea House
Located in Nundah, just out of Brisbane's bustling CBD, high tea here is served 7 days a week making this a popular weekday high tea spot in Brisbane. Serving all of the high tea favourites, and set within a lovely old-style building in an intimate setting, Queenie's is a real treat.
5. Room with Roses
Held upstairs in the heritage listed Brisbane Arcade, Room with Roses' high tea is served in a suitably old-fashioned eatery. With scones, tarts, cakes, biscuits and an assortment of ribbon sandwiches, the deluxe high tea is a seasoned favourite. The venue also hosts chocolate and ultimate chocolate fondue high tea options if you've got a sweet tooth.
6. HighsocieTea @ Clayfield
Offering a children's and gluten-free option, HighsocieTea has one of the best varieties of high teas available. Ranging from extravagant and deluxe, to savoury or indulgent chocolate options, this high tea specialist is a local favourite and it's easy to see why.
7. The Stamford Plaza
Described as a revival of traditional high tea, the Stamford Plaza offers a traditional morning tea or chocolate high tea buffet. There's a range of choice at the Stamford Plaza, whether you're looking for an afternoon treat with a glass of champagne or something sweeter.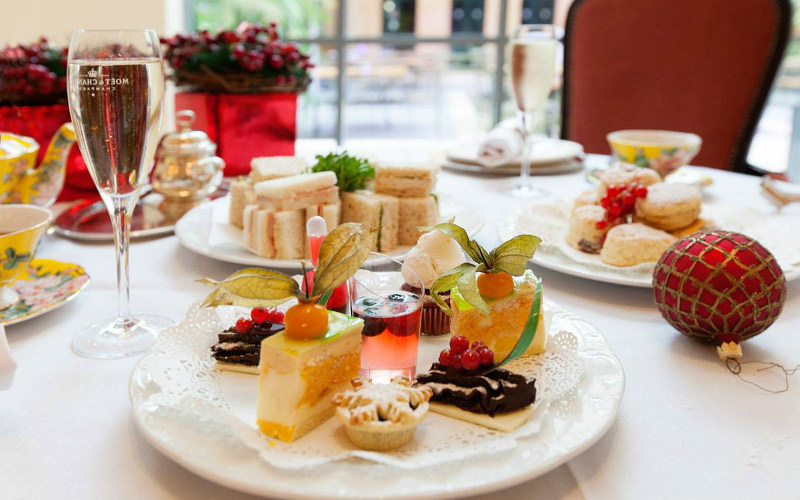 8. Customs House, Brisbane
Renowned for its elegant handcrafted petite desserts, high tea at Customs House is held in the elegant dining room on the restaurant terrace with impressive views overlooking the story bridge and river. If you like your afternoon tea with a stunning view to match, you'll be wowed by this high tea favourite.