Ever since The Philosopher's Stone was published in 1997, Harry Potter has become one of the most successful multimedia franchises in the world. With a huge following across the globe, any opportunity to walk in the shoes of "the boy who lived" never fails to draw interest. Get a glimpse into the magical world of Harry Potter by visiting these 10 real-life locations featured on the big screen.
London Zoo Reptile House
In both the book and movie, one of the very first clues to Harry's magical abilities is revealed at London Zoo. It's here, in the Reptile House, that Harry first discovers he can talk to snakes. Today, London Zoo's Reptile House even contains a plaque to commemorate the famous scene in which, after conversing with a Burmese python in parseltongue, Harry accidentally vanishes the glass window of its enclosure, allowing it to escape and wreak havoc on the zoo's visitors. That said, ophidiophobes don't need to worry—the enclosure (which currently houses a deadly black mamba) has since had its glass completely restored.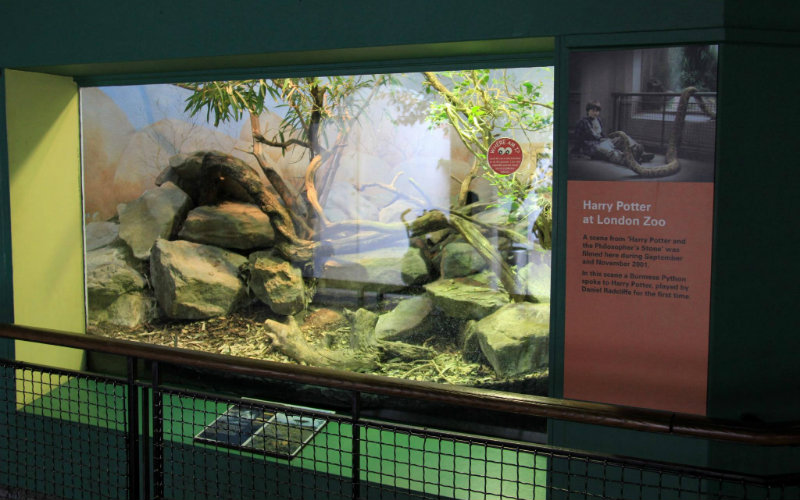 12 Picket Post Close (Number 4 Privet Drive)
Take a trip back to where it all began: Number 4 Privet Drive. Potter fans can see Harry's adoptive home in person by travelling to Bracknell Forest, roughly an hour west of the London CBD. Here, in the small village of Winkfield Row, is where you'll find Number 4 Privet Drive (real address: 12 Picket Post Close), home to the Dursley family and one very famous cupboard under the stairs.
King's Cross Station (Platform 9¾)
An attraction visited by thousands of Muggles each year, the gateway to the Hogwarts Express can be found at London's busy King's Cross Station. However, don't make the mistake of following the directions given in the books; the real-life entrance to platform 9¾ is actually located in the western departures concourse. Get in line for a one-of-a-kind photo opportunity, and don't forget to visit the nearby Harry Potter Shop for all kinds of magical memorabilia including wands, robes, and Bertie Bott's Every-Flavour Beans.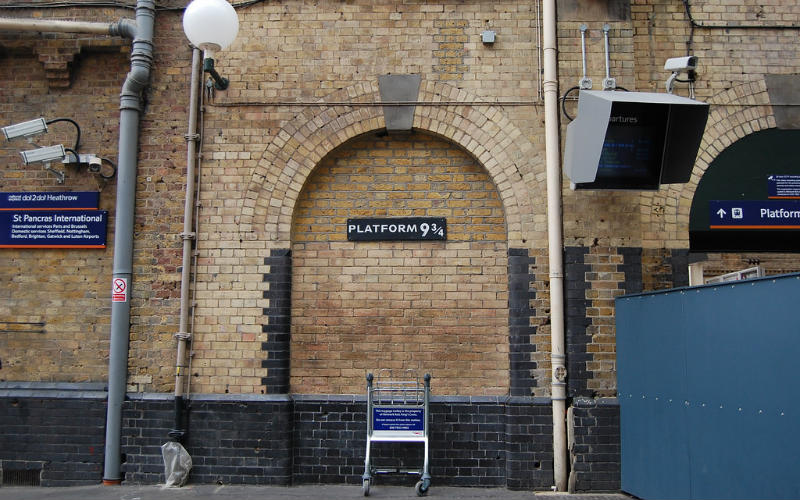 Leadenhall Market (Diagon Alley, The Leaky Cauldron)
Diagon Alley is the topsy-turvy, cobblestoned shopping district for magical folk in London. Witches and wizards who need to stock up on school supplies, potion ingredients and more can access Diagon Alley through a secret brick in the wall of the Leaky Cauldron, a pub found just off Charing Cross Road. The real-life filming location for the Leaky Cauldron (42 Bull's Head Passage) was in fact an empty storefront when the Harry Potter movies were filmed. Today, this address houses an optician's store which, though now painted bright blue, once served as the dark and shabby entrance to the Leaky Cauldron. The surrounding area of Leadenhall Market was also used for some exterior shots of Diagon Alley itself, while Cecil Court (which actually is located "just off Charing Cross Road") is widely believed to have inspired the set used during filming.
Glenfinnan Viaduct (Bridge to Hogwarts)
Although the exact location of Hogwarts is a closely guarded secret, film fanatics have identified at least one landmark that students pass en route to the wizarding school. Located in western Scotland, the Glenfinnan Viaduct is instantly recognisable as the bridge over which the Hogwarts Express makes its journey. A tense scene early in Harry Potter and the Chamber of Secrets sees Harry and Ron soar over the viaduct in a flying car, trying desperately to catch up with the Hogwarts Express below. What's more, those who want to experience the scenic journey for themselves can jump aboard the Jacobite steam train for a first-class Harry Potter experience.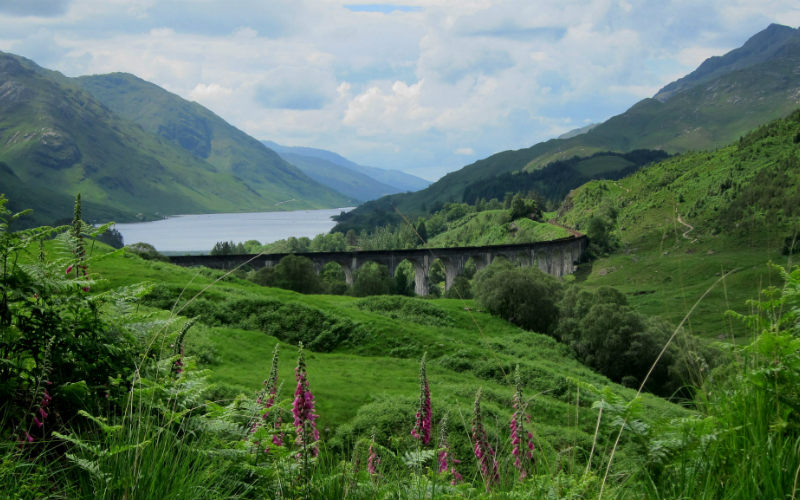 Durham Cathedral (Hogwarts School)
Located in northeast England, Durham Cathedral is both a UNESCO World Heritage Site and an outstanding example of Norman architecture from 1093. However, Harry Potter fans have one more reason to visit this gorgeous landmark. Durham Cathedral's courtyard and cloisters can be seen in several memorable movie scenes, including when Harry sends Hedwig from the snow-covered courtyard (The Philosopher's Stone) and when Ron's slug-eating spell backfires with disastrous results (The Chamber of Secrets). The cathedral's chapter house was also used as Professor McGonagall's classroom, where Harry, Ron and Hermione attended transfiguration classes and—less excitingly—detention.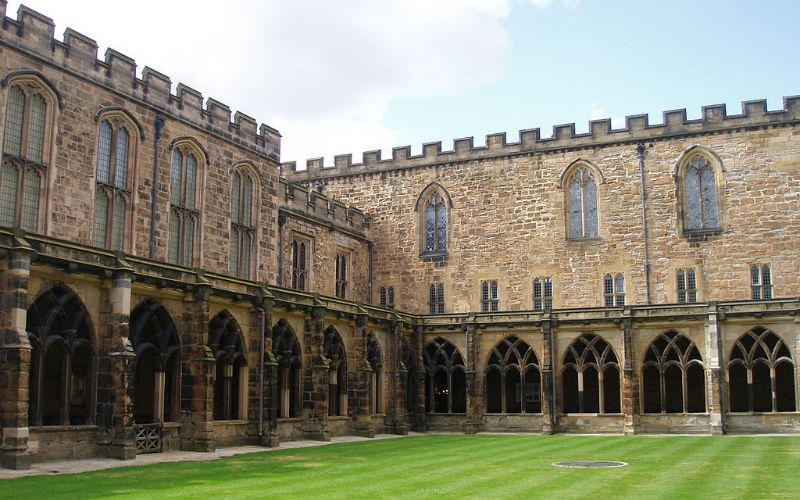 Virginia Water (Hogwarts Lake)
Throughout the movie series, a number of different locations across the UK were used to film scenes at Hogwarts Lake. Although scenic Loch Arkaig was used for many wide-angle shots, the sheer number of midges the actors encountered by the water made it unsuitable for up-close scenes. Because of this, many of the lakeside shots involving Harry, Ron and Hermione were filmed at Virginia Water Lake in Surrey instead. Most famously, this is where Harry first takes to the skies on a hippogriff, and where he and Sirius Black survive a close encounter with a group of dementors (The Prisoner of Azkaban).
Christ Church College (Hogwarts School)
Christ Church is one of the University of Oxford's most prestigious colleges. Founded in 1546, its grandiose Gothic and Romanesque architecture has inspired similar institutions around the world. It has also been featured extensively in the Harry Potter films; the main staircase leading to the Great Hall is in fact found here. After ascending these stone steps, Potter fans might once again be struck by a sense of deja vu. That's because Hogwarts' Great Hall, though filmed on a set, was actually modelled after the hall at Christ Church. Although it lacks the floating candles and transitory ceiling that made its magical counterpart seem so… well, magical, the Great Hall at Christ Church College is still awe-inspiring in its own right.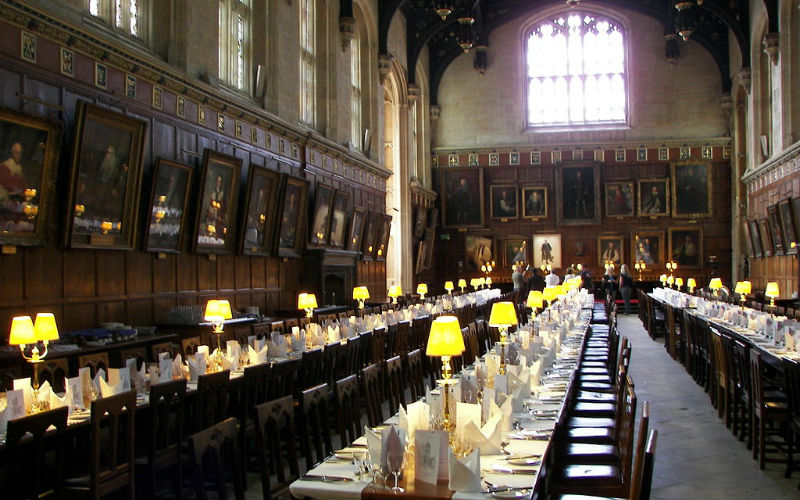 Claremont Square (12 Grimmauld Place)
12 Grimmauld Place is home to the Order of the Phoenix, a secret society founded by Albus Dumbledore. In Harry Potter and the Order of the Phoenix, its location is described as follows:
Tucked away in northwestern London, a twenty minute walk from King's Cross Station, lies number twelve, Grimmauld Place. Both Unplottable and hidden behind a Fidelius Charm, the house is invisible to all but a few. Though the neighbouring Muggles don't even know the building exists, it was for many years home to the Black family — one of the wizarding world's oldest pureblood families, and extremely proud to be so.
Indeed, the real-life exterior of 12 Grimmauld Place can be found just 20 minutes' walk from King's Cross Station, within an unassuming row of houses at Claremont Square. Don't worry if you can't find number twelve, though—that's exactly the point.
Duke Humfrey's Library (Hogwarts Library)
The University of Oxford enjoys the privilege of another two filming locations from the Harry Potter movies. Found within Oxford's Bodleian Library, Duke Humfrey's Library is first and foremost a reading room for maps, music, and rare books. Built in 1487, its medieval stylings made it the perfect location for scenes that take place in Hogwarts Library. Unfortunately, members of the public can only visit the library as part of a guided tour (unless you have your own invisibility cloak, of course). Just next door, the Divinity School was also used as the infirmary which housed, at various times, a jelly-armed Harry, and a number of petrified students (The Chamber of Secrets).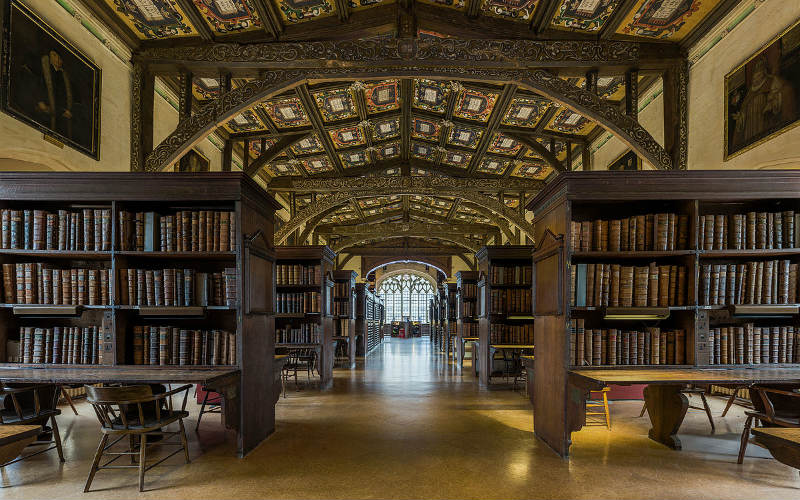 Ready to leave the Muggle world behind? Then grab your broom or book cheap flights to the UK with Webjet!
Feature Image Credit: City.and.Color / CC by 2.0.