Look forward to flying again with Singapore Airlines

Take off to Singapore from just $510* return with Singapore Airlines sale - only at Webjet.
Reconnect with the sights, sounds and flavours of Asia or experience Europe; from it's romance to royalty.
Enjoy international cuisine, a wide-range of entertainment and award-winning* inflight service on your journey with options across Economy, Premium Economy and Business Class cabins.
Expect an elevated travel experience with the world's most awarded* airline, ensuring safe and seamless travel with SIAcares.
Don't miss out, book Singapore Airlines flights at Webjet
Search to discover more deals:
Singapore Airlines Sales
Planning your next international escape? Search and compare a wide range of discounted flights with the latest Singapore Airlines sales. Offering a great choice of services, you're sure to find a flight to match your travel plans or inspire your overseas trip. Servicing Asia, Europe, North America and more, there are plenty of opportunities to explore the world and discover new places.
Awards
Singapore Airlines is the world's most awarded airline, and they're both proud and humbled that customers and industry alike have recognised their commitment to service excellence. Learn more about the awards they have won through the years here.
Safe and seamless travel
From check-in to arrival, you can count on safety precautions such as enhanced cleaning and rigorous disinfecting, as well as meaningful innovations to minimise contact. These #SIAcares initiatives are designed to protect your well-being, bring you greater peace of mind, and give you the confidence to travel without worries. These initiatives and Singapore Airlines unwavering commitment to safeguarding the well-being of their customers and crew have been recognised with a 'Diamond' rating in the APEX Health Safety audit and 5-star rating in the Skytrax Covid-19 Airline Safety Audit.
Explore Cabin Classes
Singapore Airlines Economy
More space. Because no one likes to be put in a tight spot.
Singapore Airlines Economy Class seats are designed to give you more personal space. Even if the seat in front of you is reclined. If you want more legroom, you can choose their Extra Legroom Seats with wider seat pitch and located near the exits. It's a comfortable spot to be in.
If you prefer to be among the first in Economy Class to disembark the plane, you can choose our Forward Zone Seats, located closer to the doors.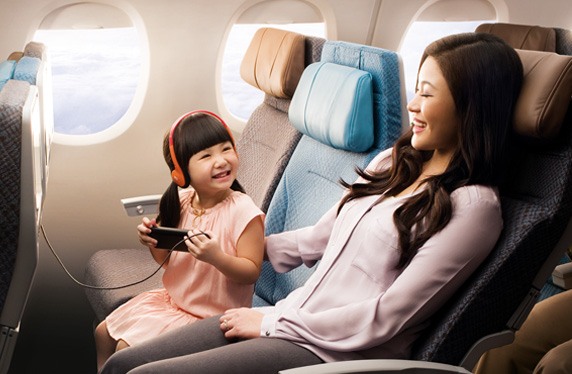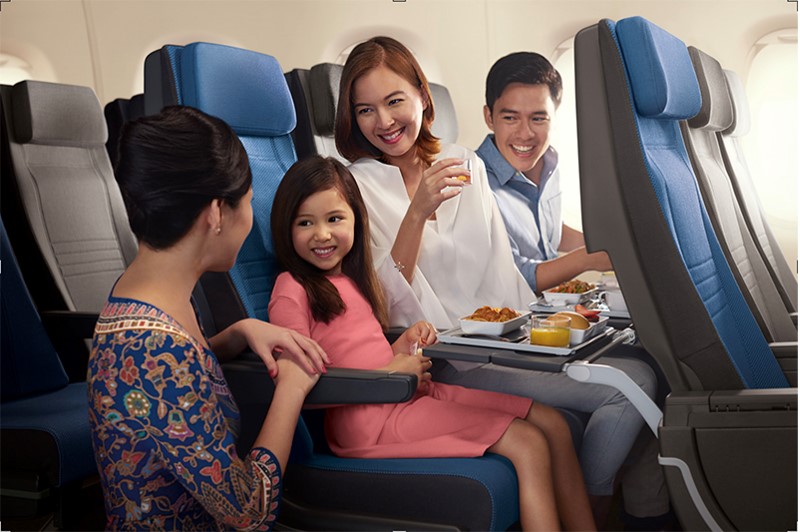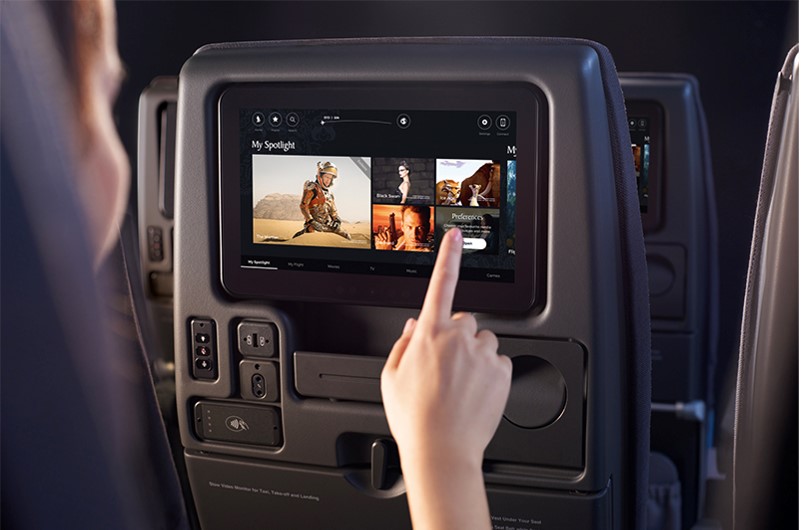 Comfort comes standard
Ergonomically designed backrests contours. A six-way headrest for the perfect neck support. Upright or reclined, you'll definitely get there in greater comfort

Dining to suit your needs
Whether you require a child-friendly meal for your young companion or if you have specific dietary requirements, order a Special Meal to suit your needs when you book your flight.

All of your favourites, all of the time
A HD touchscreen monitor with an enhanced KrisWorld entertainment system that works together with our SingaporeAir mobile app to save your playlists and preferences for upcoming flights. So you can easily pick up right where you left off.

It's all in the details
Adjustable headrests. Additional stowage areas. In-seat connectivity. Just a few of the little things Singapore Airlines have added to make your flight much more enjoyable.
Singapore Airlines Premium Economy
It starts with a seat. And ends with a smile.
In an exclusive, spacious, 2-4-2 cabin, the Premium Economy Class seats are designed with greater width of up to 19.5 inches for your enhanced comfort. On top of that you will enjoy extra choices and exclusive privileges, brought together by the award-winning service you love, all you have left to do is sit back, relax, and smile.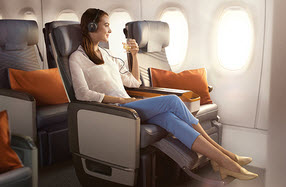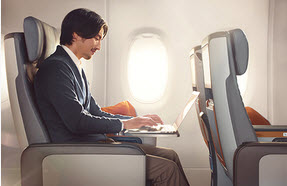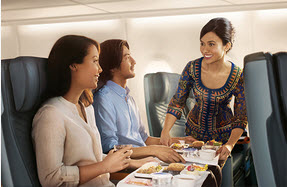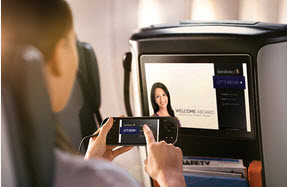 Room to stretch
A calf-rest and foot-rest is built right into your seat. For the ultimate snoozing position, just recline (up to a generous 8 inches), stretch out, and enjoy the 38-inch seat pitch.

All within reach
Built within your seat are two USB ports, a fully adjustable personal reading lamp, the ports and the power supply you need to charge your electronic devices.

Stowage spage
Keep everything you need right next to you in dedicated stowage areas for your water bottle, laptop, headphones and other personal items.

Premium Economy Book the Cook
Reserve your main course from a variety of Premium Economy Book the Cook dishes up to 24 hours before you fly, or select from three meal choices on board. Match the food and altitude with your selection of wine or champagne.
Singapore Airlines Business Class
A successful business plan includes sleep
When you're travelling for business, everything must go as planned in Singapore Airline's Business Class. Such as the meal you reserved with 'Book the Cook' and the uninterrupted sleep you're looking forward to on your fully-flat bed. So you're wide awake, refreshed and ready for business as soon as you land.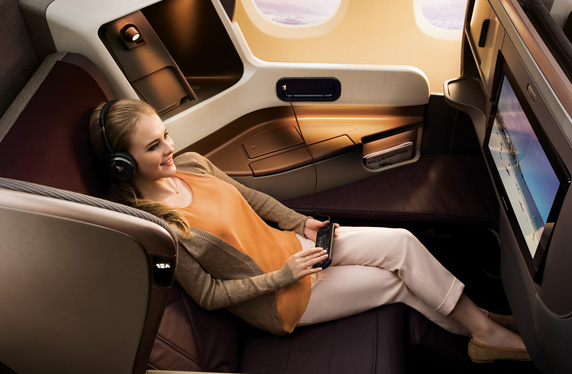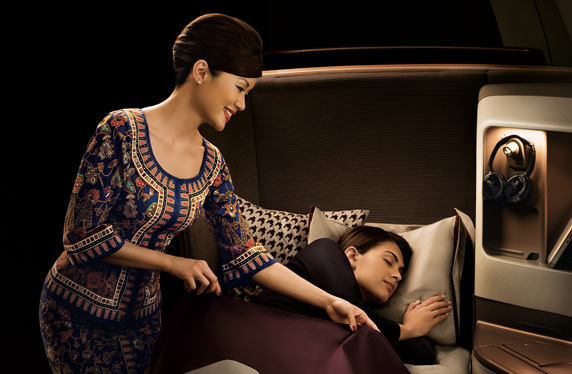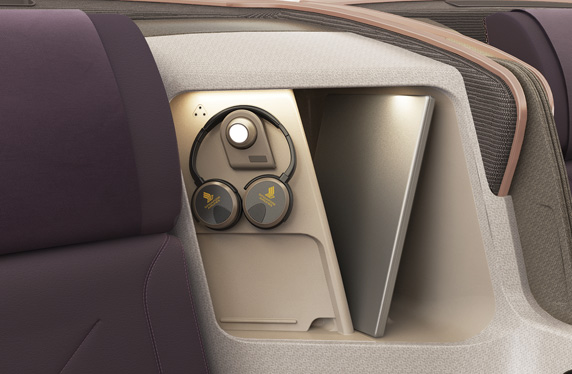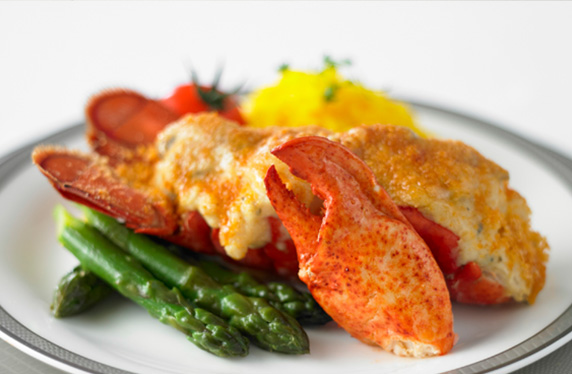 Fully-flat Bed
Handcrafted from Scottish leather and diamond-stitched, our 28-inch seat transforms into a 78-inch bed when you're ready to turn in. Fully-flat with a cushioned headboard for greater sleeping comfort, complete with linen, duvet and pillows.
Stowage Space
A side console, specially designed to sit above the armrest, lets you stow and conveniently reach for your laptop, in both seat and bed mode. Concealed within your seat are the ports—eXport, HDMI and USB—and the power supply you need to charge your electronic devices.
Book the Cook in Business Class
Reserve your main course up to 24 hours before you fly, including creations by notable chefs from our International Culinary Panel. Dine in restaurant setting onboard with full table service, and wines to match the food and altitude.
KrisWorld Inflight Entertainment
Contents thoughtfully curated with you in mind, with an impressive selection of 1,000 entertainment options, – movies, television programmes, music, games and apps – a video touchscreen handset, and an 18-inch HD enabled personal LCD with noise-cancelling headphones. On selected flights, stay in touch with family, friends and colleagues with Internet connectivity, as well as text and multimedia messaging.