Treat yourself to the Singapore Airlines Premium Economy cabin experience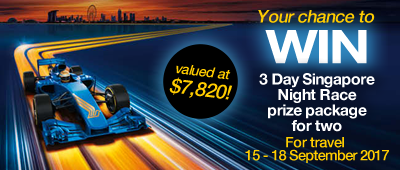 The best option for your next flight, Singapore Airlines Premium Economy Class adds much more comfort and a number of privileges to your trip. Seats with greater width, a calf and foot rest, your own stowage space, Book the Cook menu, an impressive selection of 1,000 entertainment options as well as priority treatment from the check-in to boarding and baggage handling. With 3 flights daily Melbourne to Singapore, there is a great range of choice in Singapore Airlines.
Plus any Singapore Airlines booking, departing Melbourne or Hobart, made at Webjet before 25 August 2017 goes into the draw to WIN a Singapore Night Race experience for two! Includes 3 nights in a 5 star hotel, Premium Economy Class flights, transfers and more! You must and enter your Krisflyer membership number on checkout to be in the draw.
Join KrisFlyer & add promo code WEBJETKF to the registration. For more information read the terms and conditions below.
Check out the flight deals below and book today to be in the running to win.
Singapore Airlines Sales
Planning your next international escape? Search and compare a wide range of discounted flights with the latest Singapore Airlines sales. Offering a great choice of services, you're sure to find a flight to match your travel plans or inspire your overseas trip.
See the world with Singapore Airlines
From the major cities of Asia and Australia through to top holidays spots of Europe, North America and beyond, you'll find dozens of different destinations serviced by Singapore Airlines. Offering a wide selection of international flights, there are plenty of opportunities to see more of the world, discover new cultures and so much more.
Travel further for less with Singapore Airlines sales
Whether you're travelling for business or pleasure, be sure to check out the latest Singapore Airlines sales before you book. Offering great savings on international flights, it's easy to travel further and experience more of the world for less with Singapore Airlines. From cheap flights to Paris and London through to Ho Chi Minh, Tokyo and beyond, you're sure to find a flight from the leading international carrier to match your travel plans.
Book With Webjet
Find and compare flights from domestic carriers and leading international airlines with Webjet. Offering a great selection of cheap flights to help you reach every corner of the globe, it's easy to find a price and service to match your travel plans.
If you need to change your booking at any time, booking changes are available online with Webjet 24/7. There is no additional fee for changes or cancellations made with Webjet online.
Discover cheap flights with Webjet anytime, anywhere. From your desktop computer at home through to your mobile devices on the go, there are plenty of ways to find and compare cheap flights with Webjet.
Flights:
Webjet Servicing Fee: Domestic $21.95, NZ/Pacific $24.95, International $32.95.
Booking Price Guarantee
: Domestic $12.95, NZ/Pacific $14.95, International $21.95
All airlines charge varying
payment and service fees
, which are displayed in the booking process.
*Prices are subject to availability, include taxes and airline surcharges. All prices on this page are subject to change without notice. Whilst Webjet makes every effort to provide you with accurate and up-to-date information, in the event a product is listed at an incorrect price, whether due to typographical, photographic, or otherwise, Webjet may refuse or cancel any orders placed for a product listed at the incorrect price.