It's time for your next adventure with Etihad Airways

Fly with Etihad Airways to popular destinations across Europe via their hub in Abu Dhabi. Rediscover romance in Paris, the charm of London or the layers of history in Dublin.
Enjoy more choices in Economy Class, upgrade to Business for a fully-flat bed, or fly in your own private suite in First Class.
From Wellness Ambassadors available 24/7 to enhanced cleaning on-board, Etihad are taking extra steps to make sure you feel comfortable and protected when you travel.
Book your Etihad Airways flight at Webjet for more choice, flexibility and even better journeys.
Search to discover more deals:
---
Fly Etihad Airways
From their home in Abu Dhabi, Etihad Airways fly passengers to destinations in the Middle East, Africa, Europe, Asia, Australia and North America. Together with their codeshare partners, Etihad's network offers access to hundreds of international destinations.
Etihad Airways believe that your journey should be more than just travel. They offer you a personalised experience, with options and choices every step of the way.
Onboard Experience
Fly Economy, Business or First with Etihad Airways. Enjoy more choice as standard in Economy, upgrade to Business for a fully-flat bed or fly in your own private suite in First.
Economy Class
Choose your favourite seat then get comfortable with full-size blankets and plenty of space. Switch on with hours of on-demand entertainment or switch off and enjoy complimentary food and drinks on every flight. Surf or stream with mobile connectivity or stay up to date with live TV and news.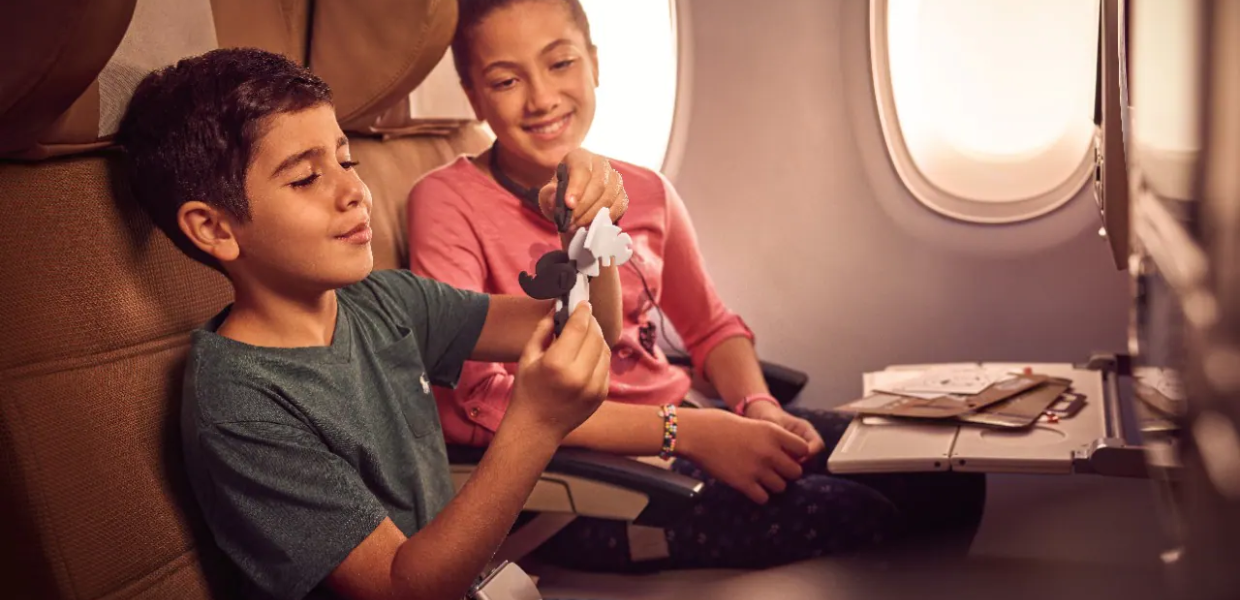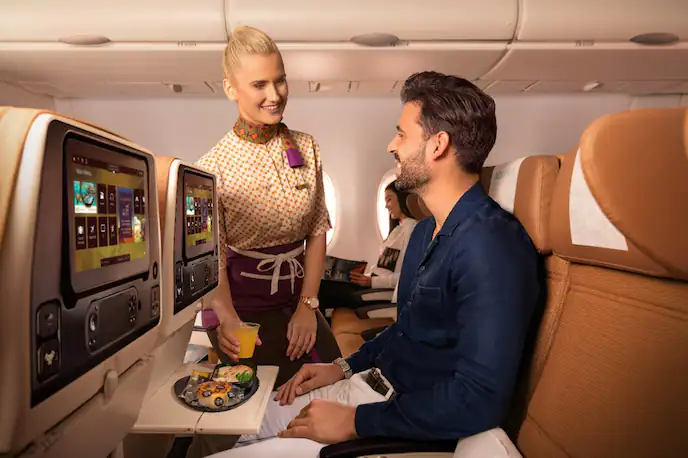 Business Class
Before your flight, take time for yourself in one of Etihad's lounges then fast-track to your seat with priority boarding. When it's time to rest on board, recline your chair to a fully-flat bed. Hungry? Dine whenever you choose from Etihad's extensive a la carte menu.
First Class
When you fly First, an Etihad Chauffeur will drive you in luxury to the airport. After Priority Check-in, relax and dine in style in Etihad's First Lounge. On board, step into your own private suite, unwind with a drink or let Etihad prepare your bed for you ready to sleep. Choose when and how you'd like to dine with an extensive a la carte menu and boutique wine list.
Flexible travel for the future
Etihad Airways are allowing unlimited changes on all new bookings to give you more freedom and flexibility. Book today and change your flight for free later if you need to. There's no change fee to rebook your flight, and you'll only have to pay the difference if there's a change to the original fare you booked. If for any reason you can't travel, you'll be eligible for Etihad Credit. Learn more here.
Etihad Wellness
Etihad care about your wellbeing above everything else. That's why they've introduced a number of new measures to keep you protected when you travel with Etihad, these include:
A team of Wellness Ambassadors are available 24/7 to help and share advice.
Limited touchpoints and introduced additional deep cleaning procedures.
Social distancing initiatives so there's more space between you and other guests at all times.
You must wear a mask when you travel and Etihad crew wear PPE at all times.
Mandatory COVID-19 testing before every flight to keep you protected.
Network
Enjoy a quarantine-free stay in Abu Dhabi from select countries, or transfer to up to 60 destinations across Asia, Australia, Europe, the Middle East and North America.