Compare Cheap Flights from Launceston to Townsville, Australia
Looking for cheap flights to Townsville from Launceston? Use Webjet's deal finder to help you compare flights, carriers and seating classes all year round. You'll be sure to find the right flight to match your budget, plans and travel preferences.
*Prices on this page are subject to change without notice, perform a search to view live pricing. Prices are inclusive of taxes and airline surcharges. Webjet flight fees per booking: Webjet Servicing Fee: Domestic $21.95, NZ/Pacific $24.95, International $32.95. Booking Price Guarantee: Domestic $12.95, NZ/Pacific $14.95, International $21.95. Varying payment fees are included in the price breakdown on Webjet's checkout page, once your payment method has been selected.
Route information for flights from Launceston to Townsville
| | |
| --- | --- |
| Cheapest one-way price for the current month | from $247 |
| Cheapest one-way price over next 6 months | from $174 |
| Cheapest month | June 2021 |
| Most expensive month | February 2021 |
| Average flight time | 3h 0m |
Cheapest time to fly to Townsville
Best upcoming flight deals
Currency used in Townsville
Current Time in Townsville
Average Temperature in Townsville
Average Rainfall in Townsville
A Guide to Townsville
Know Before You Go
Beware of the box jellyfish. During the summer months, these creatures frequent Townsville's shores. Read the warning signs and stick to areas on the beach that have stinger enclosures.
You can drink the water. The tap water in Queensland is safe to drink, but any water taken from rivers, streams or lakes should be treated before drinking.
Go up to Castle Hill. You'll have sweeping views of the city, the Queensland Outback and Magnetic Island. It's the perfect spot for sunrise or to go and have a couple of sundowners.
Bars and clubs in Townsville have a lockout time of 3:00 a.m. Most pubs on Flinders Street strip close between 1:00 a.m. and 2:00 a.m. If you are planning on going, you'll need to wear long trousers and closed shoes as flip-flops and shorts are not allowed.
Get free WiFi. Townsville has three public libraries that offer free WiFi 24 hours a day. You'll find them on Thuringowa Drive, Ross River Road and Flinders Street.
Getting Around Townsville
Hit the pavements. Townsville's city centre is easily walkable, and many of the attractions are within walking distance. Just make sure you bring a pair of comfortable shoes.
Take the bus. Sunbus operates local bus routes throughout the city and to attractions around Flinders Mall and the Strand. Fares are cheap, making it a great way to get around if you get tired of walking or want to avoid the heat of the day.
Catch a taxi. You can either hail one down from the street, go to a nearby taxi rank or call ahead to arrange your ride.
Rent a car. You'll find major rental companies at the airport and in the CBD. You'll have more freedom to explore outlying areas, and you'll save time getting to attractions.
When is The Best Time to Visit Townsville?
With 320 days of sunshine each year, the best time to visit Townsville is during its winter months. Temperatures are more bearable between June and August, making it more comfortable for outdoor activities. The only downside is that it's the city's busiest month for tourism. Expect large crowds, higher airfare prices and hotel rates to skyrocket.
If you want to avoid the winter crowds, without sacrificing the weather book your trip for fall. From March to May, the temperatures start to dip, and rain is rare. While it is still a popular time to visit, prices will be slightly lower, and you'll have plenty of things to see and do.
For budget travellers, the best to visit is either in spring or summer. From September to November, temperatures start to rise, and the city empties out. Hotels begin to drop their rates, and the humidity is still bearable.
December to February is the least crowded time to visit the city. Temperatures reach highs of 32°C and rainstorms are common. The upside is that you'll find the lowest prices for airfare and hotels during this period.
Airports in Townsville
Townsville Airport
Townsville Airport is a major Australian regional airport. It is the 11th busiest airport in the country and is serviced by major domestic and regional airlines.
Getting To and From Townsville Airport
If you're staying at select Townsville hotels the best way to get from the airport is with the city shuttle. It runs every day and will drop you off outside your accommodation. Adult fares start at AUD 10.
Ingham travel runs four return trips to and from Ingham every day. You can also catch a bus to Lucinda, Cardwell and Mission Beach.
Taxis and ridesharing services like Uber are available at the airport. A trip into the CBD will set you back AUD 15-20, and the ride takes about 10-15 minutes.
Car rental desks are located inside the arrivals terminal.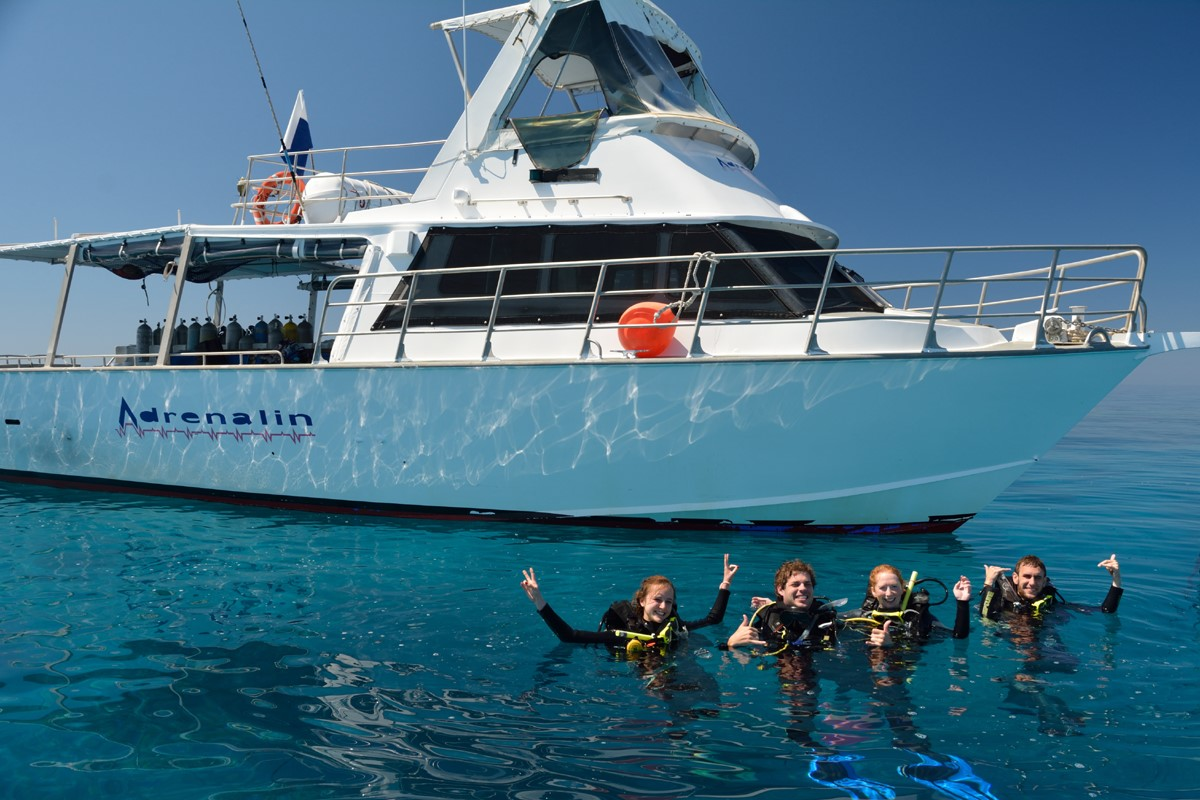 Adrenalin Dive Townsville
Adrenalin Snorkel & Dive is your gateway to the central section of the Great Barrier Reef. The central section of the reef has limited human activity, and its crystal-clear blue waters and pristine reefs are excellent for snorkelling and scuba diving. With more than 30 years' experience, Andrenalin Snorkel & Dive know how to give you an unforgettable trip to the Great Barrier Reef, complete with small tour group sizes and a professional and friendly crewed offering plenty of personal attention.